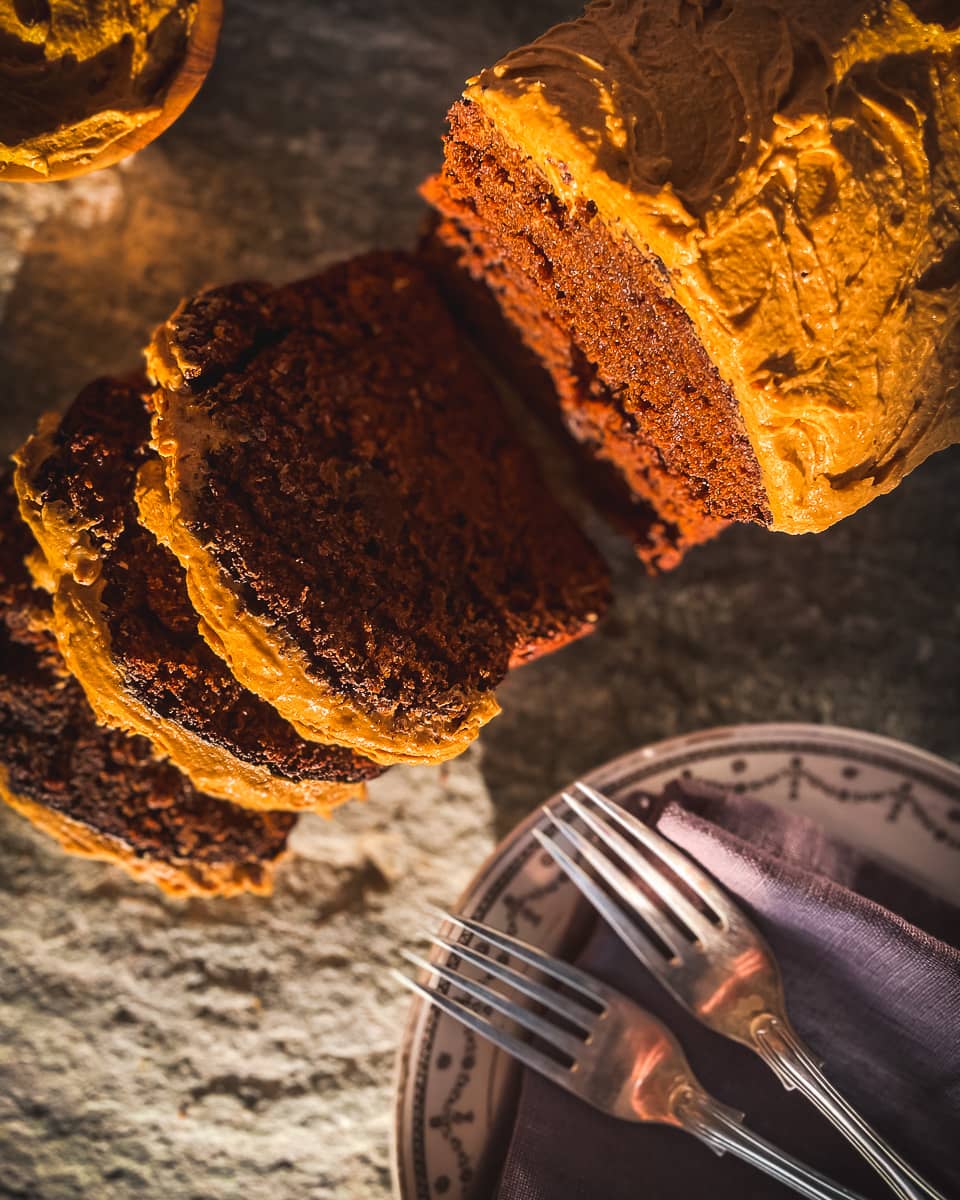 My thoughts for a gingerbread loaf cake, written on a scrappy bit of paper, have been floating around my action book for months. It's a chilly morning, so I am galvanised to get on with it and finalise the recipe.
I love gingerbread cake. Tangy, spicy, sticky, and perfect with a hot drink on chilly weekends. As a child, I remember coming in from the garden, covered in mud and soaking wet, and being offered thick wedges of gingerbread coated in salty butter with a giant mug of tea. Not quite sure the waistline is up to that these days, but it was delicious.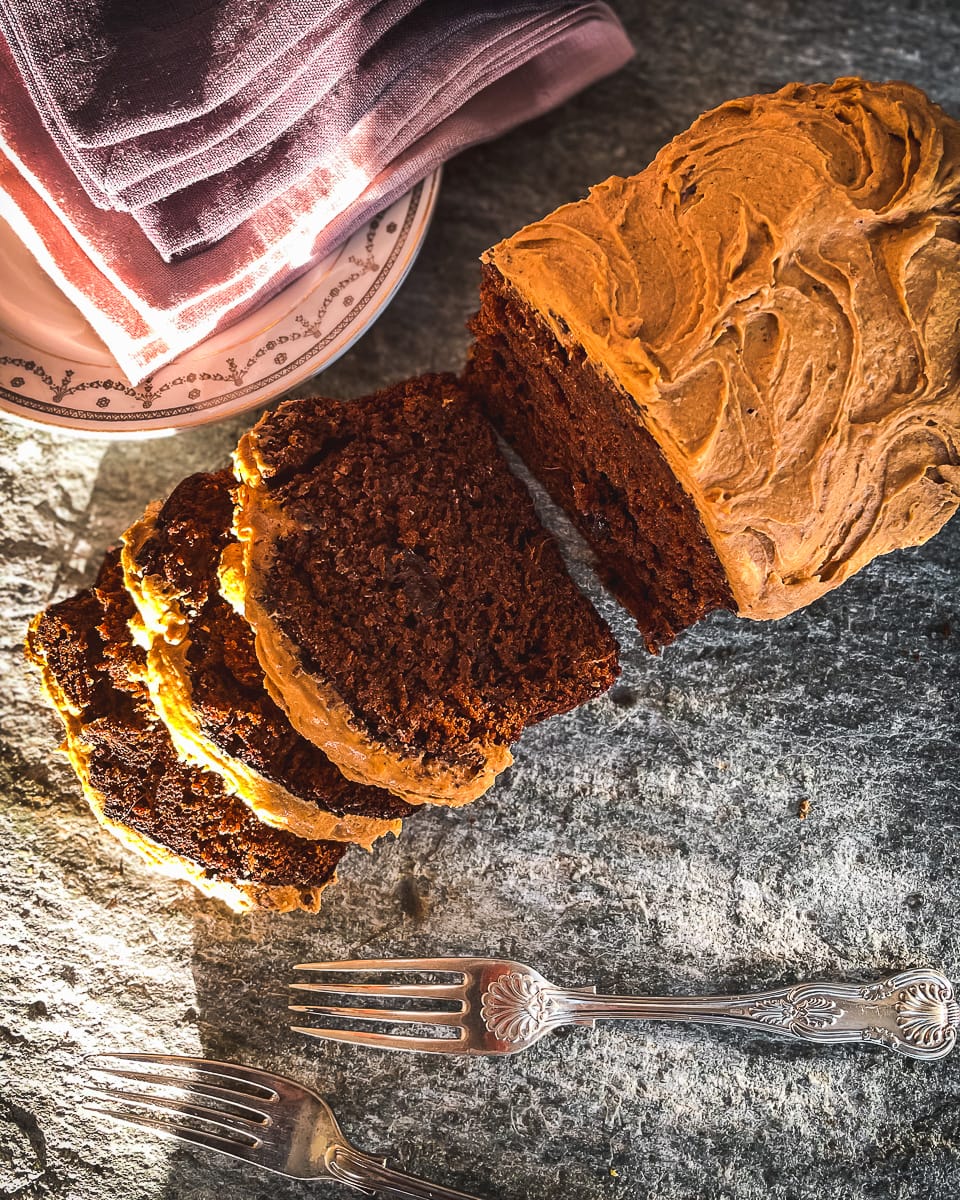 Gingerbread Cake Ingredients
I've mixed fresh ginger and powdered ginger. You can also swap in stem ginger for fresh. Ditto, I've used molasses with a teaspoon of malt extract, but black treacle is equally as good. Golden syrup is a little too sweet for me, but if you have a sweet tooth, this is probably a better option than honey.
As per many of my cake recipes, it is simple to make but includes a few spices. I've noted optional ones, so please don't be put off by the ingredients list. It will still taste fabulous. Ditto for the gingerbread icing; it's equally good with or without. If you choose to soak the prunes in ginger wine, why not serve it straight from the oven as a dessert with stem ginger-flavoured mascarpone, caramel, vanilla sauce, or ice cream? Perfect for a good old-fashioned 'pudding'.
Keep an Eye on the Cooking Time
One last word of advice, it takes about 55-60 minutes to cook. Make sure to check it halfway and cover it with tin foil if it is browning too quickly. Start in the oven at 170 degrees centigrade on the middle shelf. After 8-10 minutes, reduce it to 160. The bread should be well-risen and firm. I stupidly left one cake for 80 minutes, and it was still moist inside, but the top crust was too hard.
If you loved this, then check out more of our delicious baking recipes.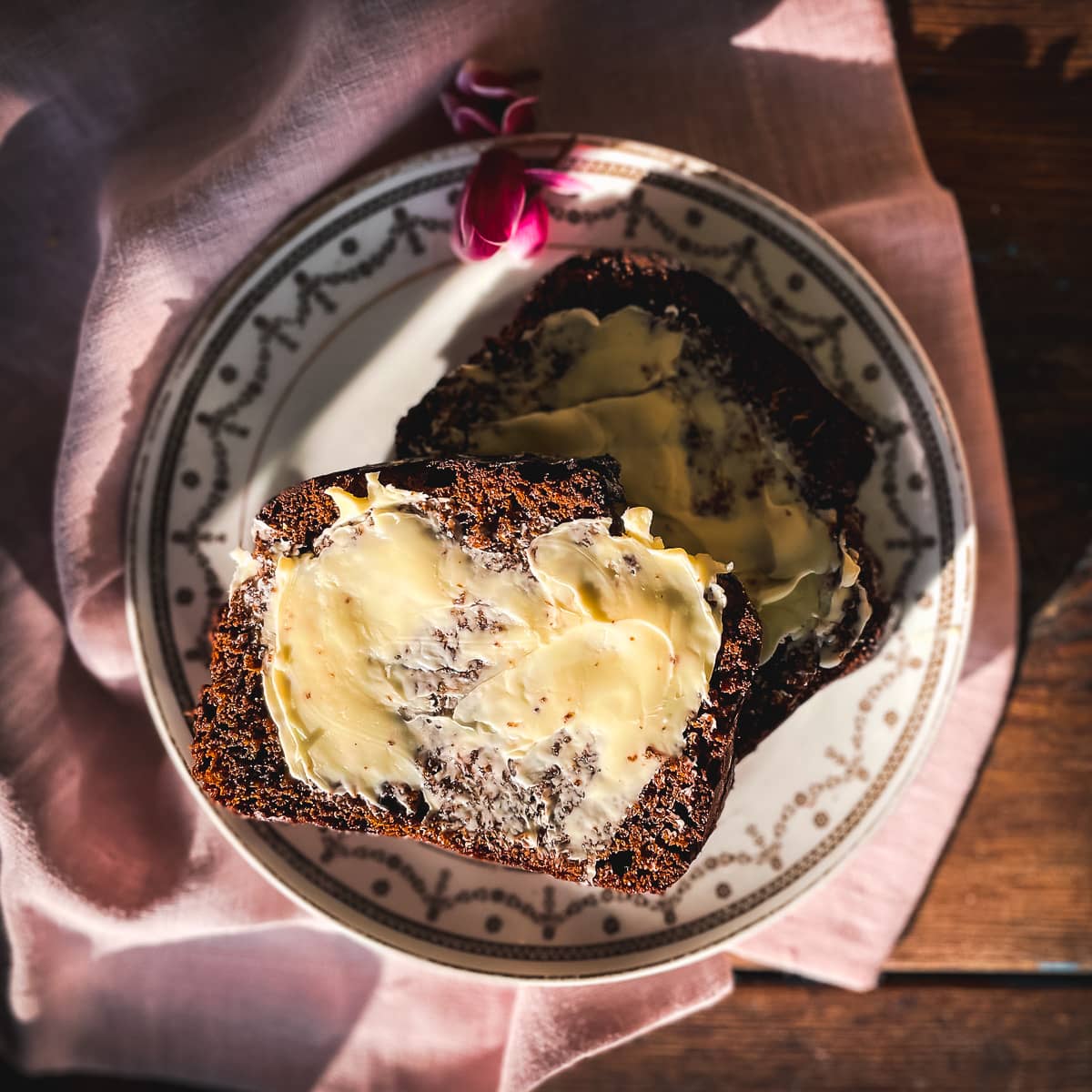 Gingerbread Loaf Cake with Ginger Wine Soaked Prunes
Authentic dark, sticky and spicy moist loaf cake flavoured with fresh ginger.
Print
Pin
Rate
Equipment
1 24cm x 12cm loaf tin, lined with baked paper
Ingredients
260

g

all purpose flour

2

generous tbsp

ground ginger

1

tbsp

cinnamon

¼

tsp

nutmeg

¼

tsp

ground allspice

optional

1½

tsp

baking soda

115

g

butter

250

ml

whole or evapourated milk

or half milk and half kefir

80

ml

molasses

or black treacle

1

tsp

malt extract

optional

80

ml

honey

or golden syrup

100

g

soft brown muscovado sugar

50

g

grated fresh ginger

or stem ginger

zest

½

orange

2

eggs

lightly beaten

140

g

dates chopped

steep in 2 tbsp ginger wine or brandy for 30 minutes if this is a grown up cake!
Instructions
Sieve together the flour, baking soda and spices. Don't omit this step, make sure the baking soda is really incorporated and there are no clumps or you will bite into nasty lumps of soda in the cake. Mix in the dates.

Put the jar of honey (golden syrup) and molasses (black treacle) into a saucepan of hot water. It makes them easier to pour. Set the scales at zero with an empty saucepan and then pour molasses and honey to correct weight into the saucepan (80g+ 80g total 160g). By far the easiest method of measuring these sticky substances!

Put the saucepan on low heat, add butter, malt extract, grated ginger and orange zest. When just melted, add the sugar and milk. Mix well and leave to cool

Make a well in the centre of the flour mixture and add the contents of the saucepan. Mix really well until you have a smooth batter. Slowly beat in the eggs – they resist a little but add slowly, slowly to fully incorporate. The mixture is surprisingly billowy and light.

Pour the cake mixture into the prepared loaf tin. Bake on or just below the middle shelf at 170°C for 10 minutes and then turn down to 160°C for a further hour – check halfway through and cover with tin foil if the top looks as if it might burn. Ready when well risen and firm to touch. Total time 1 hour – 1 hour, 10 minutes.