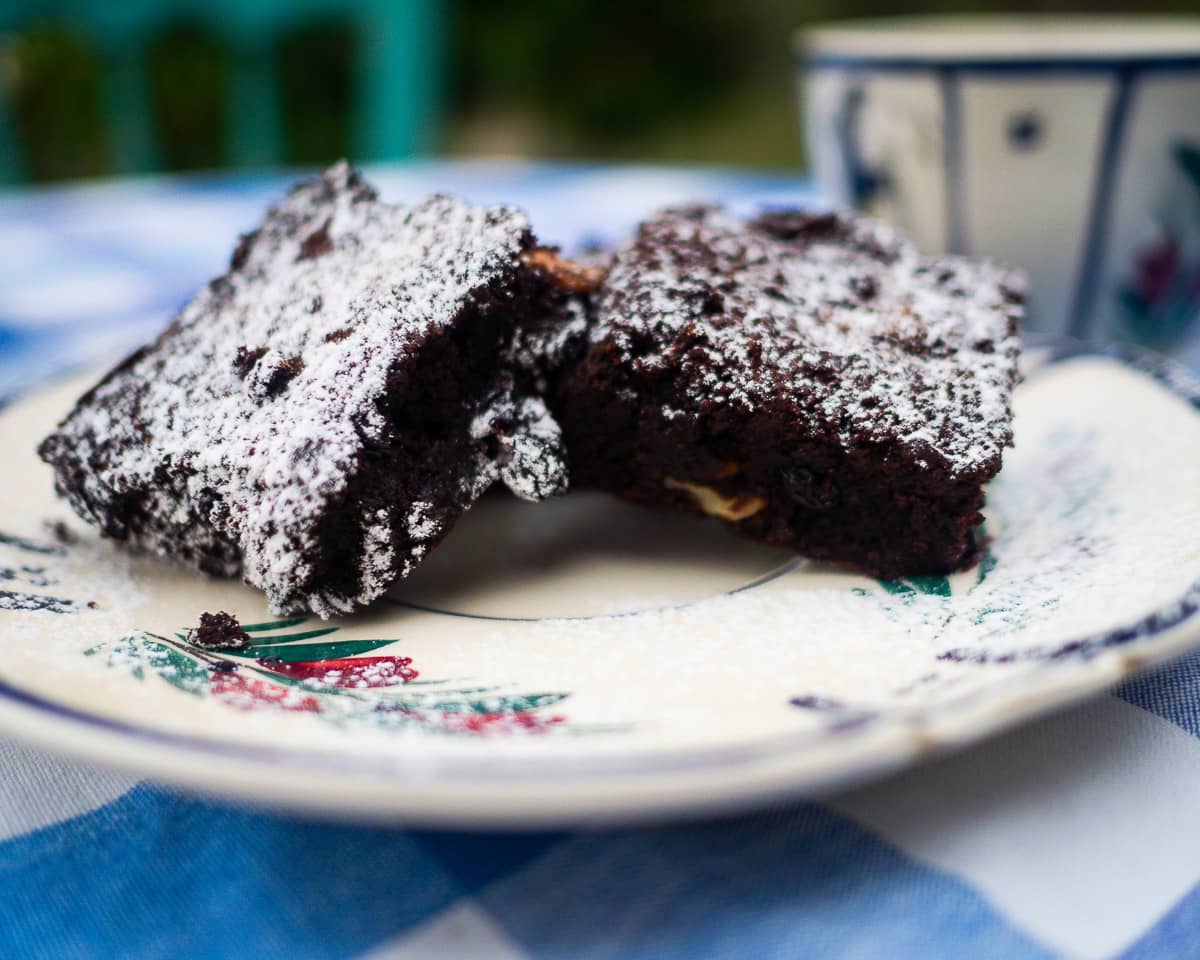 Fudgy Chocolate Brownie with Walnuts: We are still eating a lot of fish here at the moment… in case I hadn't mentioned it, it is Lent here in Greece. Anyway, fish needs something sweet afterwards. Brownies are perfect because they are super quick and satisfy that sweet craving omnipresent after fish.
The brownie is a classic recipe and easy, but brownies are a great go-to dessert if you need to create a quick pud. My favourite is adding a few chilli flakes to the mix. Add raisins soaked in an orange liqueur or brandy, white chocolate chips, lemon or orange zest. All delicious.😁
I have lost count of the number of brownie recipes I have googled and looked up over the years – each claiming to be the best. So I throw my hat into the ring and add this Fudgy Chocolate Brownie with Walnuts recipe. They made the grade because they are a little crumbly but still have that fudgy moist centre (which I believe is an essential character with brownie aficionados) without being too heavy. I love the texture of walnuts and even raisins, but that's a very personal thing.
Enjoy!
Why not check out some more sweet treats in our Baking section?
Equipment
20cm square baking tin – lined and greased
Ingredients
100

g

best quality chocolate (70% cocoa solids)

100

g

soft brown sugar

50

g

golden caster sugar

80

g

all purpose flour

2

large

eggs

2

tbsp

pure cocoa powder

125

g

butter

pinch

salt

1

tsp

vanilla extract

30

g

walnuts

(optional)
Instructions
Preheat the oven to 180°C. Line and grease a 20cm baking tin.

Sieve the flour, salt and chocolate powder.

Melt the chocolate and vanilla extract over a bain marie. Leave to cool.

Beat the butter and sugar until pale and light, and then slowly whisk in eggs and the cooled chocolate.

Stir in the sieved flour mixture and fold in the walnuts.

Bake for about 25- 30 minutes but be sure to check it at 20 minutes, if the knife comes out with a few crumbs, remove the brownie. You want it soft in centre as it will continue to cook as it cools. Cool for 10 minutes in the tin then remove it from the baking tray and cool completely before cutting into squares and decorating.
Notes
Brownies are extremely versatile and really lend themselves to different flavours. Depending on the season or the occasion, you can exchange the walnuts for pecans, orange zest, chilli flakes or extra chocolate chunks.
This recipe is adapted from a well-thumbed edition of Delicious magazine, Eye to Eye Media Ltd. Dating back to around 2013.