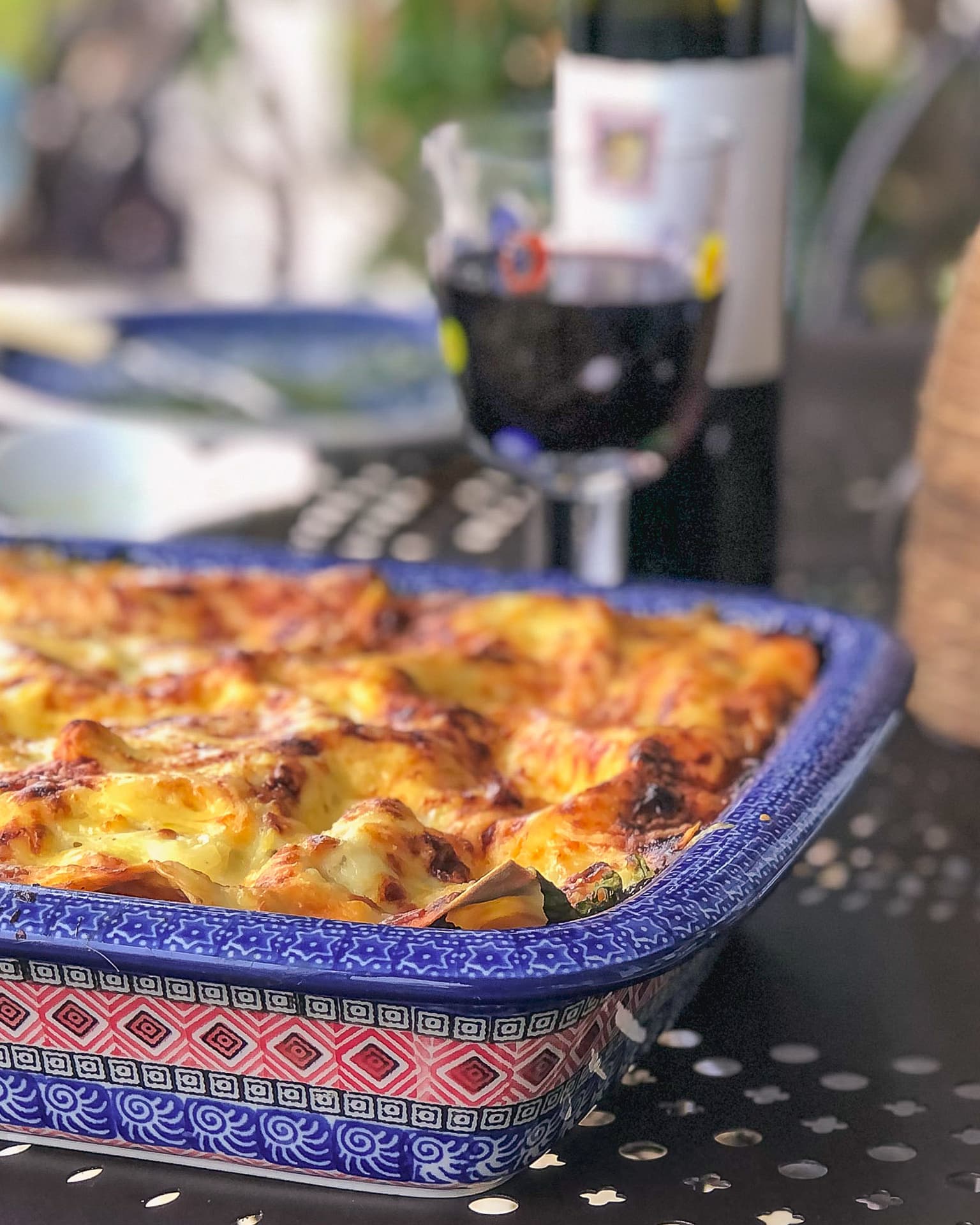 Lasagne alle Verdure (with roasted red peppers): New territory for me, but as we are still not eating meat, I felt it was worth some time in the kitchen. I was hugely sceptical because lasagne alla bolognese is a cornerstone of family comfort food. Could we make vegetarian lasagne taste as good?
After some research, nothing inspired me except for Akis Petretzikis's recipe; he uses mint, dill oregano and thyme and marries gruyere and feta. It is really original. However, I decided to stick to the concept of a vegetarian ragu. Aubergines are perfect for this, and I've added a layer of roasted red peppers that cook while you are pre-heating the oven.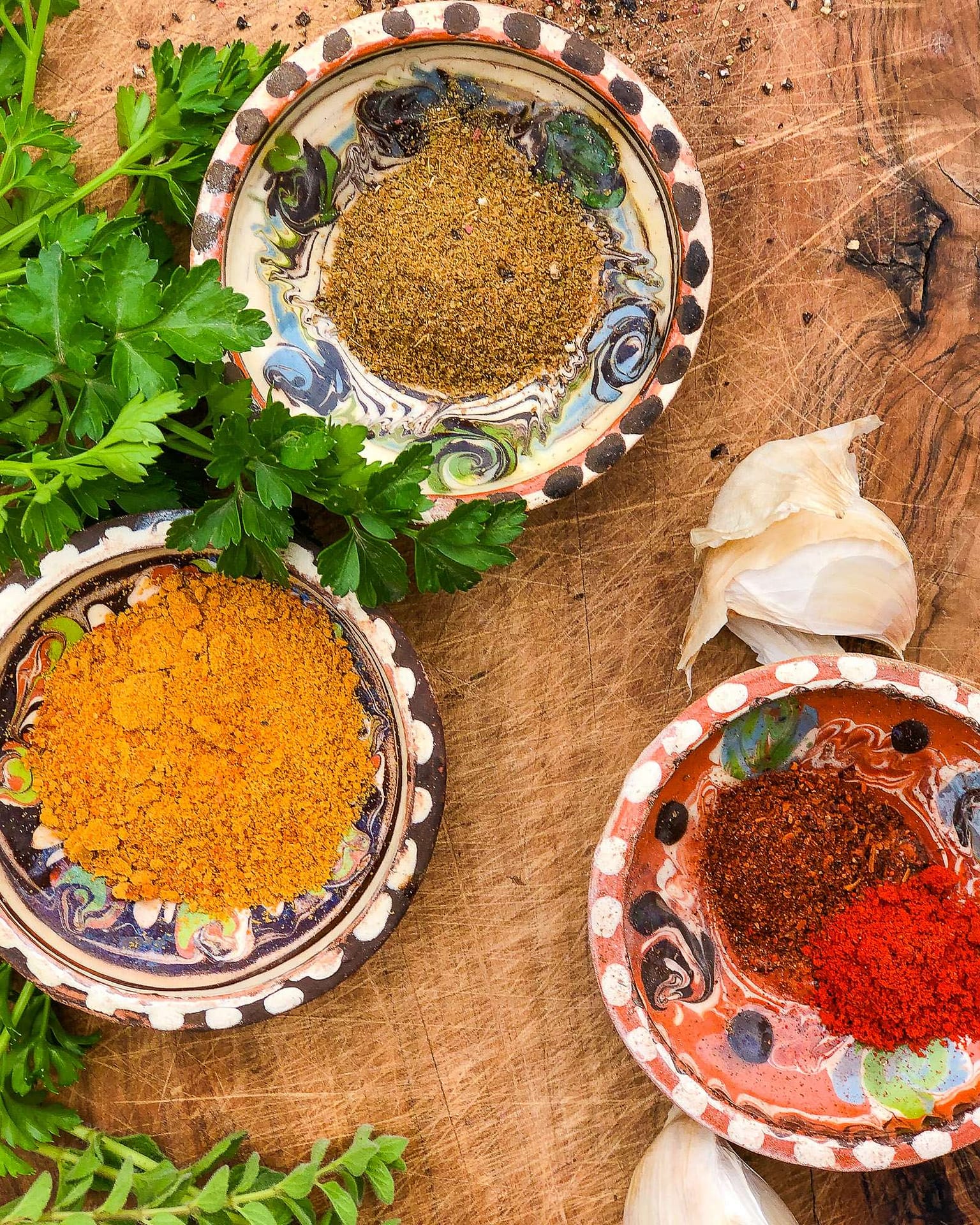 Keep the Sauce Thick
The worry that vegetarian lasagne can be watery and tasteless is valid. Many recipes rely on courgettes which possibly contributes to this. So I focused on keeping this ragu thick and rich and quite spicy.
The spinach layer must be dried and crunchy fresh. The verdict from the non-vegetarian tasters on the first version was excellent ………except they told me to lose the layers of spinach leaves. So now the spinach is finely sliced, and it's a perfect balance for the rich ragu. My prime taster said he would now prefer this over lasagne alla bolognese. Now there's a predicament.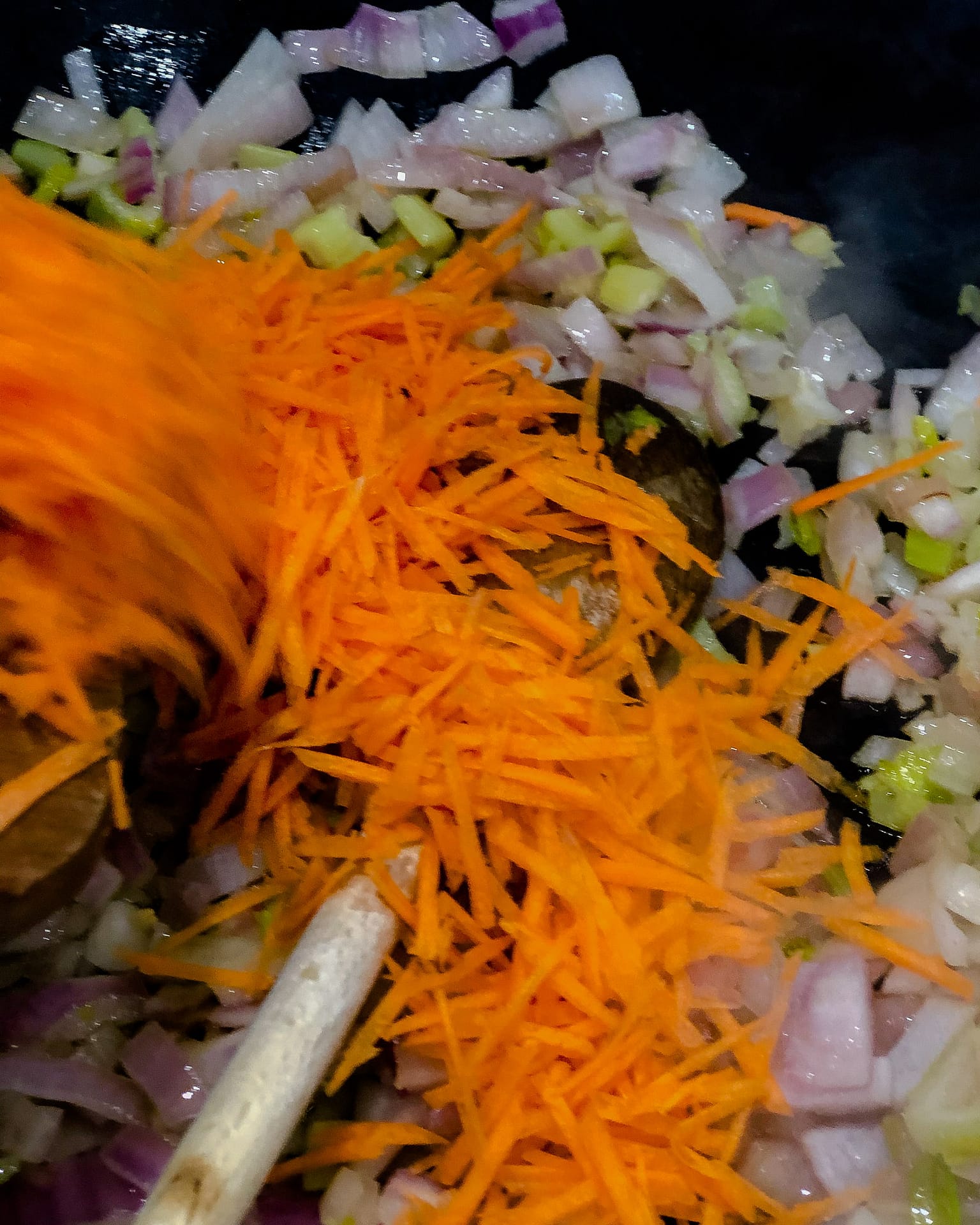 Vegetarian Ragu Needs Time and Love
Lasagne is not a quick meal; the sauce needs love and time. So, in true Italian style, start with soffritto, gently fried finely chopped onions, carrots and celery and then build your ragu from there. Work slowly and gently, and let each stage of the sauce cook through. Be sure to really cook the aubergines and let them absorb all the flavours before adding tomato or stock. Boiled aubergine is not a good taste!
For more vegetarian inspiration, view our recipes here.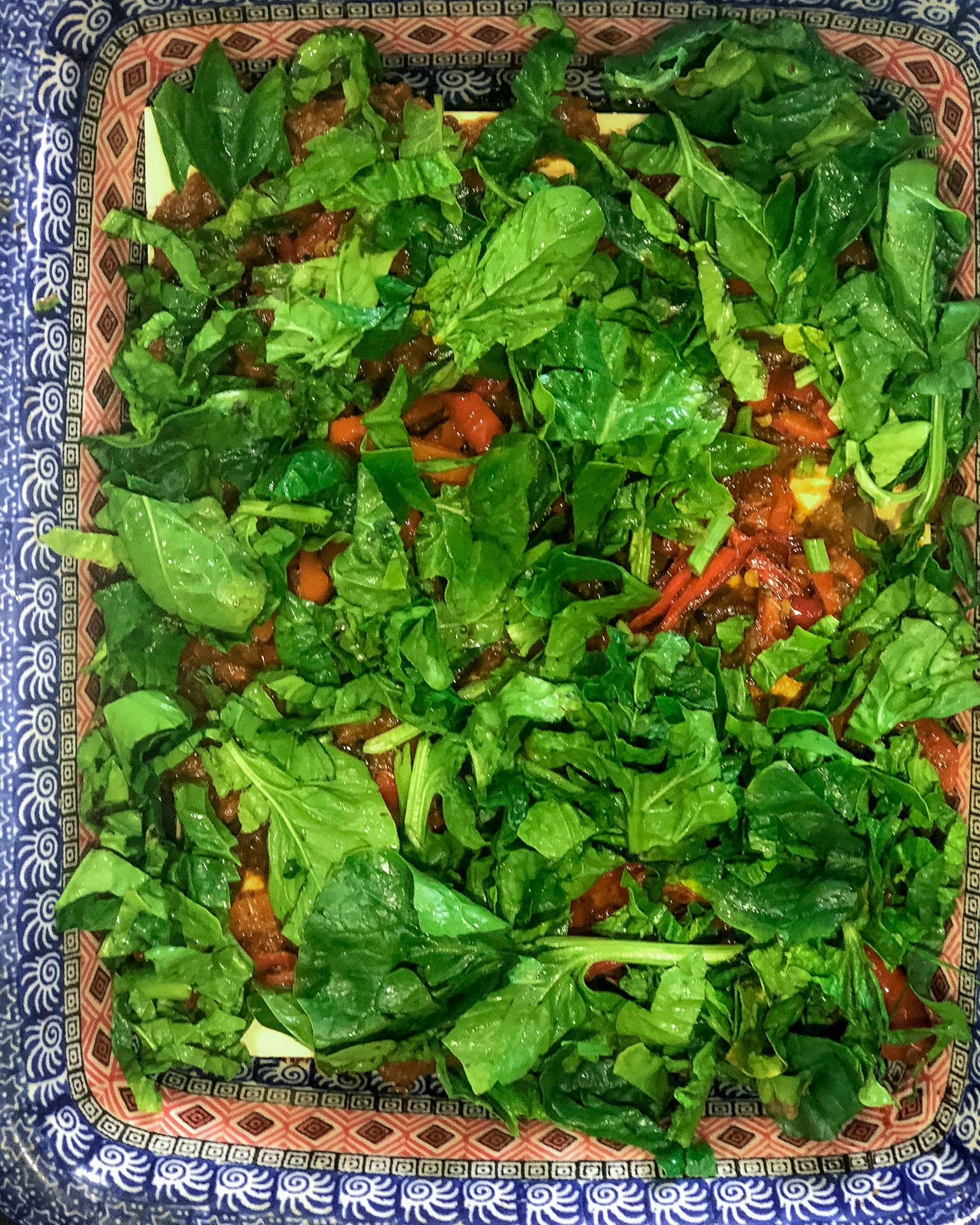 Lasagne alle Verdure with roasted red peppers
Rich vegetable ragu with layers of roasted red peppers, spinach and a creamy parmesan bechamel sauce. Easy to make, but like all good lasagna, it takes a little time.
Print
Pin
Rate
Equipment
Heavy baking dish (approx 30 x 23 cms)
Ingredients
Vegetable Ragu
6-8

lasagne sheets

700

g

3 – 4 aubergines, diced into small cubes, salted and left to drain.

2

red onions, finely chopped

3

Florina red peppers, cut into half cm rounds

1

banana chilli pepper, finely chopped

optional

1

small mild green pepper, finely chopped

1

large

celery stalk including plenty of leaves, finely chopped

1

large

carrot (grated)

2

scant tbsp

tomato paste

300

ml

tomato sauce

or fresh tomatoes in the summer

350

g

finely sliced spinach leaves washed and dried in a salad drier or tea towel

200-300

ml

vegetable/chicken stock or stock cube

1

tsp

cumin

pinch

mace or nutmeg

ground black pepper

½

tsp

sweet paprika

½

tsp

smoked paprika

1

tbsp

dried mixed herbs

3

cloves

grated garlic

1

tbsp

finely chopped parsley

1

tbsp

finely chopped oregano or basil

olive oil
Bechamel Sauce
100

g

00 all purpose flour

800

ml

plant or dairy milk

100

ml

boiled water

olive oil

or butter

pinch

salt

pinch

nutmeg

black pepper

100

g

grated parmesan or pecorino cheese
Instructions
Preheat the oven to 180° and roast the red peppers, tossed in a little olive oil and the dried mixed herbs.
Vegtable Ragu
Gently saute the onions and celery until they are soft and then add the grated carrot. Soften and let the onions turn golden but do not burn.

Add all the spices except the garlic and turn over in the pan once or twice, then add the remaining chilli and green peppers and let them soften.

Add the aubergine, keep the pan on medium heat and gently cook until it is golden and well-sealed. You may need to add more oil and turn the heat up so it is soft and thoroughly cooked.

Stir in the grated garlic and tomato paste – coating all the vegetables. Add half the tomato sauce and bubble gently.

Check on your red peppers, if they are cooked remove and leave them to cool. Turn the oven up to 200°C.

When the sauce starts to dry out – add the remaining tomato sauce and a little stock. Bubble up to a rich but pourable sauce. Add more stock or tomato sauce if necessary. It needs to cook gently for around 40-45 minutes. Taste and season accordingly. If you prefer a smoother sauce, you can slightly blend it with a stick blender.
Bechamel Sauce
Make bechamel sauce by adding a couple of tablespoons of olive oil to a saucepan and mixing in the flour to form a paste. Add a dash or two of hot water, whisking with a small sauce whisk until it is well incorporated. Put it over low heat and gradually add milk, salt, pepper, and nutmeg. Whisking all the time until it comes to a boil and thickens.
Making the Lasagne
Put a layer of your vegetable ragu on the bottom of the oven dish, cover it with lasagne sheets and then add another layer of vegetable ragu, a thin layer of red peppers, a thin layer of spinach and a layer of bechamel sauce.

Repeat the process, lasagne, ragu, red peppers, spinach and bechamel. Finishing with a layer of pasta. Cover the pasta with bechamel and grated parmesan.

Put the lasagne in the oven for 10 minutes at 200°C, then turn it down to 180°C for 30 minutes. Cover with foil if the top starts to burn and take the foil off 5 minutes before the end to brown the top of the lasagne.