Broad Beans with Mint, Wild Garlic and Feta: It is broad bean season, and I have just been given a big bundle of freshly picked beans by my lovely neighbours. Their plants measure about 2 metres; mine about 5 centimetres. I fear I planted mine way, way too late.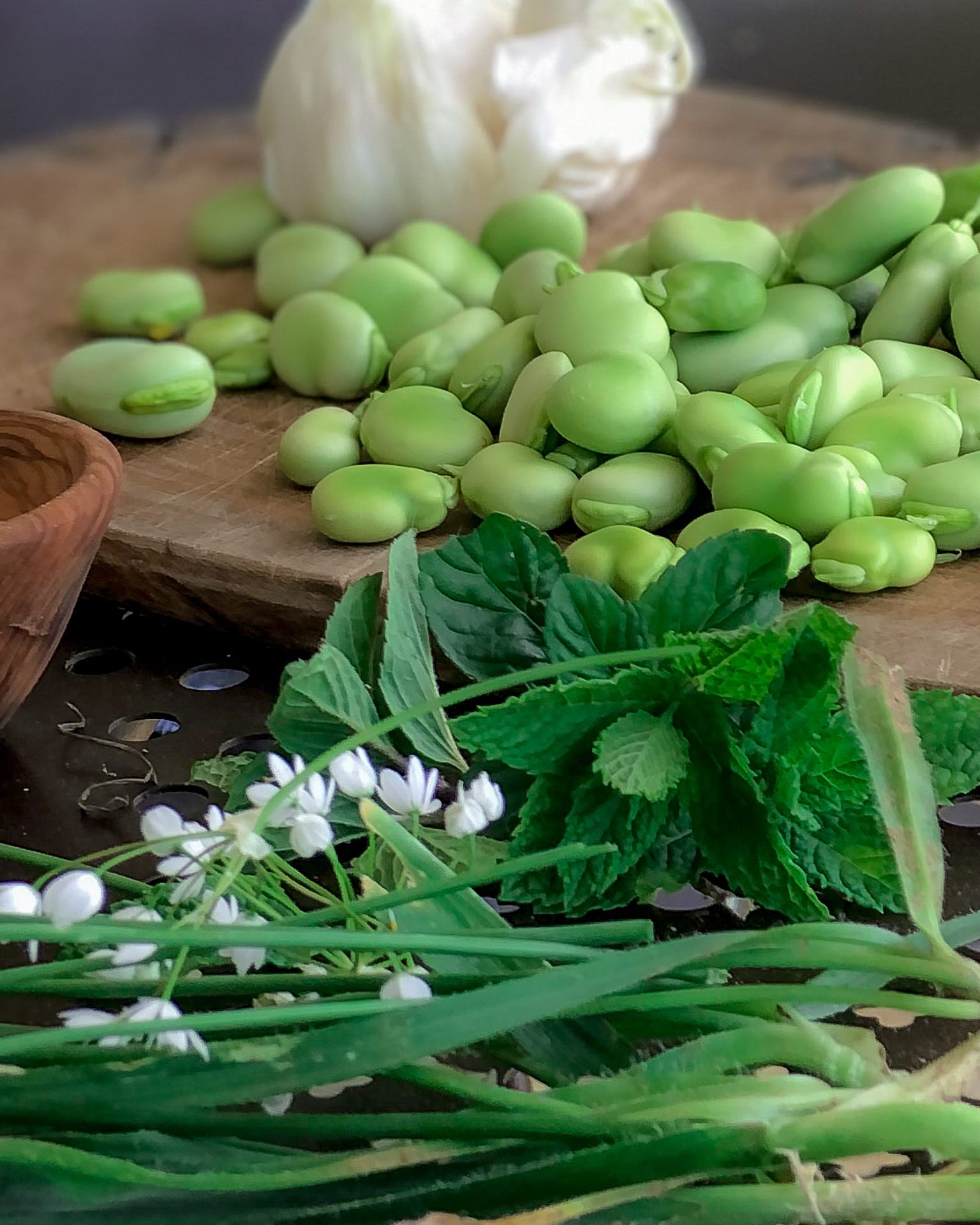 I adore broad beans and look forward to the season. You appreciate them all the more because, here in the Mediterranean, they last such a relatively short time. Ideally, try to eat them as fresh as possible while not too big.
Every Trattoria in Italy serves broad beans at this time of year, more often than not, with pancetta added. I have made them many times, sometimes adding chorizo, sometimes garlic and herbs and even slightly spiced.
Using Mint or Lesser Calamint
For this recipe, the beans are steamed/stewed in a little good quality olive oil and then flavoured with either pancetta/chorizo or different combinations of herbs. Nepitella is a cross between oregano and mint and is perfect for this dish. Nepitella, or lesser calamint, is growing wild everywhere at the moment, so that seems a very natural companion.
Cooking the Broad Beans
Here, in Greece, they are often cooked with the pods on. I am not such a great fan; you need to cook them for quite a long time for the outer pod to soften. The method is the same, top and tail, cut into 2 or 3 pieces, and then cook until soft. I fear you lose their delicate flavour cooking them like this, but nothing is wasted, and the meal doubled.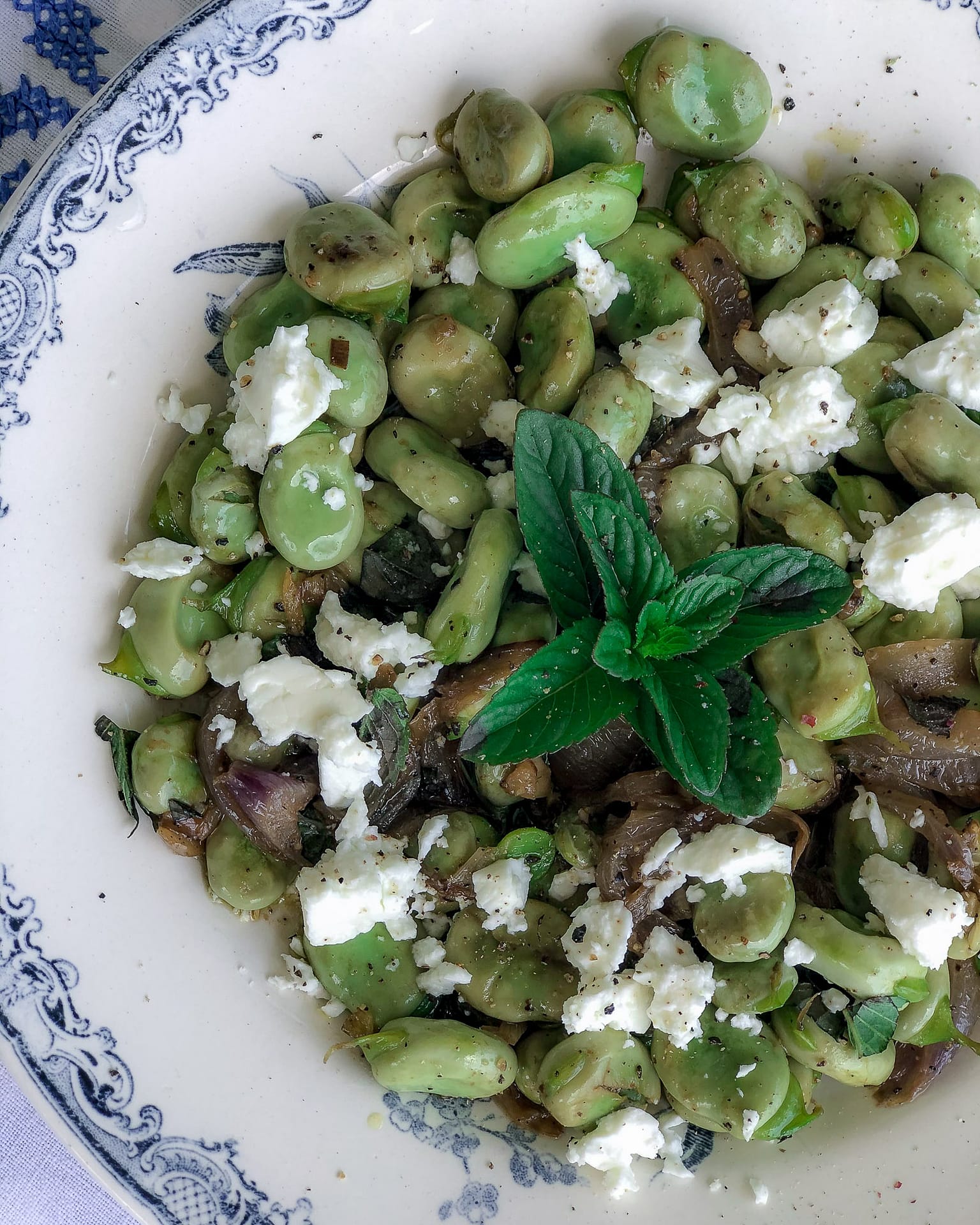 Before putting pen to paper, I quickly searched through my library to find any other variations. I found a much simpler version with garlic and coriander from Itab Azzam and Dina Mousawi's excellent book Syria Recipes From Home. The dish is made similarly to this recipe but suggests frozen broad beans and a much shorter cooking time. They also suggest serving on toast with a spoonful of yoghurt or fried eggs.
You can also stew the beans with mint and grated garlic. Mash them and use them as a delicious topping for toast sprinkled with sumac.
For more light food inspiration, check out our Salads section.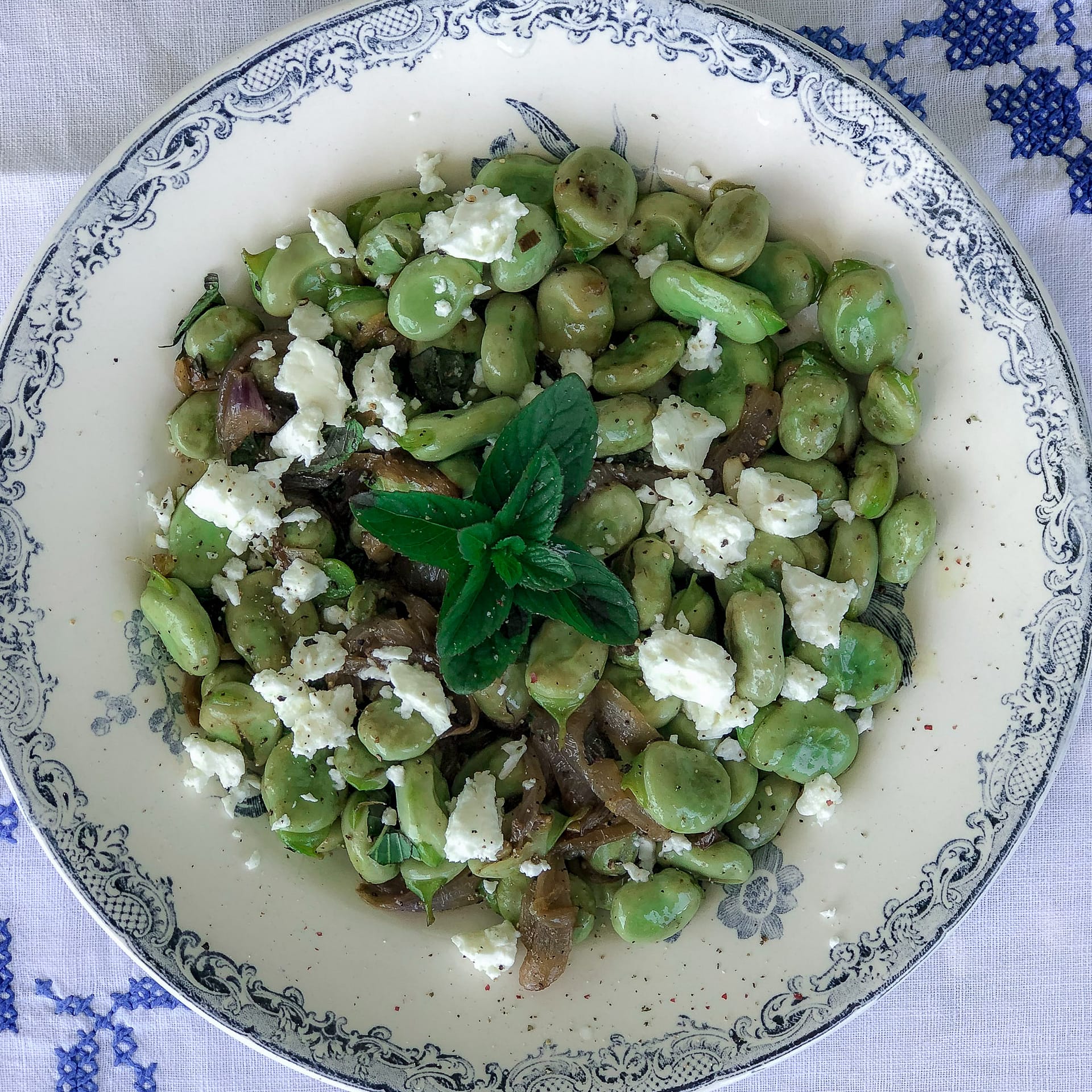 Broad Beans with Mint, Wild Garlic and Feta
A fusion of the popular southern Italian dish with Greek Feta. Young broad beans stewed in fragrent olive oil, garlic and herbs; with the addition of feta, pancetta or chorizo.
Print
Pin
Rate
Ingredients
300

shelled, super fresh broad beans

3-5

cloves

wild or early spring garlic

normal garlic works equally well but you may wish to reduce to 2-3 cloves

1

small

finely sliced red onion

1

small bunch

fresh chopped nepitella, mint, oregano or coriander

nepitella also know as lesser callamint

1

slice

pancetta – sliced not too thin chopped into strips

finely sliced if using chorizo

generous

tsp

grated lemon rind

½

tsp

sumac

olive oil

salt and freshly ground black pepper

feta to crumble

for the herb version if you are not using pancetta or chorizo
Instructions
Heat a thin film of olive oil and gently fry the onions until translucent. If using, add the pancetta or chorizo and let it sweat to release the oils.

Stir in the beans, garlic and generous grinding of black pepper. Hold fire on the salt.

Add a couple of tablespoons of water and after a couple of minutes, if you are not using the pancetta add the lemon zest and herbs of your choice.

Cover for a couple more minutes, adding a dash more water if necessary. Salt to taste.

If you are using fresh beans they should be soft after 4-5 minutes.

For the herb version, serve crumbled with feta cheese and a light sprinkling of sumac.

For the pancetta (chorizo) version, serve with crusty bread or pitta and black pepper.