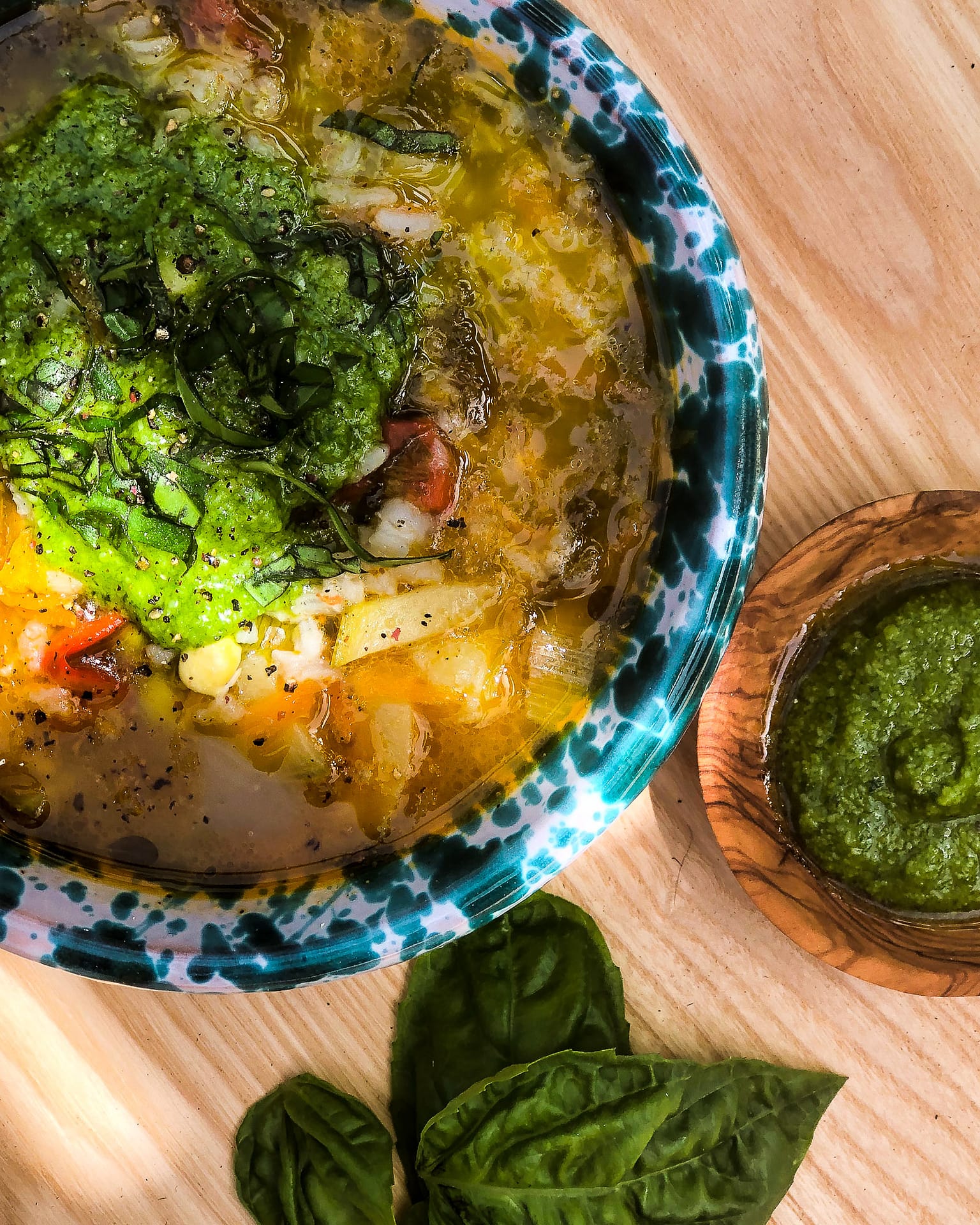 Soupe au Pistou: A delicious provencal vegetable soup and the perfect way to celebrate the arrival of summer and buy as many spring vegetables in the market as possible! Fill your basket with broad beans, peas, swiss chard, courgettes, haricot vert and the first crops of tomatoes and basil.
The art of Soupe au Pistou
Pistou is the Provencal version of Pesto—essentially the same thing but without the pine nuts. Like any traditional recipe, there are do's and dont's and many different versions; according to Jacques Medecin, Cusine Nicoise (the very French cookbook of the somewhat unusual ex-Mayor of Nice) dictates you can use any vegetable you like as long as you include fresh haricot beans, courgettes and tomatoes. The Larousse recipe seems to back this up, except it uses dried haricot beans.
Broad beans are abundant now, and I have opted for them instead of haricot beans, but either is equally delicious. The vegetables create a subtle flavour. Therefore, using super-fresh ingredients and cooking over gentle heat ensures you extract all the aromas without ruining the vegetables. A true Soupe au Pistou should have neither broth nor stock added. I break one small rule and add half a vegetable stock cube, but you shouldn't need to add any more salt.
Fresh and Young Ingredients
Having lived in the Southern Alps and Provence, I have tasted some delicious and appalling Soupe au Pistou; it is one of those dishes that appear on the 'Menu du Jour' at this time of year and can be watery and grey. So, don't be confined by my recipe; the secret is to use young, tender, fresh ingredients and ensure they complement each other. Chard works well, but spinach becomes too soft. Haricot beans can be hard to find, so maybe opt for dried. Leeks are ideal, but I would use either leeks or onions, not too much of both. And, of course, the classic haricot vert (provided they are young and tender) work very well. I would avoid asparagus tips as I think the flavour is too strong, and they make a delicious soup in their own right.
A few thunderstorms were in the air a couple of weeks before the official start of summer—a perfect lunch. Serve with crusty bread or simply on its own.
For similar dishes, check out our Soups and Stews page.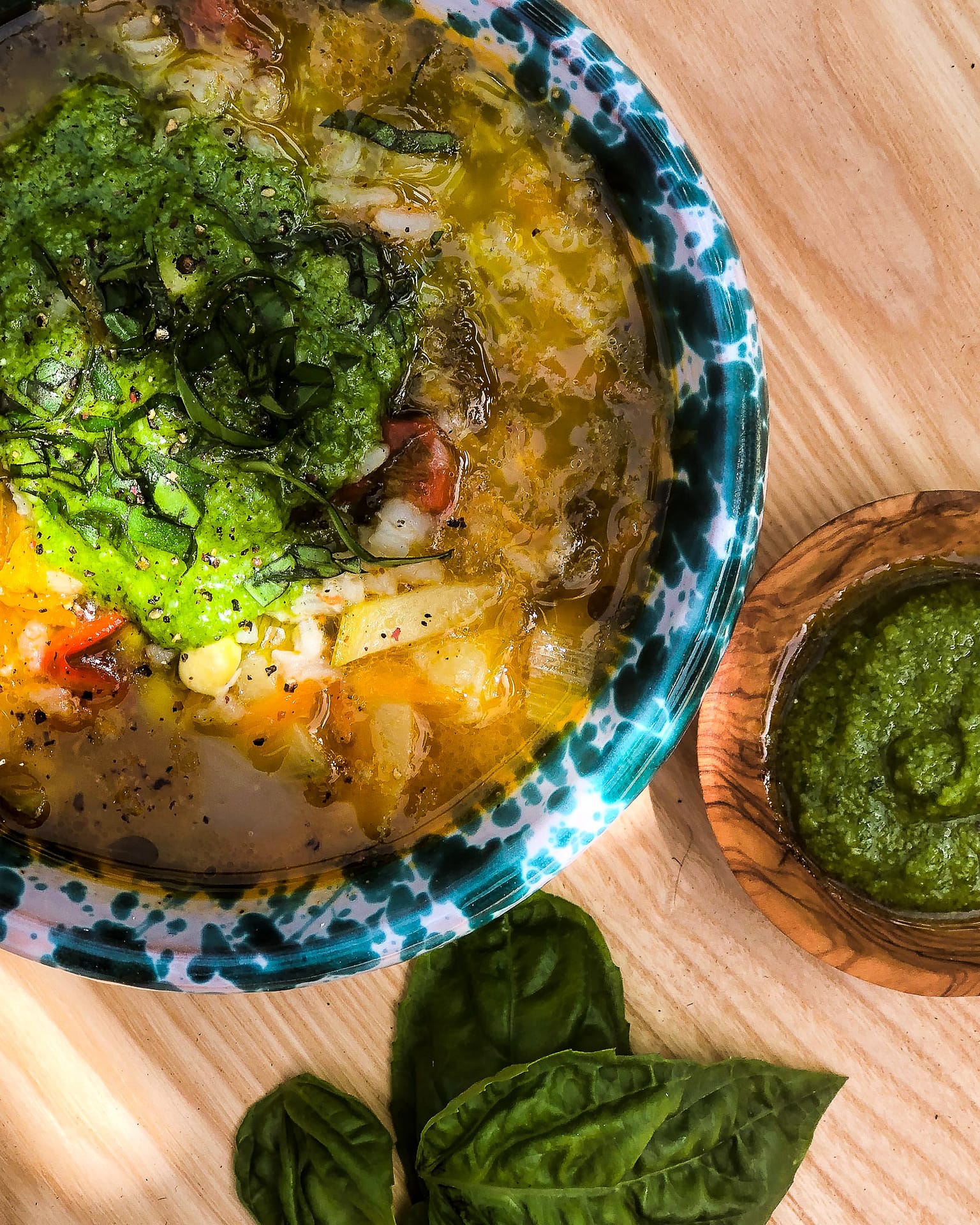 Soupe au Pistou (Provencal Vegetable Soup with Pistou)
A celebration of spring and summer vegtables in a light soup with garlic and fresh basil
Print
Pin
Rate
Ingredients
1

large handful

celery leaves (or swiss chard) stems finely chopped

1

large

grated carrot

1

large handful

fresh broad beans/fresh haricot beans

or dried haricot beans (soaked and pre-boiled for about 20 minutes)

1

large handful

peas

3

roughly chopped spring onions

1

small

red onion finely sliced

1

large

courgette cut into quarters and cubed

3

ripe tomatoes roughly chopped

1

small

florina red pepper diced into small cubes

optional

80

g

rice, coarse vermicelli or soup pasta (orzo)

4

cloves

roughly chopped spring garlic (use less if you are using more stronger more mature garlic)

½

mild chilli pepper

optional

½

vegetable stock cube

optional

handful

fresh herbs, such as thyme and oregano or basil and parsley

plenty of freshly ground black pepper

grated parmesan to serve
Pistou
3

cloves

garlic

10

leaves

basil

6

tbsp

grated parmesan

about 3

tbsp

olive oil
Instructions
Pistou
You can make this in advance and leave it in the fridge. Pound the garlic in a pestle and mortar (or grate then add to the mortar). Add the basil leaves and work your pistou until you have a fine smooth paste. Mix in the Parmesan and then drizzle in the olive oil to create a creamy pistou sauce.
Soup
Gently sweat the onions, red pepper and garlic in a little olive oil. When slightly golden add the celery (chard), chilli pepper and carrot. Cook a little more and add the courgettes and tomatoes. Season with black pepper and add the fresh herbs.

Add about 1½ litres of boiling water and ½ vegetable stock cube.

Bring to the boil and then simmer. After 20 minutes add the rice (vermicelli or pasta), broad beans and peas.

Cook for a further 20 minutes, adding more liquid if necessary, or until everything is tender. If you want to use fine vermicelli add towards the very end as per the cooking instructions on the packet.

Serve with a generous scoop of pistou, finely chopped basil and extra parmesan.
Notes
Obviously, think of your combinations, but you could interchange swiss chard for the celery and maybe add mange tout in place of/in addition to the freshly shelled peas.  Finely sliced red or pale green peppers are also delicious. I like to add half a vegetable stock cube instead of salt but if the vegetables are super fresh, only add water and salt to taste.