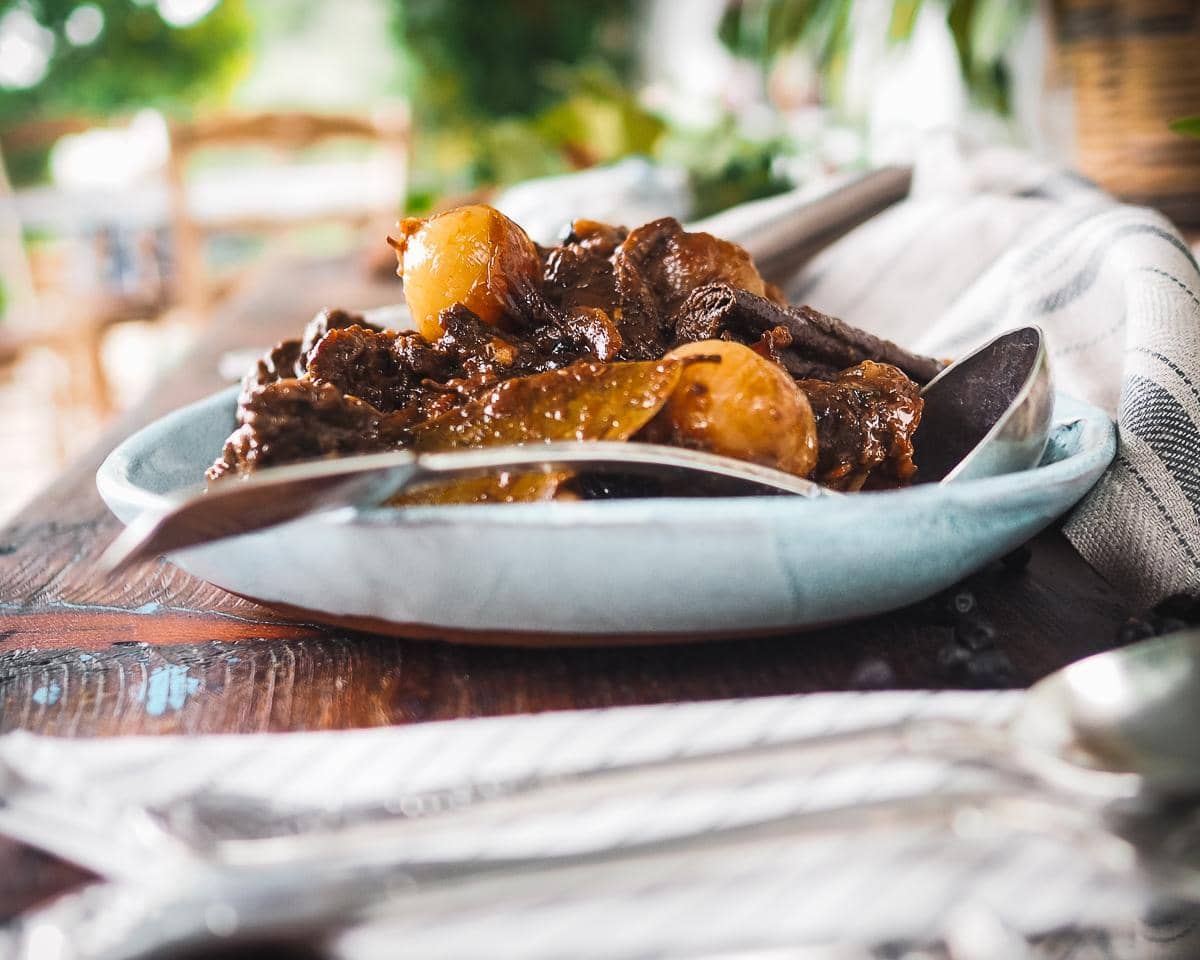 Stifatho, Traditional Greek Stew: Comforting, warming, super easy and delicious. Greek Stifatho or Stifado is a go-to winter dish found in kitchens throughout Greece. The Venetians brought it across the sea in the 13th Century, along with other famous traditional dishes such as the Cretan Gamopilafo or Corfiot Pastitsada.
Stifado with Beef, Wild Boar, Rabbit or Octopus
Make stifado with rabbit, veal, or octopus. Here I have photographed two versions; beef and wild boar. Local wild boar is plentiful at the moment and has the advantage of travelling metres rather than kilometres to my kitchen door. Stifado can also wear a chicken or a vegetable hat, albeit with shorter cooking times. I will post recipes later this month. Lamb, however, simmered with similar spices is Kleftiko, a fabulous Greek stew with a significant history. Again on the to-do list.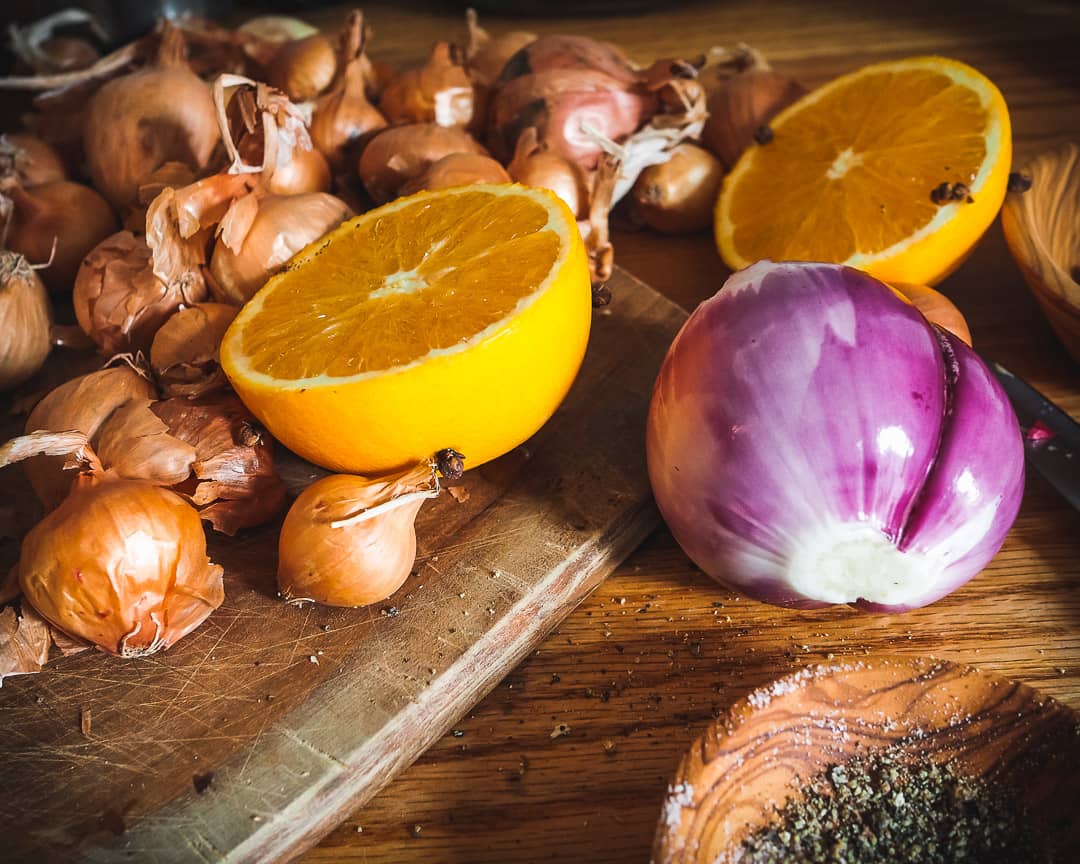 Greek Stifado and Onions
Onions are vital in stifado, both for flavour and naturally helping to thicken the sauce. Ideally, use 'kokkari' onions, shallots or pearl onions. If not, quartered large sweet onions work well. The onions should be nearly or equal to the weight of the meat. Don't be put off by the arduous task of peeling a kilo of shallots. Trim the root, blanch for a couple of minutes, leave to cool. You will then find the onion easily pops out of its skin.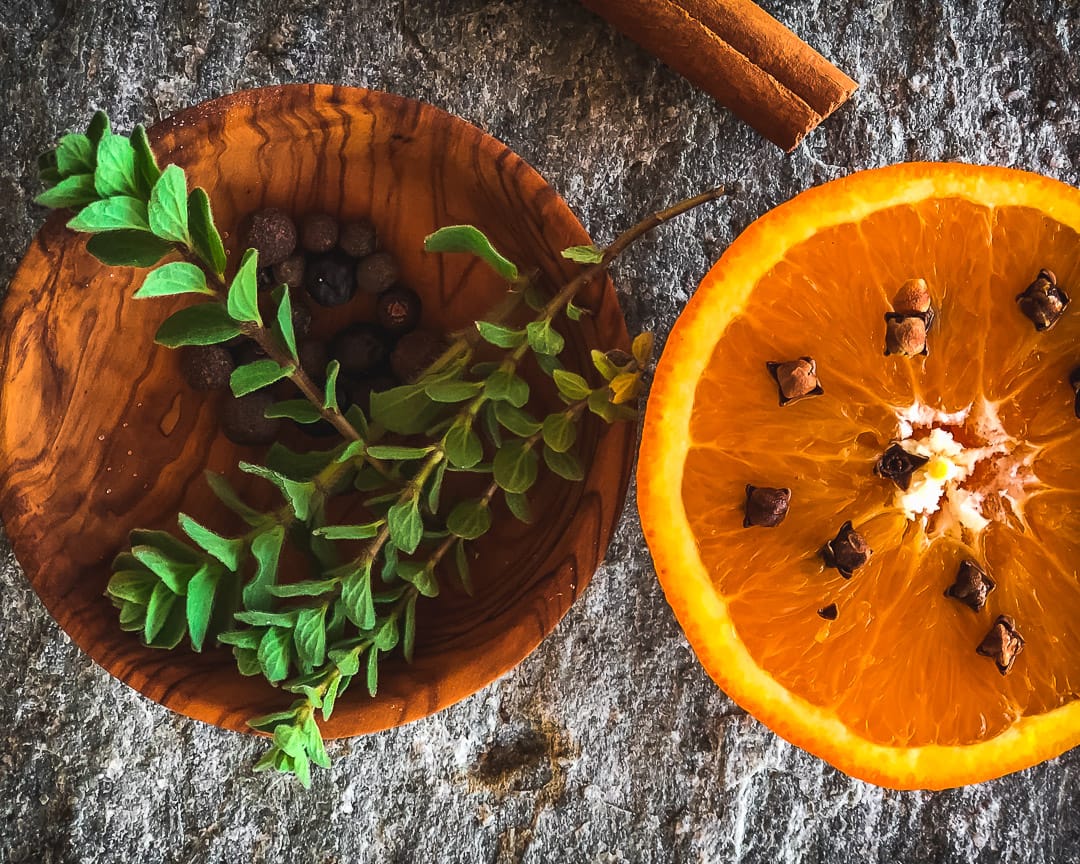 Over the centuries, stifado has evolved with each family and every Taverna, cooking their special recipe. In essence, it has a rich, slightly sweet tomato sauce infused with red wine, allspice, cloves, bay leaf, cinnamon, garlic and juniper berries. Sometimes rosemary is added, sometimes oregano. The cloves are studded into an orange, and occasionally, probably as you get closer to the Turkish border, a pinch of cumin finds its way into the sauce.
Cook Slowly and Gently
Like a good Boeuf Bourguignon or any stew for that matter, stifado needs time, and once the meat and onions have been browned and sealed, it should be cooked over low heat and stirred only occasionally. Ideally, cook the day before as it is always better the next day. Don't be tempted to boil the meat in a lot of liquid to speed the process; add enough wine and water to cover the meat and add a little more when necessary. Slow slow.
Traditionally stifado is served with 'hilopittes' (egg pasta) or the tiny 'orzo' (rice-shaped) pasta. It is equally delicious with lemon roasted potatoes, rice, creamy mashed potato and something like a maroulosalata (simple Greek green salad). And, last but not least, a slice of feta!
There is no rule book for stifado apart from the aromatic and onion base, so feel free to add carrots, celeriac, or even potatoes to stretch the meat and adjust the spices to your taste for a perfect Traditional Greek Stew.
For similar dishes, check out our Soups and Stews section.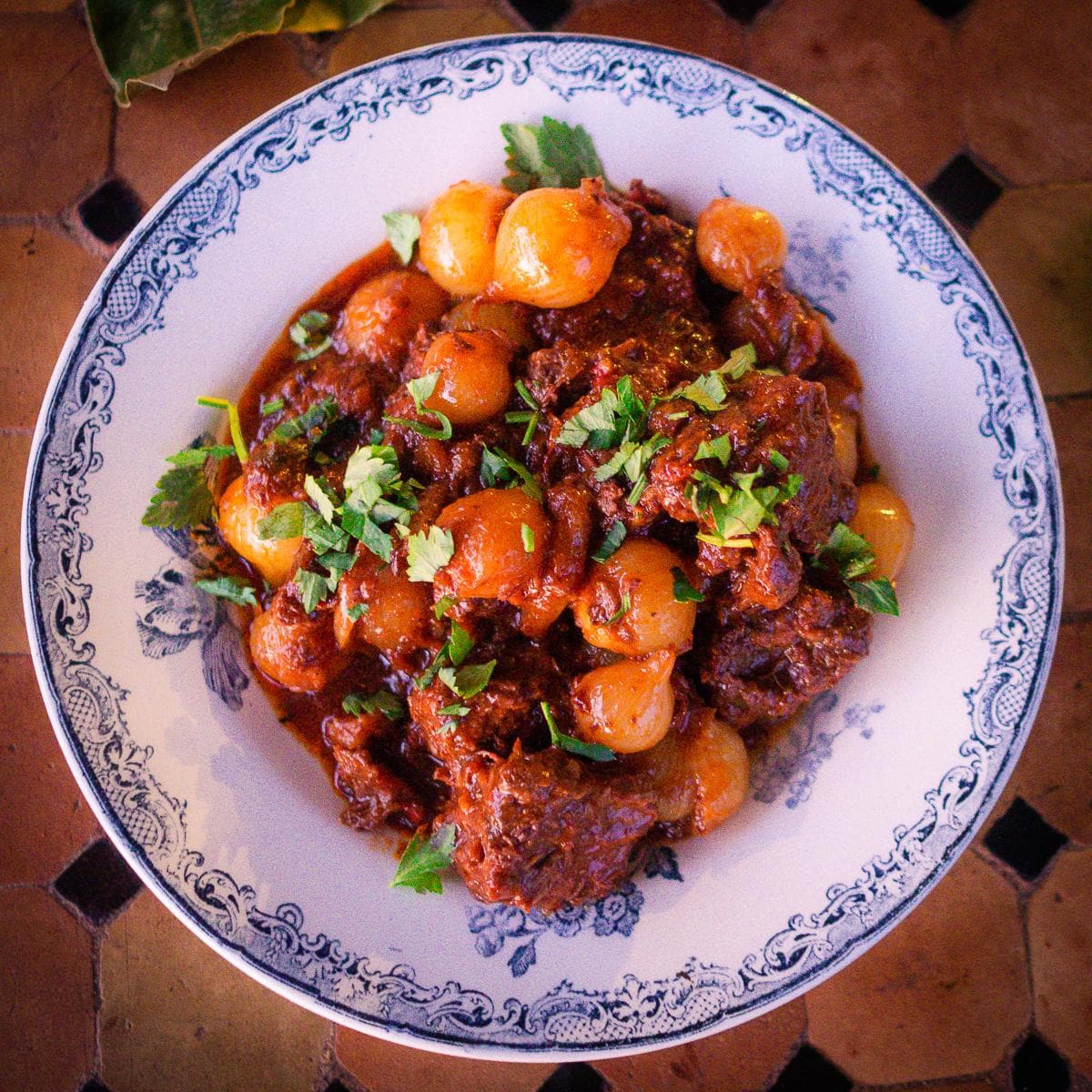 Stifatho, Traditional Greek Stew
A traditional greek stew of tender beef with lots of onions and steeped in a rich tomato sauce with cinnamon, juniper and allspice.
Print
Pin
Rate
Equipment
Large cast-iron casserole pan
Ingredients
1.5

K

good quality stewing beef cut into roughly 5cm chunks

chuck or top rump

1

K

kokkari, baby shallots or pearl onions

4

fresh tomatoes roughly chopped

or a tin of good quality tinned tomatoes roughly chopped

2

tbsp

concentrated tomato paste

¼

tsp

nutmeg

pinch

cumin

½

orange studded with 6 cloves

100

ml

red wine

you may not need all of this

2

tbsp

red wine vinegar

1

tbsp

cognac

1

clove

grated garlic
Marinade
1

cinnamon stick broken in two

8

allspice berries

5

juniper berries gently crushed

2

cloves

garlic roughly chopped

120

ml

red wine

2

tbsp

red wine vinegar

3-4

bay leaves

small bunch fresh oregano (1 tsp dried)

1

tsp

black peppercorns
Instructions
Put all the marinade ingredients together with the meat into a large non-reactive bowl. Refridgerate and marinade for atleast 6-8 hours but preferably overnight. If you are using wild boar, it will need the longer marinade.

Cut root end off the onions and blanch for a couple of minutes in boiling water. Let them cool and they will easily slip out of their skins.

Drain the meat, reserving the marinade, and saute in a large heavy based casserole dish – work in batches to ensure the meat is browned.

Add nutmeg, tomato puree and chopped tomatoes, coating the meat with the sauce, add the clove studded orange and the marinade. Bring to the boil and simmer.

Brown the onions in a little olive oil with a generous pinch of cumin. De-glaze with the cognac and add to the stifado.

Simmer for 2½-3 hours, stirring occasionaly. Add a little water if it start to stick and needs more cooking.

After about 2 hours, check the sauce for seasoning adding salt and pepper if necessary. Continue simmering for another half/hour or until the sauce is thickened and the meat is tender, breaking easily with a fork.

Serve with pasta or creamy mashed potatoes, green salad and slice of feta or grated parmesan.
Notes
It is difficult to precisely predict the cooking times because different meats and cuts behave differently, but it will need at least 2 – 3 hours.
The longer, the better with gentle heat. A rabbit stifado will probably only need a couple of hours but wild boar will need 3 hours and must be marinated overnight.