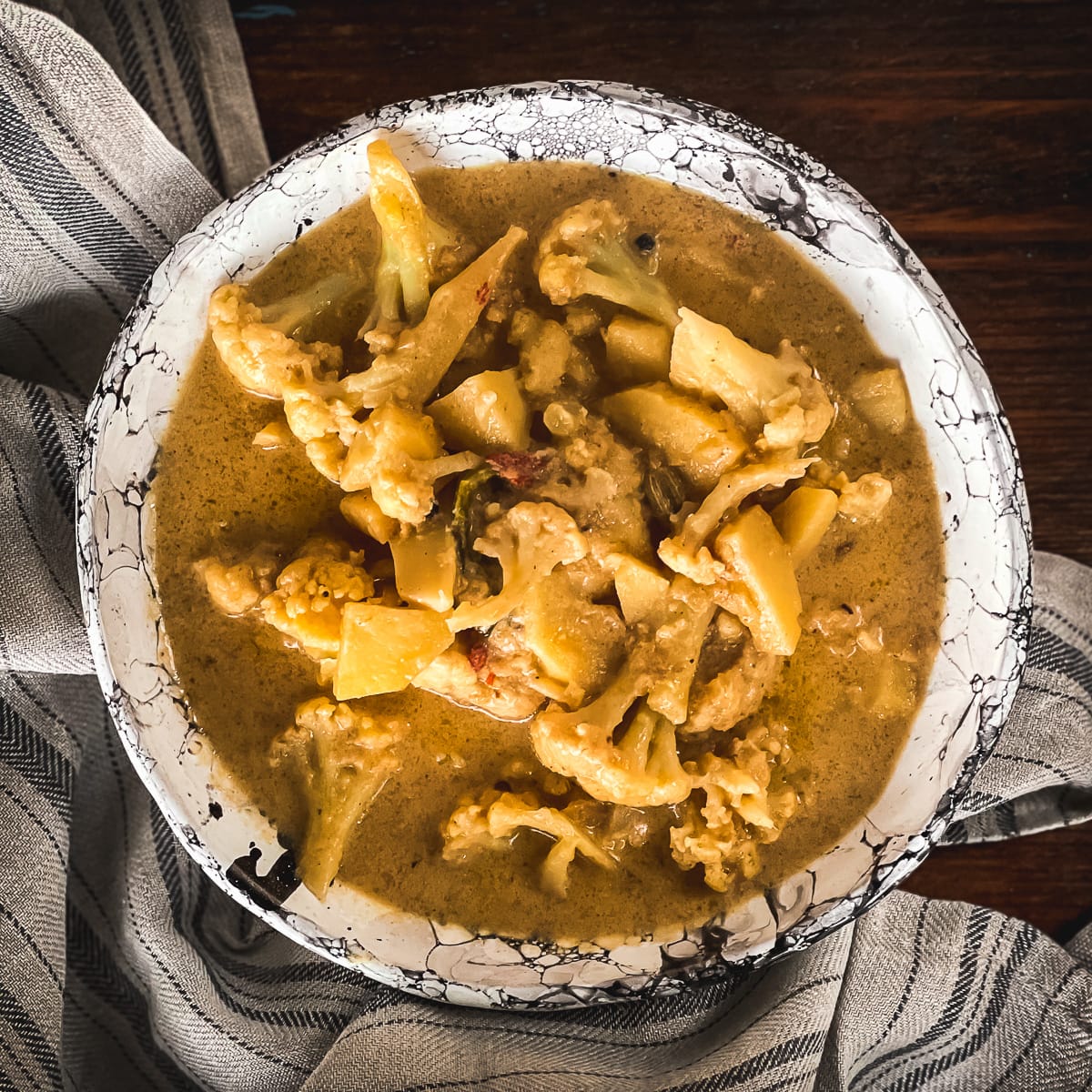 Cauliflowers are everywhere at the moment and very inexpensive. Nourishing and comforting, you can pull this creamy aromatic cauliflower recipe together in half an hour. I guess it could be classified as cauliflower curry as it is pretty spicy and aromatic; cloves, cardamom and cinnamon, but the combination of the yoghurt and warm earthy spices are terrific.
Chilli Sauce
The Wild Epicurean sous chef marked this as 'medium' spicy, so feel free to reduce the chillies if that's not your thing. The chilli sauce topping is optional but adds an extra layer of flavour, offsetting the aromatic creamy sauce with a tomato chilli zing! Use chilli flakes rather than dried or fresh, as you may feel more comfortable with their spice level.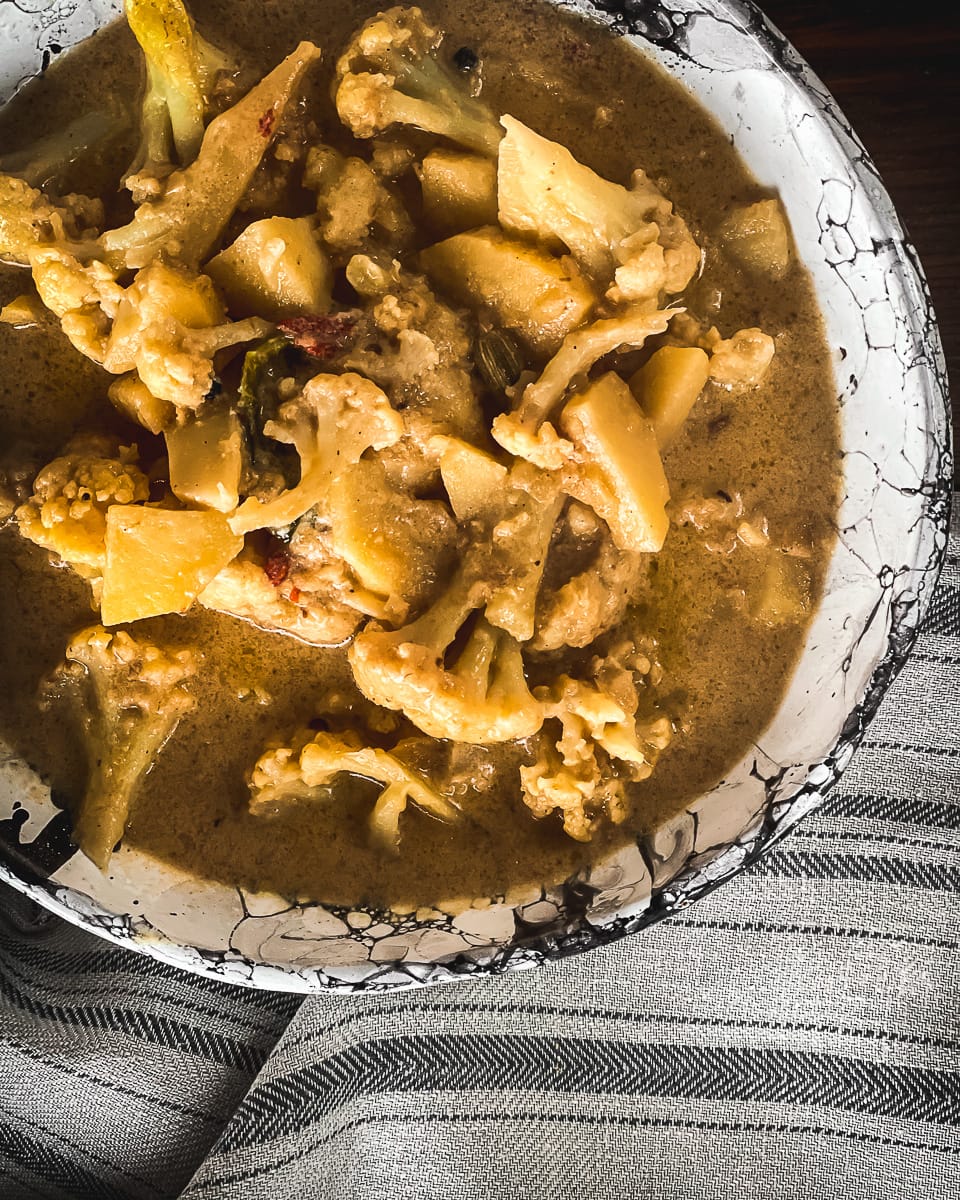 Pair it with rice, rustic pitta bread, or a side dish with simple grilled meats. Rather than serve it as it is, you can blend it to make a spicy, cauliflower curry soup and then top it with toasted almonds.
Cheesy Options
Is cauliflower synonymous with cheese? Follow the recipe instructions and add a little finely grated cheese to the sauce towards the end of cooking. It needs to be finely grated so it melts quickly into the sauce, and you don't break up the cauliflower when mixing it in. Even better, top with some cheese and slide under the grill for a few minutes.😁
Don't be put off by the different spices; it's quick and easy.
Loved this? Check out some of our other delicious vegetarian recipes here.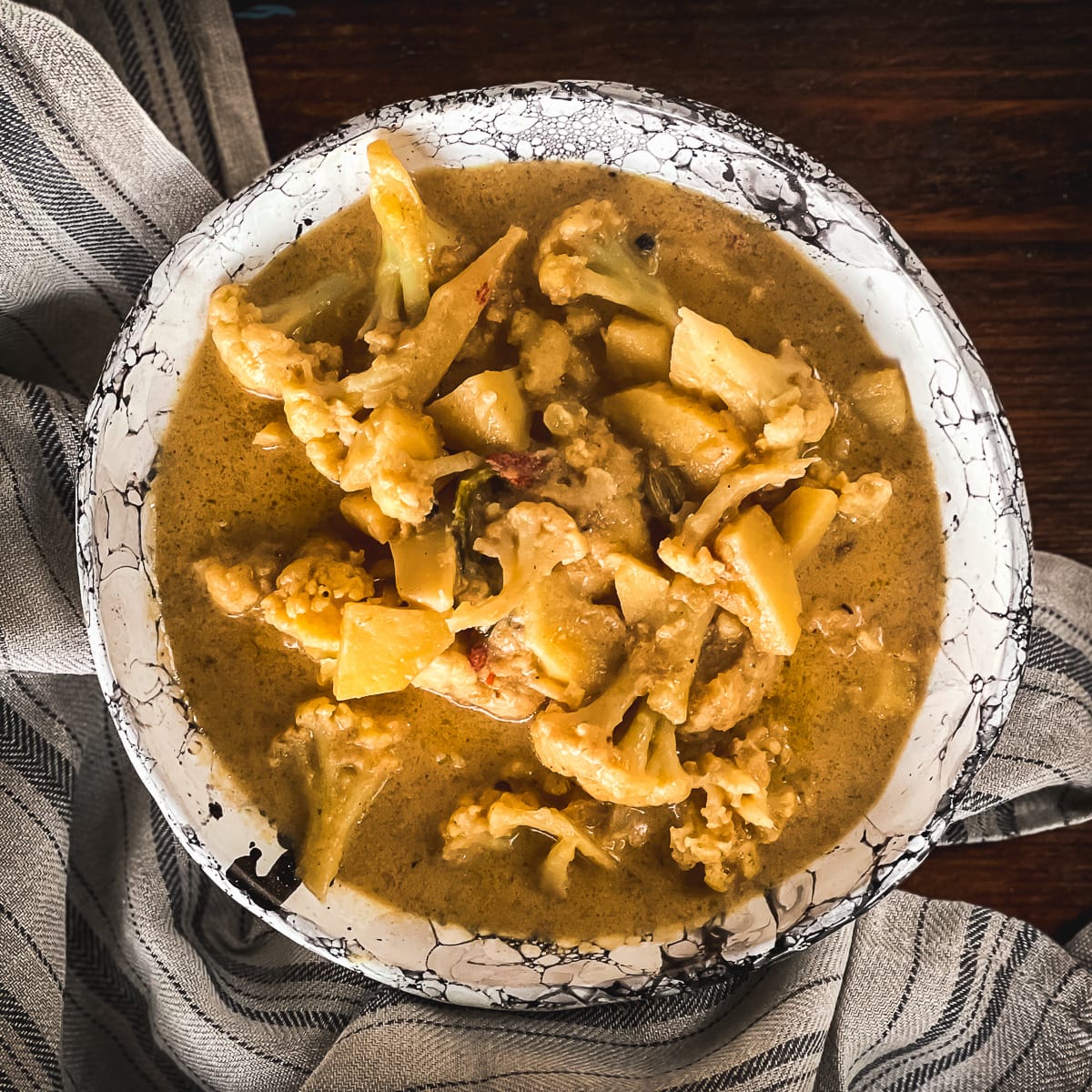 Creamy Aromatic Cauliflower
Garlic, cardamon, fresh chillies and cloves in a creamy yoghurt sauce. Easy side dish or comforting lunch.
Print
Pin
Rate
Ingredients
Braised Cauliflower
450

g

cauliflower divided into small florets. Thinly slice stalks and roughly chop any good green leaves.

1

large

potato, peeled and cut into small cubes

1

finely minced onion

2-3

cloves

finely minced garlic

3

small

finely minced fresh chillies

or chill flakes

4

whole

cloves

¼ tsp powdered

2

pods

green cardamom

¾ tsp powdered

½

tsp

black peppercorns

2

bay leaves

1

tsp

powdered coriander

¾

tsp

powdered cinnamon

200

ml

milk

100-200

ml

hot vegetable/chicken stock (or stock cube)

300

ml

greek yoghurt

add the flour to stop the yoghurt from splitting – you may struggle if the yoghurt is very low fat or fat free

1½

tsp

flour

light oil or olive oil

1

tbsp

fresh coriander to serve

¼

tsp

salt (reduce if using a stock cube or salty stock)
Chilli Sauce
1

tsp

vegetable or chicken stock

1

tsp

tomato paste

1

tsp

salem oelek or sirancha sauce

dash

olive oil
Instructions
Braised Cauliflower
In a mini blender or with a grater, finely mince the onion, garlic and chillies.

Saute the onion, garlic and chilli mix in a large heavy based pan until soft, add the rest of the spices and cook for about a minute.

Add the potato and cauliflower and gently cook in the spice mix for about a minute, add the milk, bring to boil, add the hot stock and simmer covered for 15 minutes.

Whisk the flour with the yoghurt, reduce the heat and add to the pan. Simmer for a further 15 mintues or until the cauliflower/potato is tender. Add more stock if necessary.

Serve piping hot with a drizzle of chilli sauce and chopped coriander or parsely.
Chilli Sauce
Whisk the stock, concentrate and chilli seasoning and bubble up in a small pan
Notes
Delicious served with pitta bread or rice for lunch or as an accompaniment to simple grilled meat dishes. You can easily turn this in a creamy cauliflower soup, blend the mixture, adding more stock if necessary. Bring back to the boil and serve with toasted flaked almonds.