I have a quiet passion for turmeric and find myself incorporating it into everything I make. So imagine my sheer delight when I found a cake whose main spice was turmeric 😆. Cut into small squares; this cake is a mouthful of sheer joy. Originally Lebanese, an eggless semolina cake with additions including nigella seeds, cinnamon, anise, almond flour and even an orange sugar syrup. Hence, I have eaten my fair share of Sfouf over the past few months, searching for my perfect cake.
It is undoubtedly true here in Greece, and as you travel further East, that coffee is rarely served (certainly to a guest in the home) without a little something sweet on the side. Often a small treat to compliment the coffee. It explains why Sfouf is a simple, easy bake using store cupboard ingredients. Created in a few minutes with minimum fuss.
Sfouf cake is not a dessert; this is most definitely a coffee mid-morning/late afternoon cake. It is traditionally decorated with pine nuts or almonds (or pistachios, as featured in Syria Recipes from Home), baked in a square tin and served cut into small squares/diamonds. For me, this is a perfect choice; not too sweet but light and moist even though it is eggless.
The recipe is straightforward. The only important thing is to leave the mixture to rest for 10-15 minutes in the tin before you put it in the oven. Turn it once halfway through cooking.
More recipes for breakfast and brunch here or baking here🧁🍰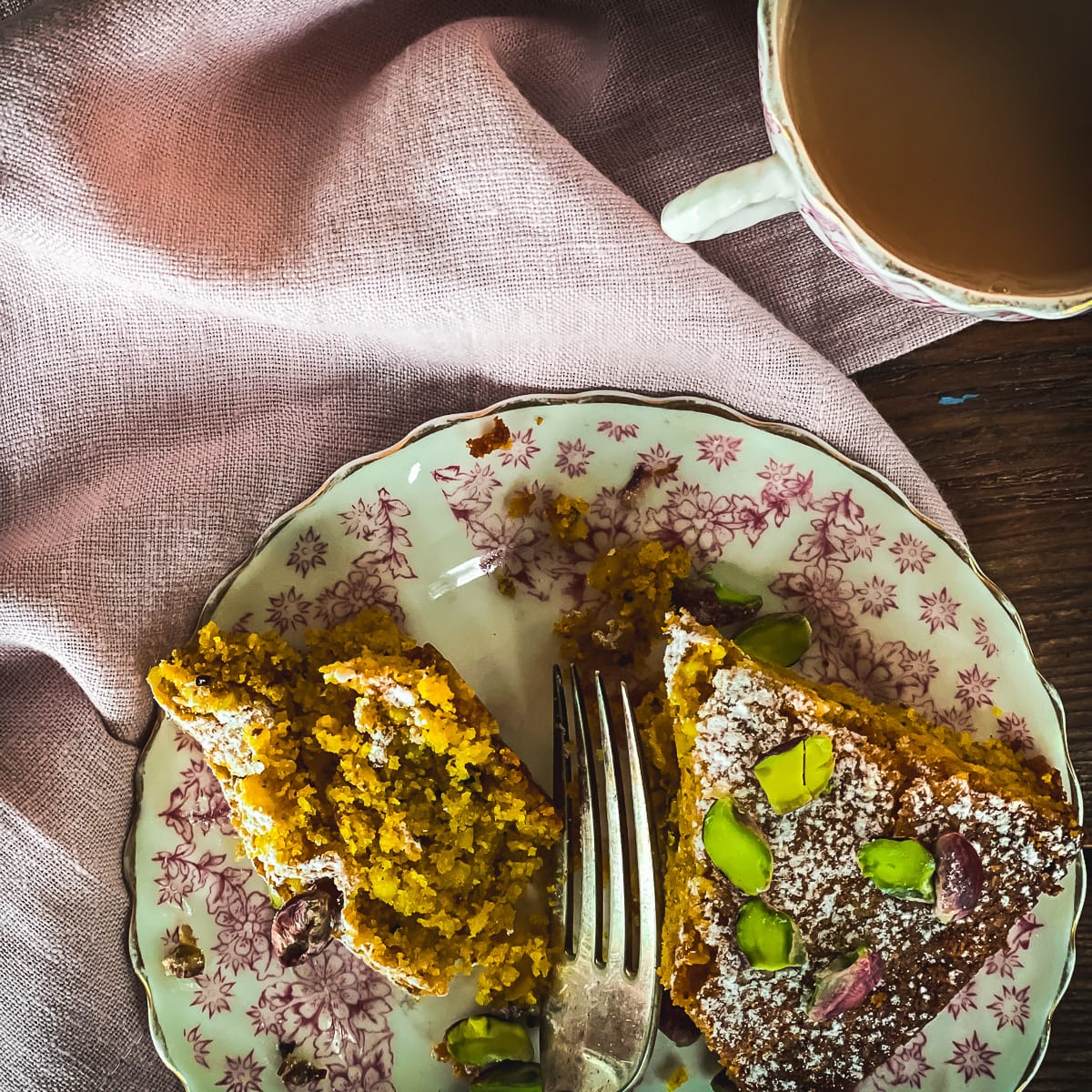 Sfouf Cake (Lebanese Turmeric Cake)
An eggless cake with semolina and almond flour flavoured with turmeric, anise, cinnamon and nigella seeds. The perfect treat with a cup of coffee.
Print
Pin
Rate
Equipment
square or round loose bottom baking tin 23cm x 23cm
Ingredients
170

g

fine semolina

50

g

almond flour

80

g

all purpose flour

1

tbsp

turmeric

1

tsp

cinnamon

1

tsp

anise

1

tsp

nigella seeds

Optional

1½

tsp

baking powder

pinch

salt

170

g

soft brown sugar

130

ml

light oil

230

ml

dairy or plant milk

I used almond milk.

2

tbsp

orange juice

zest

each of ½ orange and lemon

1-2

tbsp

tahini to grease the pan

handful

pinenuts, flaked almonds or pistachos

If using, pistachos should only be added after the cake is baked.
Instructions
Pre-heat the oven to 170°C.

Grease the tin with tahnini.

Dissolve the sugar in the milk.

Sieve together all the dry ingredients including the spices into a large bowl.

Whisk the oil and the zest into the milk and sugar mixture and then pour into the bowl of dry ingredients. Mix well and pour into the prepared tin.

Leave to stand for about 15 minutes and then decorate with pine nuts or almond flakes. Work in rows so when you cut the cake each square has a nut in the middle.

Cook for 25 – 30 minutes or until a knife comes out clean. Turn the cake once during cooking.

Leave to stand and remove from the tin when cool. Decorate with pistachos if using as an alternive to pine nuts/almonds.

Serve with a cup of coffe or tea dusted with icing sugar.
Notes
A big thank you to all the following for inspiration and authentic tips; Feel Good Foodie, Zaatar & Zaytoun, Simply Lebanese and the beautiful recipe book, Syria Recipes from Home, Itab Azzam and Dina Mousawi, Orion Books, 2017. London.