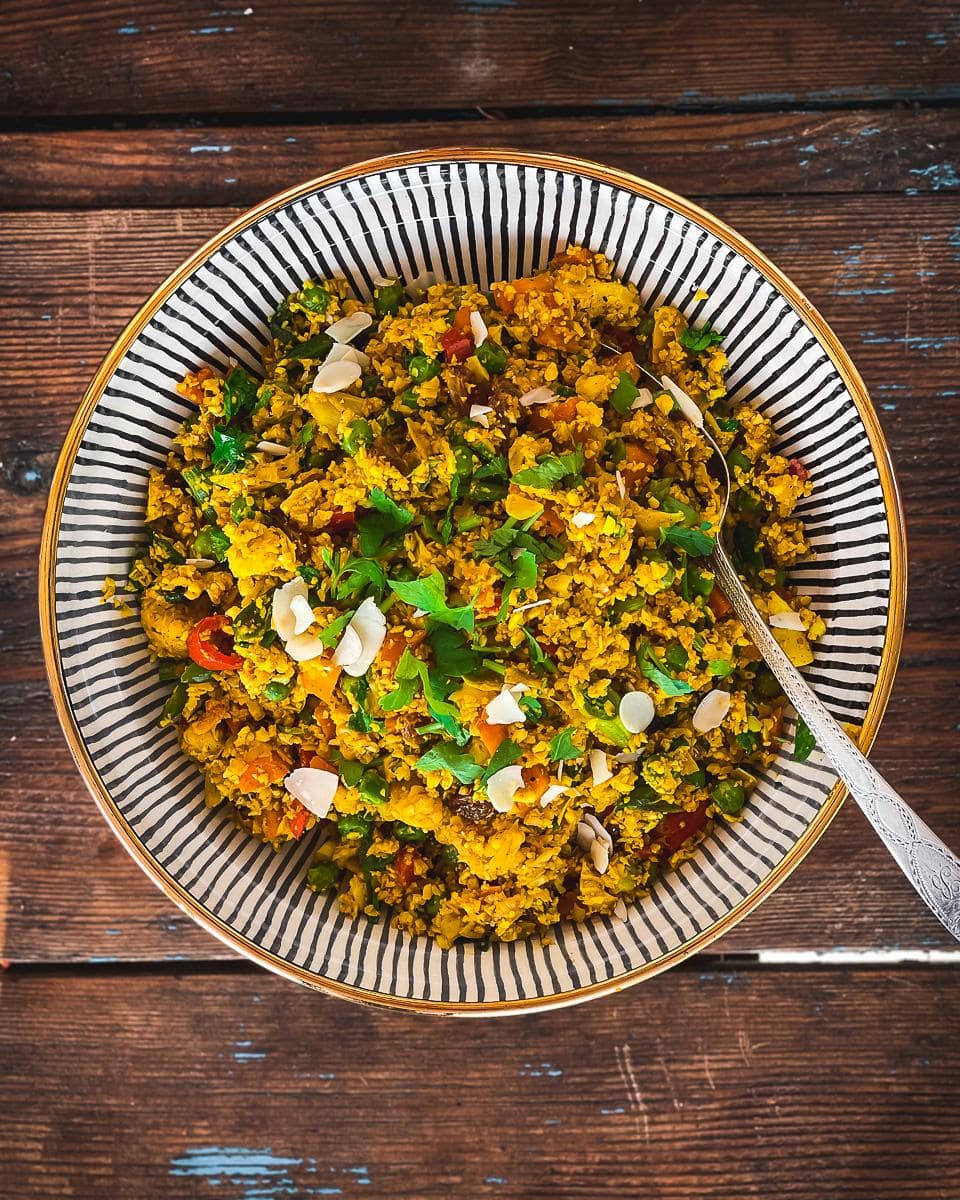 As Food bloggers, I worry we are constantly trying to reinvent the wheel. The best, easiest, most delicious 'Cauliflower Pilaf (Pulao)' you will or have ever tasted!
And it may well be.
But, our inspiration comes from existing recipes, published many times before and created many years ago. Of course, we improve recipes by simplifying cooking techniques, adding exotic ingredients, and showcasing different cuisines.
Cauliflower rice is a good example. A relatively recent food trend with several chefs having claimed its invention. Still, if my well-thumbed 1994 version of The Classic 1000 Indian Recipes is anything to go by, I'd say that kitchens in India have been serving cauliflower rice for a long time. This book has eight different cauliflower recipes, which doesn't include another four or five vegetable curries. Why am I surprised? Indian cooks create delicious dishes from the simplest ingredients (proviso being a good spice cabinet).
Low in Calories
Our quest for a healthy diet also drives food trends. For anyone following a gluten-free, low carb or plant-based diet, cauliflower rice certainly has a lot going for it. A New York Times article, The Ascension of Caulifower, quotes the following statistics:
Heather Smith, a nutrition expert and founder of theHAUTEbar, a company that tracks wellness trends, said one reason cauliflower had reached "veggie-celebrity" status is its nutrition profile. A 100-gram serving of white rice contains 150 calories, 34 grams of carbs, and one gram of fibre, while a similar portion of riced cauliflower contains just 25 calories, five grams of carbs, and triple the amount of fibre.
Wow, well, that's an excellent argument for switching to cauliflower rice.
Basic Cauliflower Rice Recipe
Cauliflower rice is much more than the sum of its parts, and if you haven't tried it – it is surprisingly delicious. Like rice, it soaks up sauces and is a perfect carrier for other flavours and vegetables but is low-calorie and gluten-free. Plus, as a meal, it's simple, quick and easy to make. If you don't have access to a food processor, you can easily create the rice with a cheese grater. It's sometimes called cauliflower couscous, but large rice grains are a perfect size.
Cauliflower rice should be made fresh; it smells if left in the fridge! Cook in a large heavy-based pan with a light film of oil, ghee or coconut oil.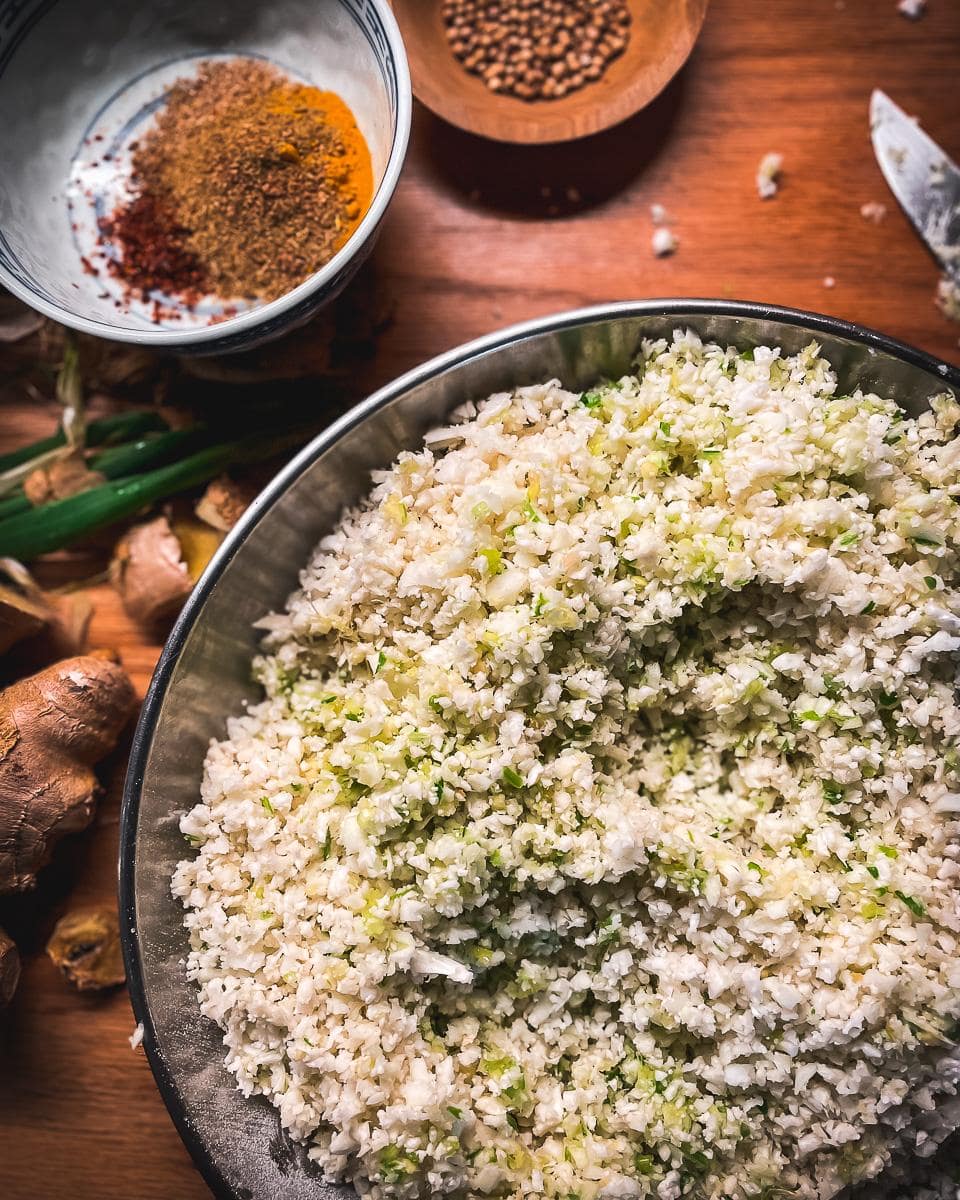 For the plain rice, pulse the cauliflower florets in the food processor ('S' blade) with a bit of ginger until riced. I suggest you work in 2 or 3 batches so it doesn't get too chopped and you end up with cauliflower mush. 🙃
Saute (in your chosen oil) a finely chopped onion and a clove of garlic; stir in half a teaspoon of turmeric when golden and soft. Stir in the cauliflower, occasionally tossing so it doesn't stick. Cook until tender; you shouldn't need to add water, as the cauliflower releases moisture as it cooks. Add lime juice, salt and pepper to taste. You will need a little salt. Garnish with fresh coriander, chives or parsley. A medium cauliflower, 450g, is enough for four people.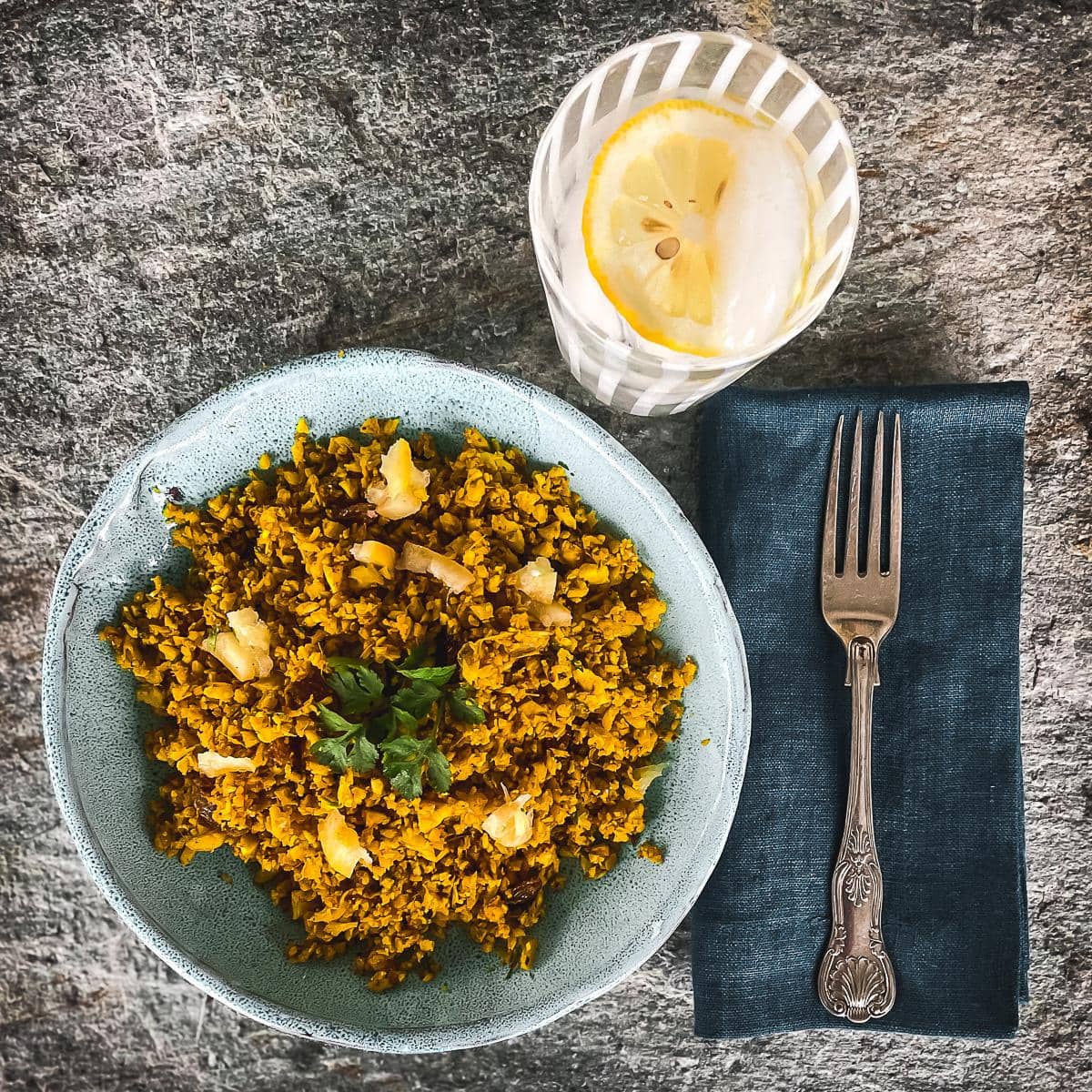 You can replace the turmeric with baharat, zaatar, chilli flakes or garam masala. Add finely sliced spring onions in place of the yellow onion. Or nothing; cook it nude with a little salt and pepper.
If you feel it needs a sauce, Serve it with Cardamom Yoghurt; 150ml greek yoghurt, 1 tsp lime juice and .5 tsp cardamom. Salt & pepper to taste.
It is ready in 15 minutes; Lunch Today!
Cauliflower Pilaf or Pulao Recipe
The recipe card is for a cauliflower pilaf, but you can interchange it for your preferred pilaf (pulao) recipe. The trick is to cook all the other vegetables and add the cauliflower. It can have a spicy Indian feel, or perhaps bacon, a little pineapple, simple herbs de Provence, or harissa with pine nuts and raisins. You can add finely chopped pancetta and parmesan cheese for a healthy cauliflower cheese-inspired meal😁.
The flavour combinations are yours to discover.
Click here for more vegetable-inspired recipes😁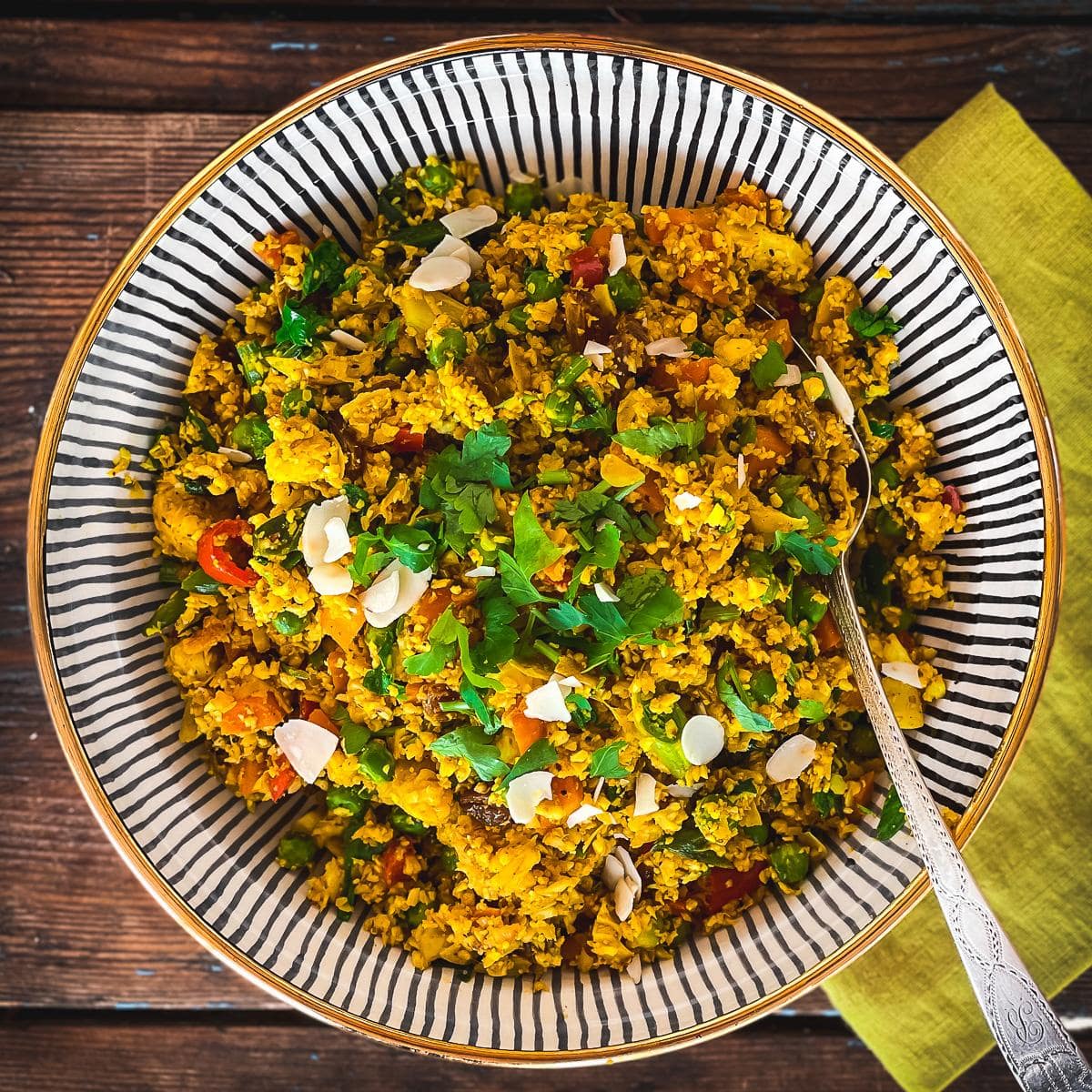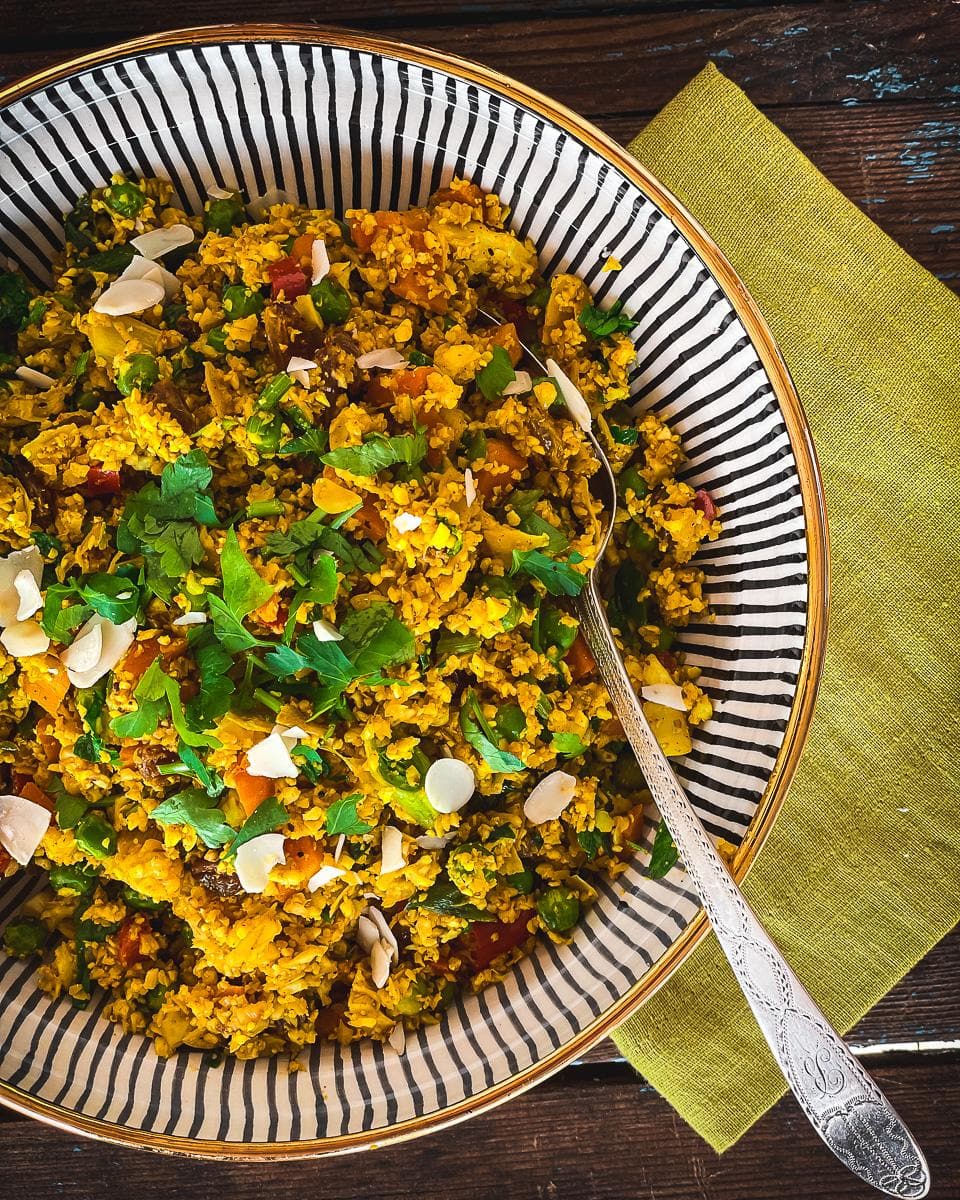 Cauliflower Rice Pilaf (Pulao)
A classic Pilaf recipe made with cauliflower rice. A great low-calorie alternative to the classic rice dish and packed with plenty of flavour.
Print
Pin
Rate
Ingredients
450

g

medium sized cauliflower – riced

Use an 'S' blade in a food processor or grate by hand

1

medium

sweet onion or 3 spring onions finely chopped

2-3

cm

ginger (finely sliced)

2

cloves

garlic (finely sliced)

1

cup

frozen peas

If using fresh peas you will need to pre-cook them

2

small

carrots cut into juliennes

1

red pepper cut into 2 cm thin slices

1

tsp

mustard seeds

1

tsp

ground coriander

½

tsp

ground cumin

½

tsp

chilli flakes

Optional

½

tsp

turmeric

¼

tsp

nutmeg

1

handful golden raisins

1

juice of a lime

small

sprig

fresh coriander

or parsley

handful of flaked almonds or cashews

oil of your choice

salt and pepper

garam masala and a tsp of finely sliced chillies
Notes
In terms of which oil to use, butter gives a much richer flavour; coconut works well, especially with ginger and spring onions. Light olive oil is always a safe bet!
Experiment with different vegetables, what's to hand and in season. Use a maximum of two-three vegetables to flavour the pilaf, such as small cubed potatoes/courgettes or finely sliced mushrooms or very finely shredded kale. Chickpeas also make a great addition.
Adapted from Wendy Hobson's Grated Caulifower Recipe, the classic 1000 indian recipes, E 1994, Foulsham. Berkshire. England.