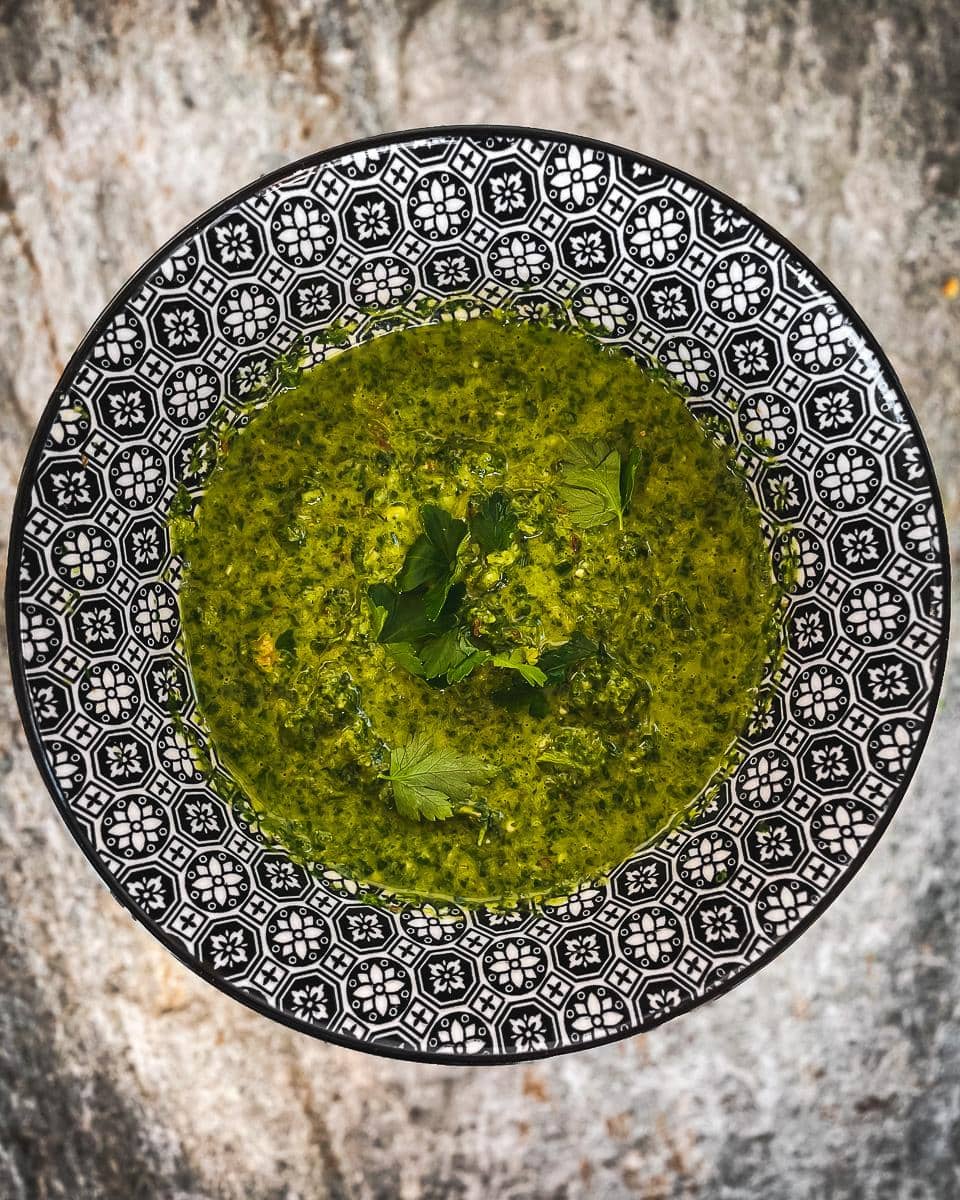 Green Zhoug Sauce: I am sure you already know this fabulous sauce from the Yemeni kitchen. However, I thought it was worth mentioning because it is very versatile. A saviour if you need to jazz up a mid-week supper or weekend lunch. Depending on the region, Zhoug is referred to as Schug, Zug, Zong and Zahawiq. All traced back to the green or red Yemeni Salsa recipe. Not dissimilar to the North African Chermoula, but without the ginger and thyme or Argentinian Chimichurri, which has a more substantial onion element.
Given its popularity across the Middle East, there are many variations, particularly for the green sauce with fresh parsley, coriander, garlic chives, mint, and radish leaves. My favoured combination is mint, coriander and parsley. Some traditional recipes use water, lime, or lemon to blend the sauce. However, for me, a little oil and lime juice are perfect for this Green Zhoug Sauce.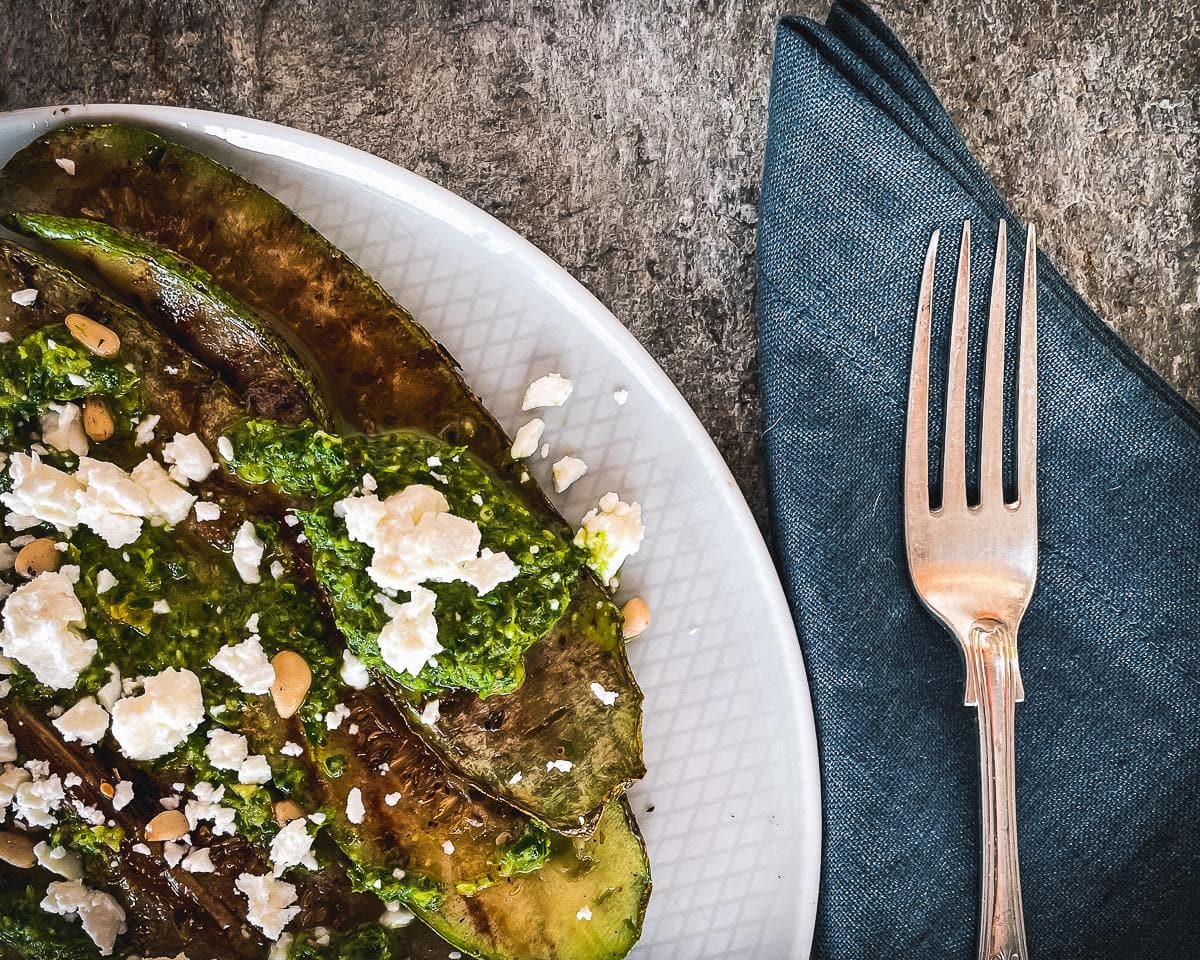 Tangy, spicy, and full of flavour, perfect with anything. Eggs and tomatoes (the ultimate shakshuka brunch) or add to grilled meats, wraps, falafel, salads or hummus. Great as a marinade or with fish, or in soups. The list is endless!
Baked sweet potatoes topped with whipped feta, yoghurt, and a dollop of zhoug is the current favourite combination. Swirl it into yoghurt to make it less spicy. Mix into labneh to make a delicious dip for sweet potatoes, fries or raw vegetables.
Please keep it in the fridge for up to 3 days. However, it's so easy to make and is much tastier when freshly made.
Check out our Dips and Sauces section if you want to try some other sauces.
Green Zhoug Sauce (Yemenite Spicy Sauce)
A fabulous spicy sauce from the Yemeni kitchen with coriander, parsley, mint, garlic, cardamom, cumin and coriander.
Print
Pin
Rate
Ingredients
handful

fresh coriander roughly chopped

(equivalent to about a cup)

handful

fresh parsely roughly chopped

(equivalent to about a cup)

5 leaves

fresh mint

4

jalapeno chillies or 2 hungarian banana chillies

Banana chillies grow in the garden and are freely available, so my first choice. Use more or fewer chillies depending on your chilli tolerance😁

2-4

cloves

garlic

¼

tsp

ground cardamom

1

tsp

ground cumin

small pinch

cloves

30-50

ml

olive oil

1

lime (lemon) juiced and zested (2 tbsp)

½

Kosher salt – start with ¼ tsp and add more to taste

salt levels in sauces like this are very personal so I prefer to add less and adjust.

good grinding freshly ground black pepper
Instructions
Grind the dry spices with the salt in a small food mill or pestle and mortar. Add the garlic, chillies and teaspoon of oil and whizz to form a loose paste.

Add the fresh herbs and drizzle in more oil grinding or whizzing until you are happy with the consistency. Add lime juice to taste. You may also need to add a little more salt.

If you don't want the sauce oily – add water instead of oil together with the lime juice.

This recipe makes about 150 ml but, that can vary depending on how much oil, lemon etc., you used.
Notes
It would be best to experiment with this sauce to find your preferred chilli and garlic level. The recipe is for a medium spicy sauce and not too salty. Add Aleppo pepper or chilli flakes if you want to up the spice level🔥 I also like to add a little orange zest but then I do like to add orange zest to everything😉
Big thanks to thequeenofsheba, salwasdeliciouskitchen, amiraspantry and bonappetit for authentic Zhoug inspiration.