Morrocan Lamb Tagine: Suppose you have a tagine lurking at the back of the cupboard collecting dust. Now is the time to dig it out and make a delicious ginger and apricot tagine for Valentine's day. The infamous Morrocan spice mix, Ras-al-Hanout, is infused with delicate pink rose petals and lavender. Pair with preserved lemons, saffron, ginger, garlic, and coriander for a perfect Valentine's meal. A great meal for sharing, prepare in advance and reheat on the day. What could be simpler💗
Morrocan Lamb Tagine Ingredients
A slightly long ingredients list, but the recipe is straightforward. Feel free to omit or add if you are not keen on chilli or garlic or can't find long peppers. Preserved lemons contribute to the unique taste, but it's not the end of the world if you don't have them. Add olives instead? Couscous is a separate meal and not served with tagine. However, nobody is looking; add potatoes to the tagine, serve on a bed of couscous or with pittas/flatbreads, whatever makes you happy.
Ras-el-Hanout
The spice mix Ras-el-hanout can contain up to 30 different herbs and spices. I use a dessert spoon with preserved lemons, saffron, ginger, garlic, coriander, cubeb pepper, long pepper and cinnamon. There are 2 or 3 links below to create your mix. However, the Ras-el-hanout is a heavily guarded secret, so I'm not sure we will ever know the best combination.
When buying, try and source the spice mix from a delicatessen or spice specialists to get the authentic mixture. Most Ras-el-Hanout recipes have about 7-10 ingredients which may include: ginger, cardamom (essential), mace, cinnamon, allspice, coriander, nutmeg, turmeric, black and white pepper, anise, cloves, fennel, cubeb pepper, long pepper, rose petals, dried lavender, dried lime, aniseed, mint, nigella seeds and saffron, which explains why it is known as 'head of the shop' and why, most likely, none of our tagines will taste the same.😁
Morrocan Lamb Tagine – Portable Oven
Season your tagine before use. Make sure it is soaked, oiled and baked first. Cook slowly and on a diffuser. Follow the manufactures instructions. I read somewhere that many Morrocans tend to use a casserole or cast iron tagine. There is no doubt the original method gives the best flavour, but it's not a game-changer.
I have a wonderful memory of shopping in the Medina. Around mid-morning, the heady smell of all the stallholder's (very traditional) tagines precariously balanced and gently simmering on tiny stoves behind their market stands. It's such a clever thing, a portable oven, steam rising and condensing, basting its contents. Genius.
The Wild Epicurean Tagine
It is essential to brown the meat first and then gently saute it in garlic and preserved lemon paste; however, full disclosure, the meat is not browned in traditional clay tagines. Add the spices before adding the liquid, and use very finely sliced ginger, not grated. The traditional garnish of toasted flaked almonds and coriander is perfect. This recipe has evolved over many years and from numerous sources. Be inventive and go with your instincts.
Adding vegetables at the end is optional. Slice thinly lengthways and arrange in a circle on top of the meat. They will cook in the last three-quarters/half-hour in all the fragrant juices. Aubergine, courgette and red pepper is a good combinations for lamb but change for local and seasonal vegetables or your preference.
I can't remember the source of my first attempt at Morrocan Lamb Tagine, but here are some fabulous tagine inspiration and Ras-el-Hanout recipes tasteofmaroc, ethnicspoon.com, Nargisse Benkabbou and Silk Road Recipes.
For more recipes like this, check out our Soups and Stews sections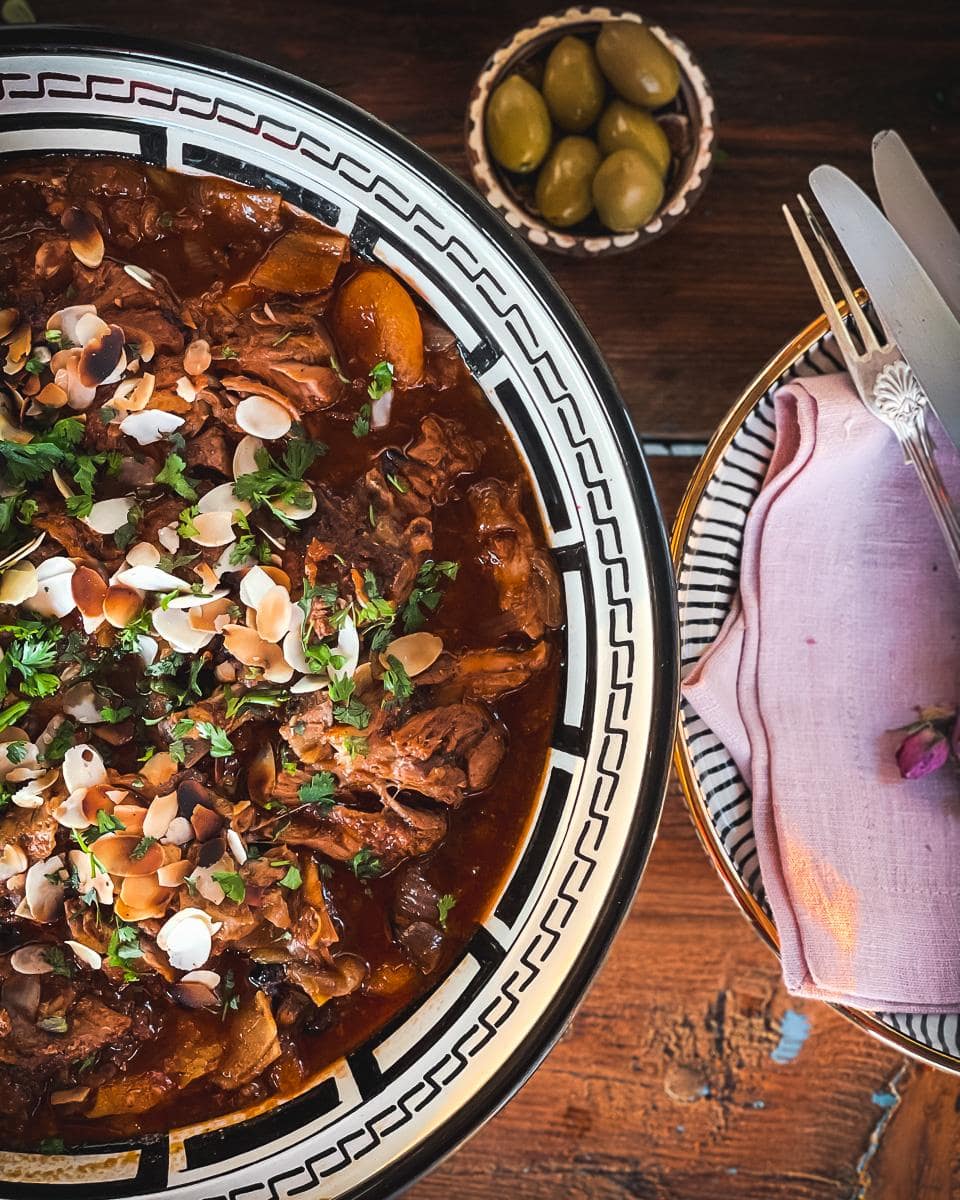 Lamb Tagine with Apricots, Prunes, Saffron and Ginger
A rich lamb tagine with abricots and prunes stewed in garlic, saffron and ginger.
Print
Pin
Rate
Equipment
1 cast iron/traditional/tagine or casserole with a lid
Ingredients
1

k

stewing lamb, left on the bone, such as neck or shoulder

2

large

red onions, roughly chopped into ½ cm rings

3

cloves

garlic

¼-½

preserved lemon, well rinsed and roughly chopped

or lemon stuffed olives -optional

3

cm

piece of ginger (1 tbsp), peeled and finely sliced

2

tsp

ras-el-hanout

pinch

saffron

1

stick

cinnamon

2

tsp

freshly ground coriander seeds

¼

tsp

ground long pepper

optional

¼

tsp

ground cubeb pepper

optional

½

tsp

cumin

1

tsp

harissa

2

tsp

concentrated tomato paste

150

g

dried apricots and prunes

800

ml

hot stock of your choice

1

large

aubergine, thinely sliced horizontally

optional

1

large

courgette, thinly sliced horizontally

opotional

1

medium

Florina red pepper, sliced into long strips

optional

olive oil

salt (if required)
To serve
1

handful

toasted almond flakes

small

bunch

fresh coriander
Instructions
If you use a traditional tagine, you must do this next step in a separate frying pan. Saute the onions in a little olive oil until just soft, add the lamb and gently brown on all sides.

Whizz the garlic, saffron and preserved lemon in a mini-blender with a little warm stock (50ml) and add to the lamb. Let it cook for a couple of minutes, and then add the rest of the spices. Cook a minute longer and transfer to the traditional tagine (if using).

Stir in the harissa, tomato paste, dried fruit and the rest of the stock.

Set over very low heat and cover. After cooking for an hour, add the vegetables in layers in a circle on top of the meat. My tagine base is cast iron and the total cooking time was 2 hours – the meat was beautifully tender. It's ready when the meat is falling off the bone. Cooking times will be a little longer if you use the traditional tagine. Check on it regularly, adding water if it gets too dry.

Decorate with toasted almonds and fresh coriander. Serve with pittas or flatbread and olives.

Can be prepared a day in advance and then re-reheated
Notes
I can't be precise about timing because it does depend on your type of tagine or casserole. Seal and brown the meat and then cook it as gently as possible. The flavour is vastly improved by cooking meat on the bone, but it's not obligatory. The tagine is ready when the meat is falling off the bone.
Please check the manufacturer's instructions if you are using a traditional tagine.