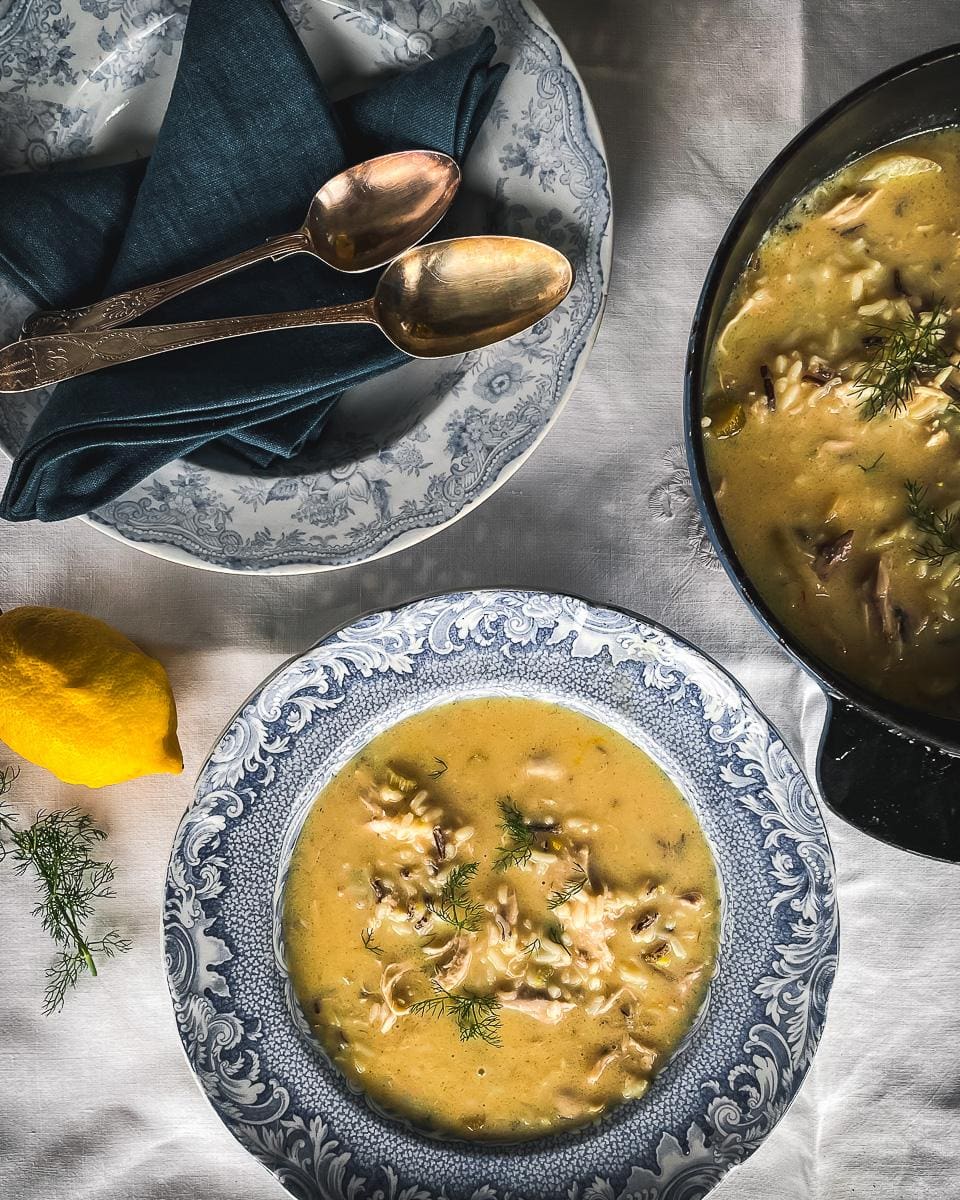 Traditional Greek Lemon Chicken Soup: A delicious velvety lemon soup is a delightfully simple dish to make. A true staple of the Greek kitchen and like all traditional favourites, there are a hundred and one different versions. For me, the essential thing about Kotosoupa Avgolemono is that it is made either with a whole or quartered chicken to create the delicious chicken stock from scratch. Stock cubes and chicken filets are not the same, although a homemade chicken stock and chicken filet would be ok for this Lemon Chicken Soup!
I like to add a little finely chopped fennel in the final stages of the soup, but carrot is more traditional. Add small pasta (kritharaki) or rice; both work equally well or even a handful of small white beans. One option is to add finely diced celeriac in place of the pasta/rice for a more slimming version.
The only technical part is tempering the eggs, but to be honest, if you follow the instructions, it's no big deal.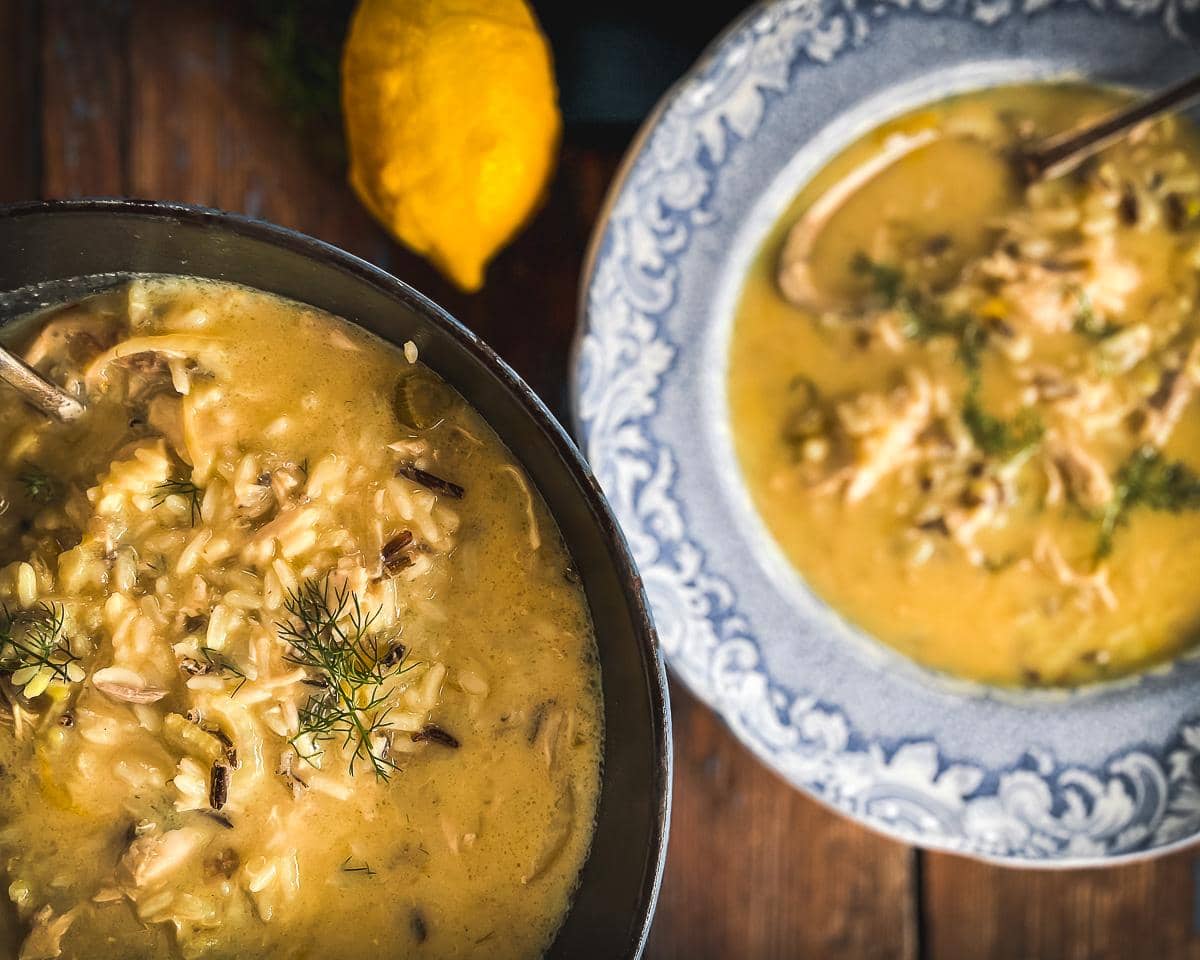 It is the ultimate comforting and warming mid-week supper or delicious Saturday lunch for cold and ravenous guests.
For more warm dishes for cold days, check out our Soups and Stews page.
Traditional Greek Lemon Chicken Soup (Kotosoupa Avgolemono)
Homemade chicken broth, fennel, onions and rice, flavoured with lemon and garlic and a hint of saffron. A delicious creamy winter soup to keep away the cold.
Print
Pin
Rate
Ingredients
2

K

chicken

1

red onion

3.5

L

water

2

carrots

whole

5-6

white peppercorns

2

bay leaves

1

stick

celery, roughly choppe, including leaves

1

large

lemon, juice and zest

100-120

g

arborio or small soup pasta (kritharaki)

The rice continues to swell in the soup so I feel this is plenty but if your guests are ravenous you may want to add a little more rice or pasta!

1

small

fennel bulb, finely sliced

3-4

strands

saffron

optional. Saffron has a strong flavour so use conservatively😉

olive oil

salt and pepper

small

sprig

fresh dill
Instructions
Add the chicken, carrots, onion, peppercorns, and celery to a large saucepan and cover with water (about 3.5 Liters). Bring to a boil and then simmer with the lid for about 45 -60 minutes. You want to be able to pull the meat off the bone, but don't let it overcook – you can finish cooking in the soup if necessary.

Strain the chicken, reserve the broth, and pull the meat off the bones. Cover and put aside.

Gently saute the fennel in a little olive oil with the rice or pasta for a couple of minutes. Add the strained chicken broth. Simmer for about 20 minutes or until the rice/pasta is cooked. You should have about 2.5 liters of broth (add a little water if not).

Meanwhile, whisk half the lemon zest, all the lemon juice, saffron and two eggs in a large bowl or jug.

When the rice is almost ready, take a large spoonful of the stock and gradually add it to the egg/lemon mixture, whisking ALL the time. Continue adding another 3 or 4 spoonfuls of broth to the egg mixture. This process is to temper the eggs so they don't scramble when you add them to the soup.

You are now ready to assemble the soup. Add your chicken pieces to the broth and bring them back to a boil to ensure the chicken is heated through; REDUCE the heat to barely a simmer and add your egg mixture, gently stirring for 2-3 minutes until the soup thickens.

Garnish with a little fresh dill, freshly ground black pepper and if you like, very fine slices of fresh lemon or the rest of your lemon zest. Serve with fresh crusty bread.
Notes
Chicken Lemon Soup is an iconic Greek recipe, so delicious on a cold winters day. I like to add at least 3 or 4 large spoonfuls of broth to the eggs before adding to the soup to ensure I don't end up with scrambled eggs! Tempering the eggs is super easy; just make sure that the broth is not too hot and keep WHISKING when adding it to the eggs.
The tart lemon in the creamy chicken sauce is a delightful combination and a real crowd pleaser!