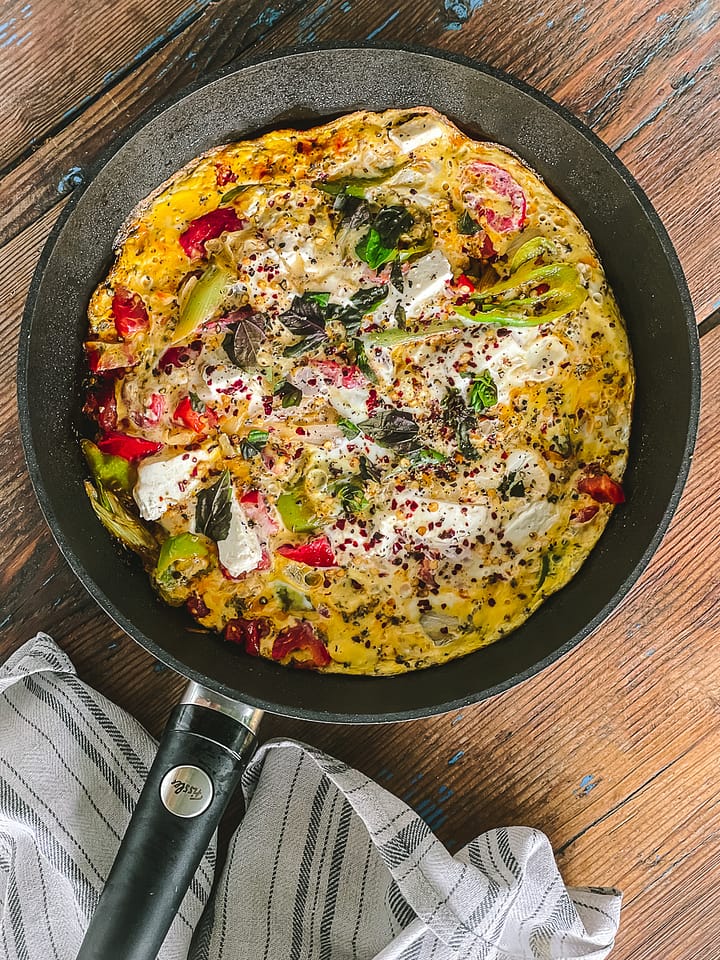 A Breakfast Frittata or open omelette made on the stovetop. Quick and easy and a great weekend brunch or go to post running breakfast recipe! Keep it seasonal and use whatever is available and fresh.
The Pan Size
Here we still have magnificent large spring onions. I also added a couple of small green peppers, three large tomatoes and a slice of feta and finished it with plenty of fresh basil and chilli flakes. This recipe is only for two, so I used four eggs and a generous spoonful of 5% yoghurt. We made the Breakfast Frittata in a large pan (25 cm). Use a smaller 15-20 cm pan for a thicker open omelette.
Breakfast Fritatta Cooking Methods
For me, the trick is to gently saute the onions and peppers; once they are soft, add the chopped tomatoes and keep cooking until all the juice has evaporated and it starts to become a little syrupy. Throw in the crumbled feta and continue cooking until it starts to melt. You can now add the eggs lightly beaten with the yoghurt. Cook slowly, tickling the egg's surface to distribute the mixture evenly. Once the eggs start to set around the edge of the pan, cover with a lid, turn down the heat and leave to set. More traditionally, open omelettes are finished under the grill (at the eggs setting around the edge stage). Make sure you use a cast-iron skillet for this method which is essential to make a much bigger, thicker frittata with 8 or 10 eggs.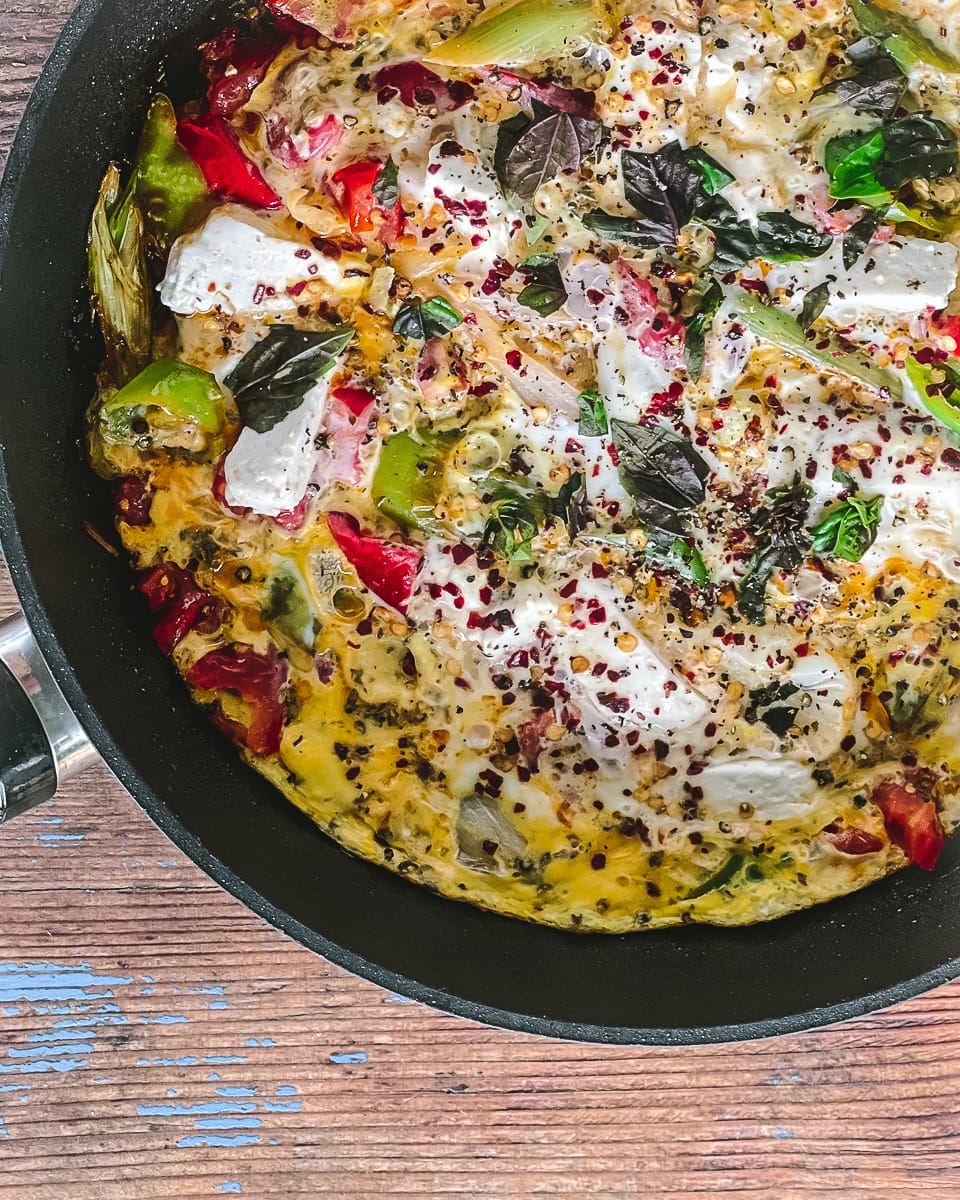 Variations for your Open Omelette
Change the vegetables to match the season; it's also a great way to use leftover potatoes, Spanish Tortilla style. Don't throw everything in – three ingredients plus the cheese. My open omelette with peppers, tomatoes, feta, and basil is very Greeky-influenced. Have fun with combinations such as courgettes, red peppers, cherry tomatoes with thyme and goat's cheese. Mushrooms, pancetta, asparagus and kale are all wonderful ingredients, as are mozzarella and parmesan. I also love simple blue cheese and tomatoes😁 Dried oregano, freshly ground black pepper, nutmeg, and chilli flakes are all great seasonings.
Add Cream or Yoghurt for the Rise
Add a little dairy, sour cream, kefir, cream, or full-fat yoghurt to get the creamy texture and rise. A pinch of baking powder also helps. 😉 The ratio should be something like 55-60ml dairy for every six eggs.
Breakfast Frittatas also make a delicious sandwich filling like a quiche without the crust. Indeed great picnic food if you don't have time to make a quiche. The problem is we never have any leftovers to fill sandwiches.
For more breakfast and brunch ideas, click here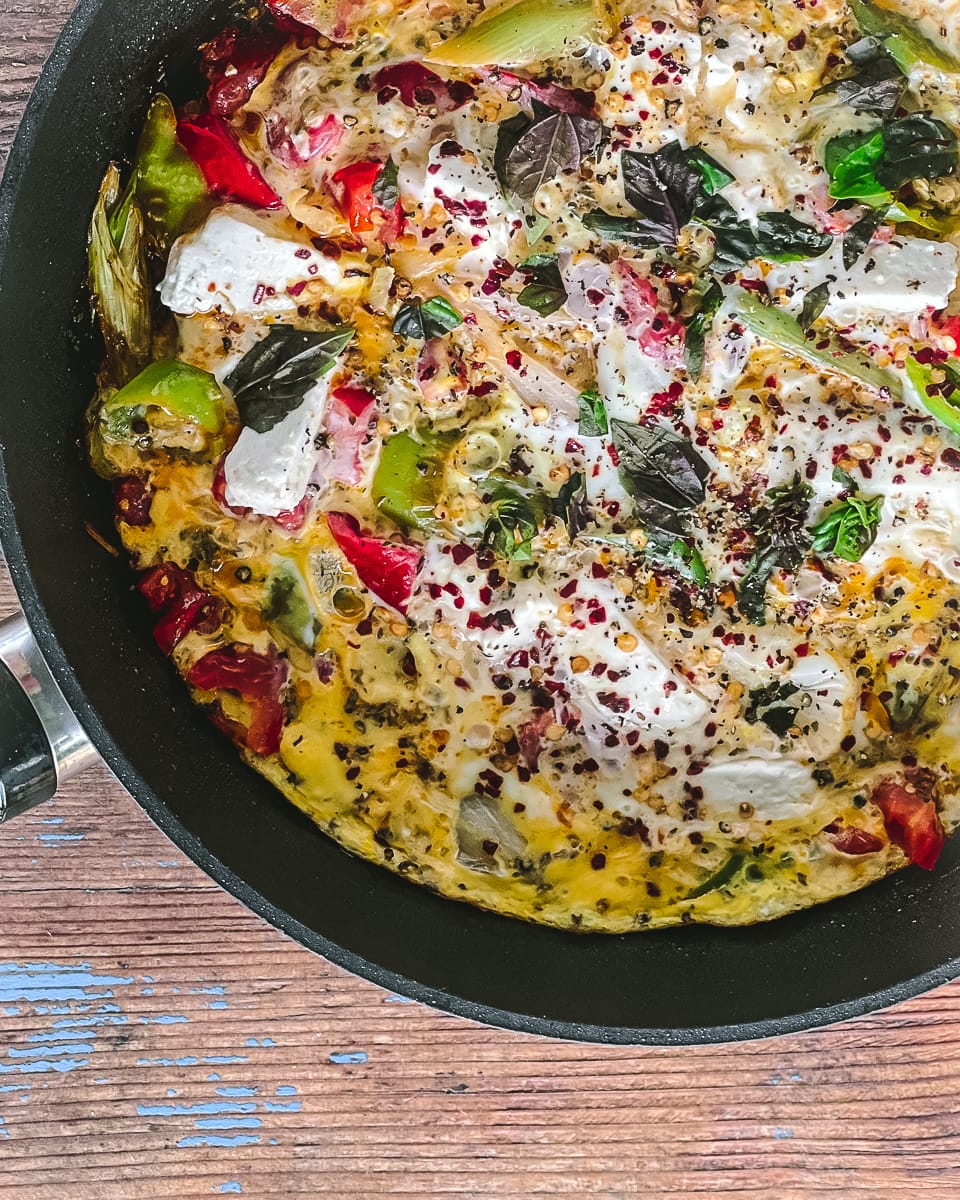 Breakfast Frittata
A Greek-style open omelette with onions, peppers, tomatoes and feta, seasoned with oregano, basil and chilli flakes.
Print
Pin
Rate
Equipment
1 20cm heavy-based pan with a lid
Ingredients
4

large

eggs

40

ml

greek yoghurt (minimum 5%)

pinch

baking powder

2

large

spring onions (sliced diagonally including as much of the green stalk as possible)

2-3

mixed red and green peppers (thinely sliced)

1

slice

feta or soft goats cheese

½

tsp

dried oregano

bunch

fresh basil

⅔

tsp

dried chilli flakes or Aleppo pepper

optional

salt and pepper to taste

olive oil

3

large

fresh tomatoes, roughly chopped

Remove the skins if you prefer them like this. Use plum tomatoes in the winter.
Instructions
Whisk together the eggs, greek yoghurt and dried oregano. Add a pinch of salt, baking powder and a good grinding of black pepper.

Saute the onions and peppers in a generous glug of olive oil. As soon as they are soft, add the tomatoes and continue to cook until the sauce becomes slightly syrupy and all the juices have evaporated.

Crumble in the cheese and let it melt for a couple of minutes.

Turn down the heat, and pour in the egg mixture, gently tickling the surface to distribute the egg mixture evenly. As soon as the omelette starts to set around the edges, sprinkle over the chilli flakes and fresh basil and cover.

Cook over gentle heat until set. If you are impatient – slide the pan under the grill (without the lid) for a few minutes to help set the egg. Be sure to use a cast iron pan with a cast iron handle !!

Serve immediately – or cool and cut into slices as a sandwich filling or picnic snack.