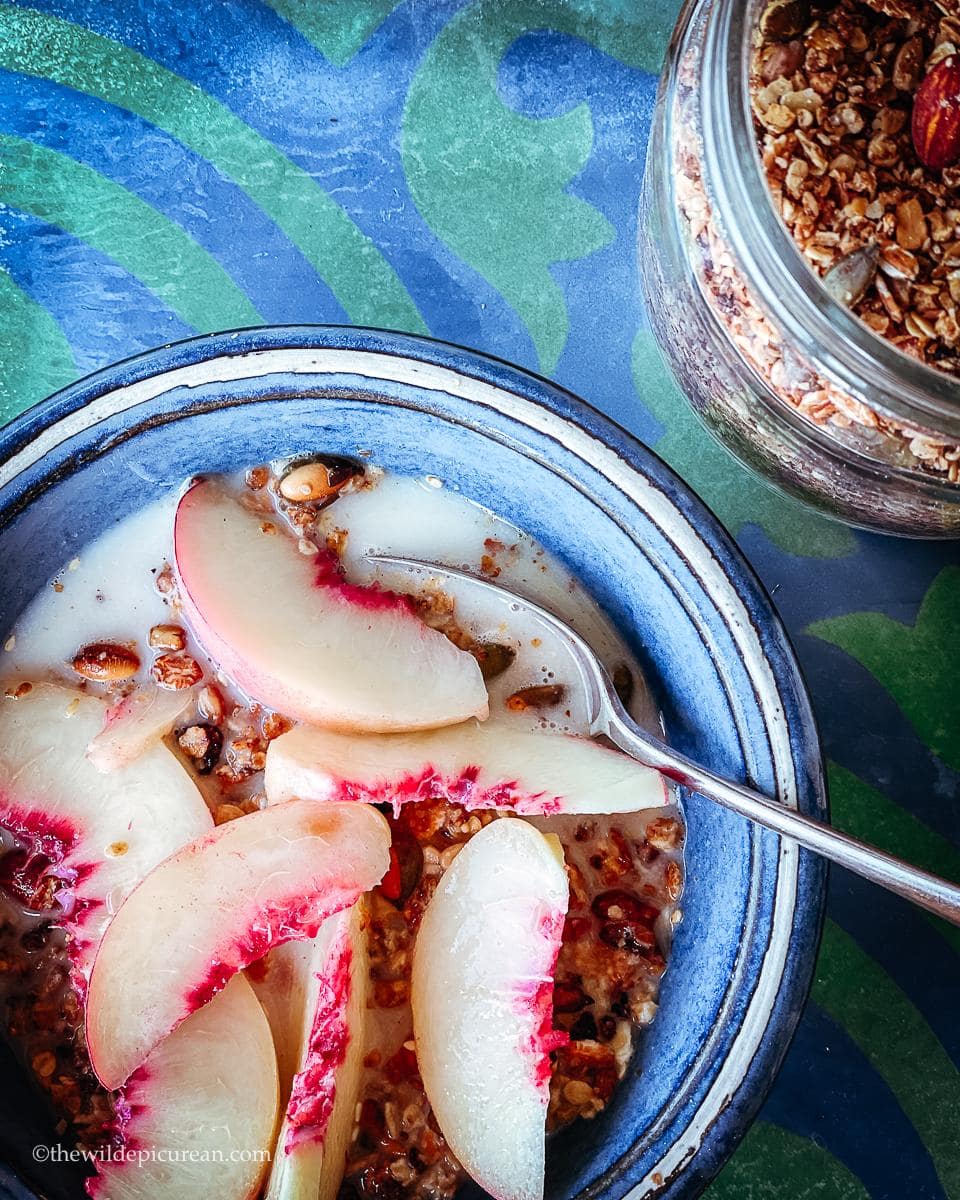 Despite our best efforts at wanting to make a creative breakfast, in the middle of the week, late for work, you want something quick. Breakfast cereal is the go-to solution. Healthy homemade granola is filling and super easy to make. Bought cereal is not particularly filling or nutritious and is undoubtedly expensive/lousy value for money.
Making up a batch of homemade cereal is easy and not expensive. The only drawback is it does need baking in the oven for 20 minutes, ideally on the back of the evening meal or when you are baking something else. You can put the granola in the oven – even after it's turned off and leave it for a little longer.
Granola Recipe Template
Below is a recipe for a healthy granola mix with several options so you can customise it. Everyone has their likes and dislikes, and the fun part about homemade breakfast cereal is that you can change it up and make it your own!
Shop-bought granola is often chunky; however, making homemade granola chunky is tricky without adding extra honey or syrup and perhaps melting in some sugar. The Kitchn suggests adding an egg white to the mixture before you put it into the oven. The key is not to overcook it – if it is overbaked, it won't crisp up afterwards. Maybe worth a try if chunky is essential.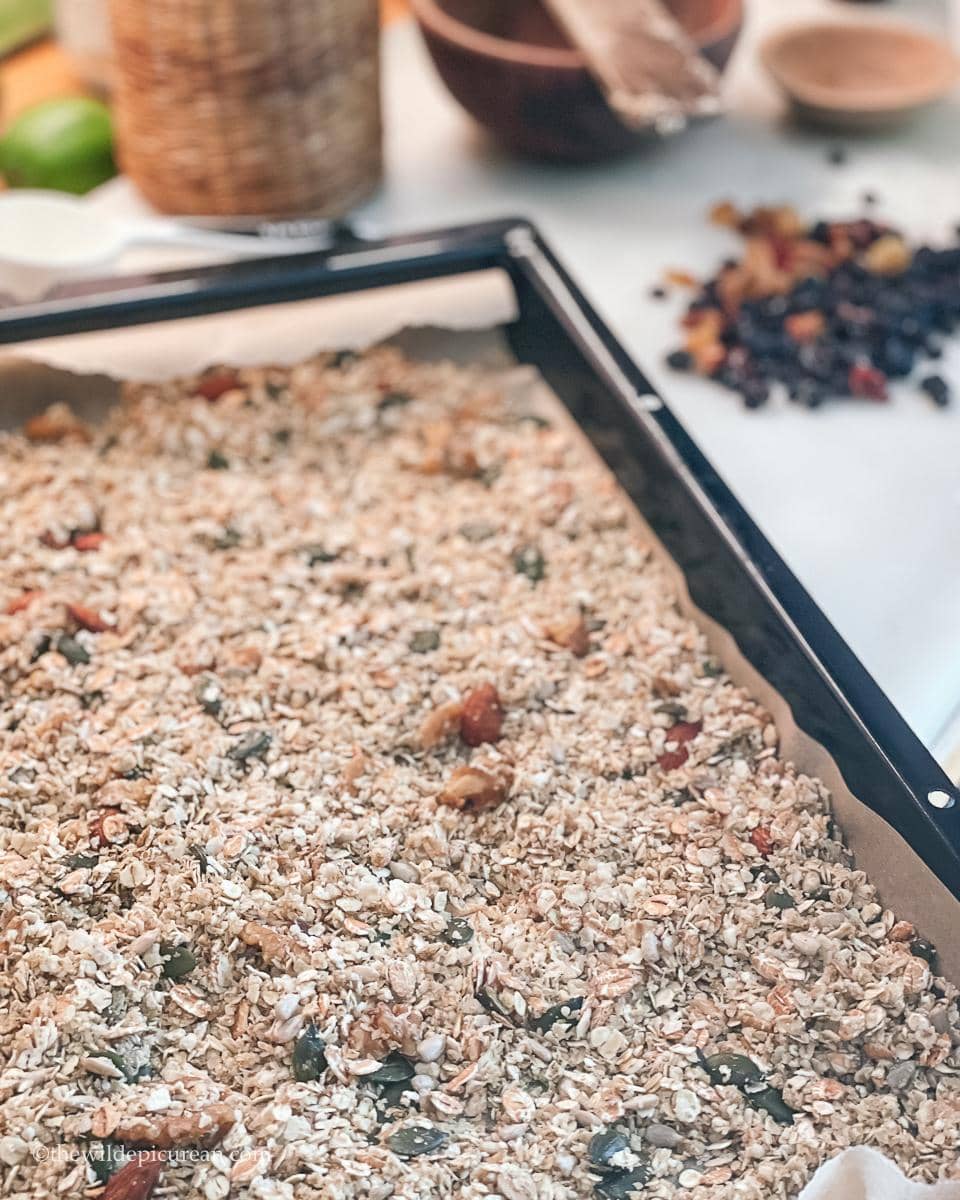 Choosing Your Ingredients
Go easy on your choice of spice, be it cinnamon, vanilla or pumpkin spice. I think it only needs a little, or it is too overpowering.
Many recipes call for pecans, but they can be expensive, so choose something in your price range. Walnuts and almonds are always good but so too are hazelnuts, all of which are in season.
Ditto with dried fruit; go for something in your price range that you like. Dates and figs are delicious but in moderation. Raisins and sultanas are a little less overpowering, as are apricots. Dried apple and ginger or orange zest and cranberries are great combinations. If you love coconut, use coconut oil with coconut flakes.
Storage
Homemade granola must be kept in a sealed jar or container for at least two weeks. Remember to pack it only when it is cool, or it will give off condensation and go mouldy. This batch fills a 500ml Kilner jar, approx ten servings.
If you are looking for more breakfast and brunch inspiration, click here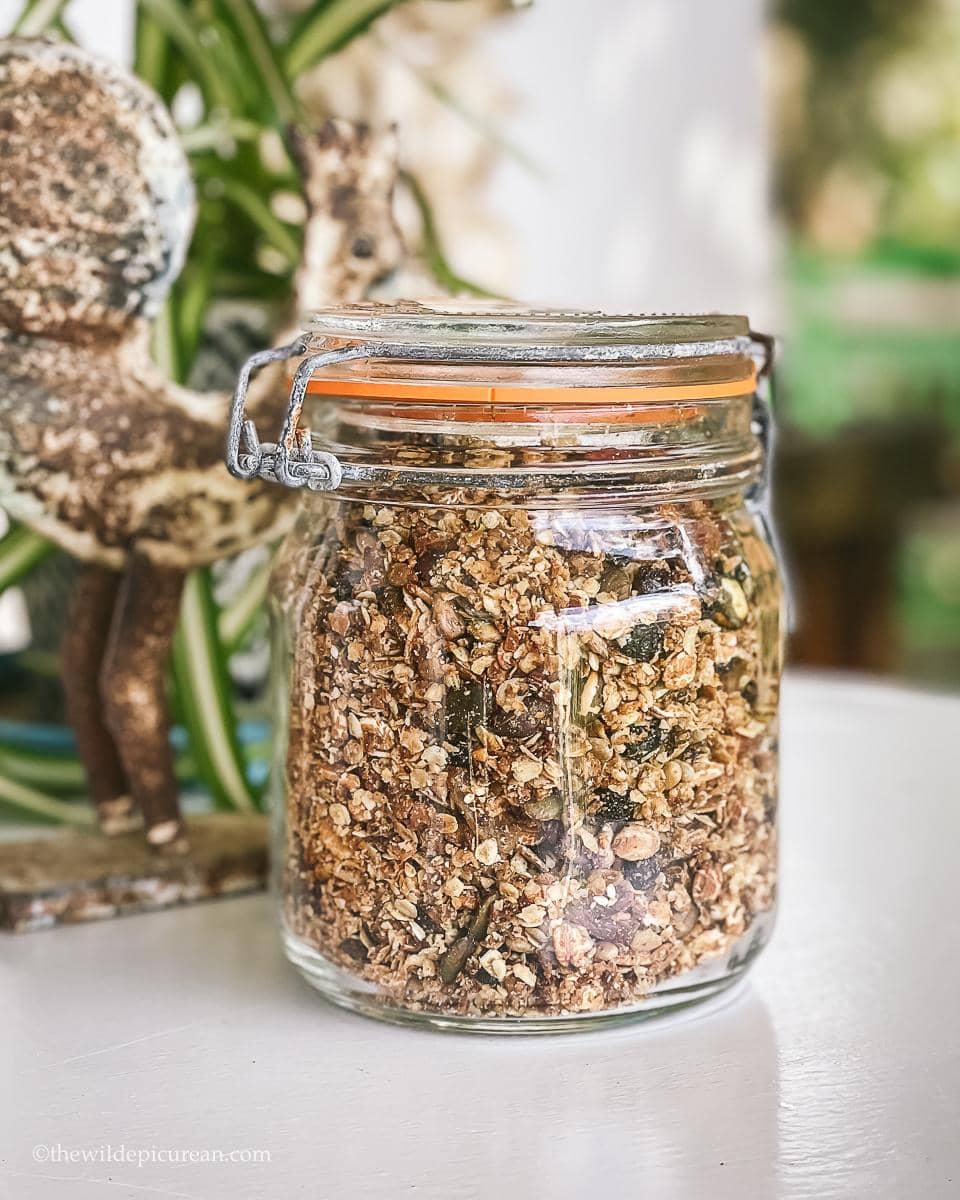 Healthy Homemade Granola
Easy adaptable recipe with oats, dried fruit, nuts, seeds, honey and cinnamon.
Print
Pin
Rate
Ingredients
300

g

traditional rolled oats (3 cups)

1

tbsp

sesame seeds

1

tbsp

table chia seeds

optional

1

tbsp

wheat bran

optional

50

g

edible seeds of your choice, for example; pumpkin, sunflower, or pine nuts

50

g

nuts for example; walnuts, almonds, pecans, almonds or hazelnuts

50

g

dried fruit, for example; raisins, chopped, apricots, cranberries, dates, figs, or golden raisins

½

tsp

cinnamon or pumpkin pie spice or vanilla

¾

tsp

sea salt (fine)

60

ml

maple syrup or honey (qtr cup)

60

ml

light oil (olive oil) or coconut oil (qtr cup)
Instructions
Measure out all the ingredients. Put everything except the dried fruit into a large bowl. It is intended to be a highly flexible recipe. I have highlighted the ingredients I used but please adapt the recipe to your store cupboard and your preferences.

Whisk together the cinnamon, honey, salt and oil and pour all over your dry ingredients, stirring it well.

Lay the mixture evenly on a lined baking tray and bake for 20 minutes at 150°C. Keep an eye on it – you want it lightly golden.

Once out of the oven, mix in the dried fruit and press down with a back of a metal spatula to encourage it to form clumps. If it is not clumpy enough – drizzle over a little more honey and press down again. Leave to cool.

When cool, store in an airtight jar for up to 2-4 weeks.
Notes
If you don't want to turn the oven on just to make granola – put it in an oven after baking something else with the oven turned off. It may take a little longer, but it is an excellent use of a cooling oven.
This recipe is intended as a guide so you can adapt it to your preferences. If you have a sweet tooth, you may want to add coconut flakes and use coconut oil; the flakes are best added halfway through as they tend to burn quickly. Pumpkin pie spice is fun in the autumn with maybe dried apple and maple syrup. The permutations are endless!
Getting granola to become clumpy without adding more honey/syrup is difficult. One trick is to mix egg white into the mixture before it goes into the oven. I have yet to try!