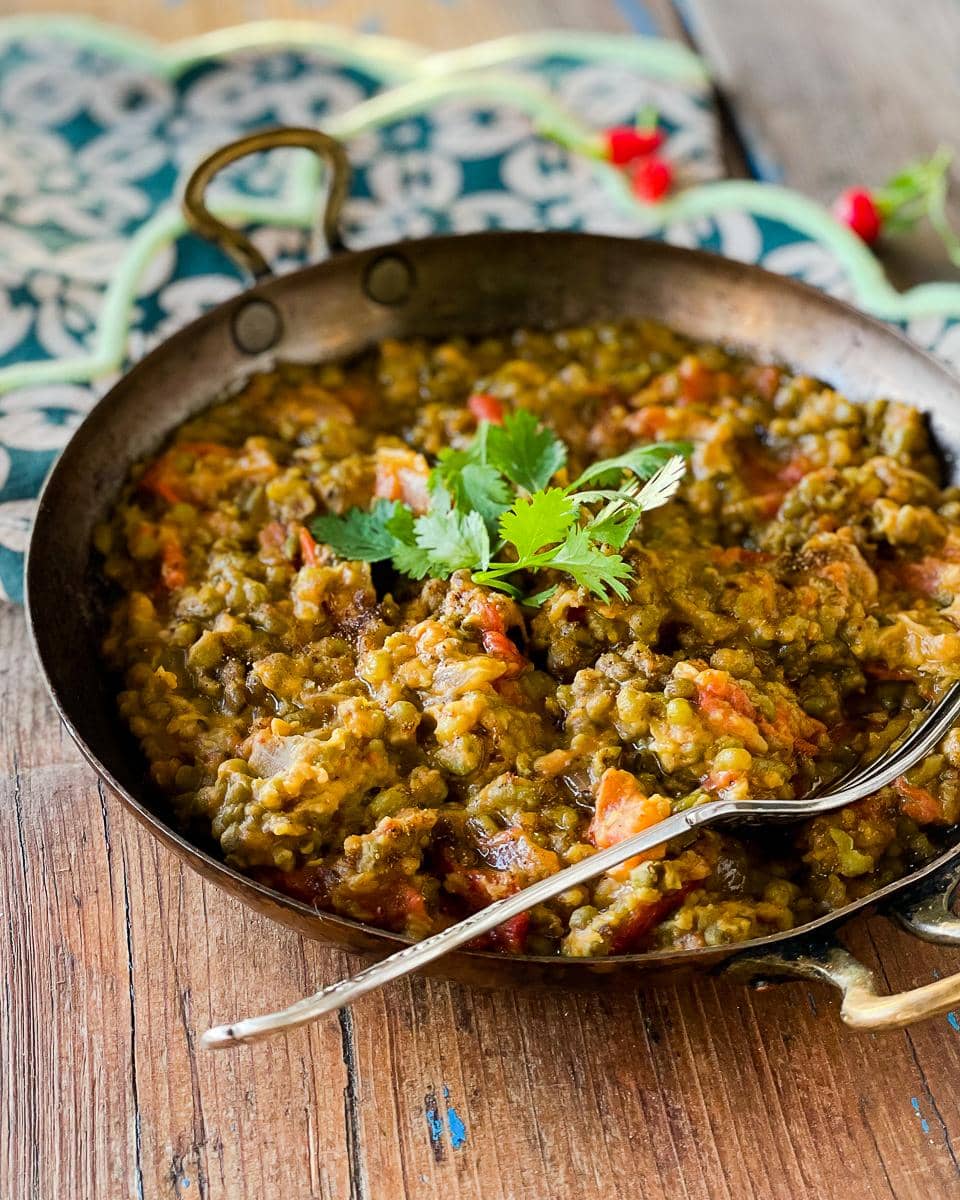 Mung bean curry is easy to make and needs no introduction! That bowl of something comforting, quick and nutritious. On the table in thirty minutes (plus soaking!).
The mung bean (also known as green gram, maash, moong, monggo, or munggo😁) is more often associated with its sprouted form, excellent in salads, sandwiches and stir-fries. If you soak your beans for this recipe a little too long, they will begin to sprout, 😁. Don't worry – you can still use them.
I am using the whole mung bean as I like the texture, but you can also use the split mung bean ( moong dal), which is yellow and produces more of a classic dal dish. The method for both is the same.
Many mung bean curry recipes add coconut milk towards the end. I find that a little too rich and overpowering. If you want to give the curry a hint of coconut, a more subtle method is to saute the ingredients in coconut oil.
Soaking the Mung Bean (Green Gram)
If you remember, you can put beans to soak in the morning, ready for the evening. In reality, they only need about an hour's soaking, but I prefer the long soak, as the cooking time is reduced and you keep the integrity of the bean. The split mung bean (moong dal) only needs rinsing and a short soak while you prepare everything.
Adding the Optional Tadka
Making a tadka is authentic and lifts this dish to a new level. If you want to add that extra pungent layer of flavour and richness. It's easy to do; heat some oil (or ghee) in a heavy-based pan, add mustard and cumin seeds, and then a mixture of chillies and garlic, and ginger paste. You want to perfume the oil with spices but not burn them. Spoon over the curry as you serve.
Ingredients
Use fresh tomatoes and chillies if you can and if they are in season. However, you can, of course, use tinned tomatoes and dried chillies. If using tinned tomatoes, reserve the juice as the liquid when adding the beans/dal. You can also add a little grated carrot, courgette or finely sliced leeks if you want to incorporate more vegetables.
The only crucial trick in this recipe is to ensure that onions, chillies and tomatoes are cooked before adding the beans or dal. Don't rush it – there should be a little oil on top of the tomatoes, onions translucent and other vegetables soft with no liquid. The beans only need a little of their turmeric cooking water. The dal will need more. It's better to add more liquid as it cooks rather than end up with a watery mess. The dal especially will absorb the liquid and can dry if you don't get the balance right.
Serve with rice, flat bread and a kachumber salad as a main course or as a side dish.
This recipe has evolved 😉 but has roots in Wendy Hobson's, The Classic 1000 Indian Recipes. Plus, some authentic tips from the fabulous Swasthi's Recipes.
Click here for more Vegetarian or Bean inspired recipes.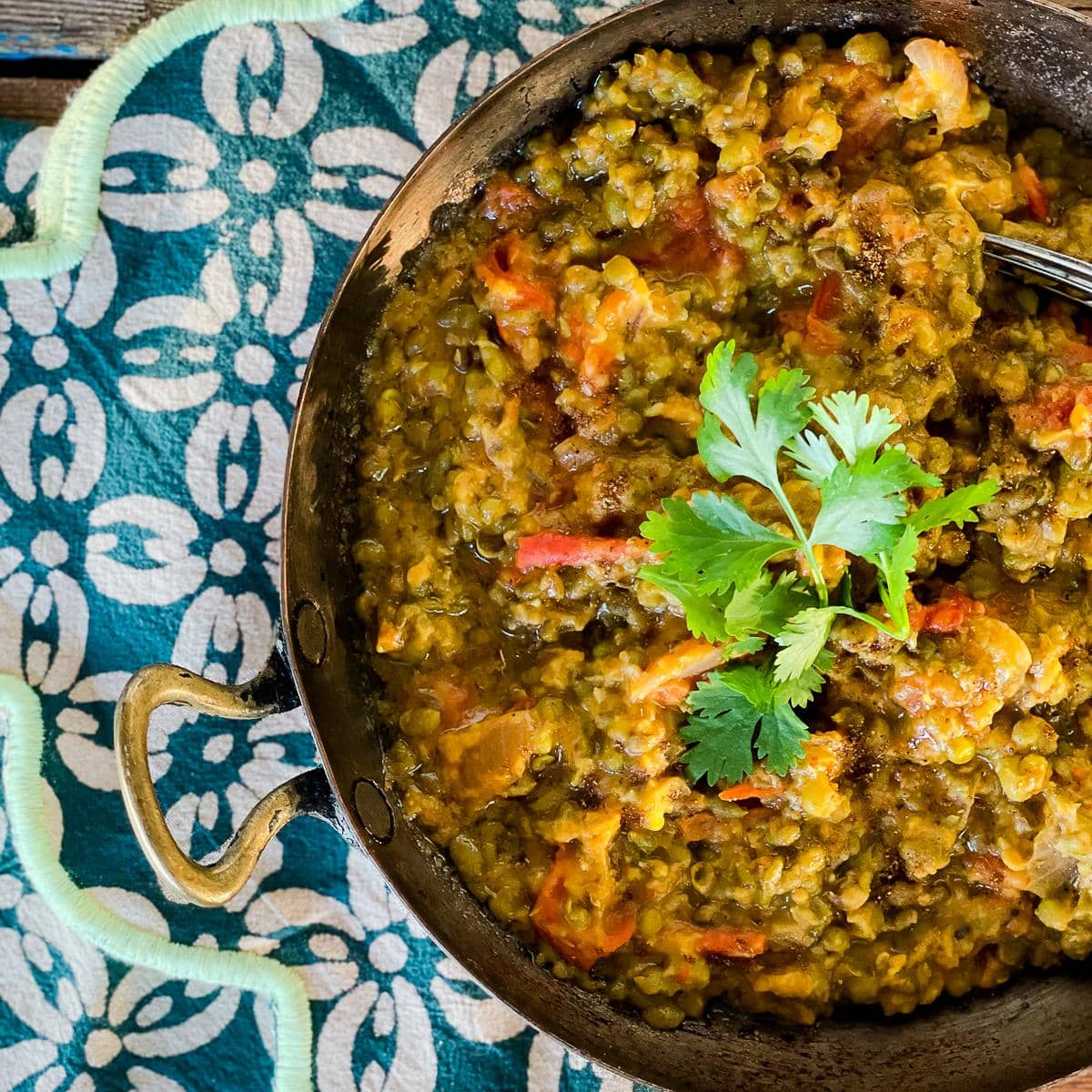 Mung Bean Curry
Fresh chillies, tomatoes, garlic and ginger, mung beans, and some fresh coriander is all you need to make this nutritious and comforting curry.
Print
Pin
Rate
Ingredients
250

g

mung beans (soaked 40 – 60 mins)

scant

tsp

turmeric powder

1

fresh red chilli finely chopped

1

onion finely chopped

1.5

tbsp

minced garlic and ginger (in equal quantities)

¾

tsp

cumin seeds

½

tsp

garam masala

2-3

fresh or tinned tomatoes – about 220 g

if using tinned tomatoes – remember to preserve the juice to add later.

ghee or light oil

2-3

curry leaves or a bay leaf

salt
Garnish
¼

tsp

garam masala

½

lime – juiced

1

tbsp

fresh coriander or parsely
Tadka (optional)
1

tbsp

ghee or oil

½

tsp

cumin seeds

pinch

asafoetida

2-3

small

dry red chillies (whole)

2-3

cloves

garlic – finely sliced
Instructions
Boil the soaked mung beans in about 6 cups of water, salt and a generous pinch of turmeric powder. Cook until tender but not soft. Drain and retain the cooking water.

While the beans are cooking, add the cumin seeds until they wiggle, then add the garlic and ginger paste, chilli and onion. Fry until golden brown. Add the rest of the spices and the tomatoes. Only use half the tomato juice if using tinned tomatoes. Cook until all the water is absorbed.

Add the mung beans, adding a little of the cooking water (or tomato juice if you used tinned tomatoes), if the dal seems a little dry. Cook for 10-15 minutes (or until soft). Add more cooking water/tom juice for a more soupy dal.

Garnish with a little garam masala powder, lime juice and fresh coriander or make a tadka.
Tadka (optional)
Heat one tablespoon of oil or ghee; add ½ tsp cumin seeds, a pinch of asafoetida, 2-3 small red chillis and 2-3 finely sliced garlic cloves.

Heat until the oil is infused but the spices are not burnt. Pour over the dal or serve on the side.

Serve Mung bean curry with chapatis, rice and kachumber salad.