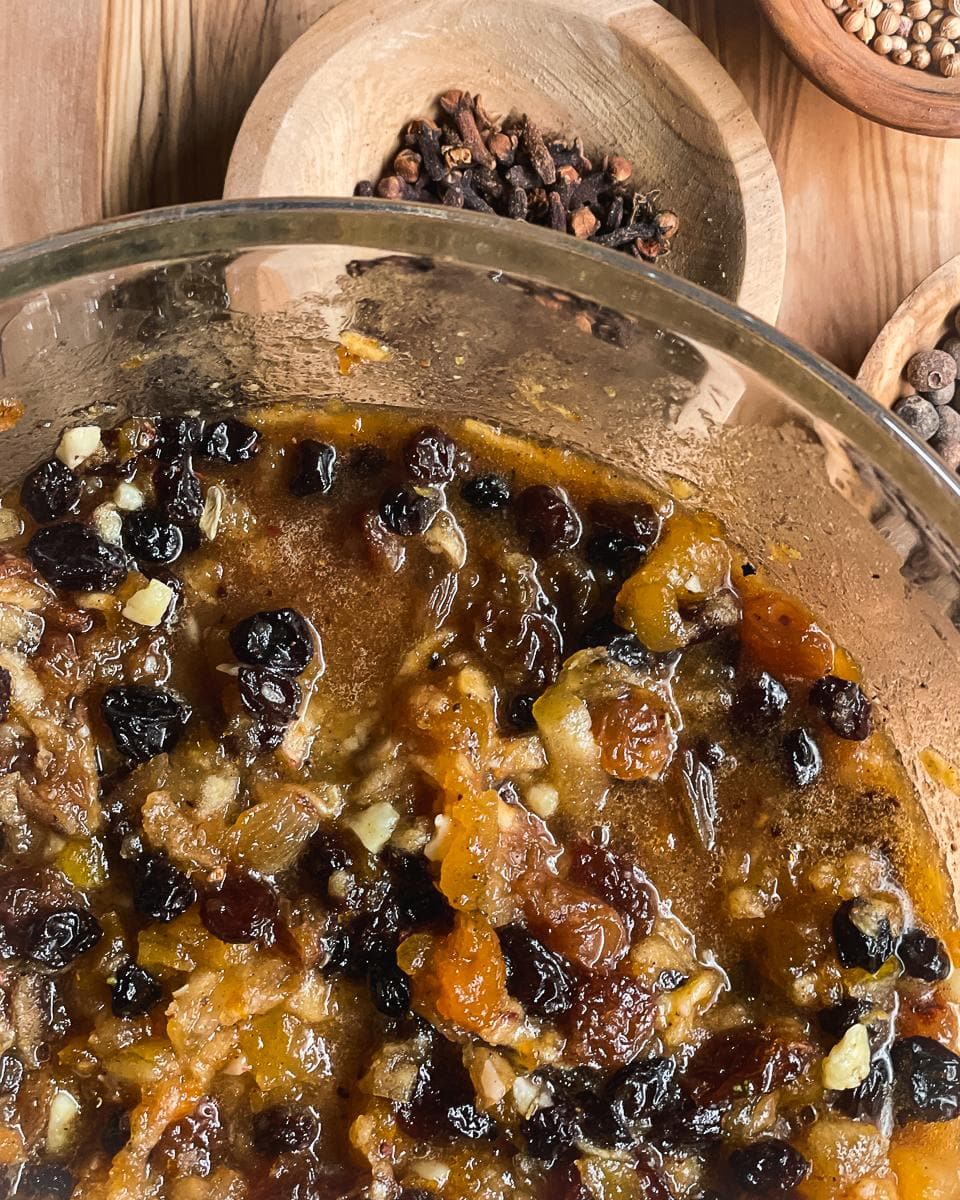 An easy recipe, mincemeat with apricots and oranges is definitely worth the effort. Despite all the media mince pie reviews! Homemade is by far the best. It has a beautiful light and fruity texture – not too sweet. By heating it in the oven, you coat all the ingredients in the suet and extend its shelf life. However, I also think the gentle bake in the oven intensifies the flavours and makes for much lighter mincemeat because all the suet is evenly distributed. The apricots give it a lovely golden-orange colour. Many a non-mince pie-eating guest has been converted to this recipe …. or perhaps it was the mulled wine.😉.
It makes about three 350ml jars, as I like to make it yearly, but double it up if you have more pies to fill🎄. Use brandy, or you can mix sherry and brandy or add rum, most likely, what is close to hand. I also tend to put enough alcohol to moisten the mincemeat and then recheck it before I use it to see if it needs a little more, which it inevitably does😁.
You can substitute the apricots for cranberries, kumquats (remove the pip) or sour cherries. I have also swapped the orange for a large clementine which was really good. If you have time, make your own candied peel, bringing a new level of aromatics.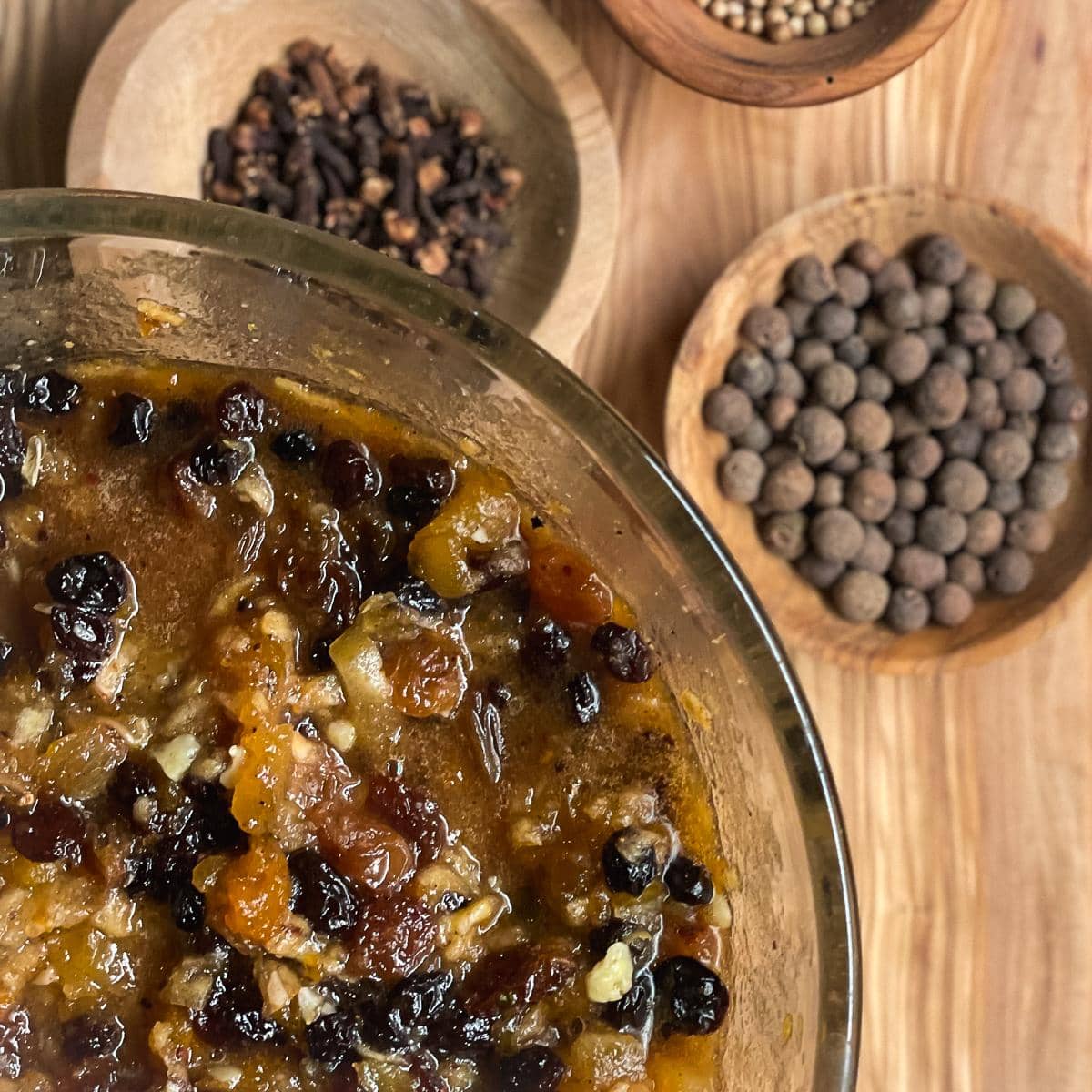 Christmas Mincemeat with Apricot and Orange
A light fruity mincemeat with apricots which is ready to use immediately or store for later.
Print
Pin
Rate
Ingredients
Mincemeat
150

g

raisins

150

g

currants

110

g

sultanas

40

g

apricots (finely chopped)

Other options; very finely sliced kumquats with their pips removed, dried cranberries or sour cherries

60

g

candied peel (finely chopped)

200

g

apple (or quince) – varieties such as Bramley, Braeburn or Pink Lady are ideal – cored and chopped (small) or very coarsely grated. No need to peel.

110

g

beef or vegetarian suet

110

g

soft brown sugar

2

tbsp

orange marmalade

optional, if not using add 50g soft brown sugar

30

g

almonds (medium/finely chopped with or without skins)

1

organic unwaxed lemon zested and juiced

1

organic unwaxed orange zested and juiced

2

tsp

mixed spice

shop bought or recipe below

¼

tsp

cinnamon and a pinch of nutmeg

½

tsp

pure almond or vanilla extract

optional

125

ml

brandy, rum or brandy/sherry mixed

about 3 tbsp
Mixed Spice
2

tbsp

powdered cinnamon

⅔

tsp

powdered cloves

1

tsp

ground nutmeg

2

tsp

powdered allspice

1

tsp

powdered mace

1

tsp

powdered ginger

⅔

tsp

powdered coriander

1

tsp

cardamom
Instructions
Mixed Spice
If you have the time, the spice does reach another level if ground from scratch. If not, put all the powdered spices in the food processor to ensure they are well combined. Store in a sealed jar or container.
Mincemeat
Put all the ingredients (except the alcohol) into a large heatproof bowl. Pyrex is ideal. Stir well. Cover and leave in a cool place overnight or a minimum of 6-8 hours.

Preheat the oven to 110°C. Cover the bowl with foil, and leave in the oven for 3 hours.

Remove, and stir well to distribute the melted suet. When cold, mix in the brandy until the mincemeat is moist . Pack into clean, sterile jars* (see below for how to link), seal and store in a cool dark place.

The recipe makes about 3 x 350ml jars.
Notes
Don't skimp on the oven time. It allows all the fruit to get coated in the suet, ensuring long shelf life and enhancing the flavour. I have used the same recipe for over 25 years. It's delicious and excels any store-bought version. 
Here's a good link for how to sterilise jars.
I first came across this method in a copy of Louise Walker's AGA party book in those long distant AGA days. However, when researching the recipe, I noticed Delia's website recommends the same method featured in her Happy Christmas book. So credit and inspiration from both.