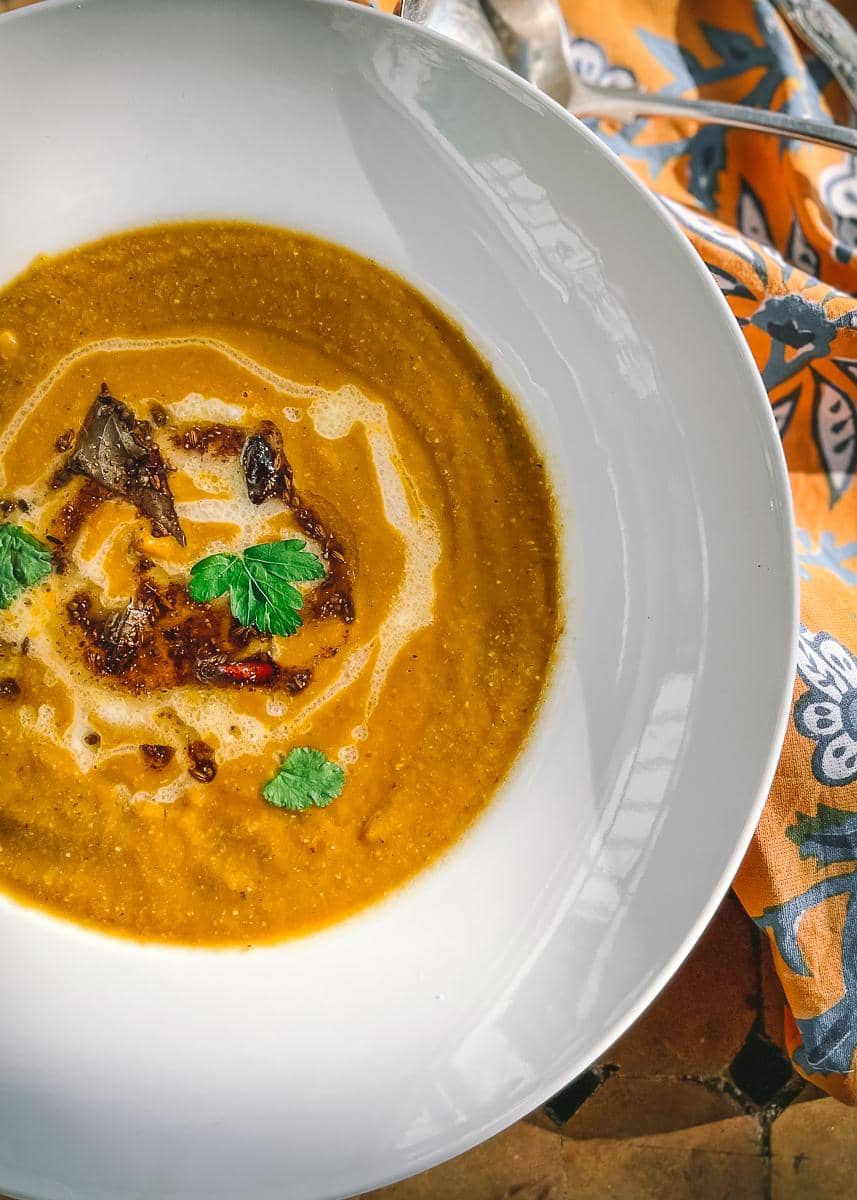 Food fusion at its best – combining classic winter carrot soup with one of the most popular curry dishes, korma.
The key to a perfect korma is sealing and then slowly braising the meat in a chicken or vegetable stock, often with yoghurt, to achieve a rich, creamy sauce. And, as it so happens, a perfect technique for soup. Many carrot soups call for the carrots to be roasted in the oven – to preserve and seal in the flavour. However, this way, you can achieve the same result without turning on the oven!
For the carrot korma, I used almonds to give it a creamy texture and looked to Southern India for the coconut inspiration. The result is delicious – it has all the korma flavours but is not too rich and overpowering. The sweetness of the carrots is a perfect foil for the spices. If you prefer your korma not to be spicy, leave out the chilli. If you need more creaminess, add coconut milk instead of some of the stock.
It is super easy to put together; the only proviso is giving time for the carrots to cook. There is also a small list of spices to gather together, but they are all store-cupboard-friendly! Prepare them in advance in a small bowl (except for the mustard seeds, which are added at the beginning) and add them once the onions are translucent.
The resulting carrot soup is quite thick. However, wait until you have put it through the blender before loosening it with a little more water or stock. Korma is all about braising. You want to avoid boiling the carrots but gently simmer them in the oils and seasoning, adding the liquid little by little. If you are serving carrot korma soup as a main meal – you may want it to be thicker. If it is to be a starter, then a thinner soup might be preferable. Leaving it to cool before you blend it does also enhance the flavours. Then when you are ready to serve, gently reheat and season with salt.
The Garnish
Hmm – this was challenging because I wanted to garnish the soup with a swirl of coconut cream (or milk), toasted coconut flakes, a tadka and a little coriander. But I think that is a little too much ……I'll leave it to you. A swirl of coconut cream or milk and some fresh coriander is, perhaps, all that is needed! The spicy tadka is a great addition but quite rich.
Serve with a coconut naan or a simple flatbread.
For more soup ideas, click here.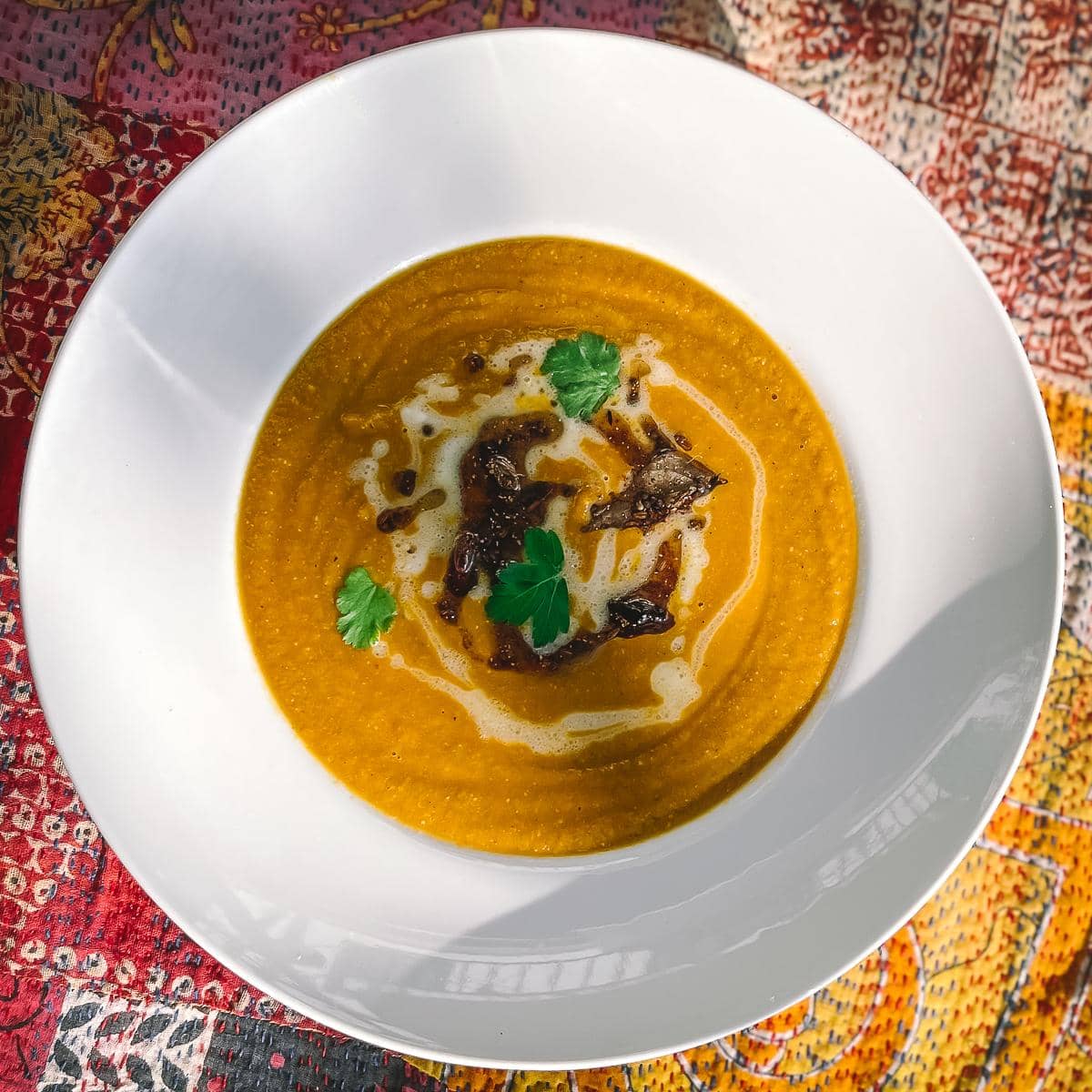 Carrot Korma Soup
A warming carrot soup infused with korma flavours and a hint of chilli spice.
Print
Pin
Rate
Equipment
1 large heavy based pan with lid
Ingredients
1-2

tbsp

coconut oil

1

tbsp

ghee or olive oil

500

g

carrots peeled and chopped into rings

2

onions roughly chopped

1

med-large

potato (peeled and diced)

20

g

almonds soaked in 200ml water

or cashews

⅔

tsp

yellow mustard seeds

2

cloves

garlic (grated)

2

cm

ginger (grated)

1

banana chilli, finely chopped

optional

2

tsp

garam masala

1

tsp

ground coriander

½

tsp

ground fenugreek

1

small

bay leaf

800

ml

stock of your choice (vegetable or chicken)

salt and freshly ground black pepper
Tadka (see notes)
2

tbsp

oil or ghee

2

tsp

cumin seeds

pinch

asafoetida

¼

tsp

dried chilli powder

2

dried

chillies

½

tsp

grated garlic and ginger

optional
Garnish
2-3

leaves

fresh coriander

50-100

ml

coconut cream

1

tbsp

toasted coconut flakes

optional
Instructions
Cover the almonds with 200ml of warm water and set aside.

Heat the coconut oil and ghee in heavy-based pan. Add the mustard seeds.

As soon as the mustard seeds start popping add the onions. Cook for a couple of minutes – add the carrots, potato, chilli, garlic and ginger.

Add the remaining spices and a good grating of black pepper. Set over low heat and braise very gently.

Once the onions are translucent, add the almonds (reserve the water) and a sprinkling of their water.

You aim to stew the carrots very slowly in the onions and spices. Keep an eye on them and sprinkle them with more almond water when necessary. Add only enough water to stop it from sticking.

As soon as the carrots start to soften, you can add the remaining almond water and the stock.

Gently simmer until the carrots are soft and ready to blend. Leave to cool and blend when lukewarm. Leaving the soup to cool allows the flavours to develop. Add a little more water, coconut milk or stock if the soup is too thick for your taste.

When you are ready to serve, gently reheat the blended soup. Add salt to taste.
Serving
For the Tadka, temper or 'bloom' 2 tsp cumin seeds in 2 tbsp oil (just enough for them to start moving – 30 seconds!) Remove from the heat. Add a pinch of asafoetida,  ¼ tsp red chilli powder and two dried red chillies. Add grated garlic and ginger just after the cumin seeds – if you want a little extra kick.

To Serve, swirl in a little heated coconut cream and tadka (if using as you may find the coconut and the tadka too much). Garnish with fresh coriander, parsley and toasted coconut flakes.
Notes
It is traditional to finish a simple Indian vegetarian dish with a chhonk or tadka (aromatic spiced hot oil dressing). However, it is a very rich sauce, especially combined with coconut cream, so feel free to use one or the other.
Both may be overkill for a midweek supper!
I used homemade chicken stock for this recipe, but a chicken stock cube, homemade vegetable stock or vegetable stock cube works equally as well.
This batch made just over 1.2 litres of soup – a generous serving for four or a starter serving for 6.