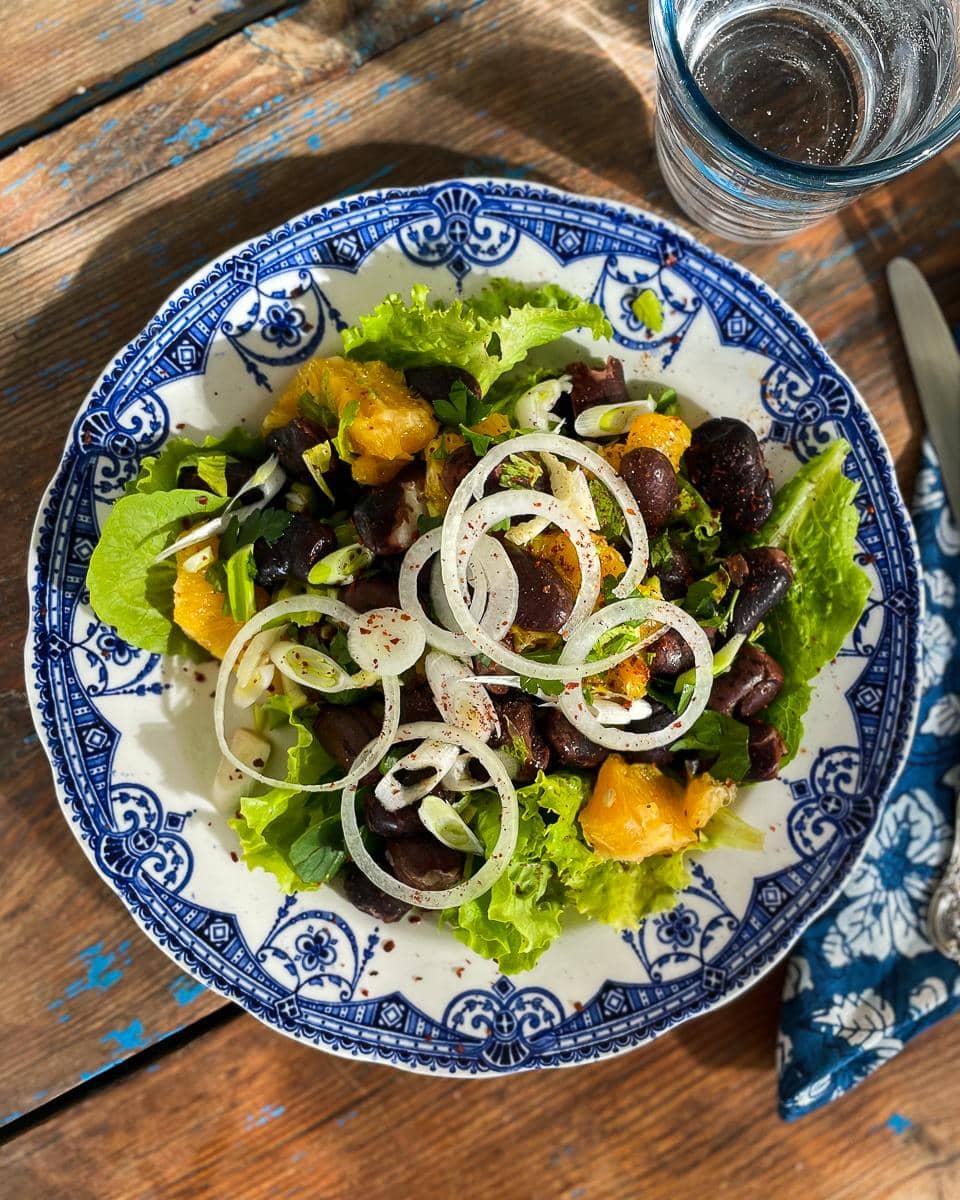 Western Macedonian giant-coloured elephant beans (Gigantes) are the star of this giant bean and orange salad. Rich in flavour and repudiated to be full of antioxidants – these gorgeous beans are cousins to the classic white Greek Gigantes bean but have a much earthier flavour. They are delicious in salads and taste of chestnut and sweet potato, which is gorgeous with oranges.
Ideally, soak the beans overnight in water with a pinch of bicarbonate of soda and then boil them with a small sprig of celery, onion and clove of garlic. Cook them for about an hour, so they are soft but don't lose shape. Drain immediately and toss in olive oil, salt, and pepper with the garlic clove you used to boil with the beans – minced and mashed, so it dissolves into the oil.
Although a cupboard staple, dried beans lose their verve if not stored properly or are out of date. They don't soften when cooked and are therefore inedible. So make sure yours are in date and stored in an airtight container!!
Fresh Herbs and a Simple Vinaigrette
To make the salad, in a large bowl, add a tablespoon of white balsamic vinegar, lemon juice, a pinch of salt and some olive oil. Add half a teaspoon of lemon zest and Aleppo pepper, and whisk well.
Remove the tender stalks from the centre of a head of celery (including the leaves) and finely chop them together with a generous bunch of mint and parsley (or coriander), a small fresh chilli and a spring onion. Add two oranges peeled and divided into small segments – making sure you remove all the white pith. Toss into the beans.
Winter Leaves and Greens
Select a couple of handfuls of winter salad leaves; you can use rocket, alfalfa sprouts, or whatever you have to hand. Toss the salad leaves and the bean/orange mix into the salad bowl. Sprinkle over sumac and garnish with finely sliced onions (red, white, or spring onion).
Hey, presto, a perfect winter salad with hopes of warmer days around the corner. The salad is best if you can toss the warm beans into salad leaves and eat it straight away – so also think about using young kale, spinach or broccoli shoots.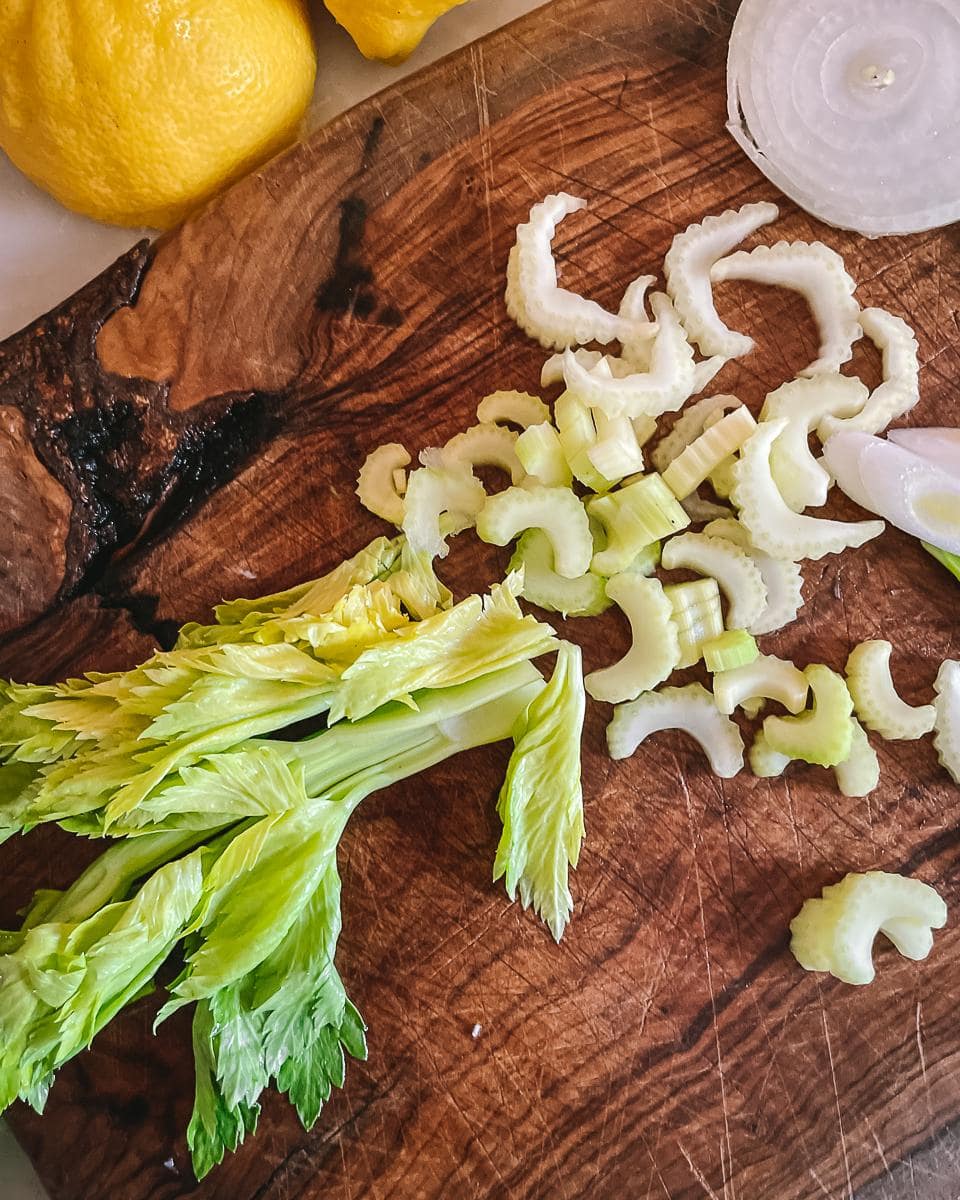 These beans are a real find. They are so gorgeous that I ate them straight out of the saucepan before attempting to make the salad. However, if you can't find them (you may need to go to a specialist Greek Deli), use a mixture of borlotti beans, pink beans, cranberry beans, or the normal white Gigantes for an equally delicious winter salad.
Click here for more winter salad inspiration.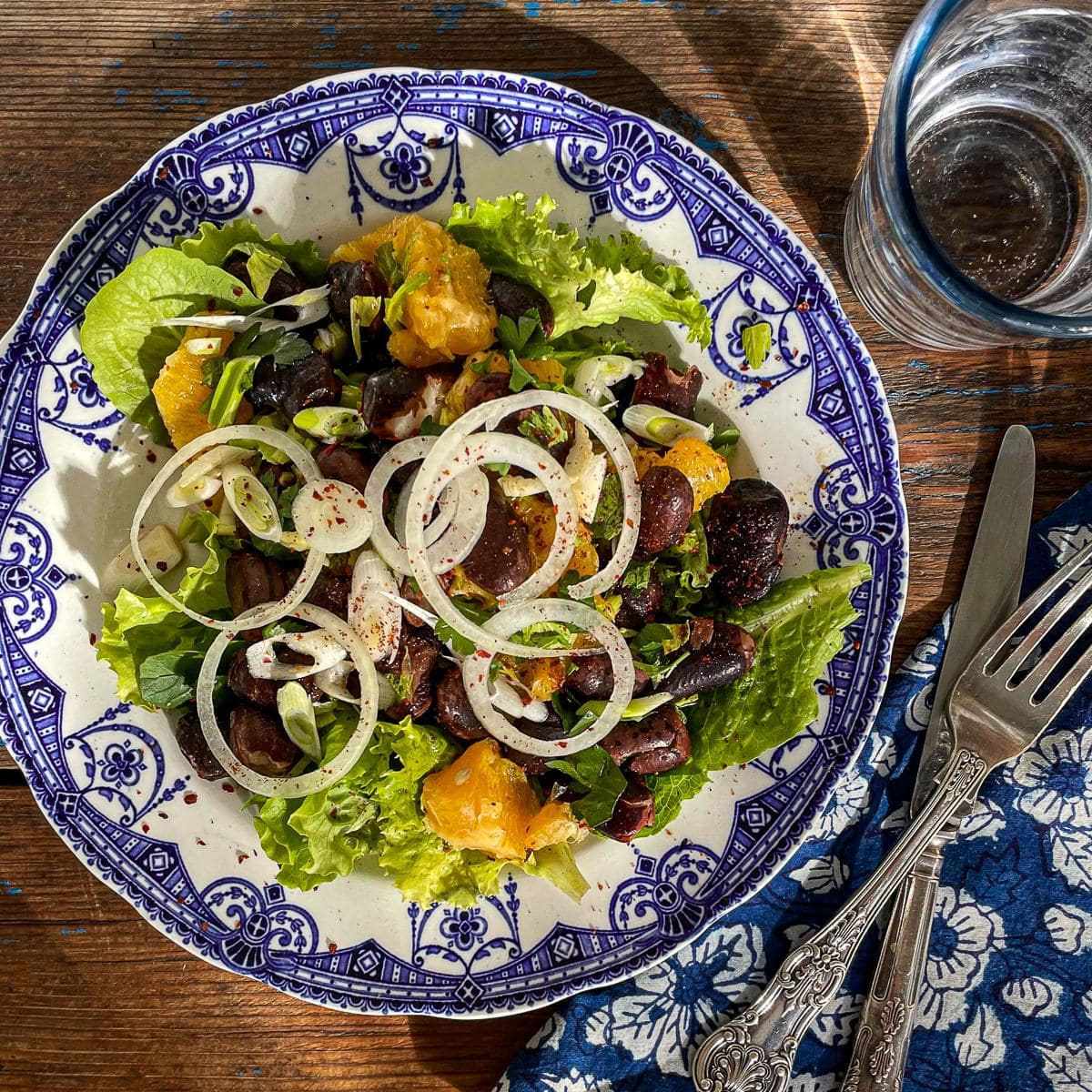 Gigantes Bean and Orange Salad
Giant-coloured elephant beans, oranges, winter leaves and herbs in a spiced white balsamic dressing.
Print
Pin
Rate
Ingredients
Beans
250

g

dried giant elephant beans (gigantes)

or substitute borlotti beans, pink beans, cranberry beans or white Gigantes. Use dried or tinned.

pinch

bicarbonate soda

1

small

stick celery

1

clove

unpeeled garlic

3

black peppercorns

½

red onion (reserve the other half for the salad)

1

tbsp

olive oil

salt and freshly ground pepper
Salad
2

oranges, peeled with all the pith removed and divided into small segments

2

handfuls

winter salad leaves or young kale, spinach or broccoli shoots.

Kale and broccoli may need blanching and slicing down the middle of the stem.

1-2

sticks

celery from the centre of the head of celery – including the leaves, finely sliced

1

spring onion – finely sliced
White Balsamic and Lemon Dressing
1

tbsp

white balsamic vinegar

1

tsp

lemon zest

½

tsp

Aleppo pepper

1

tbsp

lemon juice

2

tbsp

olive oil
Garnish
½

red onion – finely sliced

½

tsp

sumac or more Aleppo pepper
Instructions
The Beans
Soak the beans overnight in a pinch of bicarbonate of soda.

Drain and rinse the beans and cover in water. Add the onion, garlic, peppercorns and celery. Bring to the boil then simmer gently for about an hour until soft but still holding their shape.

Drain and return to the saucepan – removing everything except the garlic. Squeeze the garlic out of its skin and mix with a pinch of salt, black pepper and tablespoon of olive oil. Add to the beans and toss well to make sure the beans are well coated in the dressing.
White Balsamic and Lemon Dressing
In a large salad bowl, add all the dressing ingredients and whisk.
The Salad
When you are ready to serve*, add the beans and all the salad ingredients to the salad bowl and gently toss. Garnish with the onion and either a pinch of sumac or more Aleppo pepper.
Notes
*You can prepare everything beforehand and then reheat the beans before serving.          It's not essential, but it's tastier with warm beans!