(……….with Orange, Chilli or Cardamon)
Chestnut Chocolate Torte: A flourless cake or maybe a torte😉, light and rich simultaneously. Easy to make, and if you have the time to prepare and puree the chestnuts yourself, you can make a delicious savoury chestnut puree.
A change from the classic sponge or denser cakes we tend to make in the autumn and winter months and probably more suitable as a quick and treaty dessert or coffee treat. This recipe adds apple brandy as a flavour, but it is equally delicious with orange, chilli or cardamon.
Cooking Chestnuts
You can either use ready-prepared chestnuts or roast them yourself.
Ideally, you need to slit each chestnut with a sharp knife. Be careful not to cut yourself. Slitting stops them from exploding in the oven – messy!😱 Put the chestnuts in a pan of cold water, and then when it comes to a boil, remove them with a slotted spoon and lay them on a baking tray. Bake for around 20 minutes, wrap in a tea towel for about 10 minutes and then peel as soon as you can handle them. Try a chestnut to check if cooked. Cooking times vary slightly depending on their size and how fresh they are.
The Torte
Preheat the oven to 180 degrees, and you will need a 22cm cake tin (ideally with a removable base), greased and dusted with flour. You will need 115g dark chocolate (preferably 70%), six eggs separated, 70 g granulated brown sugar, 420 g chestnut puree, a tablespoon apple brandy, rum or espresso coffee, 1 tsp vanilla extract, pinch salt, and 125 g unsalted butter: cocoa/dusting sugar and pomegranate seeds to decorate.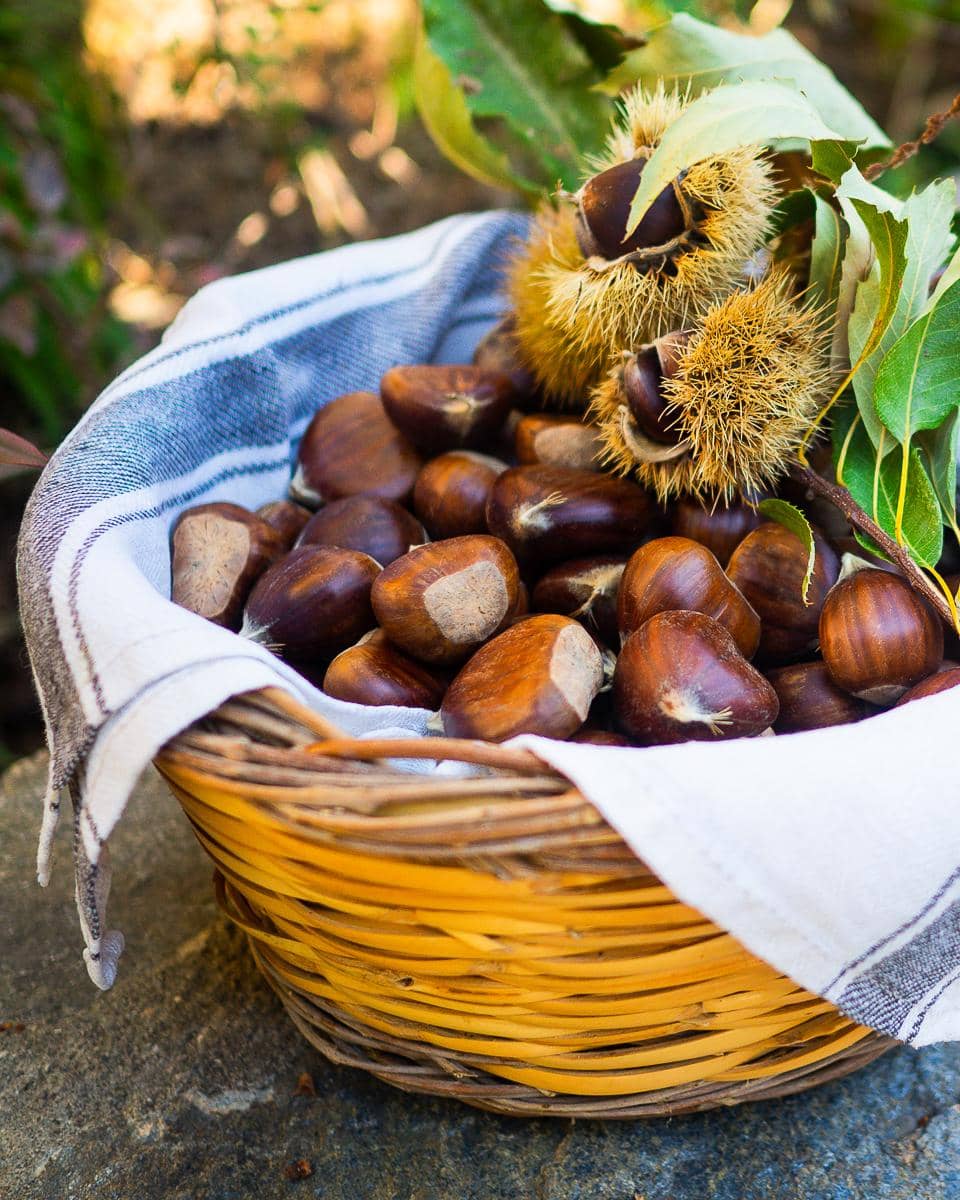 Barely cover your peeled (either from the jar or your own) chestnuts with milk (or a non-dairy milk alternative) and simmer until soft enough to puree in a blender until smooth. Just towards the end of blending, incorporate the butter, which should melt effortlessly into the warm puree and let it cool.
Melt the chocolate in a bain-marie or heatproof bowl in the preheating oven. When melted, gently stir in the brandy and vanilla extract. It does not need to melt, only soften.
Whisk the egg whites with a pinch of salt until they stand in peaks but are not dry.
Whisk the egg yolks and sugar and gently whisk into the cooled chestnut mixture. Add a spoonful of the egg whites to soften and fold in the rest of the egg white. You need to make sure it is evenly incorporated without losing the air.
Pour into your prepared tin and bake for 20-25 minutes. Do the knife test, but it should be a little moist. Leave it to cool, dust it with sugar, and decorate it with the pomegranate seeds.
For more chocolate treats, check out the baking section.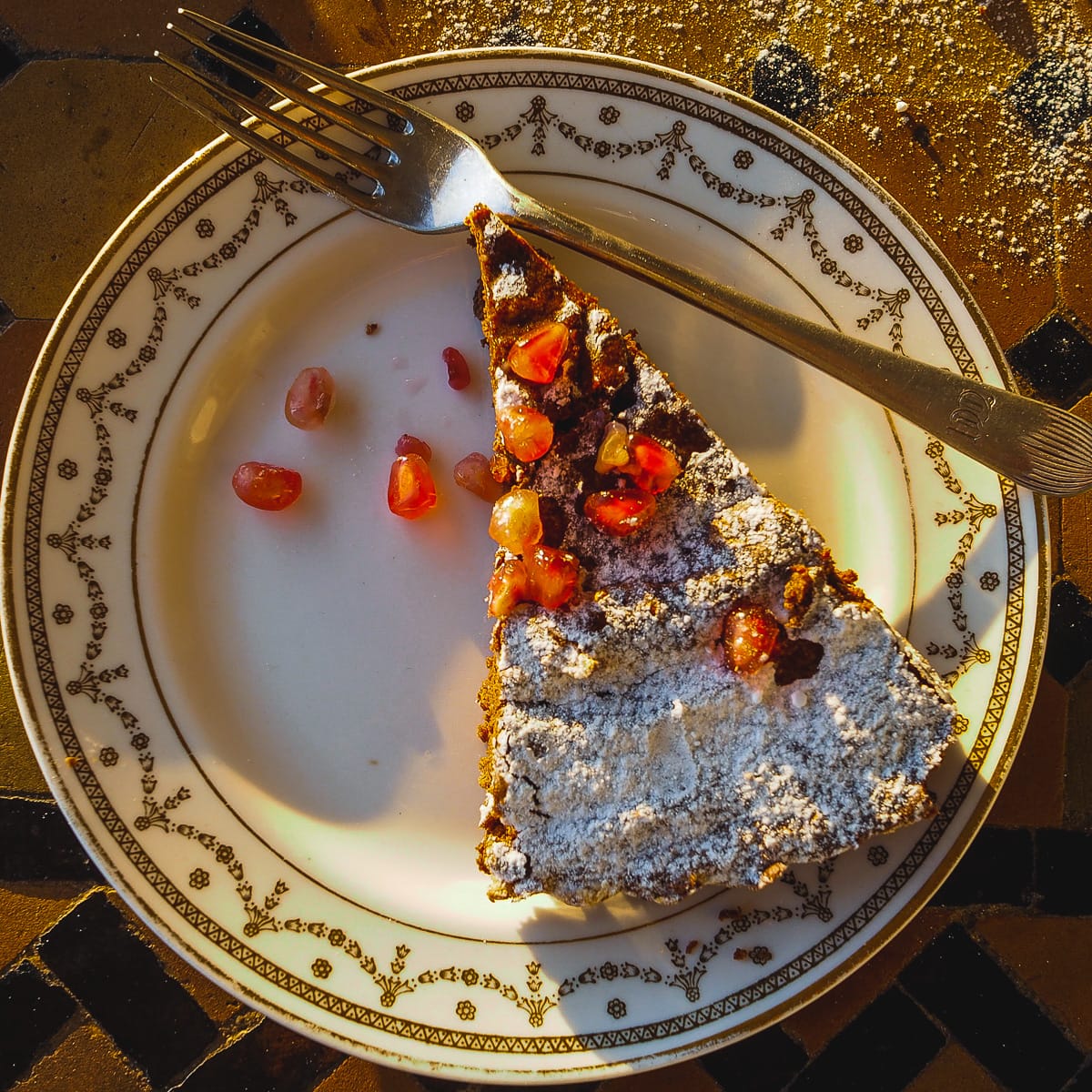 Ingredients
Chesnut Puree
420

g

peeled chestnuts

50-100

ml

milk or plant milk

1

tsp

pure vanilla paste
Torte
420

g

chestnut puree

6

eggs (separated)

70

g

soft brown sugar

115

g

good quality dark chocolate (min 60% cocoa solids)

1

tbsp

brandy (I used apple) or expresso coffee

you could use orange liquer, rum etc

125

g

butter

chopped into small cubes

pinch

salt
Instructions
Pre-heat the oven to 180°. Grease and dust a 22 cm cake tin with flour.

Pour the milk over the chestnuts until they are just covered. Simmer the chestnuts and vanilla until the milk is just absorbed and they are soft enough to puree. Keep an eye on them and dont let it burn or stick.

Puree the chestnuts with a stick blender, add the butter, let it dissolve and mix until smooth.

Melt the chocolate in heatproof bowl in the pre-heating oven, when soft stir into the chestnut puree adding the brandy and vanilla extract. Stir until smooth and well incorporated and leave to cool.

Add a pinch of salt and beat the egg whites into soft peaks – not too stiff but still slighly moist.

Beat the egg yolks and sugar; incorporate into the cooled chestnut mixture together with a spoonful of the egg whites to soften.

Carefully fold in the rest of the egg white. You need to make sure it is evenly incorporated without losing the air.

Pour into the cake tin and cook in the middle of the oven for 20-25 minutes.

The knife should come out NOT quite clean!

Decorate with powdered sugar and pomegranate seeds or your own decoration.
Notes
I have cooked this torte replacing the vanilla with ground cardamon. I think chilli would also work really well. You could also use rum or Grand Marnier.
I had notes on this recipe under flourless cakes, of which I had several recipes but this version is inspired and adapted from Nigella Lawson's recipe from the book, How to be a Domestic Goddess.