Christmas Figgy Pudding: "We all want some figgy pudding ….." The marmite of Christmas, I think it is genuinely fantastic, although I do wonder if it is because it is the one time I can have enormous amounts of brandy butter guilt-free.
What better way to spend a morning than fill the house with Christmassy smells? Understandably everyday busy lives don't necessarily have time for lengthy Christmas pud steaming, but apart from that, it's super easy. You only need to be on hand to check the water levels; I also recommend jotting down the ingredients so you can tick them off as you go along and nothing gets left out.
Stir up Sunday
True Christmas Pudding experts would probably have made their puddings several months ago. Still, it would seem like a perfect opportunity with 'Stir up Sunday' this weekend (the last weekend before Advent).
Just don't skimp on the steaming.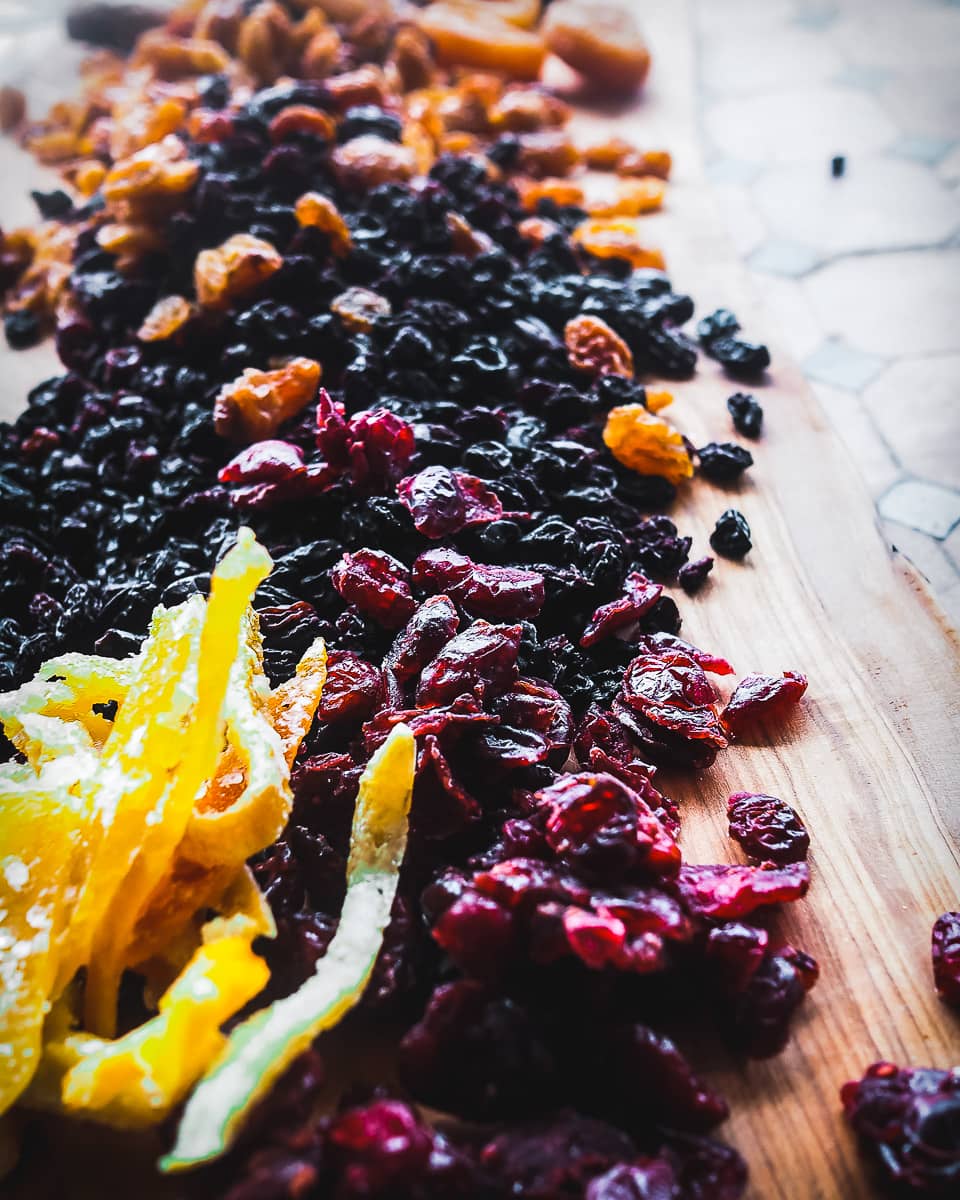 The ingredients
Christmas Figgy Pudding is a family recipe that has evolved over the years. However, having followed these instructions precisely last year. It is now my firm favourite. There are, of course, always exceptions; you can stick with currants, raisins and sultanas or go for the more exotic mix of fruits, keep to the correct weight ratio and think about the balance of flavours. So, either figs, dates or prunes mixed with currants, raisins and sultana, adding either apricots, sour cherries or cranberries. And, for me, grated or stem ginger is a must. This recipe is for a 1.2 L or 2-pint pudding bowl. If you have time to make the candied peel – it does make a difference. However, you can also buy delicious artisan candied peel – try and buy the best you can within your budget.
Soaking the Fruit
Dust the fruit with the flour, ensuring the different fruit types are well mixed. Soak the assorted fruits, nuts, candied peel, zest and spices in the brandy, lemon and orange juice the night before you tend to steam the pudding. Use a big bowl so you mix.
Making the Pudding😁
In the morning, beat the sugar with the eggs and treacle. Stir in the beer until smooth, and then add the breadcrumbs, suet, salt and grated apple or quince. Add this to your large bowl of fruit and give it a good stir. East to West if you are following tradition! At this point, I always taste the mixture to make sure it has the right balance of spices. Correct as you see fit. You can also add your well-scrubbed and boiled (or coca-cola/lemon juice cleaned) coins or charms. However, please warn all recipients of the potential added non-edible ingredient in the Christmas Figgy Pudding. Ideally, wrap the coins in a little greaseproof paper.
Steaming
Butter the pudding bowl generously and cut a disk of greaseproof paper that sits in the bottom of the bowl. Butter the top surface of the document and fill your bowl 3/4 full. Cover the top of the pudding with a disc of greaseproof paper and a larger disc of silver foil with a fold in the middle, gently tucked around the side of the pudding. Finally, cover the top of the bowl with foil and tie a string handle.
Put the pudding on a trivet or old plate or lid in a large saucepan with a lid. Bring to a boil and then gently steam for 5 hours. Water should come up halfway up the pudding bowl. Keep an eye on it and top up the water level as and when.
Leave the Christmas Figgy Pudding to cool and replace the foil and greaseproof paper if damaged or too soggy. Seal tightly and store in a cool dark place. I tend to pour a small slug of brandy over the pudding, but this is optional.
Serving and Flaming the Christmas Pudding
On Christmas morning, steam for 3-4 hours.
To flame the pudding, gently warm the brandy in a small saucepan or ladle with a long handle; it ONLY needs to be lukewarm – pour over the pudding and light.
Be careful and responsible, and remove all decoration from the pudding BEFORE you light it.
Serve with brandy butter and decorate with holly or sprigs of rosemary.
Merry Christamas🎅🏻🎄
For more Christmas recipes, check out our Festive section.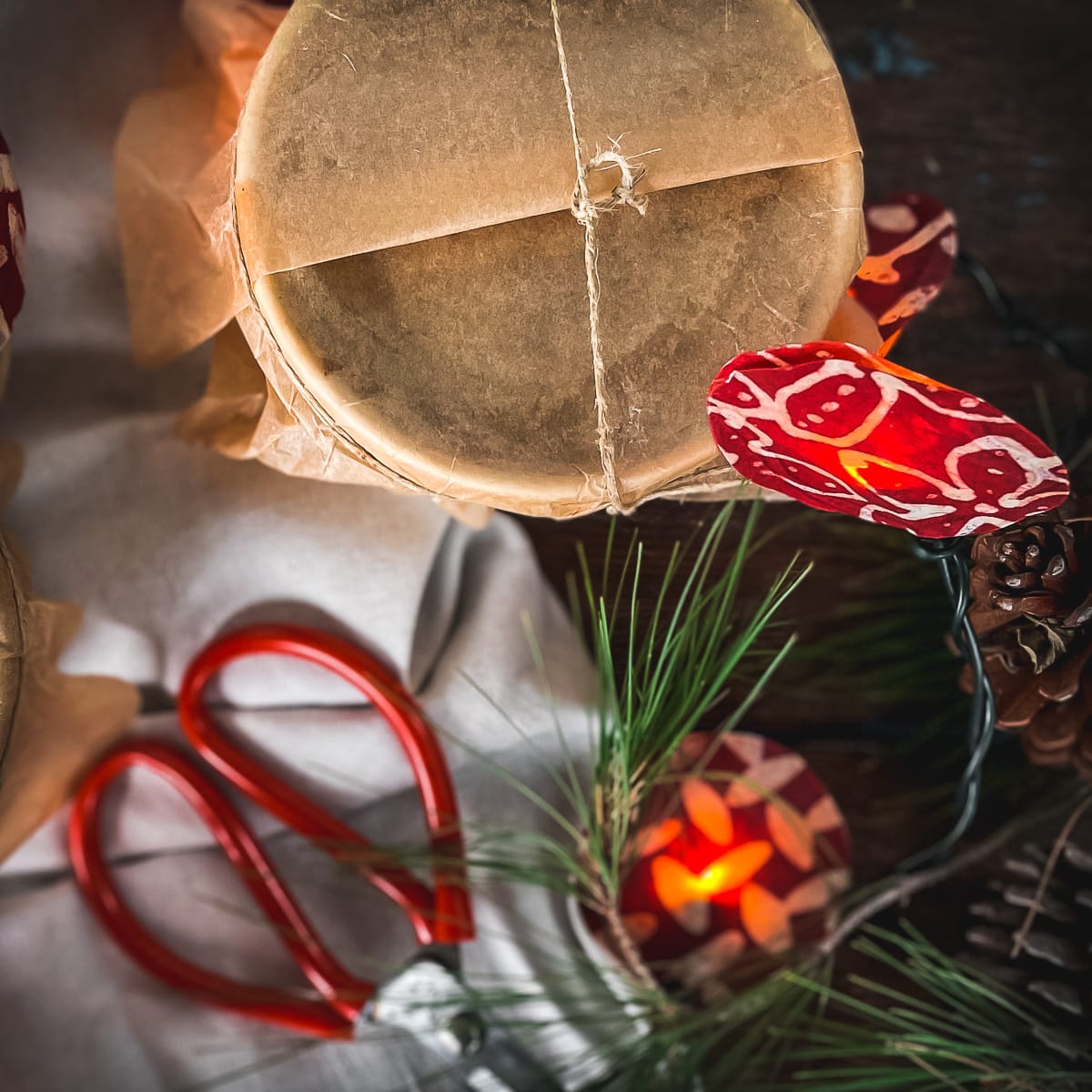 Christmas 'Figgy' Pudding
Light and fruity traditional Christmas pudding with fresh ginger, apricots, quince and sour cherries
Print
Pin
Rate
Equipment
You will need a 1.5L pudding bowl and a large mixing bowl
Ingredients
75

g

dried figs – finely chopped

my favourite is figs but you could also use dates or prunes

1½

tbl

grated fresh ginger

you can also use crystalised or stem ginger in syrup – chop rather than grate

150

g

sultanas

150

g

currants and raisins

50

g

cranberries or sour cherries

30

g

candied peel

ideally homemade or artisanal without colouring or preservatives

75

g

dried apricots – finely chopped

35

g

nuts – almonds (you can leave the skin on)

you could also use walnut or pecans

1

apple or quince cored and grated

1

lemon, zest and juice

1

orange, zest and juice

3

gently beaten

125

g

shredded suet

125

g

fresh brown breadcrumbs

175

g

muscovado sugar

2

tbsp

molasses or black treacle

80

g

self raising flour

pinch

salt

½

tsp

freshy grated nutmeg

1

tsp

mixed spice

½

tsp

cinnamon

½

tsp

powdered cloves

¼

tsp

powdered or ground cardamon

100

ml

brandy

100

ml

stout or Guiness

40

ml

rum

pinch

freshly ground black pepper
Instructions
The day before you want to steam the pudding soak all the fruit and nuts together with all the spices in the brandy and half the Guiness

Grate the orange and lemon zest and add together with the juice and grated quince. Whisk the egg with the treacle and add.

Sift in the flour and add the breadcrumbs and suet. Gently mix to make sure all is well combined. If you like, at this point you can taste the mixture to check the spice . Also add the rest of the Guinness if the mixture is still a little dry. It should be a sloppy cake mix.

Thoroughly grease the pudding basin and add the pudding mixture. Cover the top with a circle of greaseproof paper and then cover the entire top with greaseproof paper secured with string around the top. Add a loop handle over the top is handy for moving the pudding in and out of the water.

Put an old plate in the bottom of a saucepan, place the pudding on top and add water to about half way up and add a tight fitting lid. Bring to the boil and simmer for 4 hours.

On Christmas day – ideally boil for another 3 – 4 hours. Decorate with sprigs of fresh rosemary and serve with brandy butter.