Prawn Saganaki (Γαρίδες σαγανάκι): Here in Greece and particularly in Pelion, Lent is a beautiful culinary time of the year. Most Greeks tend not to eat meat or fish during Lent. Their diet is restricted to vegetables and shellfish (fish without blood). Sadly due to Covid, Tavernas are still closed. If not, the local Tsipouradika (Tsiporo Taverna) would be full.
Volos, The Home of Tsiporo
The actual home of Tsiporo is Volos and many of the villages in the Pelion peninsula. A small shot of tsipouro is served with one or two small mezze plates. You don't choose the mezze; this is the art of the Tsipouradika. A big crowded table is the best as the selection is massive😁😁.
I could write about tsipouro all day, but I think I need to move on to the point at hand. This is an excellent article for more on the Tsipouradika!!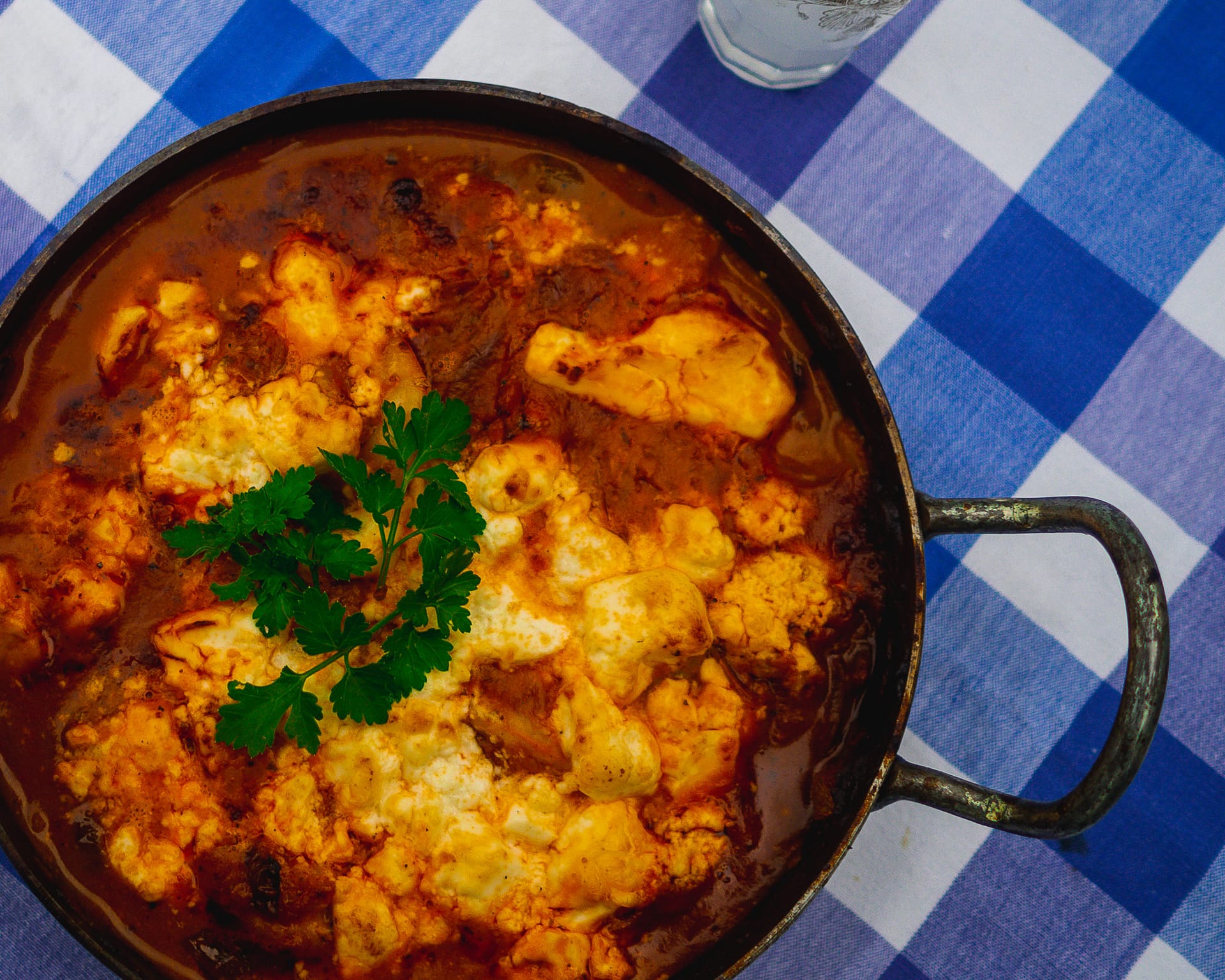 So in the true tradition of Lent, we must create our delicious mezze tables and look forward to when all the Tavernas are open again.
Fish and Cheese?
The first time I heard of prawn saganaki, I was not convinced. For me, the Italian rule of never mixing fish and cheese. And indeed, according to the lovely food blog Katerina's Kitchen, this was the case in Greece until around the early 1960s when some of the traditional recipes had a makeover, and the mussel and prawn saganaki dishes were born.
However, it works, is easy, and is a beautiful dish to share for a get-together over the weekend. Of course, fresh is always best but if you use frozen, be sure to defrost and eliminate all the extra water.
Saganaki – the Metal Frying Dish
Saganaki is the metal frying dish in which the saganaki recipe is made. As it contains cheese, it is not strictly allowed during Lent, but we are ok with slightly breaking the rules! I use an Indian cast metal two-handled round frying pan – whatever you use, you will have to use it to serve.
It's Taverna food, simple and tasty with fresh ingredients. Work quickly but don't burn the sauce or overcook the prawns. Serve sizzling, piping hot.
For more dishes inspired by the fruits of the sea, check out our Fish and Shellfish recipes.
Prawn Saganaki
Spicy, garlic prawns and melted feta in a tsiporou infused rich tomato sauce
Print
Pin
Rate
Equipment
Small heavy based or cast iron frying pan (with a lid) that, ideally, you can use to serve
Ingredients
250

g

fresh medium sized prawns cleaned and de-veined

ideally just remove the shell from the body as the rest of the shell really adds to the flavour. (If using frozen prawns, thoroually dry before using).

4

good quality ripe fresh tomatoes (summer only)

use tomato sauce or canned tomatoes out of season

1

red onion (finely sliced)

1

florina red pepper finely sliced

1

red chilli

or chilli flakes (optional)

1

banana chilli

or chilli flakes (optional)

2

spring onions finely chopped

2

cloves

grated garlic

200g

g

feta, crumbled

1

tsp

tomato concentrate

150

ml

tsipouro or ouzo

white wine is also good – but you can also leave out the alcohol

½

tsp

sweep paprika

½

tsp

oregano

small

bunch

fresh thyme

olive oil, salt and pepper

small

bunch

parsely to serve

optional
Instructions
Gently heat your prawns in the pan in a tiny film of olive oil, just until they start to turn pink. De-glaze with the tsipouro (ouzo or wine), and remove to separate plate. You will finish cooking the prawns in the sauce so just seal and add flavour. It is crucuial not to overcook the prawns.

Add a little more olive oil to the pan and gently fry the onions, chill pepper and red pepper. When they are really soft add the oregano, pinch of thyme, sweet paprika, spring onions and chilli. Infuse for a half a minute – you can now add, tomato paste, garlic and then the tomato sauce or fresh tomatoes. If you are using wine you can also add a splash more wine. Taste the sauce to check.

Gently simmer until everything is soft and the sauce has thickened. Add a little black pepper to taste.

When you are happy with the sauce, add the prawns, coat them well with the sauce and sprinkle the whole pan with the crumbled feta.

Simmer with the lid on for about 2 minutes – until the feta melts. You can also put the dish under a hot grill for just under a minute to colour the cheese.

Garnish with chopped parsely or fennel and serve with crusty bread and tsiporou….
Notes
If you don't want to flavour the sauce with Tsiporo or wine – you may need to sweeten the tomato sauce with a small squeeze of orange juice. Taste and adjust accordingly.
The quantities here are for a mezze dish to share.