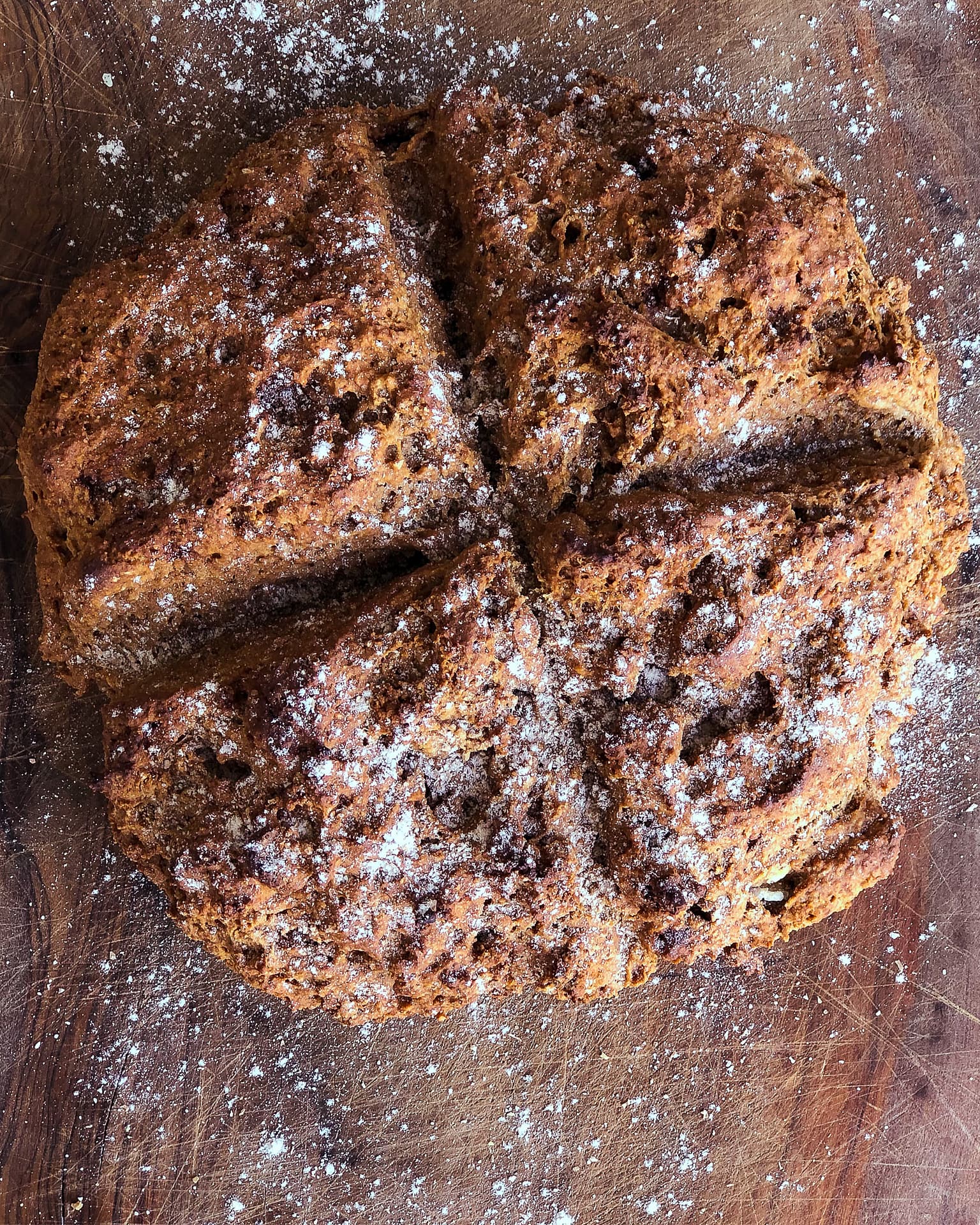 Soda Bread: It is a little chilly, damp and breezy, but it is a running morning. I run because it is good for me, I'm slow, but I think it makes my brain work better. However, the real upside of running is having a great breakfast. However, this morning, we had a major problem; no bread in the house, and we needed eggs and toast.
Quick and Easy
Soda bread is the answer, quick and easy. I've been making soda bread on and off for years and was never really happy with the recipe, I fiddled with versions from various food blogs and cookery books, but it never tasted like traditional soda bread. Purely by chance, I found some notes I must have made on a trip to Ireland some 15 years ago and sadly, I can't remember who gave me the recipe, but it's perfect.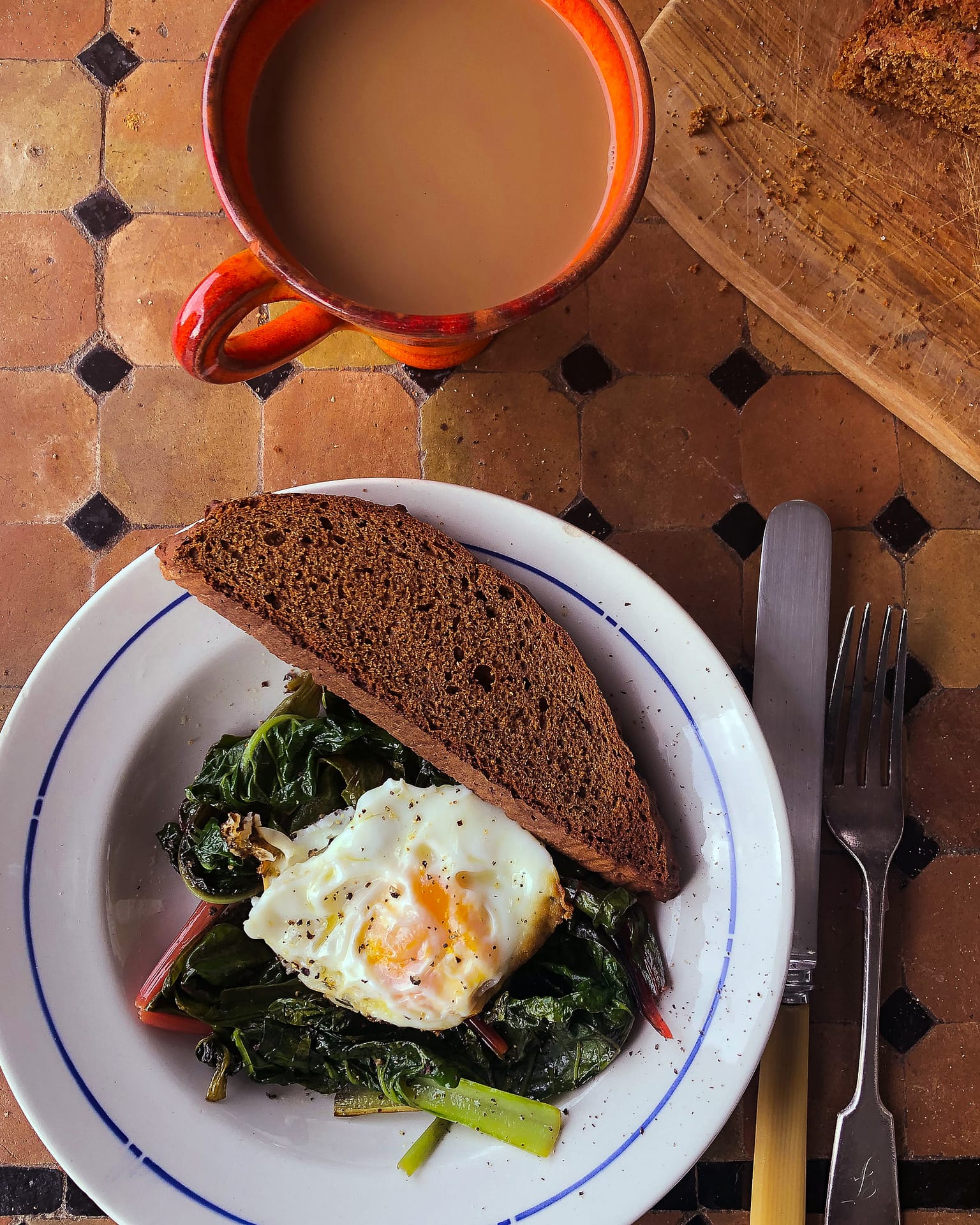 Soda Bread Science
Soda bread is super simple to make, and perhaps the trick I've learnt is to use a very hot oven and bake the bread on a heavy iron griddle pan which is left to warm in the pre-heating oven. Soda bread's secret lies in the chemical reaction between the lactic acid in the buttermilk and the baking soda. It forms carbon dioxide bubbles, enabling the bread to rise. Work quickly as the chemical reaction is immediate. Always sieve the soda and salt with the flour to distribute evenly and ensure there are no clumps of baking soda.
Use Soft Wholemeal, Wholewheat or White Flour
You don't need bread flour. Any soft flour, wholemeal or wholewheat flour, will do, and you can add oats, pinmeal, raisins, walnut, etc. The bread shown has rye flour replacing the wholewheat, which is delicious. I would start with this basic recipe and then play with it as you wish. I use olive oil, but you can use butter, and ditto I often use kefir or a buttermilk substitute, as buttermilk is hard to come by here. Finally, work quickly and don't knead; pull it together, form small round loaves, cut a deep cross in the dough and get it in the oven asap on your hot griddle pan.
To see our baking recipes, click here.
Ingredients
350

g

coarse stoneground wholewheat flour

200

g

wholewheat flour

2

tsp

bicarbonate of soda

2

tsp

salt

2

tsp

molasses or molasses sugar

50

g

butter

or 50ml olive oil

500

ml

buttermilk or kefir
Instructions
Pre-heat the oven to 230°C and lightly dust a baking tray with flour.

Sieve together the flours, salt and bicarbonate of soda. This is an important step or you tend to get clumps of soda in the bread.

If you are using sugar mix in sugar and then rub in the butter (or mix in the oil).

If you are using molasses, mix it well with a little of the buttermilk/kefir and then incorporate into the flour until you have a loose dough which just holds together. You may not need all the liquid as it very much depends on the flour you are using.

The trick is to work quickly, not overworking the dough. Form two round loaves and cut a deep cross across each loaf. Cover the griddle or baking tray with a grease proof paper and dust with flour.

Bake on the middle shelf for 10 minutes and then turn the oven down to 200°C and bake for another 20 – 25 minutes. The loaves should sound hollow when tapped underneath. Keep an eye on it and if it starts to brown too much turn the oven down again.

Ideally, leave to cool before cutting.
Notes
Soda bread does not keep for more than a couple of days but freezes really well. Once you have made a couple of successful loaves, experiment with the flour; for example, rye flour instead of the wholewheat works really well. You can replace some of the wholemeal flour with oats or pinmeal. Raisins, walnuts or rosemary are also a great addition.