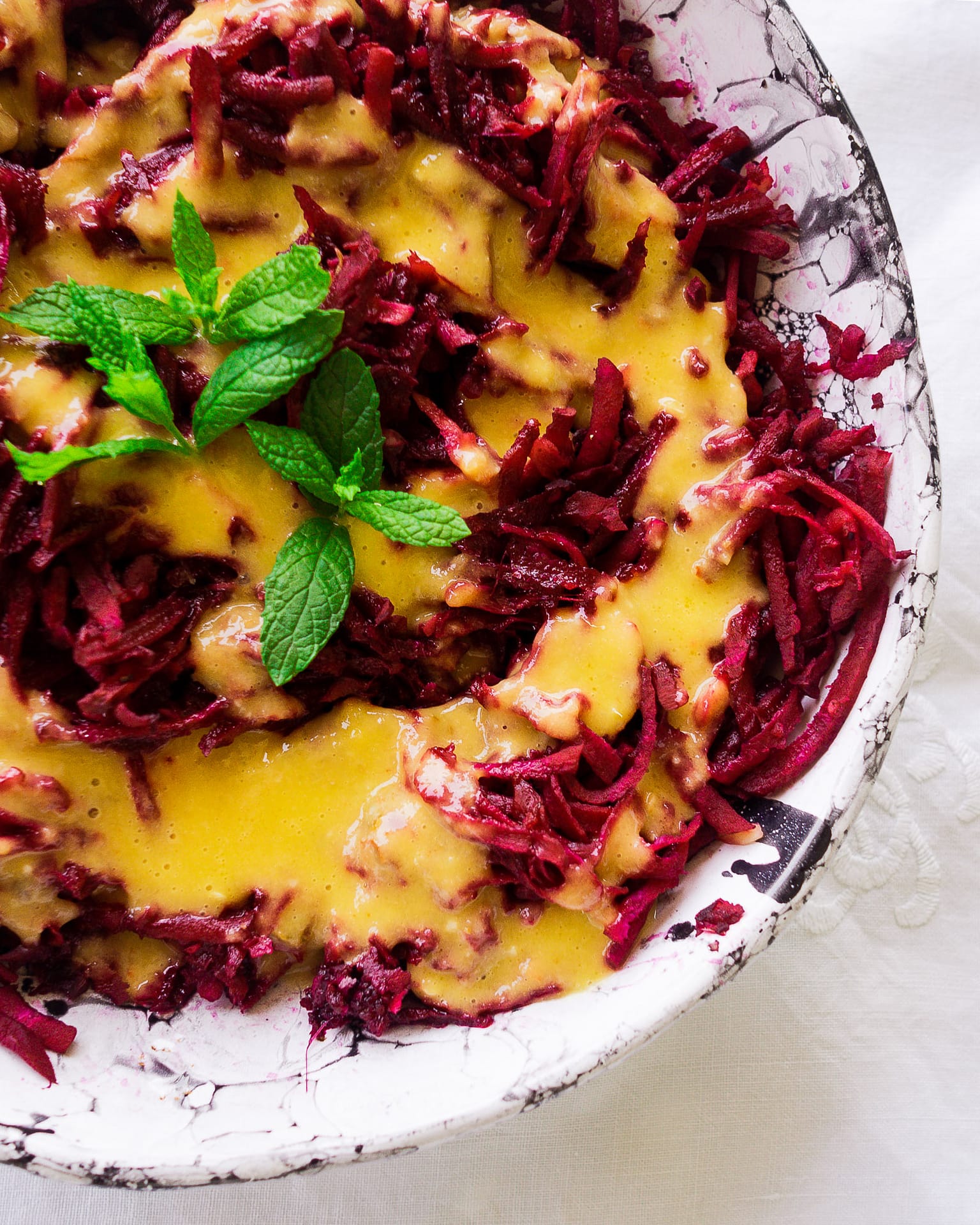 Beetroot with Mango, Chilli and Ginger Dressing: Mangos are not widely grown here in Greece, so I can't claim this to be very sustainable. Still, it is an absolute delight of a salad, and I could resist buying just a couple of mangos as a treat. Actually, I have just googled that, and of course, due to climate change, mangos are now cultivated in parts of Europe and can grow in parts of Greece.
The beetroots are raw – you will need a machine to create juliennes, which is easier if you have a food processor. Peel and cut the beetroots into quarters before putting them in the processor or grating them with a mandolin.
Prepare in Advance
An is an excellent salad to make in advance (in fact, it is almost better). Prepare the beetroots and toss salt mint with a generous squeeze of lime. Whizz together the mango sauce ingredients, cover both separately, and store in the fridge until you are ready to use.
After a trip to Crete, I was inspired when everything seemed to have a Passion Fruit dressing. I found it much too sweet, but fruit dressings, as a concept, are delicious. The mango and ginger pairing is perfect with beetroot.
Unusually, I have posted this after only making it once. It was so good. However, as I am writing, I am thinking of improvements. Add a few walnuts and the young, tender leaves of the beetroot. A little rocket would also be good.
For more light food inspiration, check out our Salads section.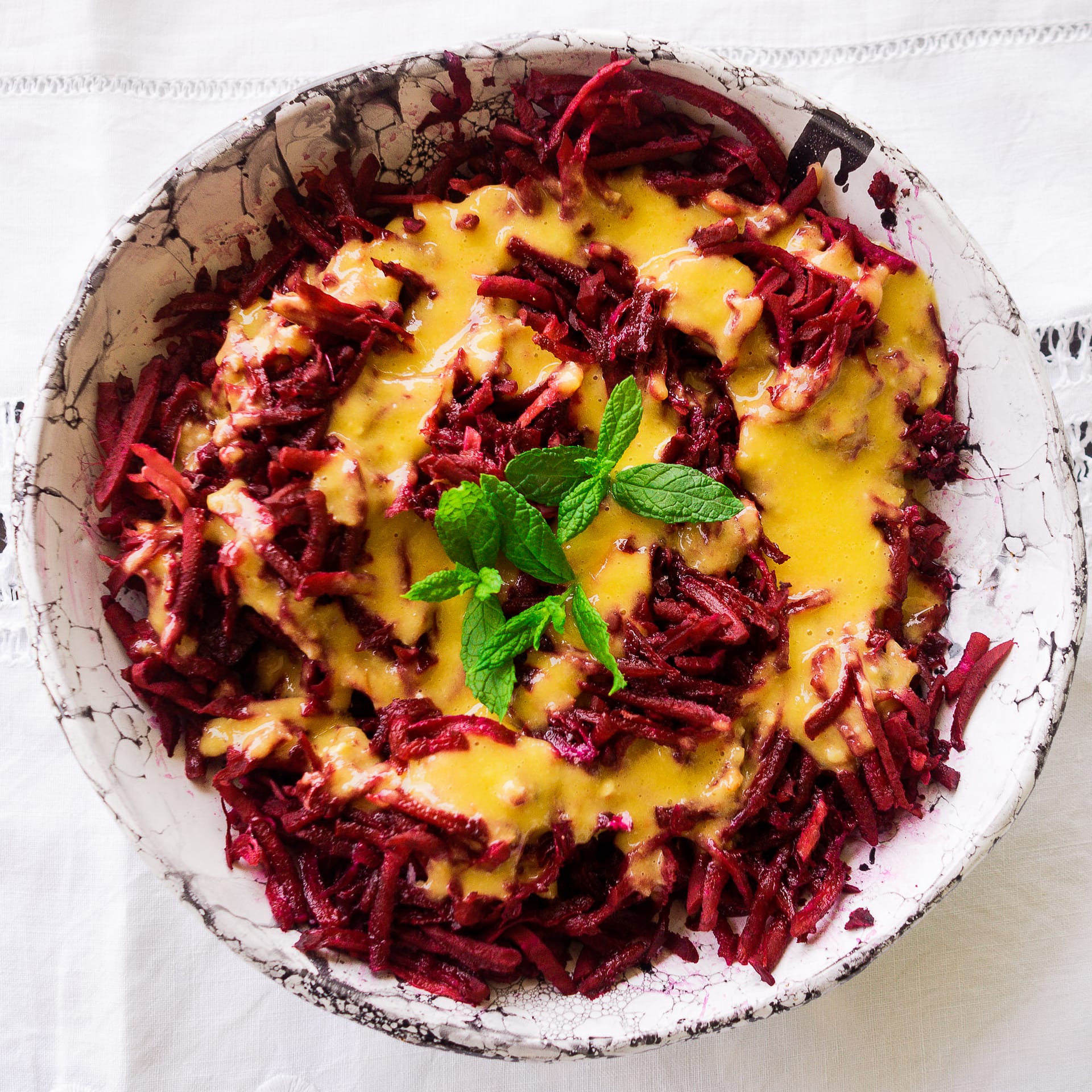 Beetroot Salad with Chilli, Ginger and Mango Dressing
Mango, chilli and ginger are a perfect complement to the lovely earthy taste of beetroot.
Print
Pin
Rate
Ingredients
3

medium sized

beetroots, peeled and cut into julinenes.

Ideally use the julienne blade on a food processor or on a grater. Beetroots are hard to cut by hand.

3

spring onions, finely cut lenghways

1

tbsp

finely chopped mint

1

mango, peeled and cut into chunks

5

cm

ginger

2

cloves

garlic

½

tsp

cumin

1

small

red cayenne chilli pepper

Use chilli flakes as an alternative

1½

limes juiced – zest of one. Reserve ½ tbsp to coat the beetroot juliennes*

equal quantity of olive oil to lime juice

pinch of salt and generous grinding of black pepper

1

sprig of mint for decoration
Instructions
Mix the beetroot juliennes, spring onions, ½ tbsp lime juice* and a tablespoon of mint in a shallow salad bowl, sprinkle with a little salt and toss well. Taste to check for the right balance of mint and salt and adjust accordingly.

Put all the remaining ingredients (except the mint sprig) into a mini food processor or blender. Whizz until smooth. Taste and add more oil and perhaps a pinch of salt if necessary.

Swirl the dressing over the beetroot, cover and refrigerate until you are ready to serve.
Notes
A fresh red cayenne chilli gives the sauce a nice kick but adapt to your own taste. You can use dry chilli pepper or indeed chilli flakes. The beetroots need to be fresh and firm, and ideally, you can mix in the young, tender beetroot leaves. 
If you have dressing left over, it is delicious with a green salad or avocado.
Mango dressing adapted from  thecafesucrefarine.com