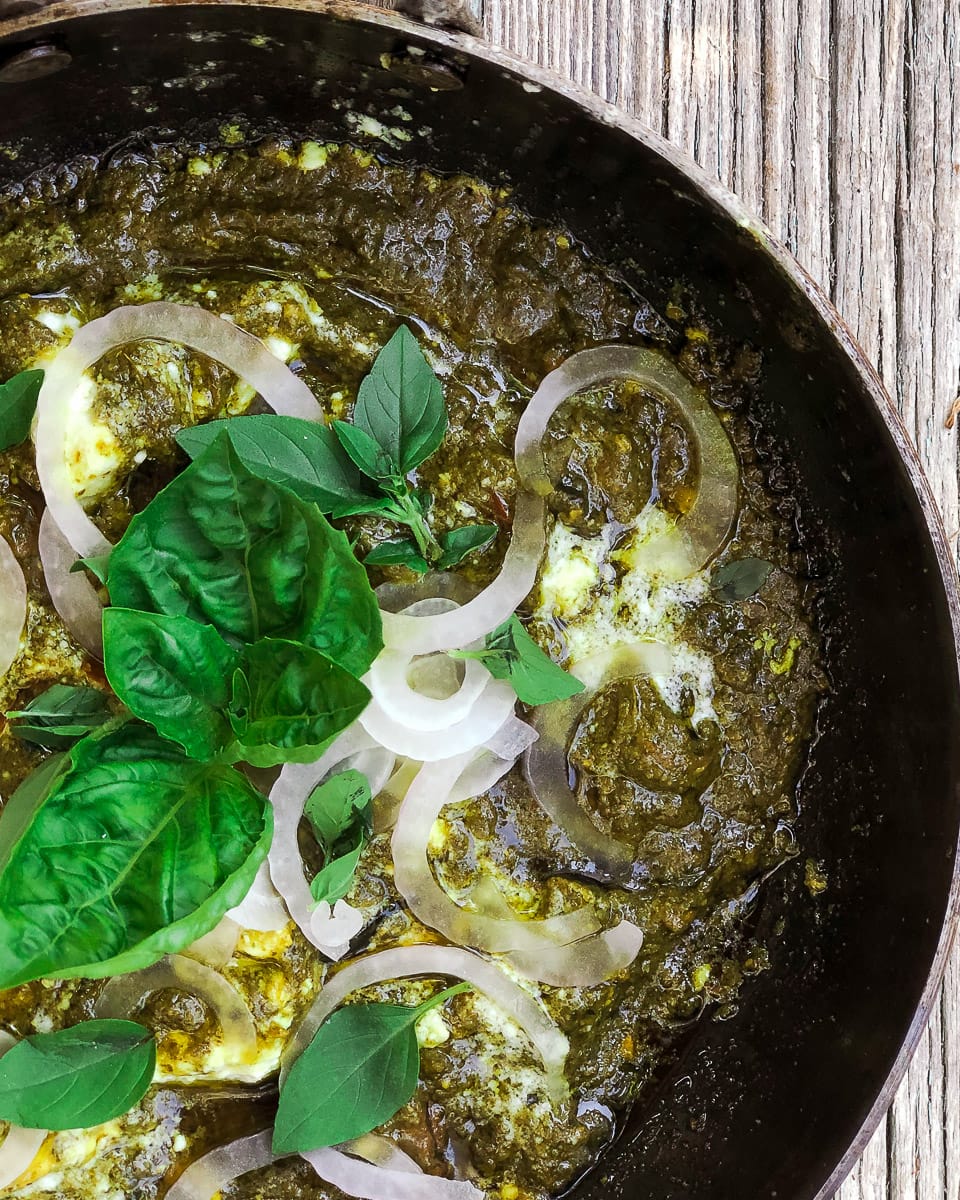 Saag and Palak Feta: Well, it's been a while since I put pen to paper due to work pressures. The summer has been challenging; the heatwave here in Greece and the resulting fires have devastated communities, especially those on the island of Evia.
Metaphorically and physically, we have lived under a smokey cloud, the usual summer gatherings muted and not a grill in sight ….no heavenly wafts of fish grilling.
Today, it is raining! Phew! Wonderful fizzy raining seeping into the ground, trees visibly standing taller and plants withered by the summer's punishing temperatures breathing new life and hopefully removing all fire risk for now.
Wearing jeans for the first time since I can remember, lunch must be warm.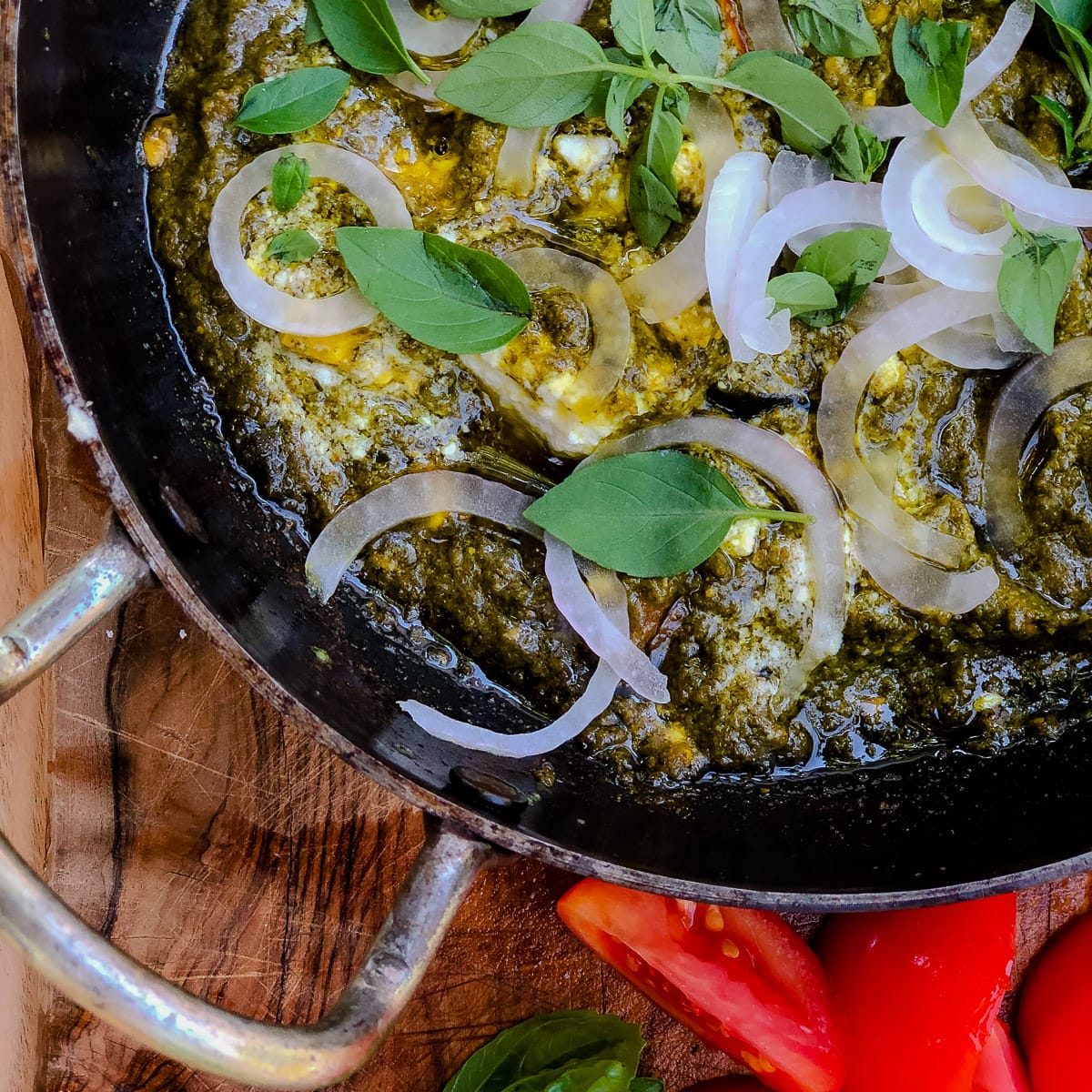 What better than Saag and Palak Feta! A scrumptious and comforting meal all on its own or poured over rice. Very easy and very versatile. Saag and Palak are often interchanged; Palak is spinach, whereas Saag refers to leafy greens, notably mustard greens. Use whatever you have, curly kale, chard, collards, mustard greens or beets. Use only the leaves from those greens with thicker stems, as the fibrous stalks do not puree. You can finely chop the stems and saute them with garlic as a side dish.
Usually topped with paneer, here we are using Feta, which works well. For me, Feta works the best as it is soft and salty. Cream is also often added, but I think the Feta is creamy enough, and it would overpower the flavour of the greens. You can also use soft mozzarella, western-style cottage cheese, goat's cheese or tofu.
Top it with a spicey oil or Chhonk with finely sliced onions, coriander, or basil.
For similar dishes, check out our vegetarian recipes.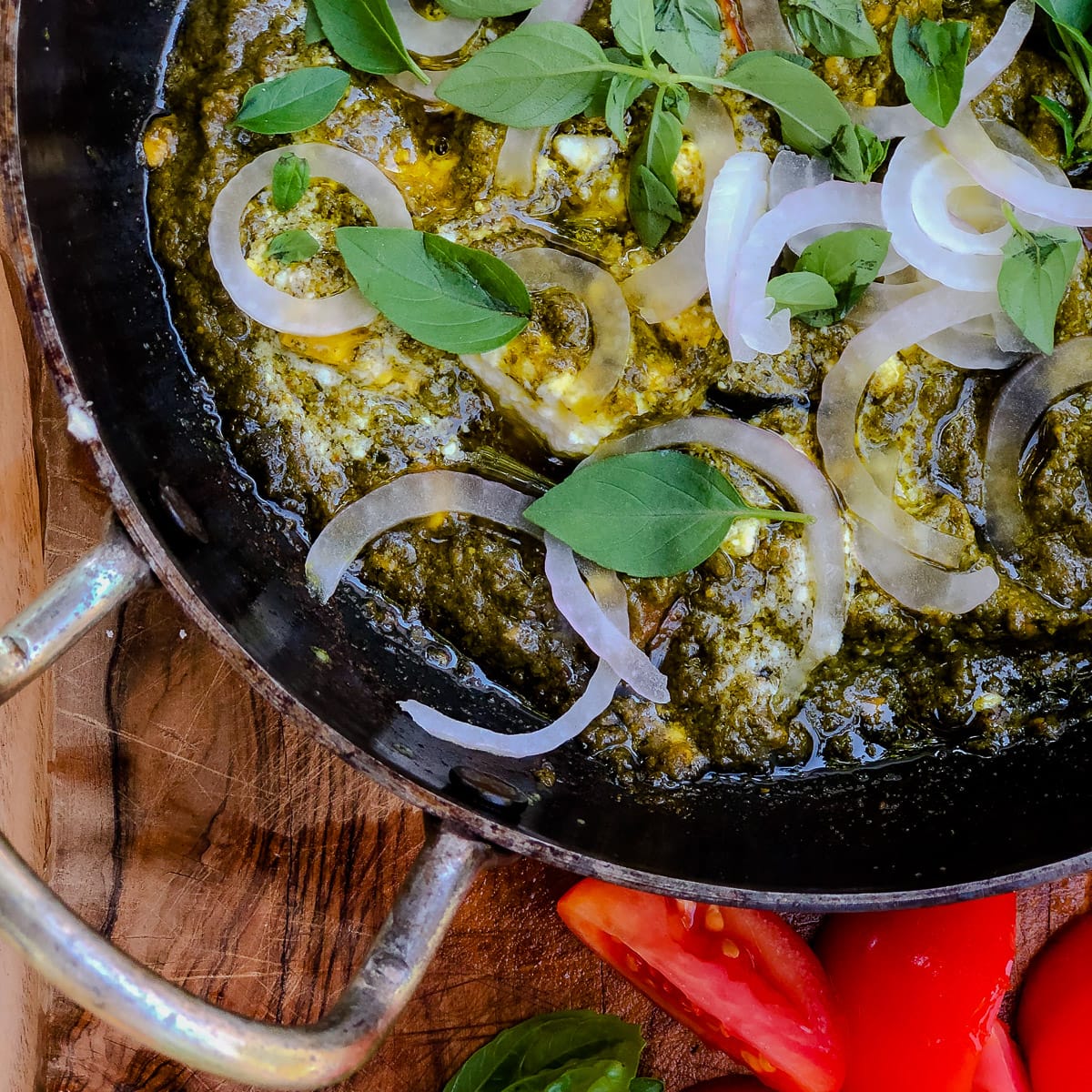 Saag or Palak Feta
A wonderful blend of Indian spices fresh greens and creamy Feta. Indian and Greek fusion at its very best.
Print
Pin
Rate
Ingredients
400

g

kale, beetroot leaves, swiss chard or spinach

use any fresh greens local to your area but you must remove the woody stalks and use only the leaves

100-150

g

fresh good quality feta cut into 2cm cubes

you could also experiment with goats cheese or good quality mozzerela

4

cloves

grated garlic

5-6

cm

grated ginger

1

onion finely sliced

save a few slices to garnish

1-2

chillies finely chopped

1

fresh tomato, chopped

use tinned tomatoes or sauce if not in season

¾

tsp

tumeric powder

1

tsp

garam masala powder

½

tbsp

coriander powder

pinch

ground cloves

pinch

ground cardamom

2

leaves

curry

subsitute 1 bay leaf, 2 basil leaves

1

tsp

ground fenugreek

1

lime

juiced

light olive oil or ghee

salt to taste
Instructions
Gently saute onion, chillies, ginger and garlic until soft. Add the greens in small handfuls and cook until tender. Spinach will take a couple of minutes but for coarser greens, you need to make sure it is blendable, so cook a little longer. You may also need to add a little water to help them soften.

When cool enough add to the blender together with the lime juice. Blend to a coarse puree.

In the same pan, add a little more oil and gently heat all the spices (except the garam masala and fenugreek) to release their flavours, add the tomato, infuse and soften but do not burn. Add the fenugreek, garam masala and spinach mixture. Stir well and heat gently.

Fold in the feta cubes and continue cooking for about 5 minutes until the feta starts to melt and is heated through. Check for saltiness and add if necessary.

Decorate with coriander or basil and finely sliced onion and serve with fresh warm pita or rice.
Notes
I have used powdered (or pre-tempered and ground spices).
Of course, if you have time, please temper and grind your spice mix, but this is a straightforward side dish or lunch, so I wanted to keep it as quick as possible. 
A traditional Saag Paneer or Palak Paneer would be finished with a chhonk or tadka (aromatic spiced hot oil dressing).  It is very straightforward; temper 2 tsp cumin seeds in 2 tbsp oil (just enough for them to start moving – 30 seconds!). Remove from the heat.  Add a pinch of asafoetida,  tsp

¼ red

chilli powder and two dried red chillies. Add extra garlic if you want a strong garlic kick.  Swirl over the Saag/Palak just before serving. Be conservative, as it is pretty rich when mixed with the feta.
Inspiration for this recipe comes from Priya Krishna's excellent book Indian-ish; Recipes and Antics from a Modern American Family. E 2019, Houghton Mifflin Harcourt. Boston, New York, with further inspiration from Swasthi's recipes and Richa's Food Story