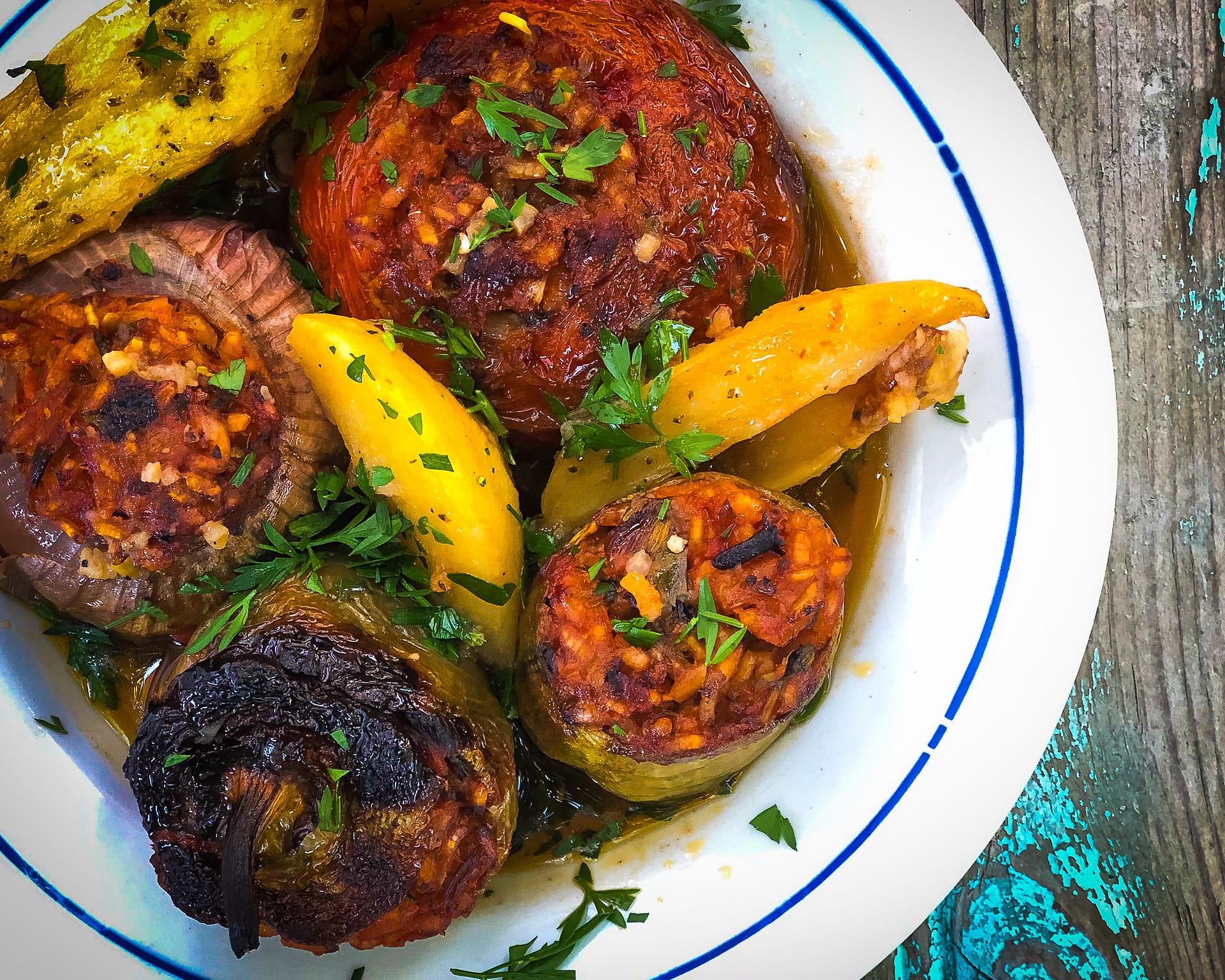 Greek Stuffed Vegetables (Γεμιστά): Always dangerous territory when sharing a national classic such as Yemista (stuffed vegetables). A taverna staple, lovingly baked all morning and oozing with olive oil, every Taverna will have their take on this Greek favourite.
Inspiration
This recipe is the simple vegetarian version – a mixture of all our local tavernas yemista recipes rolled into one through years of dedicated tasting!! I will explore the meaty version later. I have also omitted a cheesy topping such as feta or parmesan as I prefer to serve the feta on the side and let my guests combine the flavours to their liking.
Use Mint, Basil, Dill and Parsley
The distinctive taste comes from mint, basil, dill and parsley. I would opt for red onions, large tomatoes, fresh green and red bell peppers, or Florina red peppers cut lengthways. Indeed you can also use the bell peppers lengthways for these Greek Stuffed Vegetables. The key is fresh ingredients.
The Rice?
This is a simple farmhouse table dish made from seasonal store cupboard ingredients. You are stuffing your vegetables with the early stages of a 'risotto', infusing and sealing the rice, ready to be gently baked with plenty of olive oil. There is quite a lot of contention about the type of rice and whether you pre-cook it or not. If you use sticky short-grain rice, it will be more glutenous. If you use long-grain rice, it will need more liquid and a longer cooking time. No panikos – use what you have in the cupboard. For me, risotto rice works well.
It is one of those recipes when you either have too much filling or not enough. If you have too much, spread the rice with the potatoes around the dish or freeze it for next time. The rule of thumb is one generous tablespoon of rice per medium-sized vegetable.
For similar dishes, view our pasta, beans and rice section.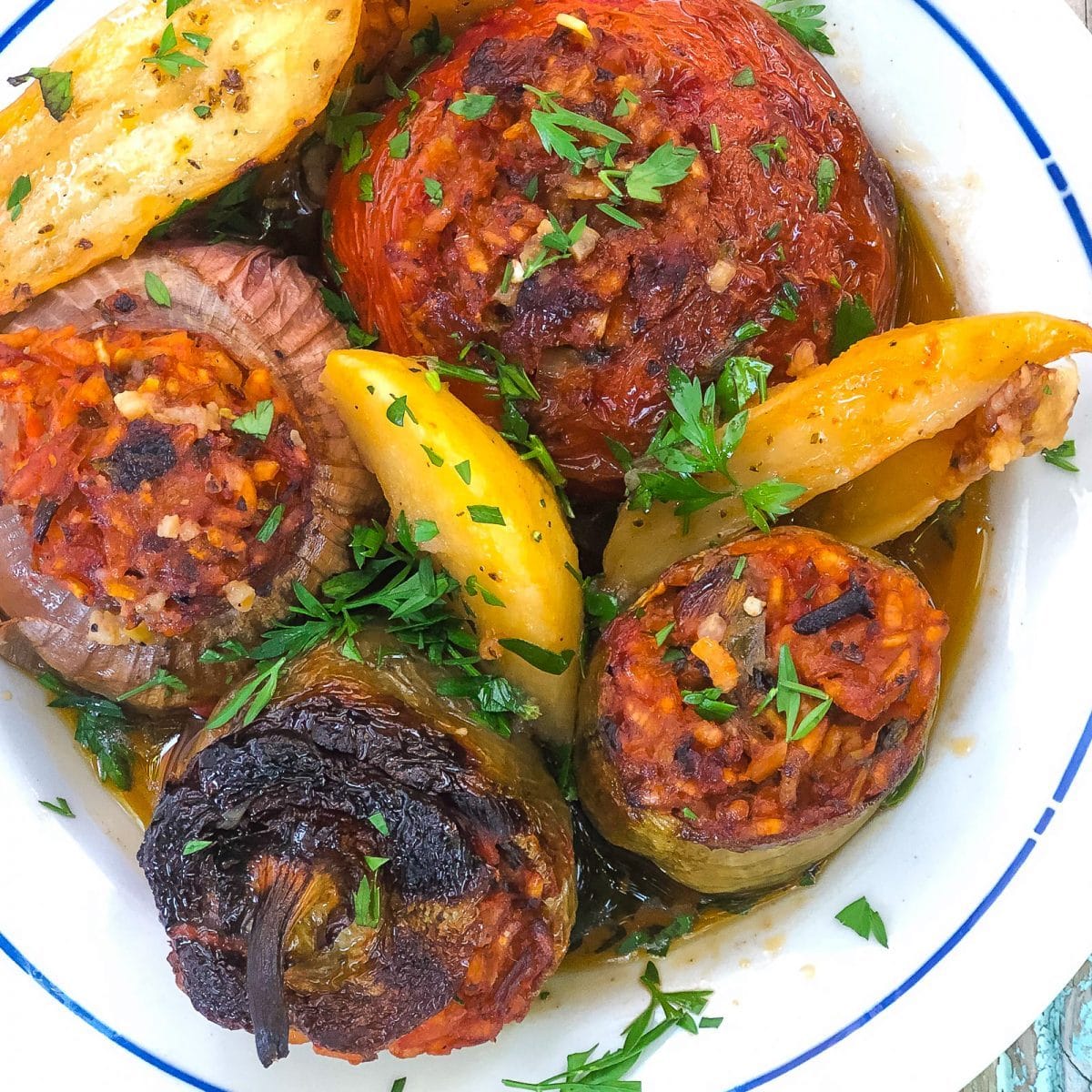 Greek Stuffed Vegetables (Γεμιστά)
Peppers, tomatoes and onions stuffed with rice and tomato. A Greek classic.
Print
Pin
Rate
Ingredients
Vegtables
3

onions

3

large tomatoes

3

red Peppers

I prefer the long red Florina peppers but round bell peppers are more traditionally used

3

green Peppers
Rice Filling
approx 350

g

short grain rice such as Arborio. The rule of thumb is one tablespoon of rice per vegetable

You can also use a glutinous rice or sticky rice

1

grated courgette

1

grated carrot

2

tbsp

finely chopped celery and celery leaves

optional

1

bunch each of

mint, basil and parsely

or replace parsely with fresh coriader

1

banana mild chilli pepper

1

generous tsp

dill

optional

3

cloves

garlic

grated

1

tsp

grated nutmeg

1

tbsp

tomato paste

400-500

ml

chicken stock or water with either a vegtable or chicken stock cube

Salt and freshly ground pepper

4

large

potatoes, peeled and quarted

1

juice of a lemon

1

tsp

dried oregano

4

whole

cloves

5

all-spice berries

olive oil
To serve
olive oil

1

tbsp

basil, coriander or mint leaves
Instructions
Pre-heat the oven to 180°C.
Vegetable Preparation
Cut the top of the onions and remove the inner flesh and leave an outer shell. Put the shell into a large baking tray (although you want the vegetables to fit snuggly – the potatoes need to sit on the bottom of the baking tray), drizzle with olive oil and seaon with salt and pepper. Grate the removed onion flesh. Set aside.

Cut the stem top of the peppers and clean inside removing any seeds. If you are using bell pepper you can keep the tops as lids. Lightly score inside in the peppers – but don't pierce the skin. Place the peppers with the onions in the baking tray and season as above.

Cut the stem top of the tomato and carefully remove the inner flesh without damaging the outer skin. Place the tomatoes alongside the peppers and onions, seasoning and drizzling with oil as before. Finely chop the tomato flesh and set aside.

Toss the potatoes, lemon juice, 150ml olive oil and oregano in a bowl. Season generouly with salt and pepper. Place around the vegetables. You can use the potatoes to keep the peppers upright.

Top and tail the courgette and finely grate. Ditto the carrot. Finely chop the chilli pepper. Set aside.

Finely chop all the herbs keeping aside a few basil or mint leaves for serving.

Gently soften the onions in the olive oil, add the nutmeg to infuse with the onions then add the carrot, celery and courgette. Cook for about 2 minutes then add the rice and herbs. Coat the rice with oil and let it cook for a further 2 minutes.

Stir in the tomato paste and chopped tomatoes and just let it bubble for a minute and soak up the liquid. Add 200ml of stock or water and stock cube and simmer for 5-7 minutes. Stir if necessary – don't let it stick.
Assemby
Fill all the vegetables with the rice about 2/3rd as the rice will expand, add a couple of teaspoons of stock to each vegetable, cover with its lid and add the stock to the dish. Grate parmesan or crumble feta over the vegetables – if you want to add cheese.

Cover with tin foil and cook for 50 minutes – remove the foil and cook for a further 15-20 minutes or until all the stock has been absorbed. Add more water and continue cooking if the rice is not cooked.

Drizzle with olive oil and decorate with the basil, coriander or mint leaves.

Serve with crusty bread and a green salad.
Notes
There is already quite a lot going on inside these vegetables, but you can also add a small handful of pine nuts and raisins to the rice. These additions are more traditional in the autumn.