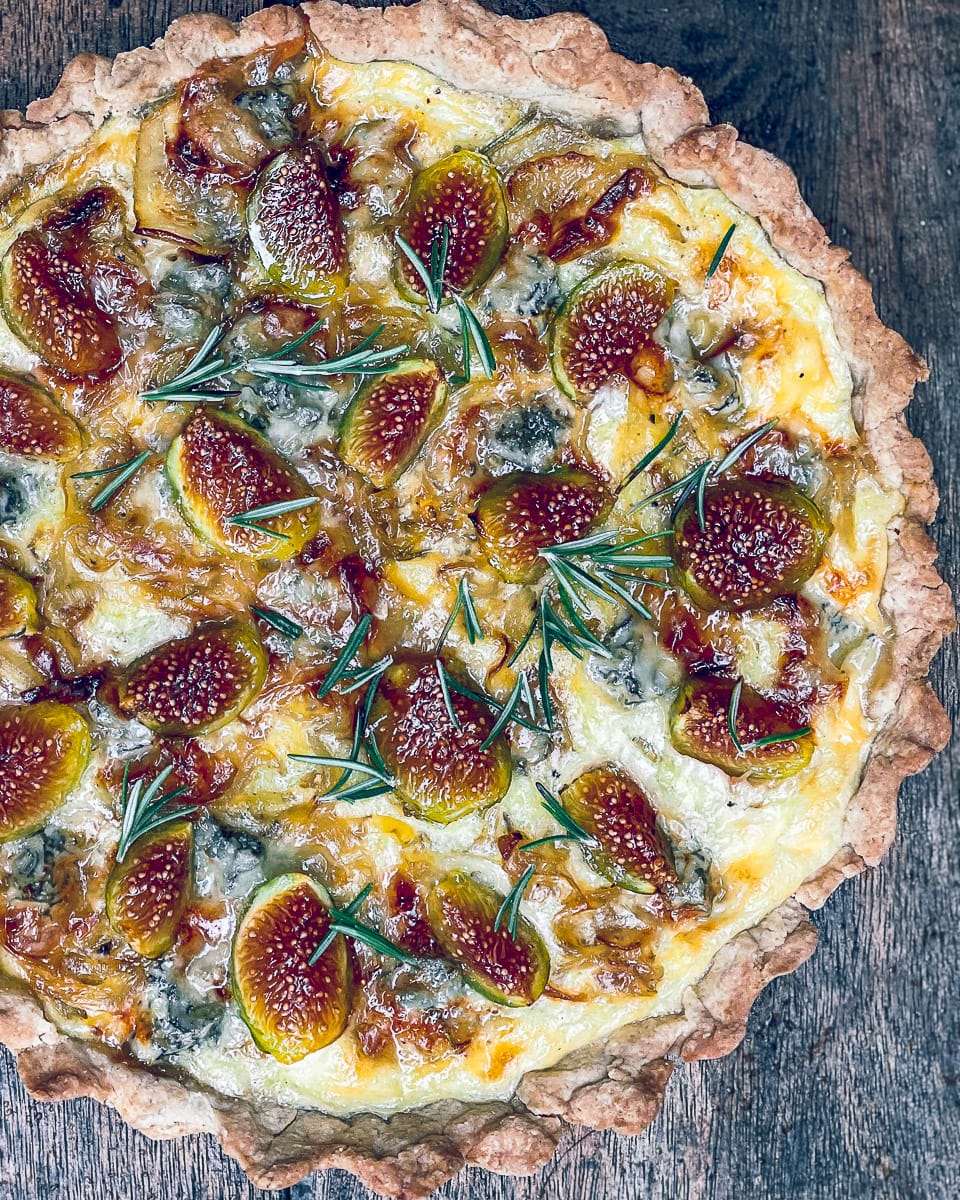 Fig and Gorgonzola Tart: I am a passionate runner, albeit a prolonged one. I love how it makes my brain fizz, and I write the most wonderful recipes while I'm running, sadly often to find out, with the help of Google, that someone else has also had a similar idea. Of course, ideas are constantly being updated, changed, fused or inspired, which is half the fun of creating recipes.
My brain was particularly active as I had two big bags of figs, which I was trying to incorporate into as many recipes as possible, baked, pickled or roasted!
Make Fig Cheese Toasties, Roast with Prosciutto, Pickle or add to Cakes.
It's a short season, so if you are lucky enough to have a fig tree or a friend with a fig tree, add them to everything you can. Due to the scorching weather, they are tiny but still so tasty this year. Make dainty cheese toasties as antipasti, roast and toss with prosciutto and mozzarella, add to cakes, pickle them, add as a topping on focaccia with feta or bake in a tart.
It is sumptuous but quite rich, so you only need a small slice, maybe with a big green salad and something like a balsamic dressing.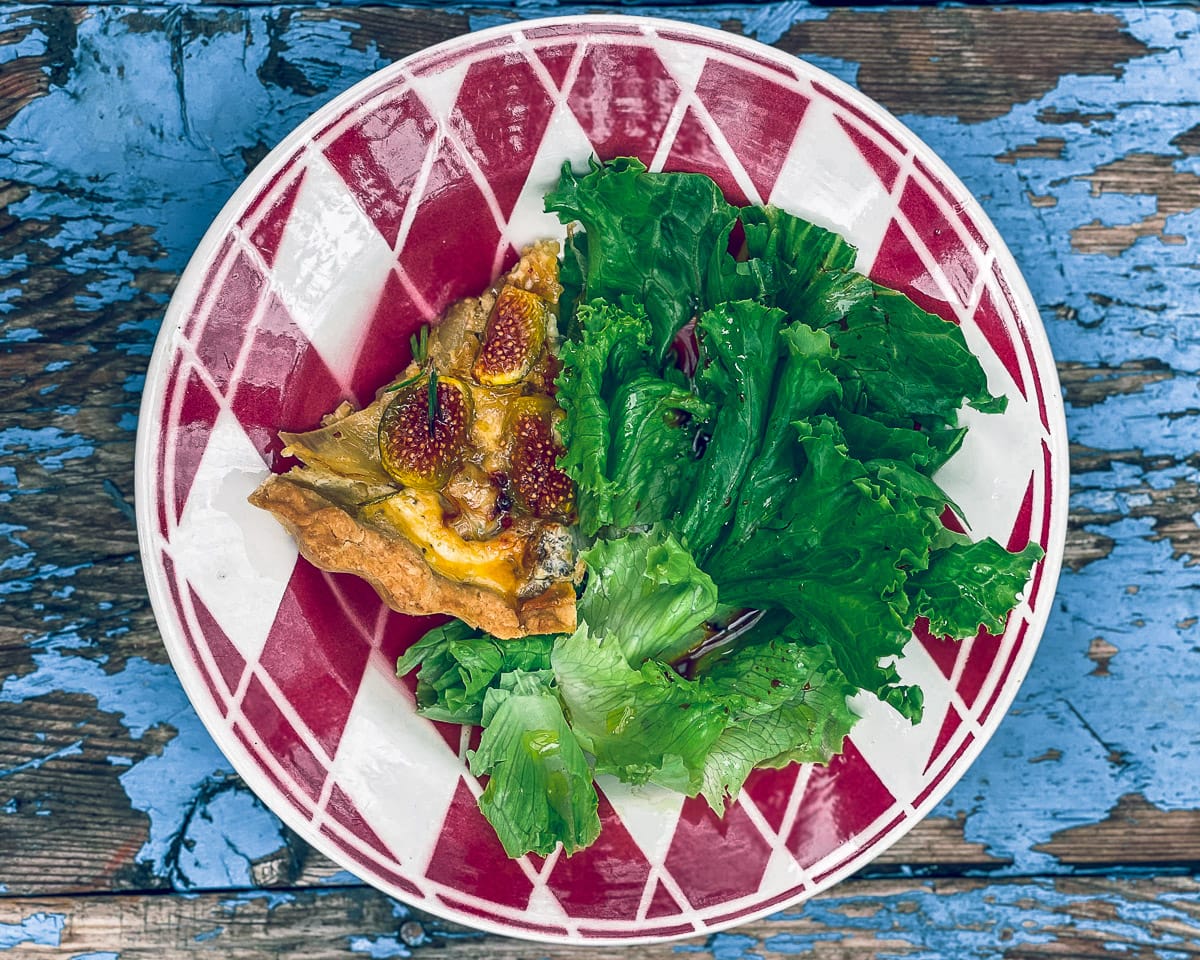 Easy Spelt Pastry
I'm all for the quick fix, but I don't like pre-made pastry – this recipe pulls together in 5 minutes and tastes so much better, even if you don't have a food processor. It has a little wholemeal spelt flour to give it a slightly nutty taste without making it too heavy. The creamy base is infused with cardamom and rosemary, poured over the onions and then topped with figs and cheese. I've used gorgonzola because I had it in the fridge, but any blue cheese would work well. If it is strong, adjust the quantity accordingly so it doesn't overpower the flavours. Goats cheese is another excellent combination.
Don't forget to bake it blind, if only for 10 minutes, so the base is crisp. The tart only needs about 20 minutes, and keep the pasty thin as it should not dominate the Fig and Gorgonzola Tart.
To see more of our baking recipes, visit our baking section.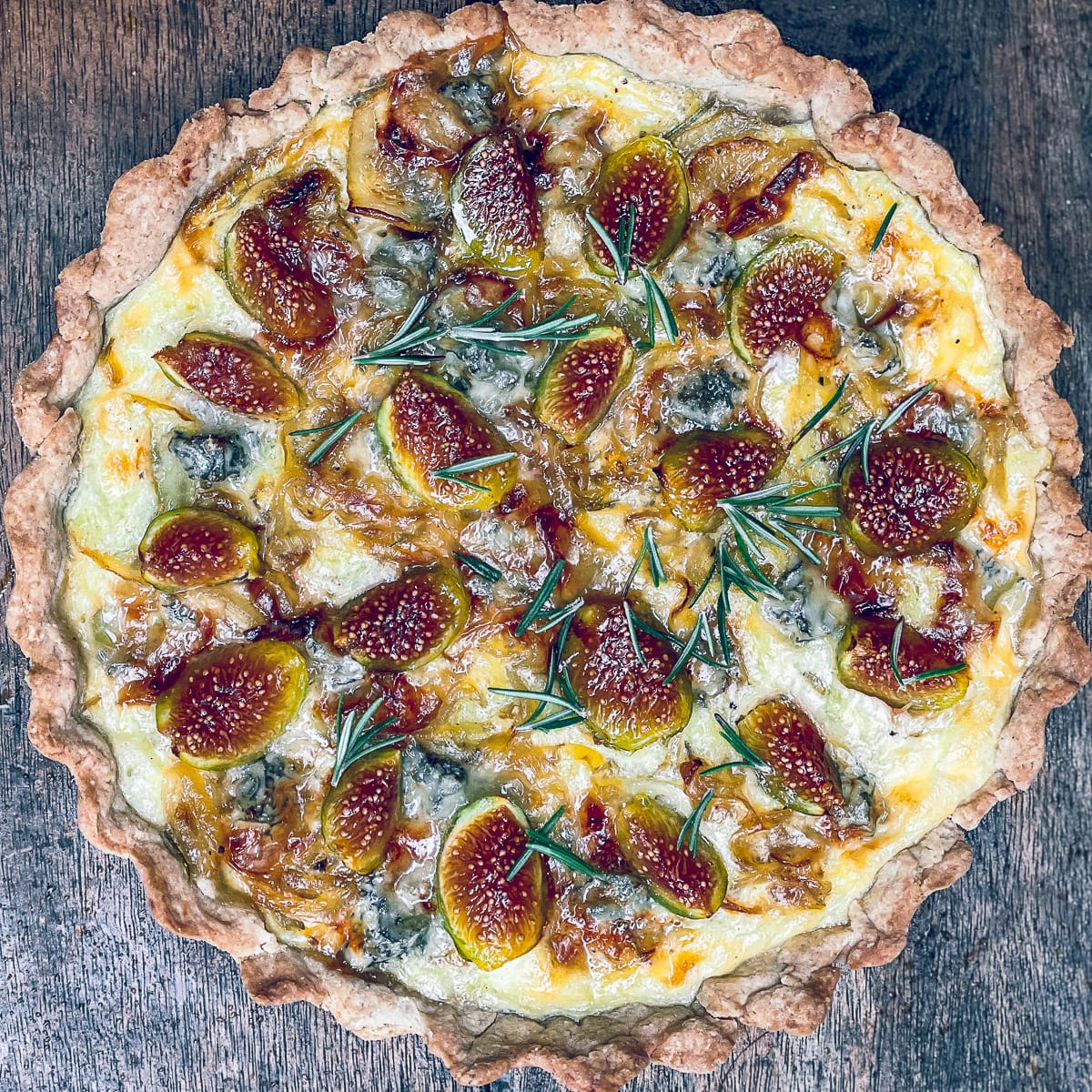 Fig and Gorgonzola Tart
Figs, caramelised onions, gorgonzola with a hint of rosemary and cardamom sitting in a nutty shortcrust pastry makes for a sumptuous September tart.
Print
Pin
Rate
Ingredients
Tart filling
1

large

yellow onion finely sliced

30

g

butter

½

tsp

ground cardamom

2

small sprigs

rosemary

30

ml

olive oil

pinch

brown sugar

1

tbsp

white balsamic vinegar

white wine vinegar is good too

120

ml

low fat cream

1

large

egg

40

g

gorgonzola cut into small cubes or crumbled

any creamy cheese is good including stilton or goats cheese

100

g

figs cut into small quarters

salt and freshly ground pepper
Shortcrust Pastry
120

g

all purpose flour

45

g

wholemeal spelt flour

or you could use wholemeal flour or 100% all purpose

generous pinch salt

90

g

butter

1

egg

1

tbsp

ice cold water
Instructions
Pastry
Put the flours and salt into food processor and quickly whizz to mix.

Add the butter, whizz again until you have fine breadcrumbs.

Mix the egg with a couple of teaspoons of cold water, add to the flour and mix until it just combines. Add a little more cold water if it does not come together. Wrap with cling film and leave to rest for 15-20 minutes while you prepare the onions.
Tart Filling
On the lowest heat possible, heat the butter and oil, soon as it has melted add the onions and pinch of sugar. Gently cook until caramelised (20-30mins). The secret to soft caramalised onions is patience; give them time to caramalise slowly. When you are happy with the onions, add the white balsamic and continue heating just unti it evapourates. Set aside.

Roll out the pastry and line a 23cm tart tin. Keep it as thin as you can. Try to handle as little as possible, if it breaks, tear off a piece of extra pastry and patch it and mould it gently into place with your hands. Pinch the edges so they are neat. Bake blind for 10 mins or until just golden.

MIx the egg, cream, pinch salt, good grinding of black pepper, rosemary needles and cardamon.

Line your tart with the onion mixture and pour over the cream and egg mixture. Add the cheese and lastly decorate with the figs

Bake at 180°c for 25 minutes. Check to make sure it is not cooking to quickly and cover with foil if necessary.

Decorate with rosemary needles. Serve hot or cold with a peppery salad.
Notes
Despite thinking I had created a great new recipe, Melissa Clarke of the New York Times got there before me, hence the addition of rosemary!