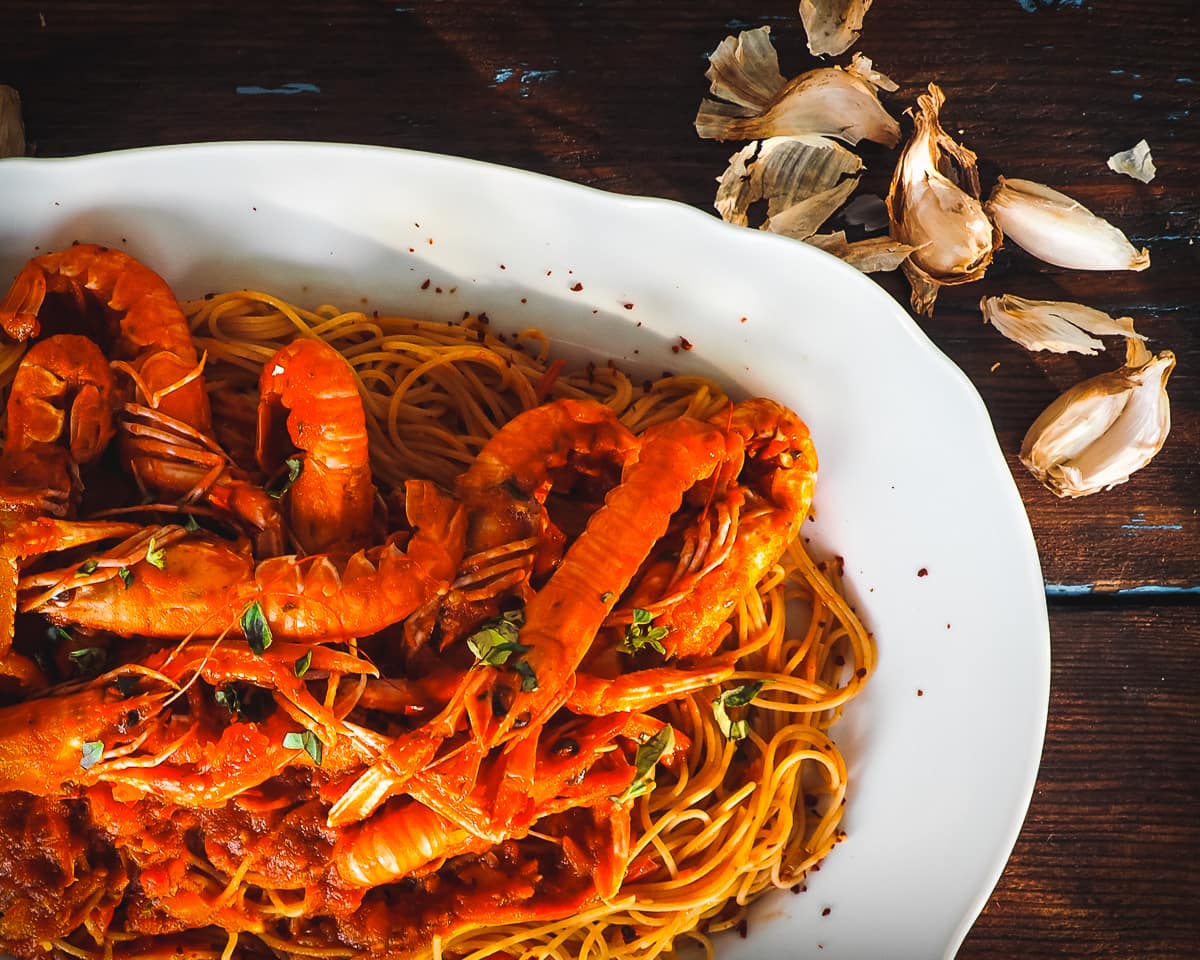 Crayfish Spaghetti: A perfect dish to share with friends for a fishy Sunday lunch and a fabulous, super easy meal to make on Christmas eve. Ideally, make the sauce in advance, and then cook the spaghetti and crayfish (Μακαρονάδα με καραβίδες) just before you want to serve.
Fresh and Spicy
If you can, buy as fresh as possible and if you need to buy frozen, make sure they are thoroughly defrosted and dried. Equally, you can use large prawns or even shrimps. Adjust cooking times. My inspiration has come from many happy hours enjoying karavides in all the excellent tavernas here in Pelion. The result is probably a little spicier than is traditional, but you can adjust it according to your taste. It is not complicated to make, but the key to a great-tasting sauce is to infuse it with the crayfish flavour, we often buy a few small shrimps to help this along, or you could sacrifice one of your precious crayfish.
To Peel or not to Peel?
It is a sharing dish; half the fun is peeling the crayfish as you go along. However, you may decide your guests disagree. So, as an alternative, peel them, and use the shells to make a broth to flavour your sauce. Crush the shells and saute with an onion, add water (just enough to cover), bring to a boil and simmer for 30 minutes. Add the broth instead of water to the tomatoes. Cook the peeled shellfish, as per the recipe, for a little shorter time.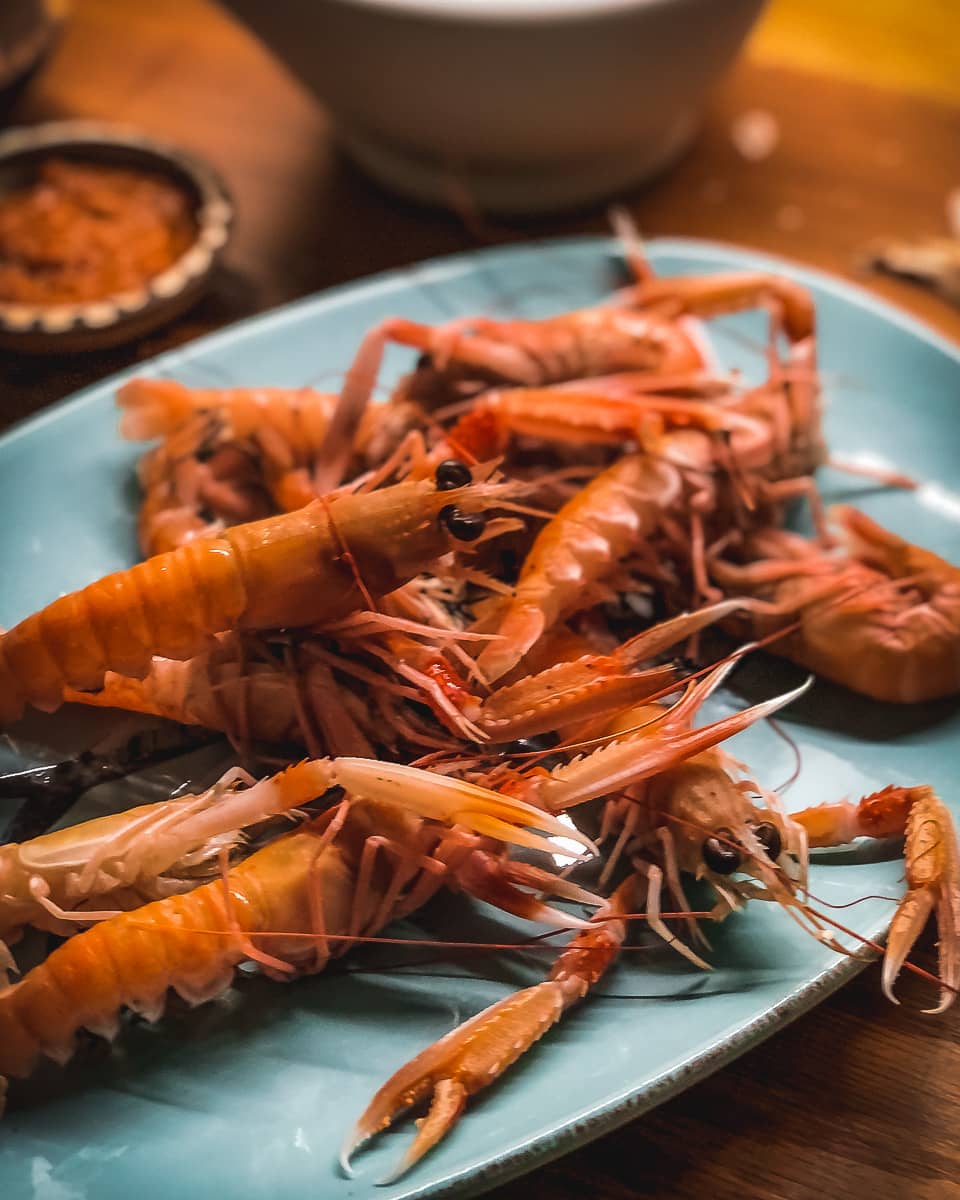 Traditionally, the Crayfish Spaghetti recipe has a healthy dash of Tsiporo, but white wine is equally as delicious. I think this recipe's beauty is you can be as extravagant or careful as you like; the tomato sauce and spaghetti infused with the shellfish's flavour is delicious; add as many karavides as your budget allows. Give time to your sauce to get it just right, and the rest is easy.
Buy Sustainably from a Reputable Source
Although it is a firm fasting favourite, you can enjoy karavides all year round, except during the breeding season; please be sure to consume responsibly, respecting the minimum catch size.
For similar dishes, check out our Fish and Shellfish recipes.
Karavides – Crayfish Spaghetti
Crayfish and spaghetti with a rich garlic tomato sauce infused with tsipouro or white wine.
Print
Pin
Rate
Equipment
Large-ish heavy based pan – depending on how many your are cooking for
Ingredients
8

allow 3-4 per person

fresh crayfish, langoustine, american scampi or karavides

I'm allowing 4 per person but this so depends on how big they are and if it is following a mezze starter or as a dish on its own.

150-200

g per person

spaghetti

1

finely chopped onion

½

very finely grated carrot

½-1

banana chilli pepper or similar such as hungarian wax pepper or pepperoncini

400

g

fresh juicy ripe tomatoes in the summer or good quality passata in the winter

1½

tbsp

tomato paste

2

cloves

grated garlic

2

tbsp

parsley or basil plus a little extra for decoration

parsley for the winter and basil in the summer

1

tsp

dried oregano

pinch

smoked paprika

optional

1

tsp

chilli flakes (boukovo) or aleppo pepper

60

ml

tsipouro, ouzo or white wine

½

orange (or a little sugar)

if necessary to sweeten the tomato sauce

salt, pepper and olive oil

optional

pinch

cumin
Instructions
Gently colour the crayfish is a thin touch of oil for about a minute on each side. Deglaze with about half of the alcohol and set the crayfish aside on a plate.

Add the chopped onions, grated carrot and chilli peppers and a little more oil. Cook gently until very soft.

Add the garlic, herbs, cumin and paprika. Simmer for a minute, add the rest of the alcohol, a good grinding of black pepper and tomato paste. Simmer for a further another minute.

Add the tomatoes (or passata) and cook slowly. Taste after 10-12 minutes and add salt and orange juice or sugar to balance your sauce. Add a little water if it is too thick.

Turn off the heat and boil the water for the spaghetti. Put a large serving dish in the oven to warm.

While the spaghetti is cooking, add crayfish to tomato mixture; cook for around 8-10 minutes (adjust time depending on the size of the crayfish).

Drain the pasta and put it into the warm dish – spoon a little of the tomato over the pasta and mix to lightly coat it in the sauce. Add the rest of the tomato sauce and arrange the crayfish on top.

Serve immediately with a sprinkle of your fresh herbs.
Notes
Don't overcook the crayfish or they will become dry and powdery.