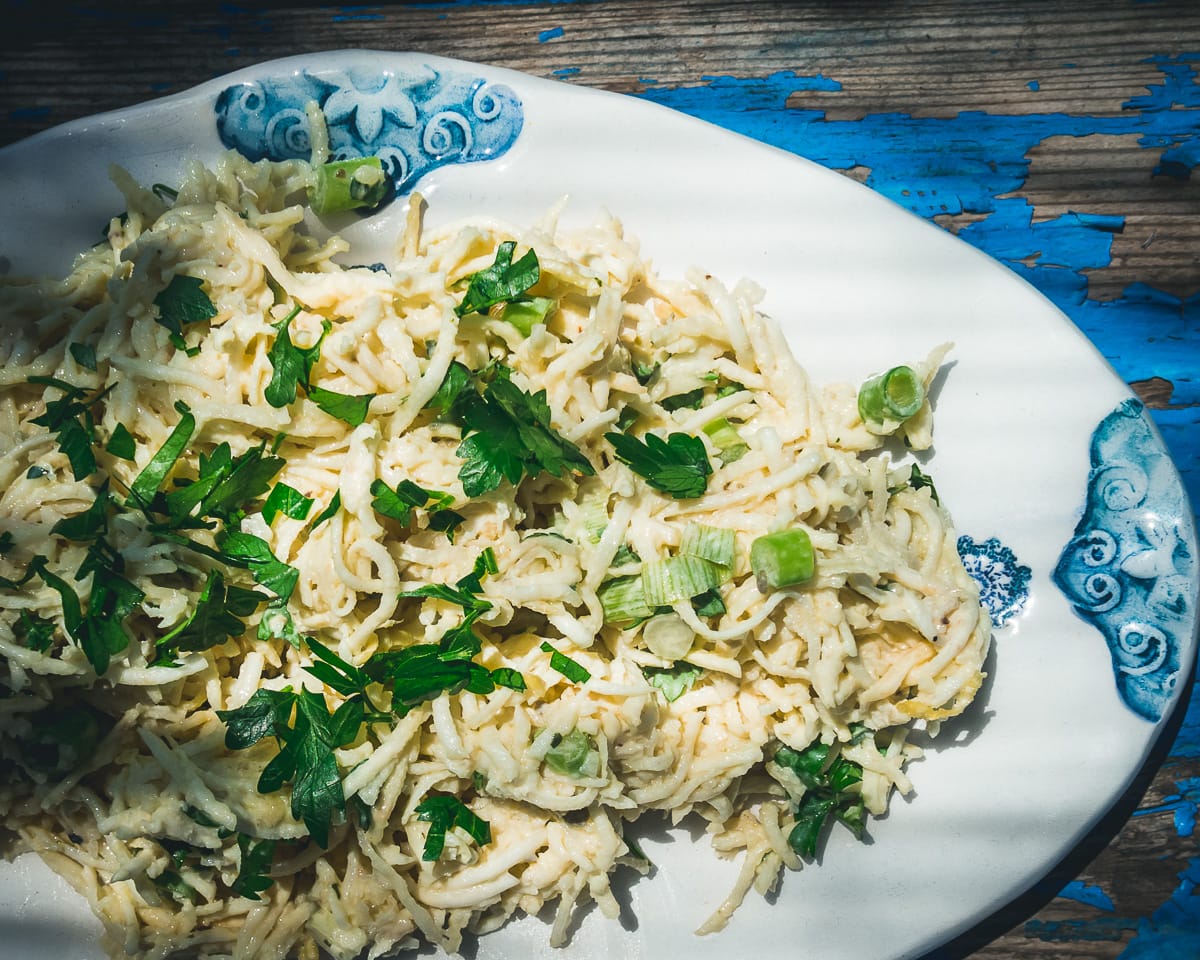 Celeriac Remoulade is a classic French salad. Equally delicious as a starter, a light lunch, or alongside a rich winter stew, chicken or grilled fish. I have been making it forever, and probably each time, it does change depending on what is to hand.
Therefore, as I intended to write it down, I needed to consult the bible of French gastronomy, the Larousse Gastronomique. Does my recipe resemble the real thing?
It turns out I'm close-ish. Larousse's remoulade is mayonnaise made with an egg yolk (cooked or raw), finely diced gherkins, small capers and herbs, including parsley, chives, chervil and tarragon, flavoured with mustard and anchovy essence. Larousse recommends blanching the celeriac, which I never do.
Andre L. Simon, A Concise Encyclopaedia of Gastronomy version, has the remoulade sauce as a much simpler thing; a dressing with the yolk of a hard-boiled egg and possibly mustard. He seems to imply that when herbs are added, it becomes a Sauce Tartare, which also involves wine and finely chopped shallots. So I think we'll stick with the Larousse.
In short, it is a flavoured mayonnaise, so it adjusts to suit your taste. As I don't blanch the celeriac root, but you need to immediately toss it in the lemon juice to stop it from discolouring. I also like the lemon flavour and add the zest to give it an even more considerable lemon boost. My Celeriac Remoulade recipe calls for greek yoghurt, making the sauce a little less rich; again, this is down to your preference. Taste the sauce before adding the yoghurt.
Decorate with the spring onions, celery leaves or parsley and, if you like, the finely chopped white of the remaining egg. Et Voila!
For similar dishes, visit our Vegetarian section.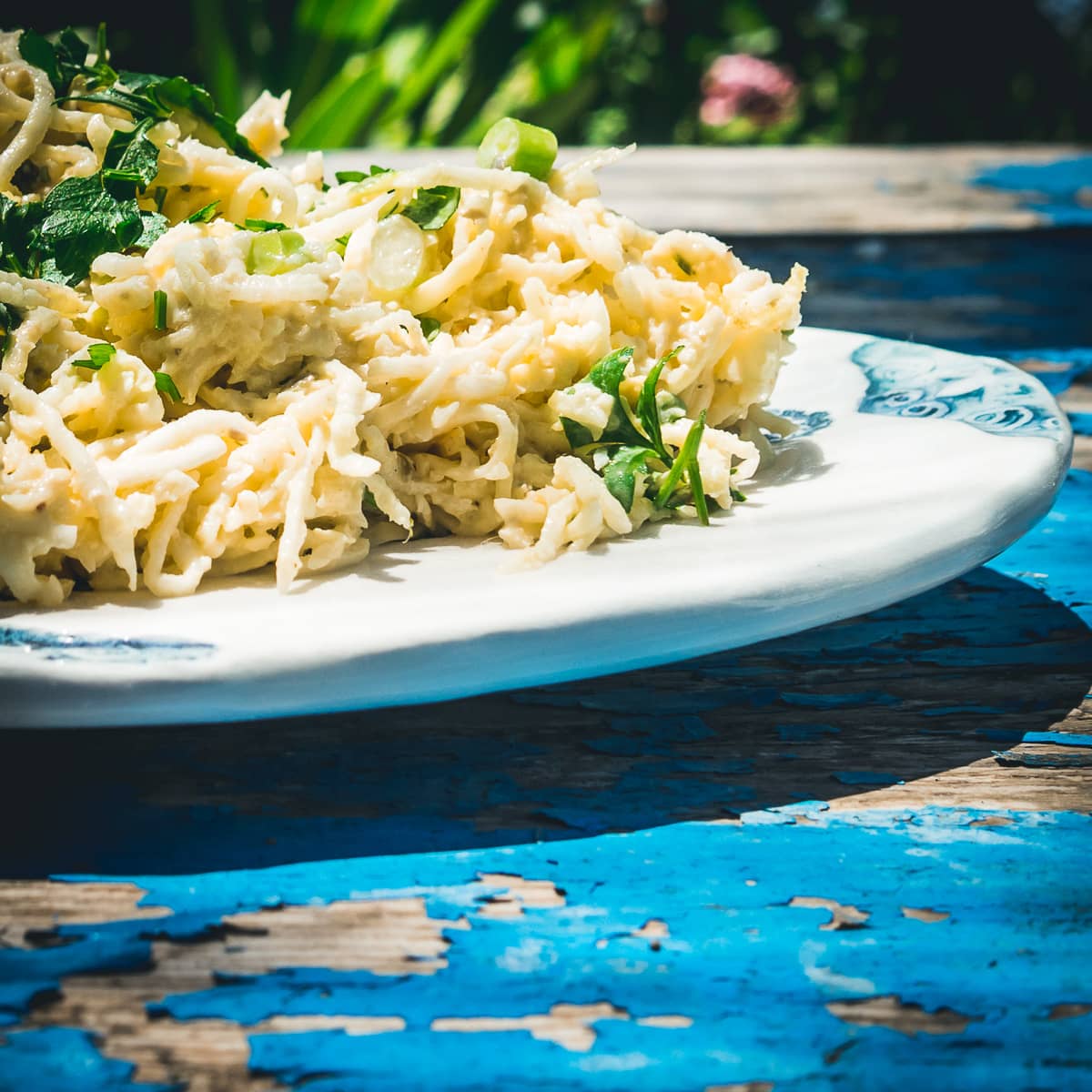 Celeriac Remoulade (Celeriac Salad)
Tart and lemony with capers and fresh herbs, a super easy salad which is delicous with pork, chicken or a rich winter stew.
Print
Pin
Rate
Ingredients
1

medium sized celery root but into julinennes

1

egg yolk (room temperature)

if you prefer, use a hard boiled egg yolk

1

hard boiled egg yolk

2

tsp

small capers (½ tsp finely chopped)

1

generous tsp

dijon mustard

2

lemons juiced and one zested

1

generous tbsp

chopped fresh herbs, parsely and mint, tarragon and chives or dill.

2

spring onions

1-2

tbsp

white wine vinegar

300

ml

olive oil (room temperature)

1

anchovy, finely chopped

optional
Instructions
Zest and juice one lemon – add to a large bowl.

Peel and finely shred the celeriac with a food processor or julienne cutter (preferable) and put it immediately into your serving bowl with the lemon juice. Mix well with a scant half teaspoon of salt.

In a large bowl whisk the egg yolks with the dijon mustard and a tsp of the olive oil making a loose paste. Slowly stream in about half the oil, continully whisking. Half way through add 1 tbsp of lemon juice; incorporate well and then continue whisking until you have a thick mayonnaise. Stir in the chopped anchovies and capers. Add remaining lemon to taste.

Mix in 1 generous tbsp of greek yoghurt, remaing capers and chopped herbs. Add salt and pepper to taste. Pour over the celeriac and toss it in the sauce.

Decorate with finely chopped spring onions and a few of the herbs. Chill before serving. Keeps a couple of days in the fridge.
Notes
If you are in a hurry – you could also use about five tablespoons of Greek yoghurt whisked with 2-3 tablespoons of extra virgin olive oil (instead of the mayonnaise) – then continue and flavour with lemon juice, vinegar, herbs, capers etc.