I have been usurped from the kitchen. The Wild Epicurean official Sous Chef has been busy creating his gorgeous Salmon Gravlax!
An absolute must in our house over the festive period. It merely requires fresh, ideally wild, salmon direct from the fishmongers. Get the fishmonger to prepare it for you by cutting the salmon in half lengthways and removing any bones. Scaling is easy at home but quite messy, so get him to do that too.
Our original salmon gravlax recipe is from Rick Stein's, Taste of the Sea, an absolute gem of a book. My copy is dog-eared, stained, and generally very worn with a ripped cover, but I am just about to embark on his Char-Grilled John Dory with Coriander, Saffron and Kumquats. Fantastic.
Many Gravlax recipes call for gin, vodka, wasabi etc. which I'm sure are all delicious, but over the years, we seem to keep coming back to this straightforward recipe. Our only additions have been swapping some of the white peppercorns for juniper, coriander, and dill seeds. We have used black pepper, but white pepper gives the best results. We also add a little lemon zest. The cure is quite intense, but like Mr Stein, we prefer to leave it on.
This salmon gravlax marinated in dill with mustard and dill sauce goes beautifully with a peppery rocket salad, rye bread, or soda bread (made with 30 per cent rye or spelt flour) and a mustard dill sauce (mayonnaise-based flavoured with dijon, dill, and brown sugar).
Click here for festive🥂 or fish recipes🦐🦞🦀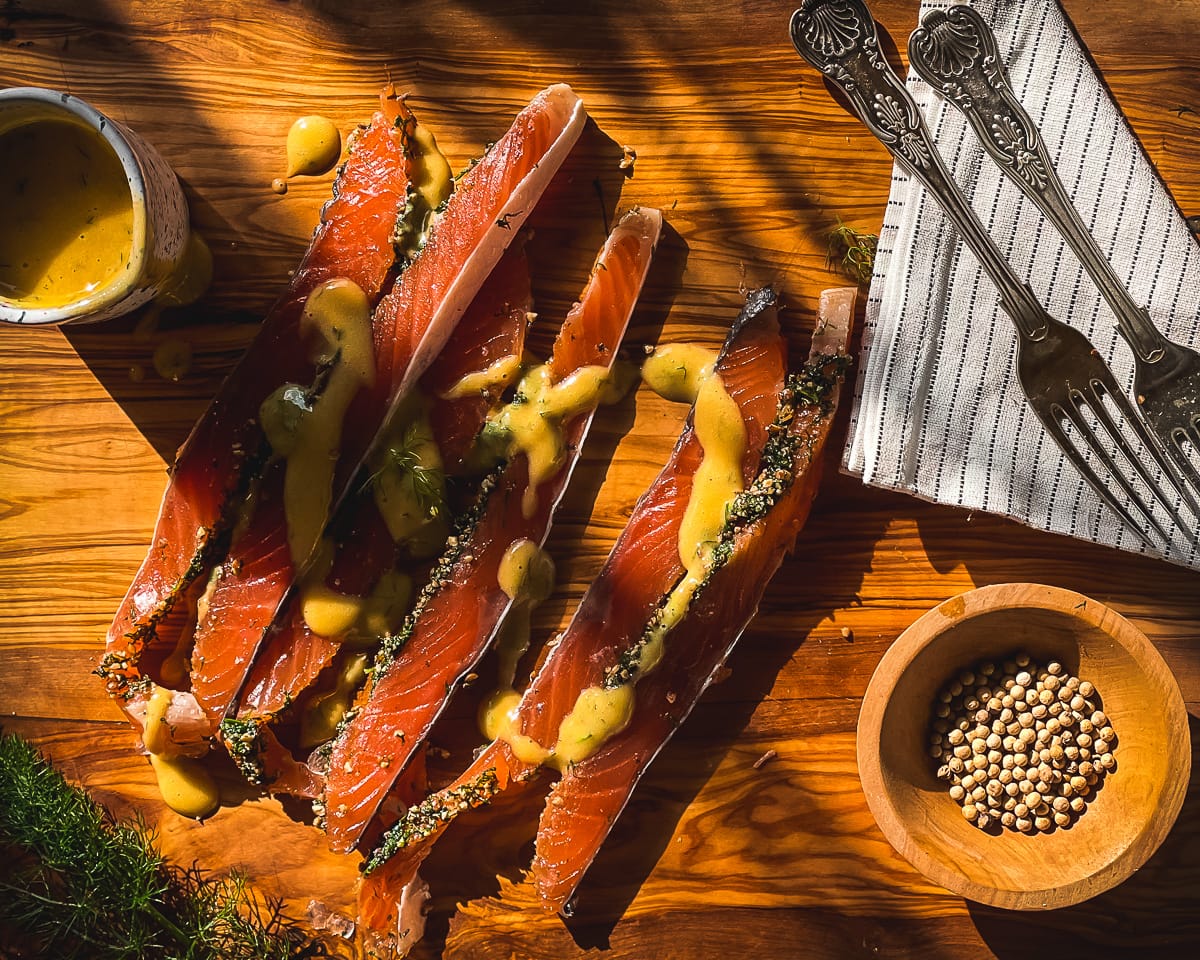 Gravlax – Salmon Marianated in Dill
A luxurious dish for the price of a piece of salmon; this simple, easy cure process produces a delicious well balanced gravlax to pair with a delicate mustard-dill sauce.
Print
Pin
Rate
Ingredients
1.25

K

fresh salmon cut from the middle of the fish, washed and dried

Cut salmon in half lengthways, de-bone and de-scale. Ideally, get the fishmonger to do this for you.

100

g

coarse sea salt

75

g

soft brown sugar

2

tbsp

crushed white peppercorns

Options; reduce the peppercorns and replace with one tsp each of dill and coriander OR one tsp caraway OR one tsp juniper berries. Total berries or seeds should equal 2 tbsp

large

bunch

dill

1

lemon -zest only
Mustard-Dill Sauce
1

egg yolk

Use hard boiled yolk if you are concerned about raw eggs. You will need to thoroughly mix with the vinegar to form a loose paste before adding the oil.

2

tbsp

soft brown sugar

80-90

ml

olive oil

1

tbsp

white wine vinegar

1

lemon – 1 tsp juice and ½ tsp zest

optional

2

tbsp

finely chopped dill

1

tsp

spring onion the middle to green end part, sliced as thinely as you can.

optional

pinch

salt and freshly ground pepper to taste
Instructions
Roughly crush your peppercorns, seeds or berries in a pestle and mortar and thoroughly mix with salt, sugar and lemon zest.

Place the fish skin side down on a large place and cover with the cure. Make sure the whole surface area is coated evenly.

Place the second piece of fish on top. Tightly cover in cling film or foil and weigh the top down with a heavy stone or brick. Six pack of beers also works perfectly.

Refridgerate for 2 days turning every 8-12 hours.

Remove from the brine and slice thiny like smoked salmon or slightly thicker as per our version in the photo. Serve with mustard-dill sauce, soda bread and a peppery rocket salad. A mild lemon pickle is also very uathodox but tasty addition.

Store in the refridgerator in a zip lock or vacuum bag. Use within a couple of days.
Mustard-Dill Sauce
Whisk the egg yolk with sugar, mustard and vinegar. Slowly drizzle in the oil, whisking all the time until it is fully incorporated. Add lemon juice, zest, salt and pepper to taste. Finally, add the finely chopped dill and chill before serving for at least an hour.
Notes
Gravlax Recipe adapted from Rick Stein's Taste of the Sea. 1995, BBC Books, London.  Mustard-Dill sauce recipe adapted from The Practical Encyclopedia of Fish and Shellfish, Kate Whiteman. 2000, Hermes House (Anness Publishing Ltd), London.