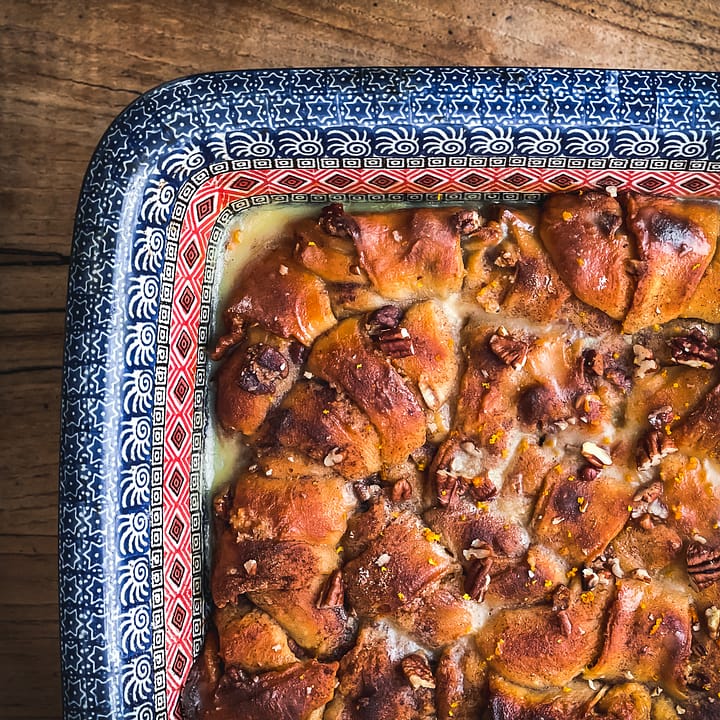 Multi-purpose tear and share coffee cake!! I guess if you had a house full of 'hangry' teenagers – it would come in handy as they surfaced. The only drawback being it needs time to rise. So one of those moments when a stand mixer comes in very handy.
Sharing Cake over Coffee
I was going to save this cake for Easter, but given all that is happening, I thought it was the perfect recipe to share right now. A light buttery bread-like cake, folded into small tearable croissant shapes coated in a heavenly buttery orange glaze—the perfect thing for a lengthy discussion over coffee. And let's be honest – there is plenty to talk about at the moment.
Adapted from Jared Downing's charming account of his grandmother's recipe, which she made every Christmas, we have now adapted it as a coffee cake to share with friends at any time of the year.
A Welcome Addition To The Easter Menu
So herein is my version, true to the original recipe apart from a few extra spices and golden raisins in the bread. It is uncannily similar to the beautiful Greek Easter bread Tsoureki, which adds orange zest and mahlepi (ground seeds of the European cherry), a floral spice widely used in Greek Holy bread. I wonder if Downing's grandmother's recipe was, in fact, an Easter bread that she adapted.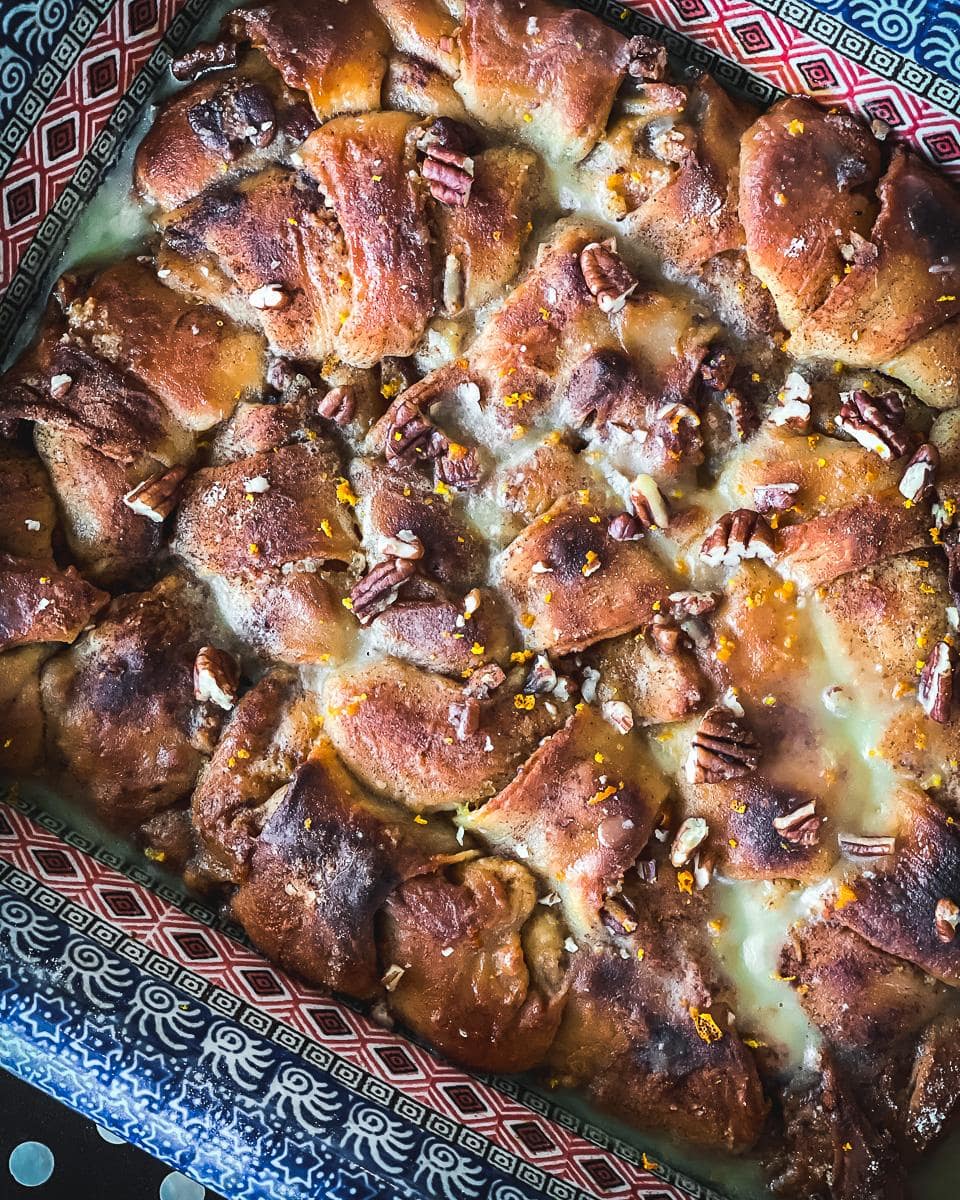 It takes time for the dough to rise. However, apart from that, it's straightforward and a recipe that begs to be adapted even more. I'm not a huge fan of icing, but at Easter time, you could go to town and decorate it with a little delicate icing. Adding small marzipan balls in place of the raisins would be pretty tasty? And it would, most definitely, benefit from a few colourful small chocolate eggs.
I love this Polish china oven dish, and it seems very appropriate to use it right now. However, by all means, line your oven dish with greaseproof paper slightly hanging over the edge (length and breadth ), so you can lift it out (once it's cooled) and serve on a large platter or board. Easier to tear and share that way. Provide plenty of napkins for sticky fingers. 😁😁😁
For more baking ideas, click here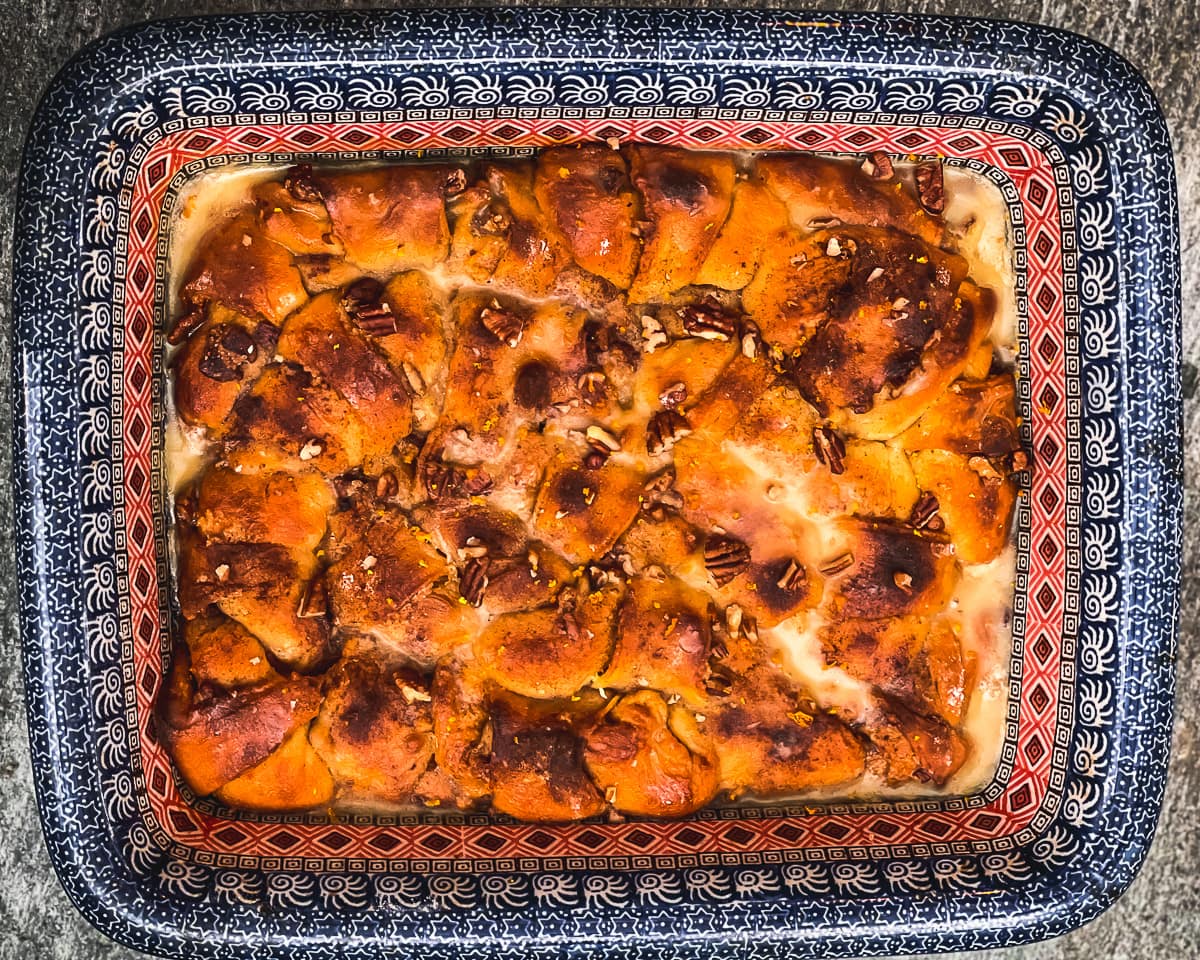 Tear and Share Coffee Cake
A light buttery bread-like cake, folded into small tearable croissant shapes coated in a heavenly buttery orange glaze.
Print
Pin
Rate
Ingredients
Cake
225

g

plain flour

2¼

tsp

dry active yeast

200

g

light brown sugar

2

large

eggs

125

ml

kefir or yoghurt

115

g

butter (melted) plus extra for greasing the pan

1

orange zested – generous 2 tbsp

1

cup

pecans or walnuts roughly chopped

60

g

golden raisins

1

tsp

salt

1

tsp

cinnamon

½

tsp

vanilla

pinch

nutmeg

1

tsp

mixed spice

optional – I didn't use
Buttery Glaze
½

cup

soft brown sugar

60

ml

sour cream or cream

50

g

butter

1

juice and zest of a small orange

1

tsp

lemon zest
Instructions
Ideally use a stand mixer fitted with a dough hook. Dissolve the yeast in a tablespoon of warm water with ½ tsp fine sugar.

While the yeast is starting to foam, melt the butter with the orange zest, cinnamon and nutmeg. Whisk and measure out six tablespoons of the melted butter mixture into the mixer with 50g sugar, the eggs, salt, kefir or yoghurt and flour.

Mix slowly and gently until you have smooth elastic dough. About 8 minutes. Cover and leave in a warm place until it has doubled in size. Approx two hours.

Remove the dough from the mixer and knead lightly. Cut equally into two, pull loosely into balls, dust with flour and leave to rest.

In a small bowl, mix the remaining sugar, raisins and ¾ of the nuts. Grease a 23 x 33 cm baking dish or line with baking paper, making sure you leave enough paper outside the dish to lift the cake.

Roll out one of the dough balls onto a floured surface into a 30cm diameter circle. Brush with half of what's left of the butter mixture, and then sprinkle the surface with half of your sugar, nuts and raisins.

Cut the circle into 12 equal triangles and then roll up from the triangle's base to the tip to create a mini croissant shape.🥐 Pinch to seal. Arrange around the edge of the dish, working outside in, the pointy end of the triangle facing upwards. Repeat with the second ball of dough. Cover and leave to rise again for about 1 – 1½ hours.

Bake on the middle shelf, in a pre-heated oven at 180°c for 30-35 minutes. Ready when gently golden brown.
Orange Buttery Glaze
Put all the ingredients, except the sour cream, into a saucepan and over low heat melt the sugar and butter. When melted whisk in the cream, keep whisking, bring to a boil and then heat until you have a silky sauce. No more than 2-3 minutes.
To Serve
As soon as the cake comes out of the oven, sprinkle over a little cinnamon together with the remaining nuts. Pour over the buttery sauce and leave to set.

Serve warm, straight from the dish or lift and serve on a large board with plenty of chat and steaming coffee.☕️
Notes
Read through the recipe carefully.
It's not tricky – working out how to cut the circle into 12 triangles bends your mind a little bit, but after that, you roll from the outside in and hey presto, small croissant shaped delights.
Don't skimp on melting the butter with the orange rind – it adds to the flavour.
Adapted from Jared Downing's Grandmothers' recipe.