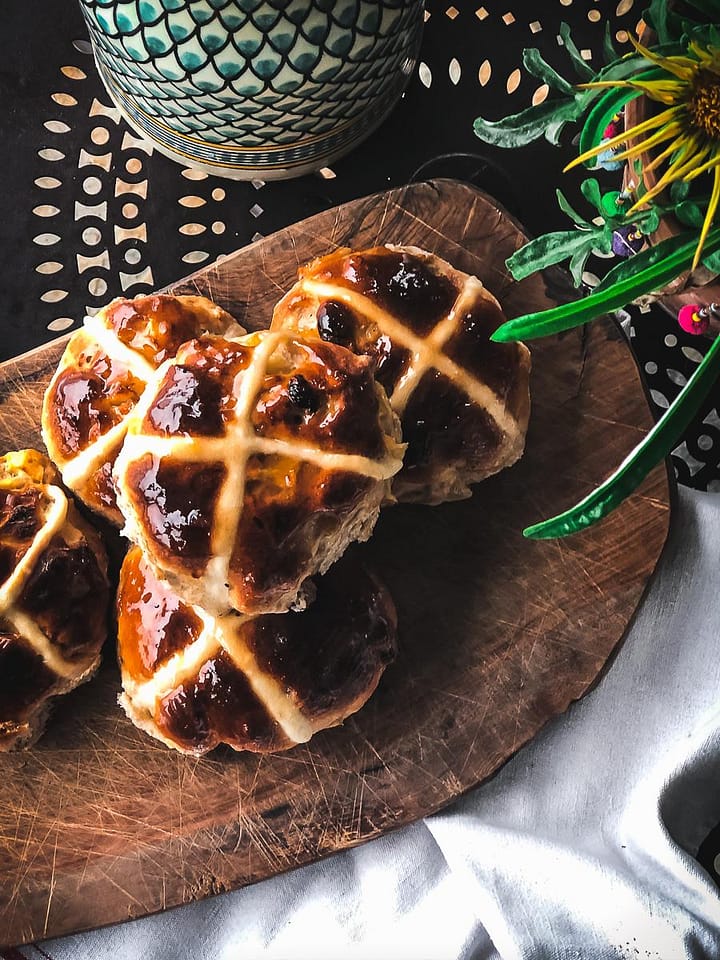 Fruity Hot Cross Buns are a doddle even if you don't have a stand mixer. There is still time to make tasty Hot Cross Buns far superior to anything you can buy. However, they will require a little time to prove in a warm place, and ideally, you need to use bread flour. In true Wild Epicurean style, I've added plenty of options to allow for store cupboard variables.
The fruitier option has apple, orange and lemon zest and a little fresh ginger. Plus the standard allspice, cinnamon and nutmeg spices and a mixture of dried fruits (sultanas, cranberries, currants, or candied peel). And for a little exotic touch, I have included Nigella Lawson's trick of adding a couple of cardamom pods and cloves to the warming milk. If for nothing else for the delicious smell that wafts around the kitchen.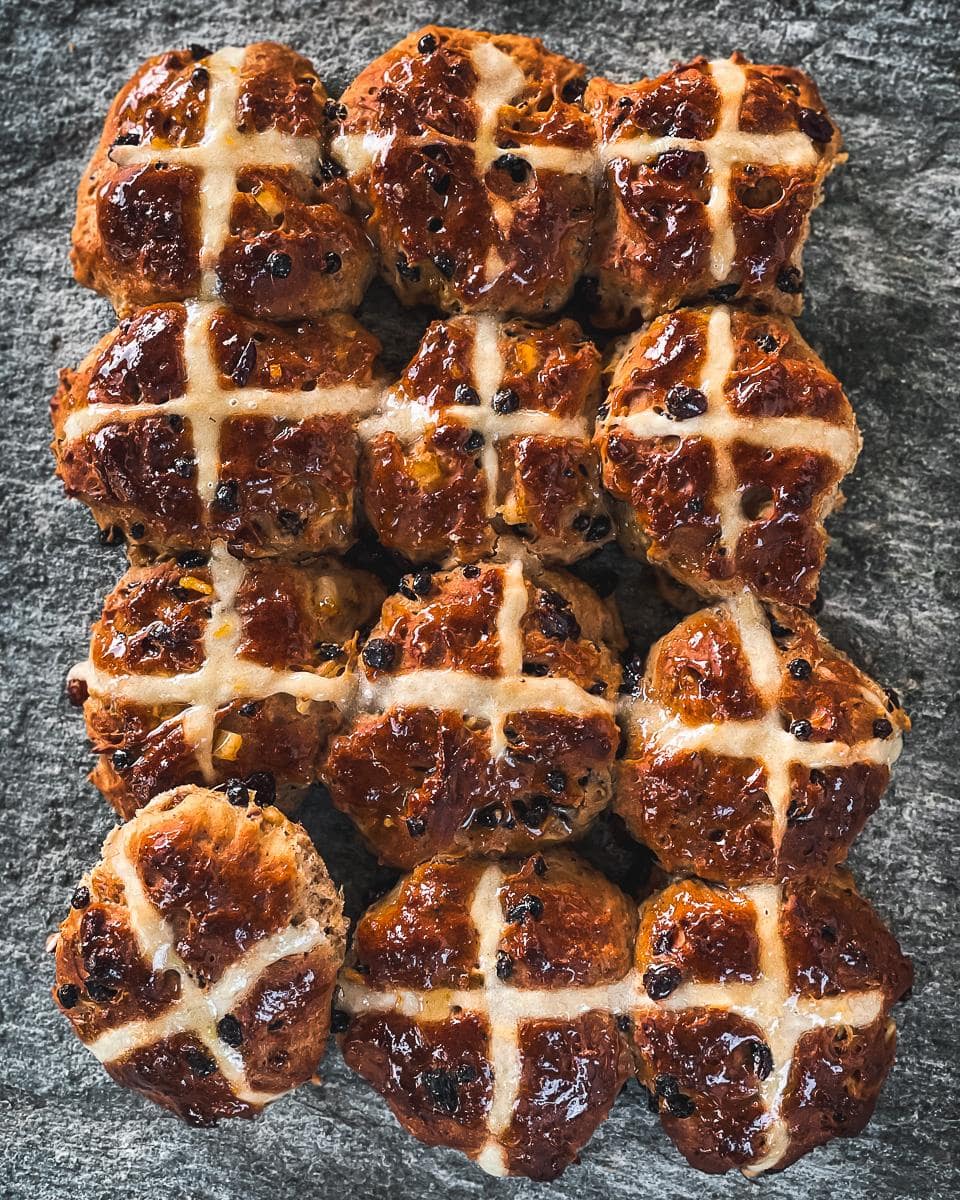 Fruity Hot Cross Buns must be eaten fresh from the oven. So, again maybe take a leaf out of Lawson's book. Make the dough the night before, then leave it in the fridge overnight to prove. The following day, you only have to shape the buns, pipe the cross and leave them to prove for 30-40 minutes before baking. They only take 15-20 minutes in the oven.
Alternatively, make a batch in advance and freeze them.😃
Hot Cross Buns are a classic English fruit bun ….. with extra spice, and the all-important cross is piped across the top. So, if these are your only ingredients, you can still make fantastic homemade buns without the apple, citrus zest, etc.
The secret to light soft buns is; to use bread flour, make sure the milk is tepid and not too hot and knead the dough enough but not too much. It should be slack and elastic but smooth and not sticky. Don't skimp on the proving.😉
The question is, will you eat yours with lashings of butter or go for the ultimate salty-sweet indulgent marmite experience?
For all our festive recipes, click here.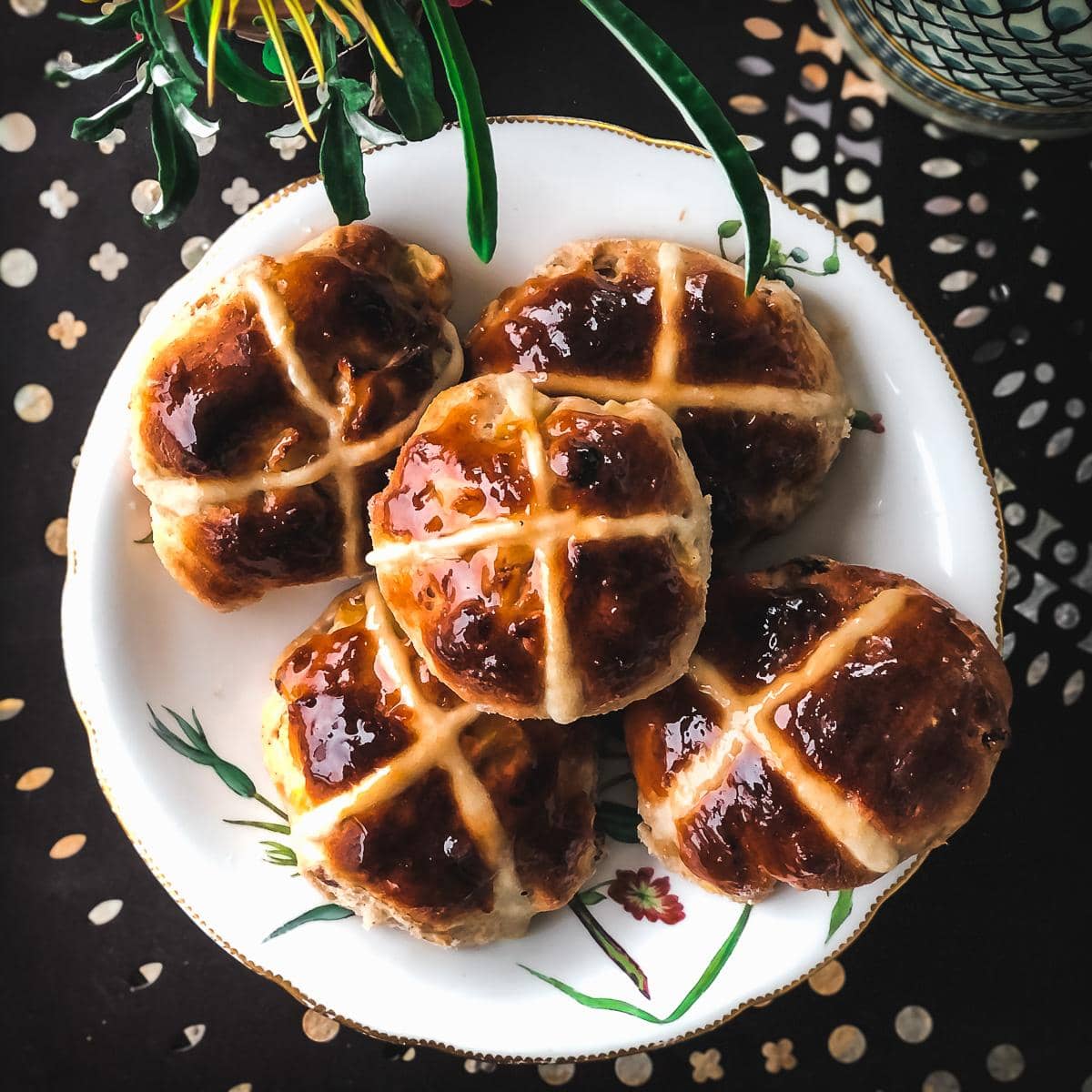 Fruity Hot Cross Buns
A fruity Hot Cross Bun recipe with apple, ginger, orange and lemon zest and warming spices.
Print
Pin
Rate
Ingredients
500

g

white bread flour

50/50 white and wholemeal or stoneground white flour

300

ml

milk

75

g

fine soft light brown sugar

60

g

butter

8

g

yeast (sachet fast-action)

150

g

sultanas, currants, raisins and mixed peel

vary as you like or what you have in your cupboard

1

orange – zest only

1

lemon – zest only

optional

1

apple grated or cored and finely chopped

2

cm

grated fresh ginger

optional

2

tsp

ground cinnamon

1

tsp

allspice

½

tsp

numeg

1

tsp

salt

2

cardamom pods

optional

2

whole cloves

optional
For the crosses (see alternative method in notes)
2

tbsp

water

3

generous tbsp

flour
Instructions
Add the milk, butter, grated ginger, cardamom and cloves to a saucepan. Heat until the butter starts to melt. Whisk in the butter and set aside to cool.

Sieve the flour, and spices into the stand mixer (fitted with a dough hook) or a large bowl. Add the zest and sugar. Fork over so everything is well distributed, leaving a small well in the middle.

Add the salt and yeast to either side of the bowl.

When the milk is tepid, whisk in the egg (pour through a sieve to remove the ginger etc.) and gradually add to the flour until the dough just comes together; add the remaining fruit. Knead or mix with the dough hook until you have a soft elastic dough (smooth but not sticky). It takes 4-5 minutes. Add a little extra flour if it is a little sticky.

# 1st prove. Cover tightly and leave to prove in a warm place or until it doubles in size. IF you want to prove overnight, place the dough in a buttered dish, cover and place the bowl in the fridge. The next morning, remove the bowl from the fridge, allow the dough to return to room temperature, then knead for a further 2 minutes until it is smooth and elastic.

#2nd prove. Knock back the dough to release the air, knead for a couple of minutes, re-cover and leave in a warm place for a further hour or until it doubles in size.

For both the Double Proving and Overnight methods.

Line and grease a baking tray with baking paper. Form 12-16 buns (slightly flattened) and line them on the tray, so they don't quite touch. Cover with a damp tea towel and leave for a further 30-40 minutes.

Preheat the oven to 220°C.

Make up the flour, water mixture and pipe on crosses with a piping bag or plastic bag (corner snipped off).

Bake in a hot oven (220°C), on the middle shelf, for 15 – 20 minutes.

If desired, brush with glaze as soon as they are cooked. You can use melted apricot jam, honey or sugar syrup (see notes for method).
Notes
Bun Glaze – you can melt three tablespoons of apricot jam (removing the lumpy parts!) or honey. Or you can make a glaze by mixing a tablespoon of boiling water with a tablespoon of icing sugar.
The Crosses – you can also make dough crosses as per Delia Smith – rub 10g of butter with 40g of flour with enough cold water to form a dough ball.   Roll it thinly into an oblong shape (12cm x 16cm) and cut it into strips. Brush with water to help them stick.
The recipe should make 12 good-sized buns, but if you prefer the buns a little smaller – the dough will make 16.