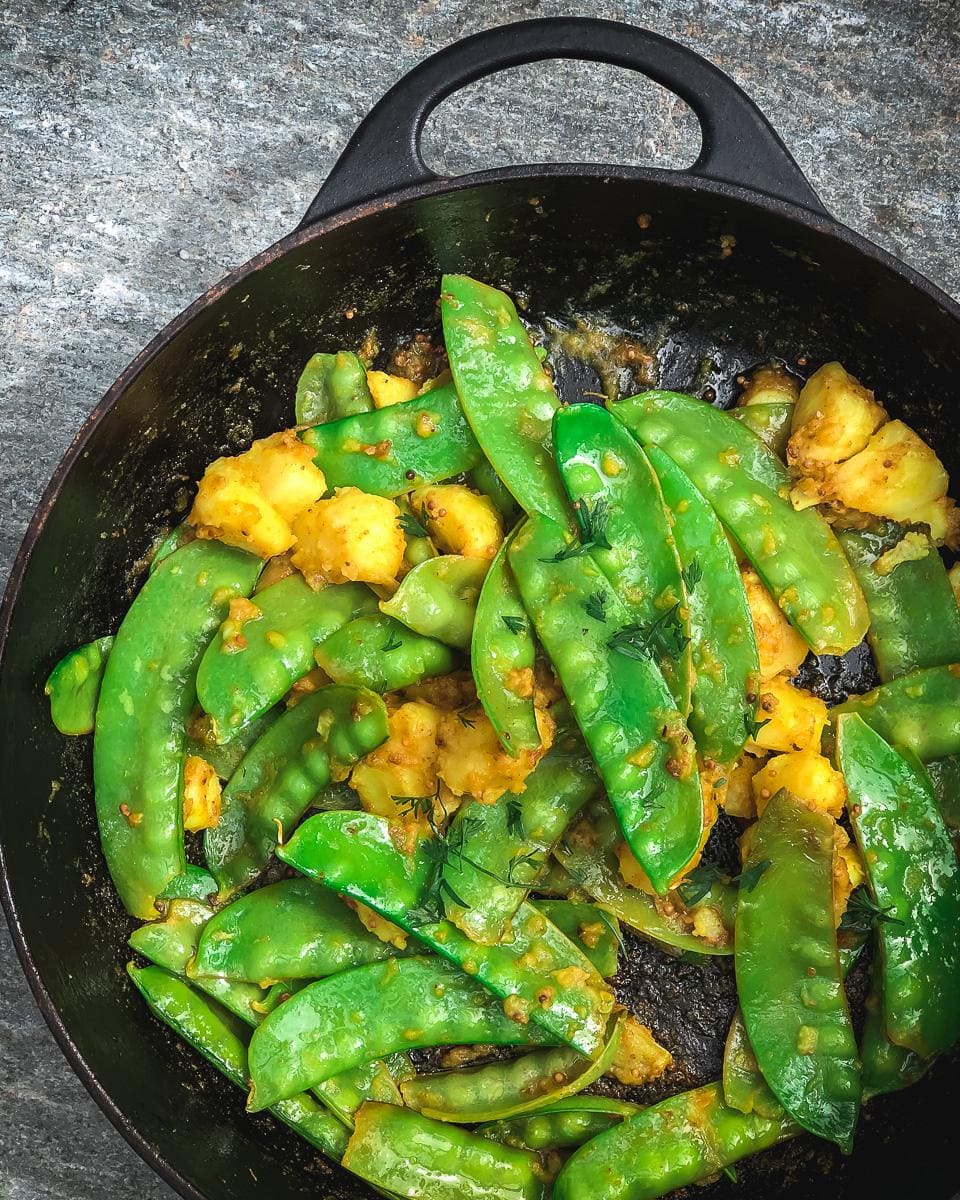 With the mangetout season upon us – here is a lovely simple dish to enjoy the abundance of mangetout in markets. Perfect as a side or lunch recipe, the mangetout and potato stir fry is quick and easy to put together. Mangetout is excellent for stir-fries as they stay crispy and fresh and don't lose colour. As you can see, our latest batch was huge! And if they are not too expensive, pair them with new-season potatoes.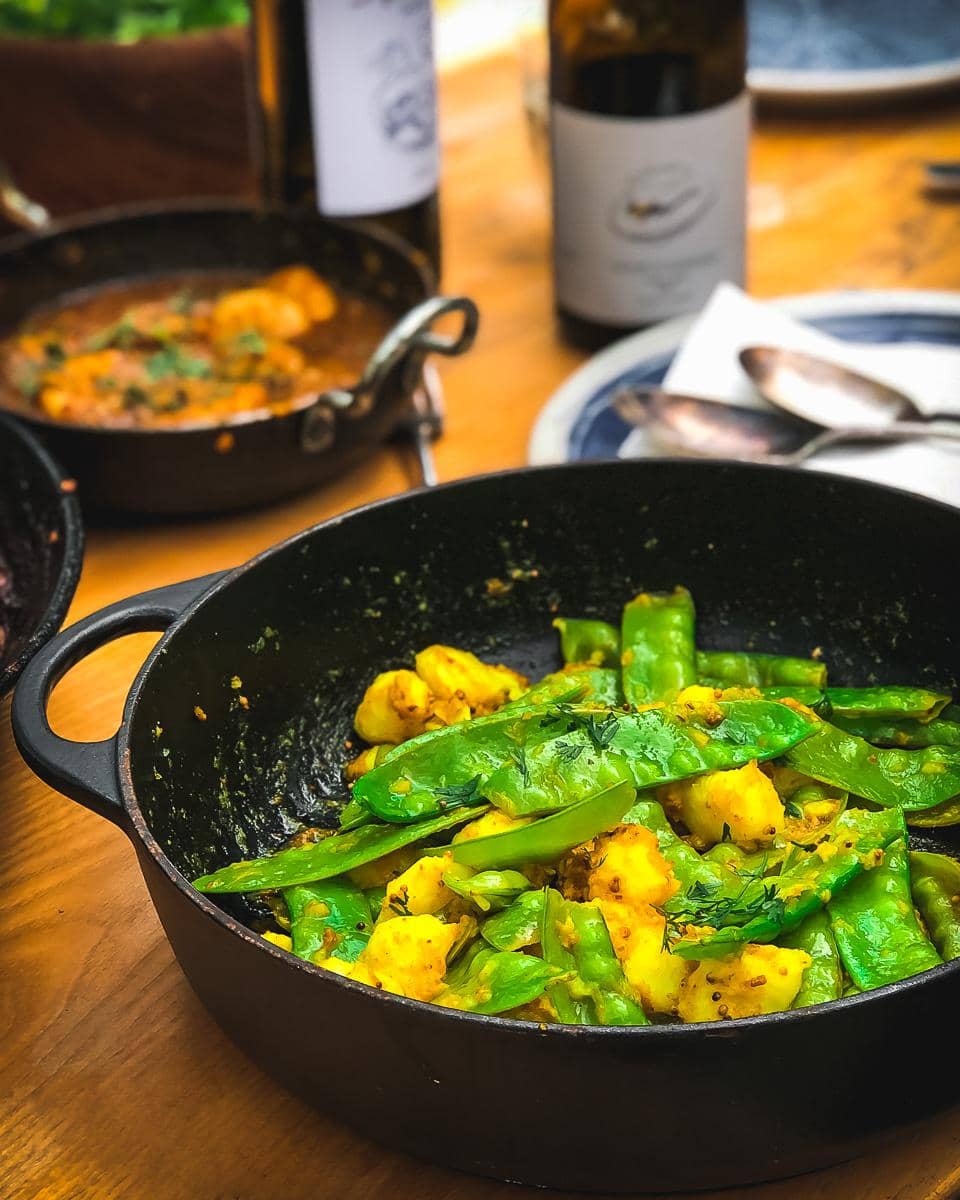 As with many of my recipes – you can adapt this with different flavours to fit your menu. Featured is my version using olive oil, but you could also use sesame oil and toss in toasted sesame seeds. In this case, you may want to add spring onions. Equally delicious is coconut oil, perhaps with coconut flakes and a few golden raisins. One of my favourite adaptations is toasted cashew nuts. If you want more sauce, add freshly chopped tomatoes to your stir-fry before cooking the potatoes. The spice balance is quite aromatic; optional added garlic and chilli for a spicier stir fry.
Mangetout or sugar snap pea, snow pea or sugar pea 😱, must be fresh, crisp and not stringy. They are a type of garden pea picked young, whereby the peas are not fully developed; hence they are sweet—top and tail by pinching both ends, removing any stringy side bits.
Especially good with seafood; try it as a side dish with Kerala Coconut Prawns.
Click here for more Vegetarian recipes.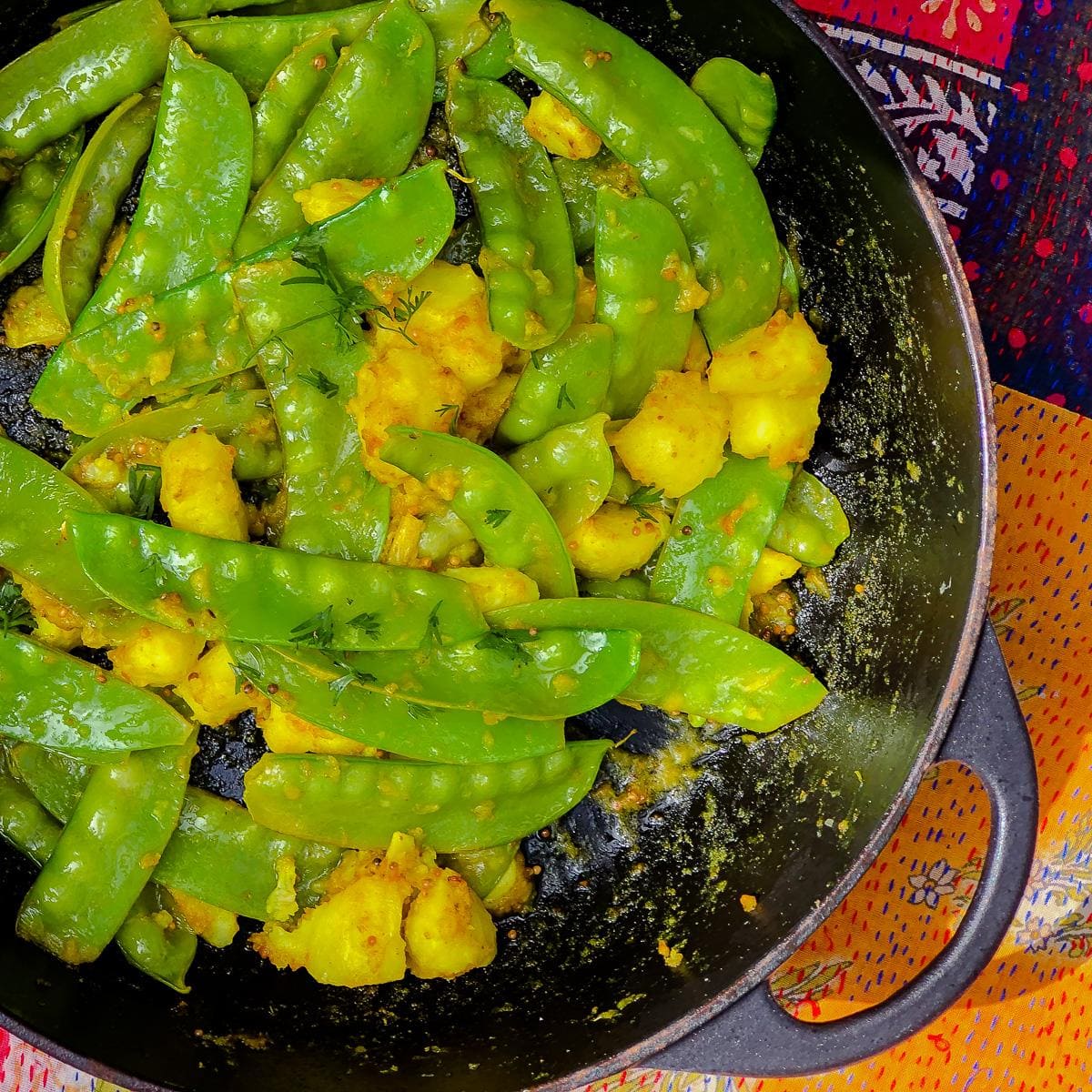 Mangetout and Potato Stir Fry
Mangetout and potatoes stir fried in an aromatic mix of ginger, cinnamon, cardamom, cloves and fenugreek.
Print
Pin
Rate
Ingredients
250

g

mangetout (snow peas)

2

onions roughly chopped

2

potatoes, peeled, cut into cubes

or new season potatoes halved

2

cm

fresh ginger roughly chopped

1

clove

garlic

optional

½

tsp

cumin seeds

½

tsp

mustard seeds

2

tsp

dry fenugreek leaves or ½ tsp dried fenugreek powder

1

banana chilli or 2 small green chillis

use chilli flakes or grind dried chillis with the onion paste (optional)

scant ½

tsp

turmeric

½

tsp

ground coriander

pinch

each of ground cardamom and cloves

½

tsp

ground cinnamon

50-75

ml

cooking oil; coconut or olive oil

See notes

salt and freshly ground black pepper

fresh parsley or coriander and squeeze of lemon to serve
Instructions
In a mini-mill, make a paste with the onion, garlic and chilli (optional) and ginger.

Pour some oil into a wok or large heavy-based pan. If you are using olive oil – you can add a couple of drops of sesame oil to give it flavour.

Add mustard seeds and cook until they start to pop; add the cumin seeds and fry until lightly browned. Mix in the onion paste with the cinnamon, cardamom, fenugreek, coriander, turmeric and clove. Saute over moderate heat until the onions are soft. Add the potatoes, coating them in the paste and cook for another 3-5 minutes. Sprinkle with water.

As soon as the water evaporates, check if the potatoes are soft and then toss in the mangetout, a generous pinch of salt and a good grinding of black pepper. Cook until the mangetout is crisp but cooked.

Delicious on its own or with a chicken or fish dish. Serve with a squeeze of lemon and some freshly chopped parsley or coriander.
Notes
This is a super-versatile recipe with lots of options. Add tomatoes if you want the recipe to be saucier; ideally, soften the tomatoes before adding the potatoes. Stir fry spring onions with the mangetout. Also, you can add toasted cashews, sesame seeds, coconut flakes, or golden raisins. Experiment with different oils to change the flavour – coconut or sesame.