Strawberries and rose petals are a marriage made in heaven. Making small batches of jam is a great way to use up an abundance of this early summer fruit, especially if you can't resist that extra punnet of strawberries at the market. I've also added a little cardamom which helps to pop the flavours. Don't be tempted to make more than a kilo – anymore, and the jam takes too long to set. You end up boiling the jam and ruining its fruity flavour and colour. Pick untreated rose petals from the garden and remove any hard white ends. Strawberries don't set so quickly, so you'll need the juice of 2 lemons.
Rose Petal and Strawberry Jam is delicious on toast and is super exotic jam filling for Victoria Sponge.😁 Very British🍓🇬🇧
Method: Rose Petal and Strawberry Jam
I used one kilo of strawberries, a generous 750g of sugar, and a generous handful of rose petals—the more fragrant, the better. Many strawberry jam recipes advise hulled strawberries, but if they are ripe, there is no need. Maybe cut them in half if they are big and remove any soft or damaged parts. I put half the sugar with the rose petals and cardamom in a separate bowl while I prepared the strawberries, which I then tossed into the remaining sugar. Many recipes also recommend leaving the strawberries in the sugar to draw out the juice, but again, if the fruit is fresh, there's no need. Put everything into a large pan and simmer over low heat, stirring gently until the sugar has dissolved. Once the sugar has dissolved, add the lemon and quickly bring it to a boil.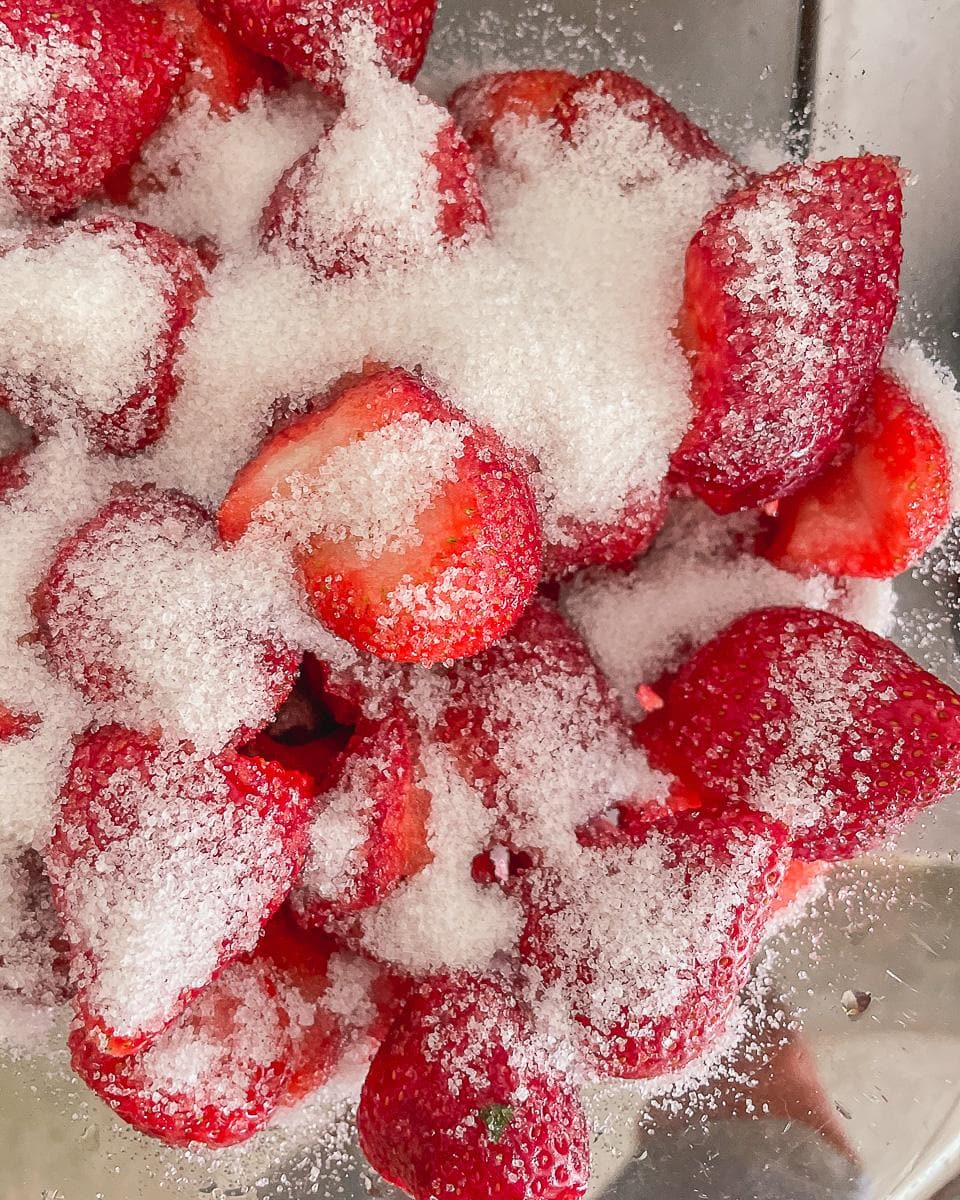 Boil briskly for a maximum of 20 minutes; it tends to froth up fiercely and then calm down to a gentle plopping rhythm. Do the wrinkle test when you reach the plopping moment (around the 20-minute mark), and the jam looks syrupy. If you are not at the setting point, boil a little longer and test again. Younger jam eaters can be a little averse to 'lumps' in a jam 🙃. I only slightly mash the strawberries – you can puree them or leave them whole. Remove any scum, pour into hot sterilised jars, and seal when cool. Store in a dark, cool place.
Dissolve Sugar Gently, Boil Jam Briskly
Typically sugar is added when the fruit is slightly cooked and softened, but this only applies to fruit with tougher skin. The most important thing is to dissolve sugar and then quickly boil it slowly. Avoid stirring too much at the boiling phase – only to stop is sticking.
More preserving ideas are here.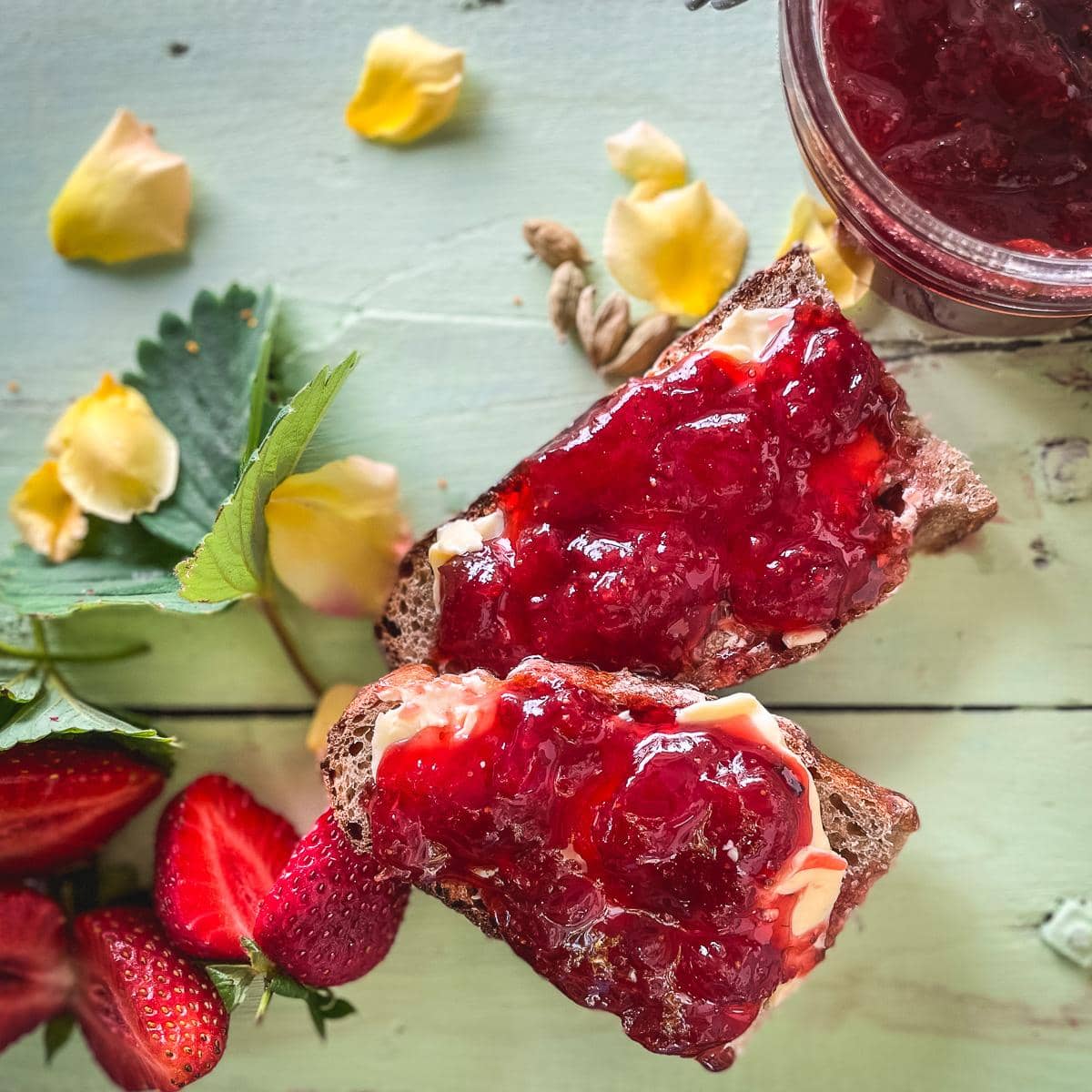 Rose Petal and Strawberry Jam
A delicious fruity strawberry jam delicately flavoured with fresh rose petals with a hint of cardamom to pop the flavours.
Print
Pin
Rate
Ingredients
1

kilo

fresh strawberries

750

g

sugar

large

handful

fresh fragrent rose petals

2

lemons juiced

2

pods

cardamom (seeds only lightly crushed)

optional
Instructions
Place a couple of small saucers in the freezer.

Put half the sugar, cardamom seeds and rose petals into a bowl.

Prepare the strawberries – no need to hull if they are ripe and juicy. Remove any squidgy or damaged fruit. Toss with the remaining sugar.

Put all the ingredients into a large heavy-based pan over low heat. Stir gently to dissolve the sugar.

Once the sugar has dissolved, add the lemon juice. Stir.

Increase the heat and boil briskly for about 20 minutes to reach the setting point. Stir occasionally to avoid sticking or burning. The setting point is 105°C using a jam thermometer. Alternatively, place a little jam on one of the frozen saucers – allow it to cool and if a skin forms or wrinkles when pushed with your finger. The jam is ready! If not boil a little longer and text again.

Pour into hot sterilised jars. Seal when cool and store in a cool dark place.
Notes
Don't leave the jam!! It's a hands-on process;  you need to avoid the jam sticking and remove it from the heat as soon as the setting point is reached, but it's quick and easy. 30 minutes max.