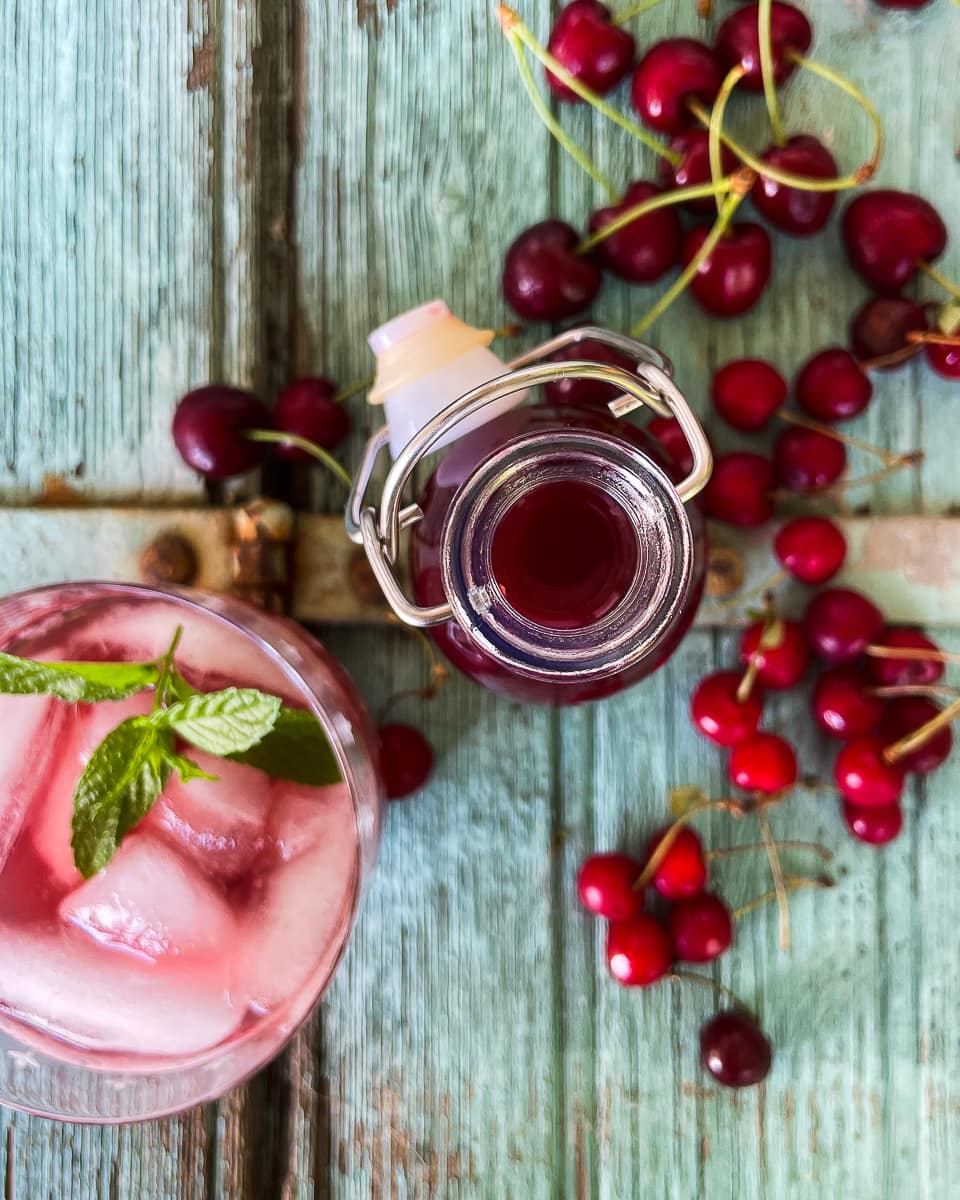 Sour Cherry Syrup is quick andstraightforwarde to make and deliciously refreshing to drink. You can use sweet cherries, sour cherries, or a combination.
Cherries are often super expensive, but they are abundant, huge and well-priced this year. We've made various cherry pies and tarts, clafoutis, cherry focaccia, cherry jam and today's recipe Sour Cherry Syrup. I'm unsure if all these recipes will appear on the blog this year, but I will try.
We have gone a little cherry fantastic.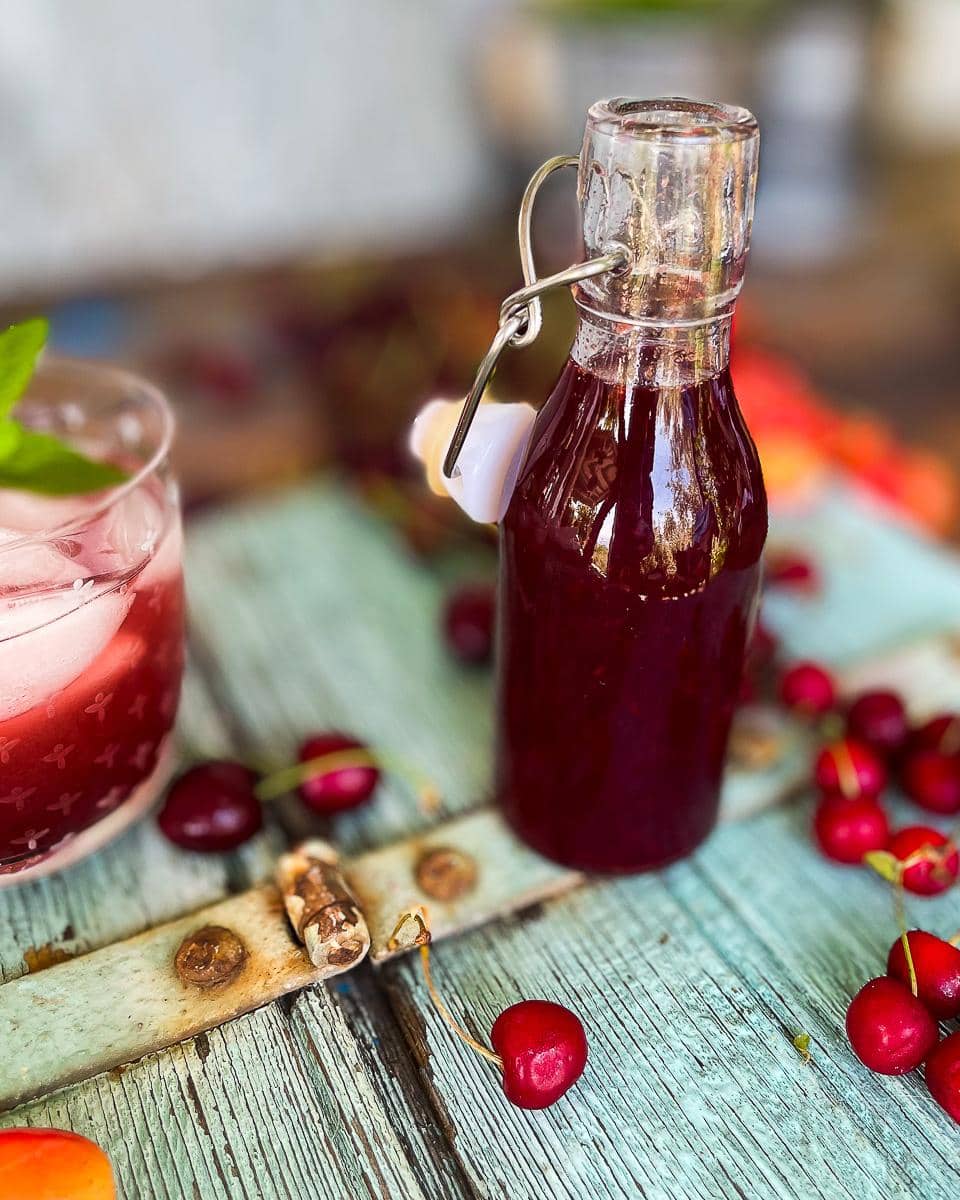 You can experiment with flavouring. This recipe adds cardamom (which pairs exceptionally well with cherry), a little orange zest, juice, cinnamon, and ginger. I sometimes add star anise, but that is very much optional. You can restrict the spices to star anise on its own, maybe with lemon, for a sharper, cleaner flavour. It depends on whether you want to add the syrup to a cocktail or pour it over ice cream, yoghurt etc.
It is delicious, with sparkling water, loads of ice and a sprig of mint, but I also have it on excellent authority; the cherry syrup is good in a Santa Cruz Fix, Singapore Sling or Bangkok Sling. You are replacing the simple syrup or grenadine with cherry syrup; there is a whole summer ahead to discover.
Making Sour Cherry Syrup
Put all the ingredients (except the sugar) into a large saucepan and set over low heat until the cherries soften. Add the sugar and reduce until you have a syrupy consistency. You don't need to de-pip the cherries because the syrup is strained through a sieve before bottling. This is a big bonus – de-pipping cherries is a horrible job.🙃
Cherry Syrup lasts in the fridge for ten days and is quick and easy to make. Alter the sugar concentration to your taste – I like to use the minimum possible, but this does affect the shelf life.
More drinks inspiration here.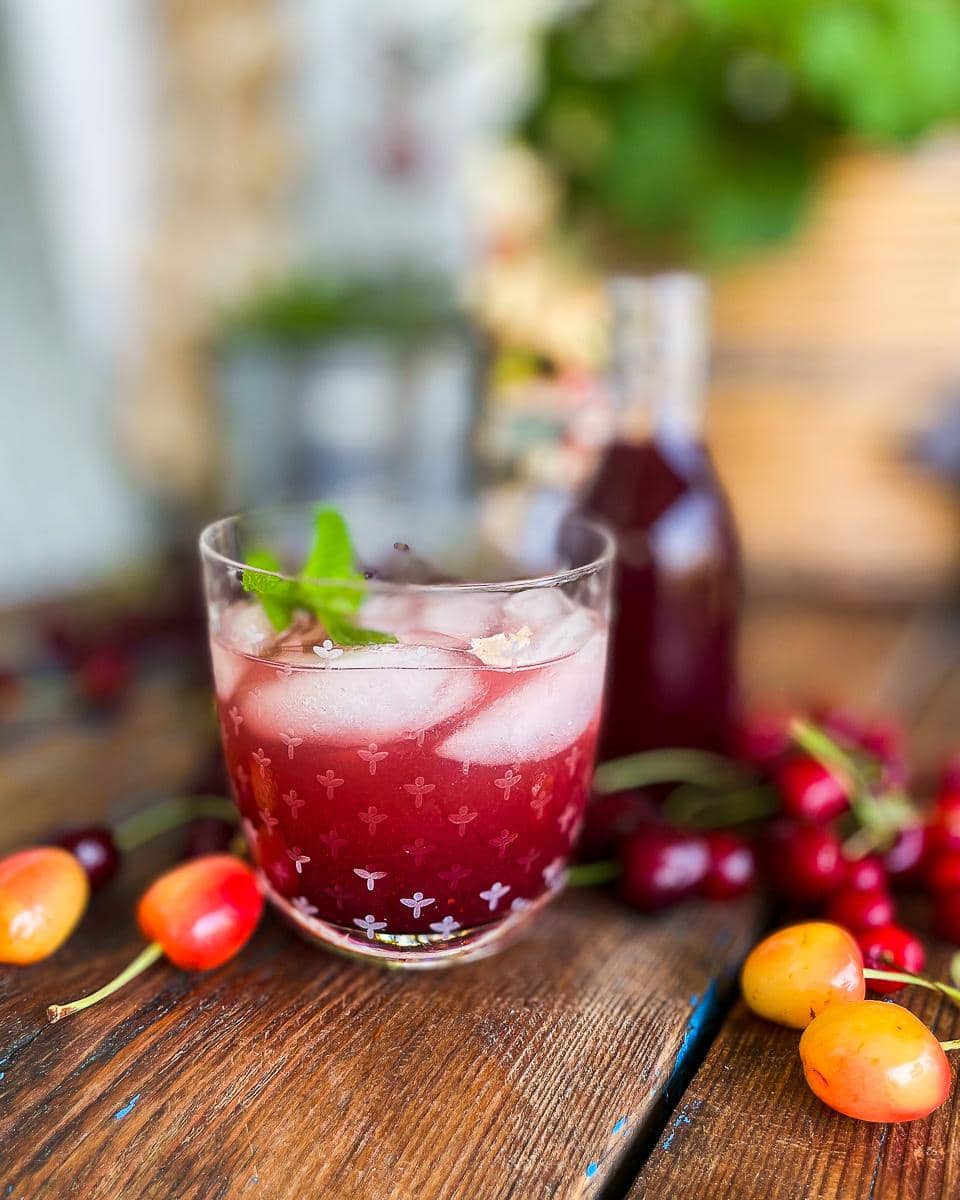 Sour Cherry Syrup
Delicious cherry syrup infused with ginger, cardamom and cinnamon. Perfect as a topping for ice cream and yoghurt or as a refreshing summer drink.
Print
Pin
Rate
Ingredients
1.5

k

sour cherries

OR 50/50 sour and sweet. The more sweet cherries you use the sweeter the syrup.

400

g

sugar – ideally turbinado/raw cane sugar

2

tsp

crushed cardamom seeds

2

oranges, zest of one and juice of both

2

small

cinnamon sticks

3

cm

fresh ginger cut into thin slices

2

whole

star anise flowers

Optional
Instructions
Add all the ingredients into a large saucepan EXCEPT the sugar.

Simmer over a low heat until the cherries are soft, 15-20 minutes

Add the sugar and simmer over medium heat until the sugar dissolves. Bubble for one or two minutes to thicken.

When you are happy with the consistency, strain through a fine sieve. Pour into sterilsed jars. Cool and regridgerate.
Notes
Add only star anise and swap the oranges for the juice and zest of one lemon. You may need to add a little water to soften the cherries.