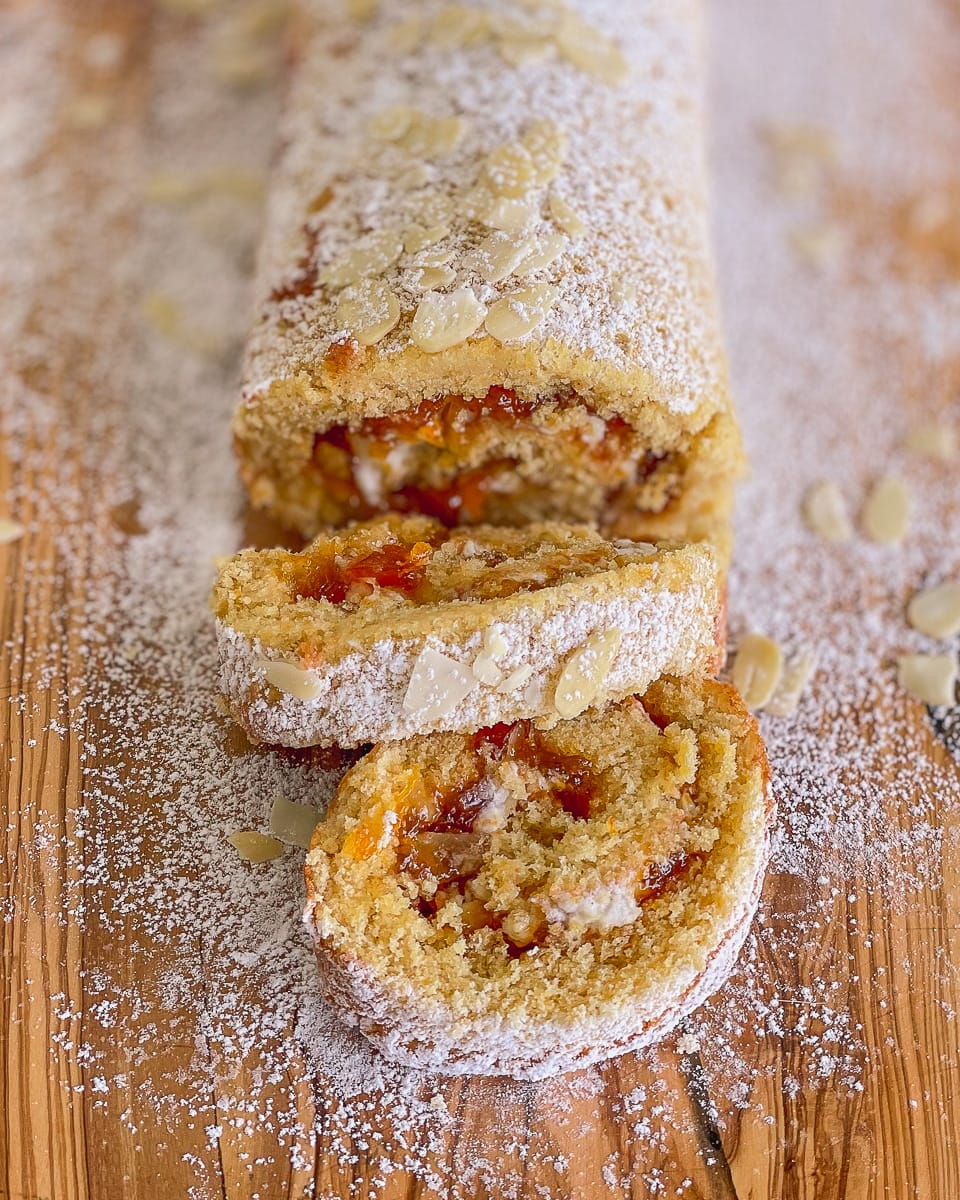 Making a Roulade or Swiss Roll is very easy. I have a quiet obsession with cakes based on fruit. This is no ordinary roulade – butter is replaced with apricot puree, and the roulade is filled with apricot jam and vanilla cream. The beauty is it only takes 10 minutes to bake and is mixed all in one food processor bowl. What is there not to like?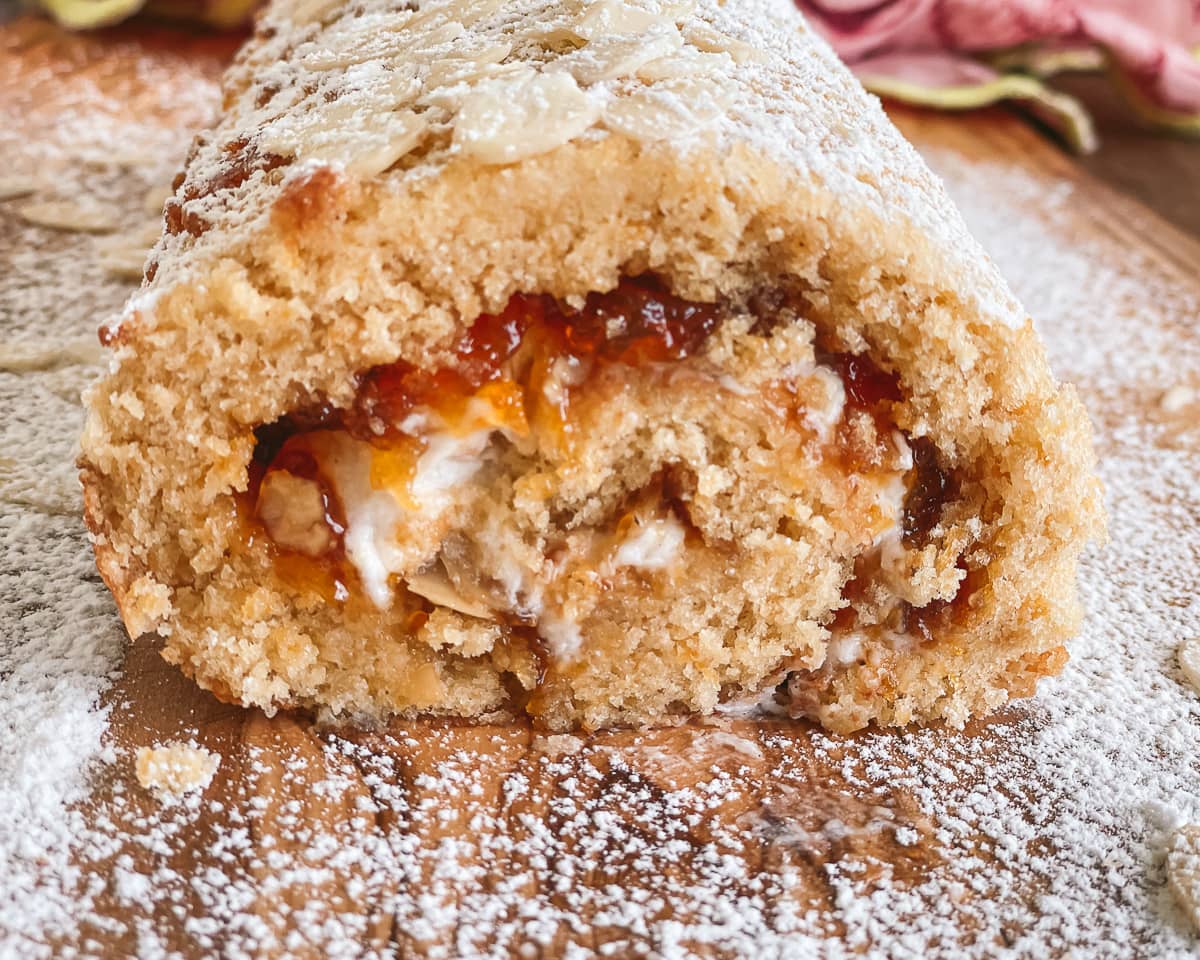 On a more serious note – apart from trying to be more healthy, it is a terrific way of using abundant seasonal produce. Here, you use the apricots as a puree in the apricot roulade and the homemade jam.
How to Roll your Apricot Roulade
Apricot Roulade or Apricot Swiss Roll is simple to make; whisk the eggs and sugar until light and frothy as you dare. The tricky step is rolling the cake. The secret is to roll the cake as soon as it comes out of the oven. Use baking paper or a tea towel doused in powdered sugar. The tea towel works well, provided you use plenty of sugar. But, as it cools, it gives off moisture and inevitably, it does remove a thin outer layer of the cake as you unroll it. However, the cake is very smooth. My preference is baking paper. Dust with powdered sugar and then roll carefully – don't let the paper pucker, and it will be perfect. Some recipes recommend spreading the jam immediately onto the warm cake and then rolling. I have yet to try this, so I can't recommend it.
The filling options are endless – here, I have chosen vanilla cream with my apricot and cinnamon jam. Delicious. I have yet to try it, but there is no reason why the apricots can't be replaced with peaches or nectarines and, later in the year, with persimmon or pumpkin puree.
For more baking recipes, go to the baking section here.
Apricot Roulade
A light sponge made with apricot puree. Filled with a cinnamon-apricot jam and vanilla whipped cream topped with flaked almonds.
Print
Pin
Rate
Ingredients
Swiss Roll
100

g

all purpose flour

¾

tsp

baking powder

½

tsp

salt

200

g

golden caster sugar

3

large

room temperature eggs

200

g

fresh apricots (180g apricot puree)

powdered sugar for dusting and rolling the cake

small handful of flaked almonds
Filling
fresh cream whipped with vanilla or almond essence.

50/50 mascapone and fresh cream is another option – the cream mixture is a little firmer

jam of your choice.
Instructions
Swiss Roll
Line your swiss roll tin with baking paper. Sprinkle a few tiny drops of water onto the tin so the paper adheres and you can smooth it flat. No necessary if you have confidence in your non-stick tin😁

Preheat the oven to 190°C.

De-stone the apricots and re-weigh – you should have 180g. In a food processor, whizz into a smooth puree. Set aside.

In the same food processor bowl, whisk the eggs and the sugar until light and frothy and pale yellow.

Add the apricot puree and gently incorporate. Sift in the dry ingredients and again gently mix in. Pour into the prepared tin. Bake at 190°C for 10-12 minutes.

While baking the cake, lay out your tea towel or baking paper and cover generously with powdered sugar. When you take your cake out of the oven, turn it onto the sugared layer and peel off its baking paper from the tin. Roll up your swiss roll in the tea towel/baking paper without putting any pressure on the cake. Take care not to pucker but keep it quite tight. Leave to cool.
Filling
While the cake is cooling – prepare your filling. Whip equal quantities of mascapone and fresh cream or fresh cream on its own with vanilla or almond essence.

Once the cake is cooled – gently unroll it. Spread with the jam and then the cream. Make sure you push the fillings near the edges so it gently oozes at the sides. Re-roll and decorate with a dusting of powdered sugar and flaked almonds.