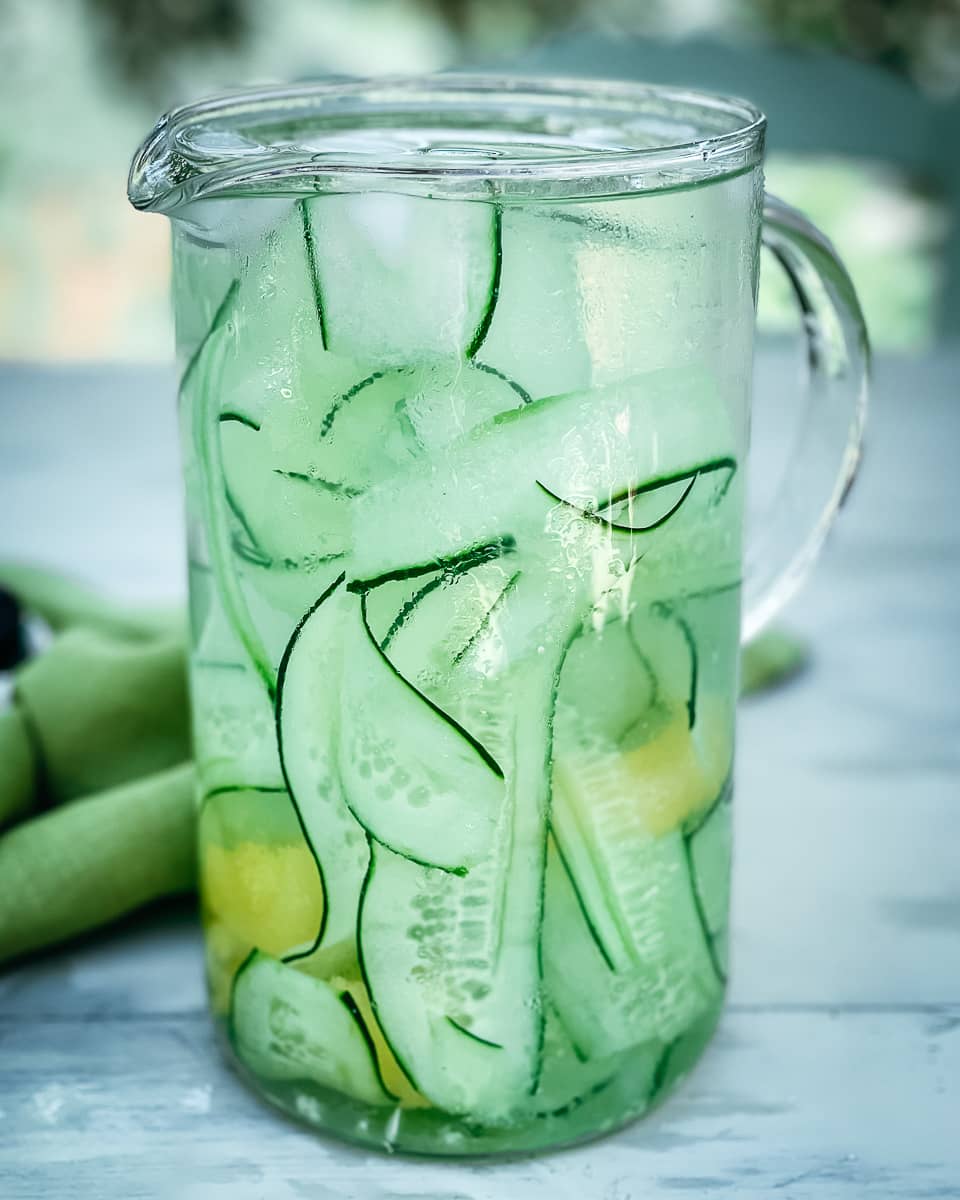 So simple but so refreshing and delicious. A cucumber peeled lengthways in a big jug of icy water. Keep it in the fridge for up to 3 days, and keep topping it up! Add a slice of ginger and lemon rind to your Cucumber Water and serve with mint, lemon balm and basil. Add edible flowers such as borage, nasturtium, strawberry or rose petals. I occasionally add cardamom seeds, but then I would add cardamom to everything🙃. And, of course, you can also turn it into a mixer by adding sparkling water. Delicious with Gin!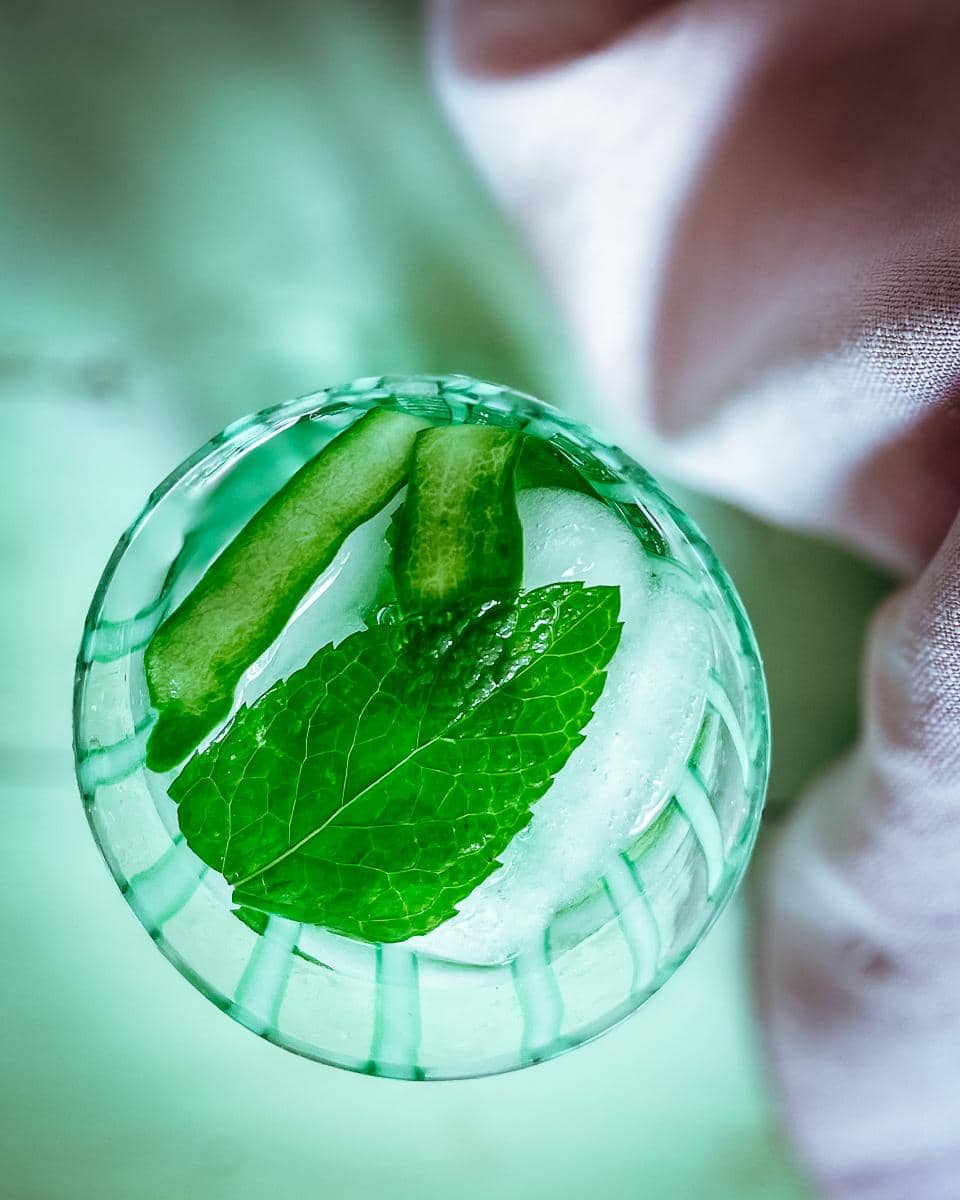 Cucumbers are reputed to be high in antioxidants and nutrients but low in calories. If you want to rehydrate – especially sitting at your desk all day it makes a welcome change to water or any other tempting sugary drinks you may want to grab to get you through the day. You'll find that after a couple of hours, the water tastes quite sweet, and for me, it does curb the sugary urge…..mid afternoon.
The recipe is below, but all you do is peel a cucumber (ideally organic) lengthways. Wash it well as you want to use all the cucumber, including the peel. You don't need to de-seed it – only at the fatter end if there are too many seeds. Add the lemon rind or ginger and pack into a water jug with plenty of ice.
Ideally, please leave it in the fridge for an hour before using it so it's well chilled and the cucumbers have had a chance to flavour the water. Pour over ice with edible flowers, herbs of your choice, a slice of lemon or naked – just as it is. You can add herbs to the jug; mint is ok, but the flowers don't last so well, so it's better to add them as you serve.
More drinks inspiration here😁😁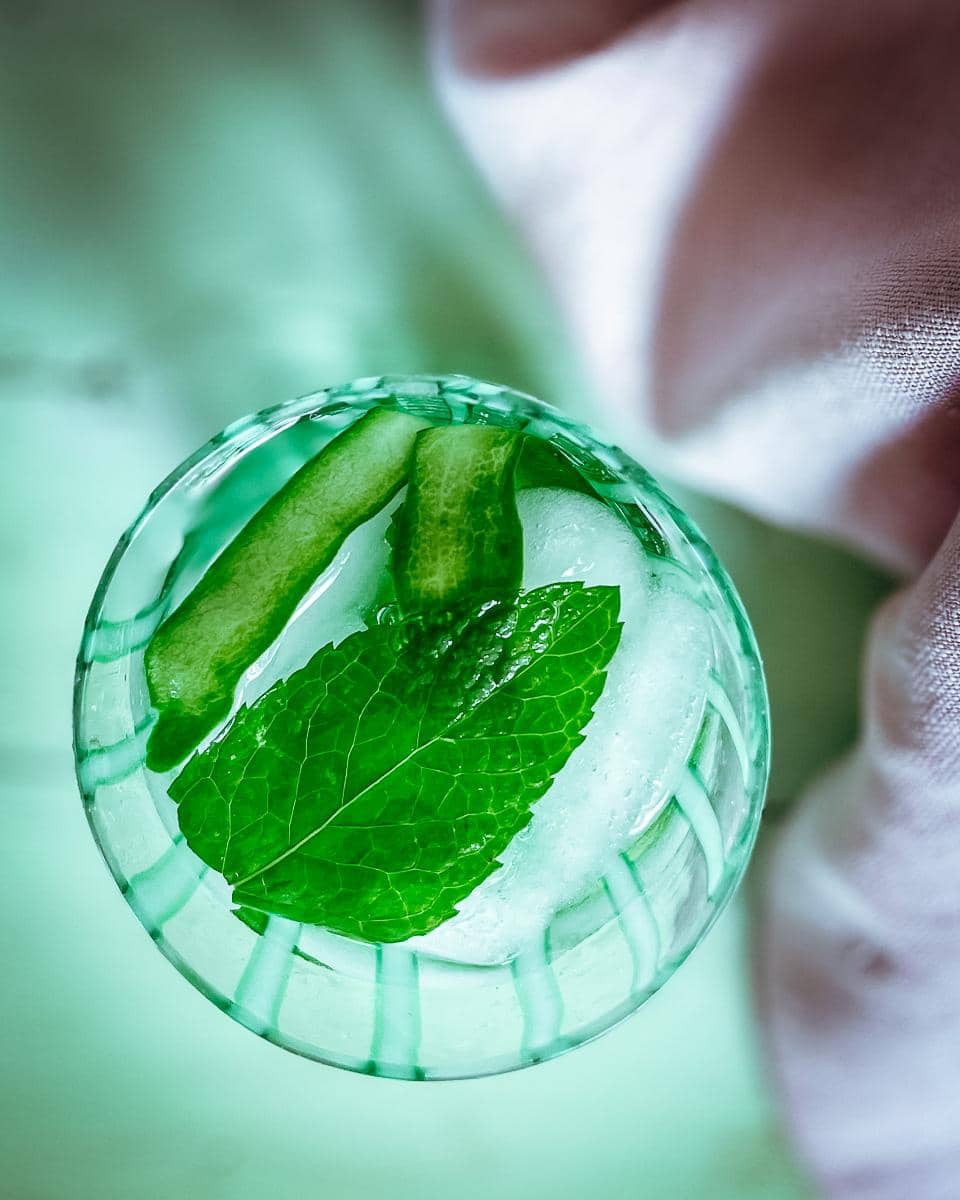 Cucumber Water
A deliciously refreshing drink, inexpensive and easy to prepare, lasts up to three days in the fridge.
Print
Pin
Rate
Ingredients
1

med-large

cucumber

1

2-3 cm

lemon peel

1

slice

fresh ginger

optional

to serve; edible flowers such as borage, nasturtium, strawberry or rose petals

optional

to serve; mint, lemon balm or basil

optional
Instructions
Wash the cucumber and then peel it into long strips

Add the cucumber and the rest of the ingredients to a large water jug. One cucumber works well for a 1½ litre jug. Add a generous handful of ice and top with water.

Cover a cool in the fridge for about an hour.

Serve over ice with mint, edible flowers and a slice of lemon.

Keep topping up the jug with ice and water. Lasts for up to three days in the fridge.
Notes
Lemon peel lasts well in the Cucumber Water, but the lemon slices start to disintegrate. If you want to keep the water for more than a day, it's better to serve with a slice of lemon in the glass rather than add lemon slices to the jug. Ditto the herbs and edible flowers.