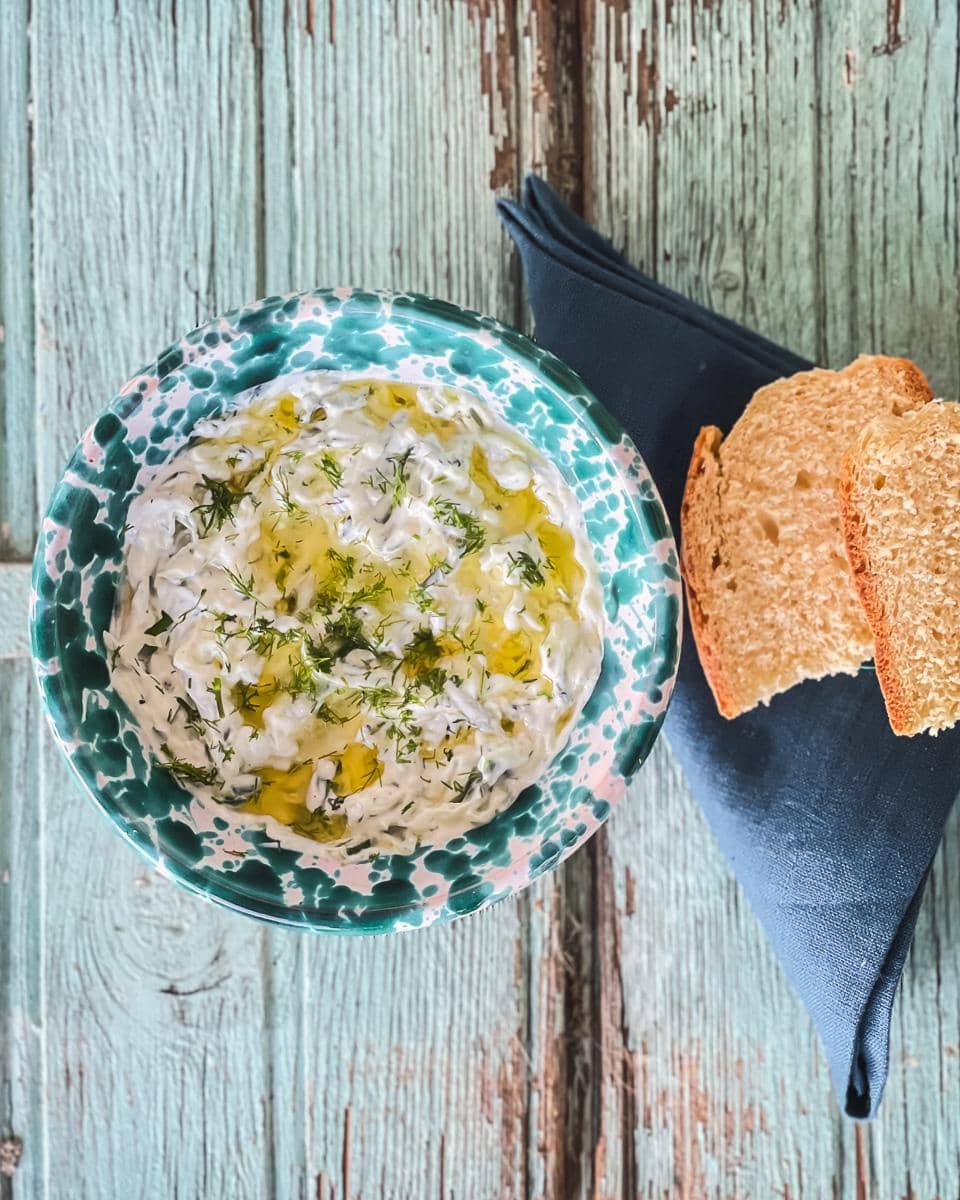 A Greek table is bare without a small side plate of Tzatziki. Delicious with grilled meats, fish or as a mezze with pittas and bread. The quintessential Greek yoghurt sauce/dip accompanies just about everything.
Tzatziki is an absolute must inside souvlaki (gyros)😁😁.
Unlike its Indian cousin, Raita which is thinner and not always exclusively cucumbers, or the excellent sweeter Persian yoghurt, Mast-o-Khiar with sultanas and rose petals; Tzaziki is creamy and garlicky flavoured with fresh dill and mint. If you are not a huge fan, omit the garlic. The cucumber is grated, drained, and squeezed to remove all the moisture. Watery Tzatziki is not good. Having said that, I have eaten Tzatziki made with peeled and chopped cucumber, more like the Mast-o-Khair style. It was excellent.
I also think – like any recipe, experiment. Basil makes a fun alternative or addition to the dip. Traditionally, Tzatziki doesn't have ground pepper, but it's up to you; make it your own and adapt the recipe. Fresh herbs are traditional and give the dip its zingy taste. I've never used dried herbs, so I can't recommend them.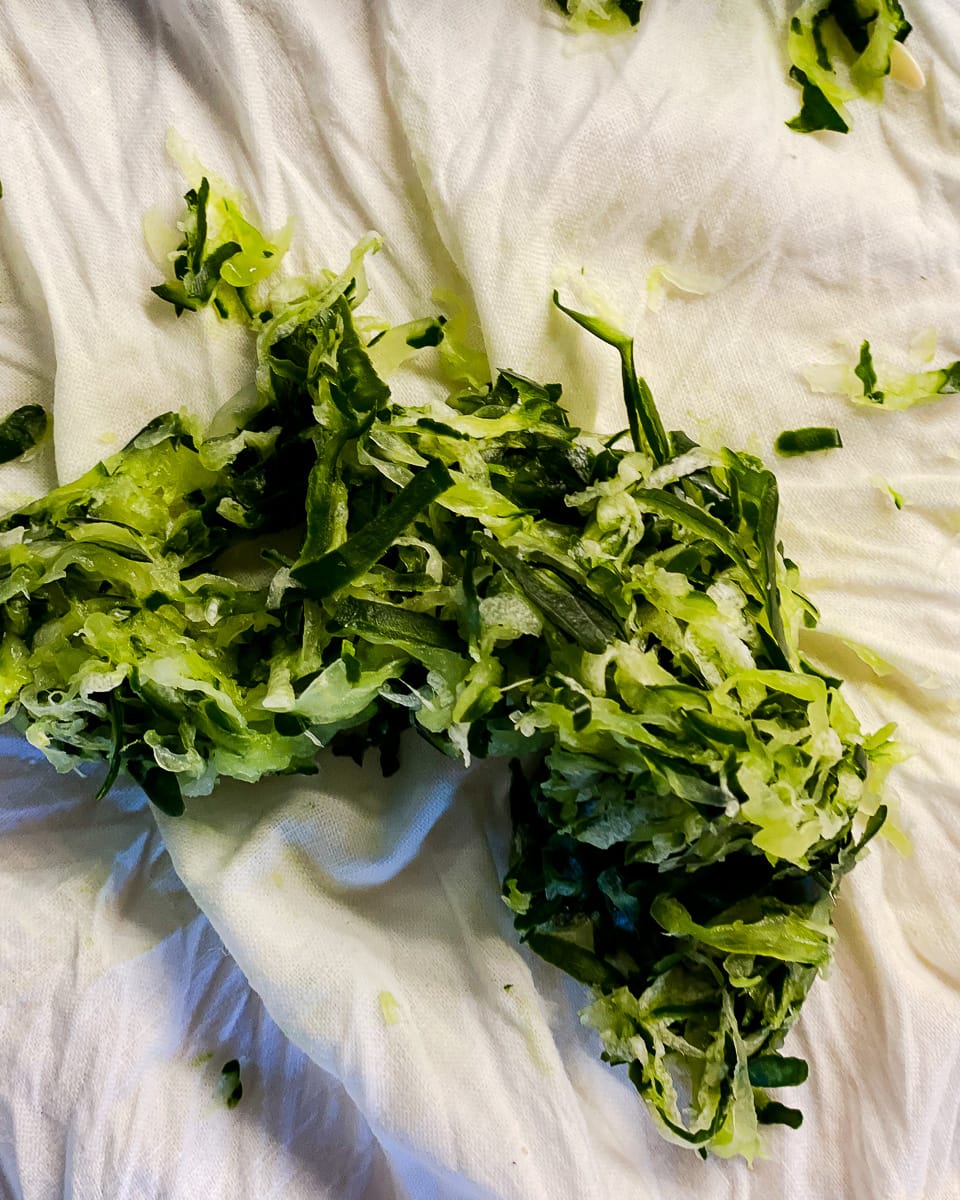 The Garlic
Very garlicky, medium garlicky or no garlic. The choice is yours. My only advice is to remove the green gem so you don't get that horrible garlic after burn, and if you have time, grind the garlic in a pestle and mortar with the olive oil to make a garlic paste. It is a subtle difference but much tastier. There is much debate about the garlic gem; I refer you to David Lebovitz's excellent blog for the full explanation.
The Cucumber
It's cucumber season; they gave them away at the market last week because there's a huge glut.🙃😃
In an ideal world, cucumbers freshly picked from the garden and organic. Hmmm, back to reality! However, as you use the skin, try and use organic. Cucumbers are susceptible to all sorts of diseases and are often sprayed, so clean the skin or peel. If you do, you may need to use another half a cucumber to make up the quantity. Drain it well and squeeze out all of the juice. You want creamy Tzatziki – not a watery mess.
Please don't waste the cucumber water; freeze it in ice cube trays and save it to drop into cocktails, gin or a glass of water!
The Yoghurt
The Greek yoghurt needs to be at least 5%. Low-fat yoghurt will not taste as good.😃
Lots more dips and sauces here😁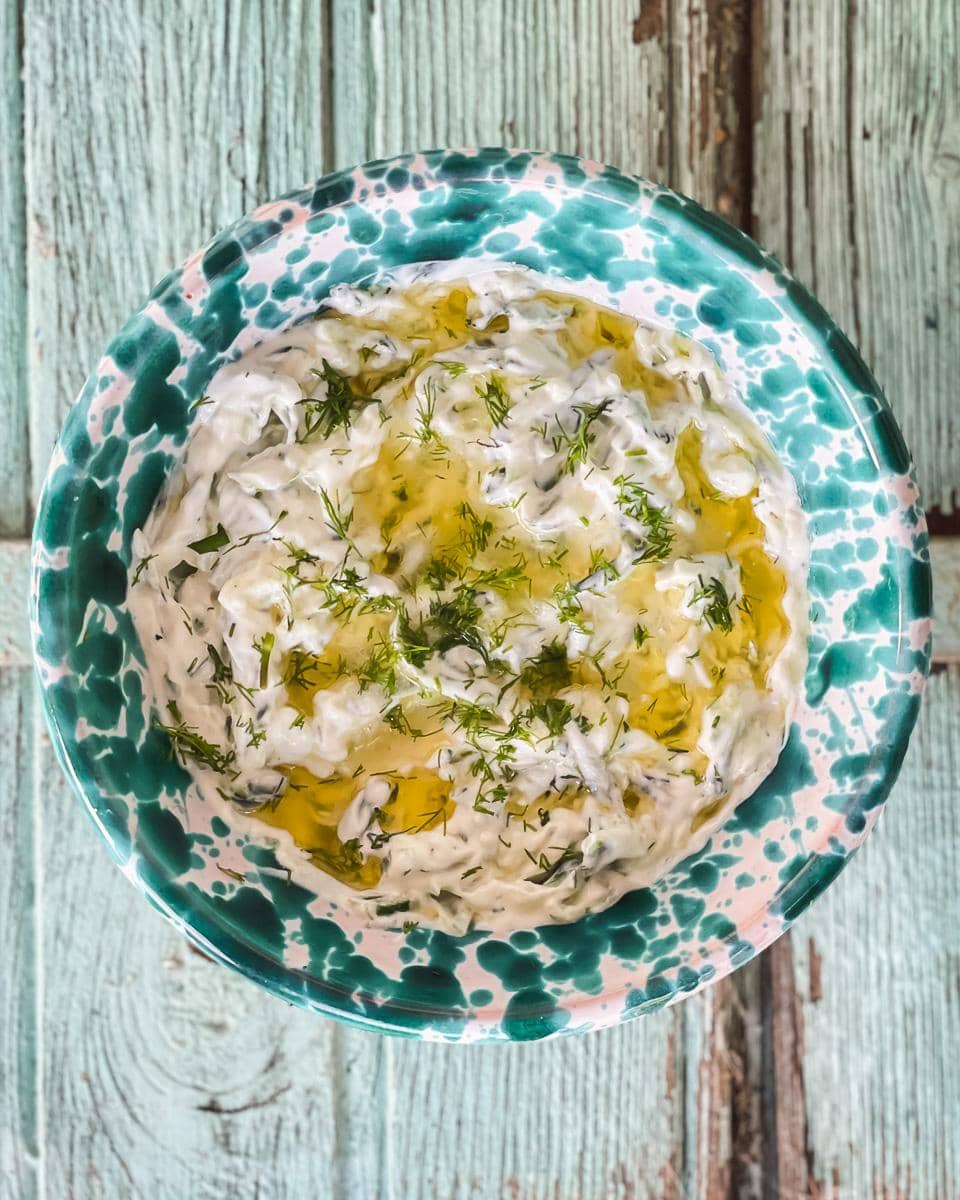 Tzatziki
Strained Greek yoghurt, cucumber and fresh herbs; the quintessential Greek dip that goes with EVERYTHING.
Print
Pin
Rate
Ingredients
1

large

cucumber

organic if possible

2-4

cloves

garlic (with the green germ removed).

start with 2 and add more if its not garlicky enough for you

200/300

ml

Greek yoghurt (5% minimum)

1

tbsp

olive oil

1

tbsp

white wine or apple cider vinegar

1

tsp

each of olive oil and lemon juice – gently whisked

approx

tbsp

each of finely chopped dill and mint plus a little extra dill to serve
Instructions
Grate the cucumber on the coarse side of your grater. Only grate the outer flesh and stop when you get to the seeds. It's easier if you cut the cucumber into thirds so you can judge when you get to the central seed core. Or slice it down the middle and use a melon ball scoop to remove the seeds.

Empty the grated cucumber into a sieve and sprinkle it with a little salt and vinegar. Leave to drain for 20-30 minutes. Squeeze the remaining juice out of the cucumber by hand or ideally put it into a napkin or tea towel to wring out as much moisture as possible. This is the secret to good tzatziki.

Reserve the cucumber juice – see notes below.

Pound the garlic in a pestle and mortar with the tablespoon of olive until you have a smooth garlic paste.

Put the cucumber into your chosen serving bowl with the garlic paste, vinegar, and herbs. Mix well, and then stir in the yoghurt. Adjust the seasoning by adding more oil/vinegar.

Cover and refrigerate for at least an hour.

To serve, pour over the olive oil and lemon mixture and decorate with finely chopped dill.
Notes
I know it seems an absolute waste not to use the whole cucumber, but you will end up with a watery mess that bears no resemblance to tzatziki.
Please don't throw away the cucumber water; freeze it in an ice tray and use it for cocktails, adding a cucumbery zing to a glass of water or a gin and tonic.