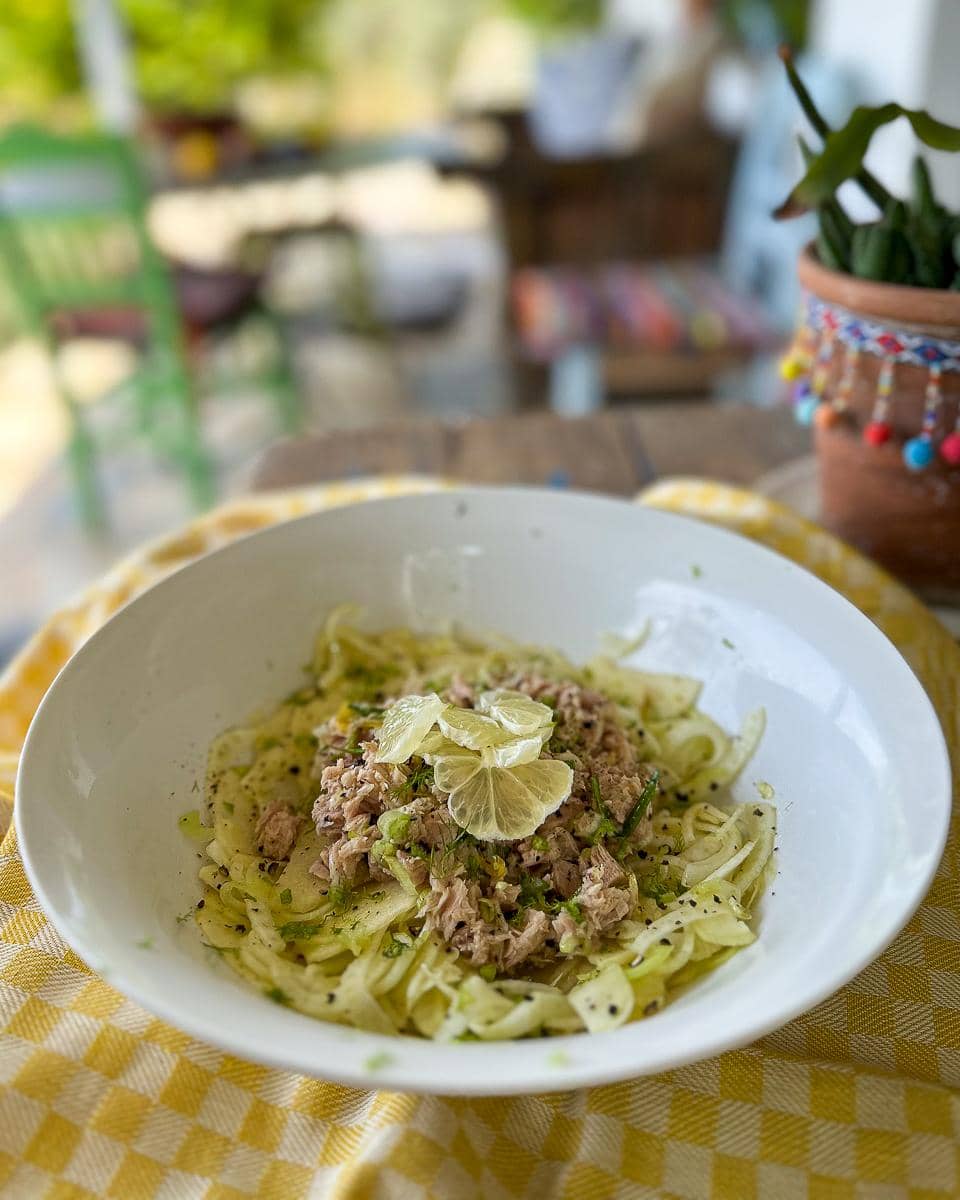 A lovely simple tuna salad to make the most of the new season's fennel. This is perfect when you want something light for lunch, but an average salad will not do! That kind of feeling that says I need a good relationship with my swimming costume this summer but don't want to eat boring salads.
I've paired the wafer-thin fennel and apple slices with a hint of mild chilli and mirin seasoning. I used the Pilafa apple, which is grown in the Peloponnese – use whatever is local to you. Something like the Braeburn variety would be good. I've also used a 'katsika' or goat pepper, widely available here in Greece, but I fear not farther afield. It's sweet but has a slight bite and is perfect for salads. It's not essential but delicious if you can put your hands on one.
I topped my tuna and fennel salad with tinned tuna tossed in olive oil, black pepper, spring onions and lemon zest. However, the apple and fennel salad bed combination lends itself to various fishes. Smoked salmon or mackerel, steamed fresh salmon are obvious alternatives, but tinned mackerel, salmon, smoked trout, anchovies, or sardines would also make for a great combo.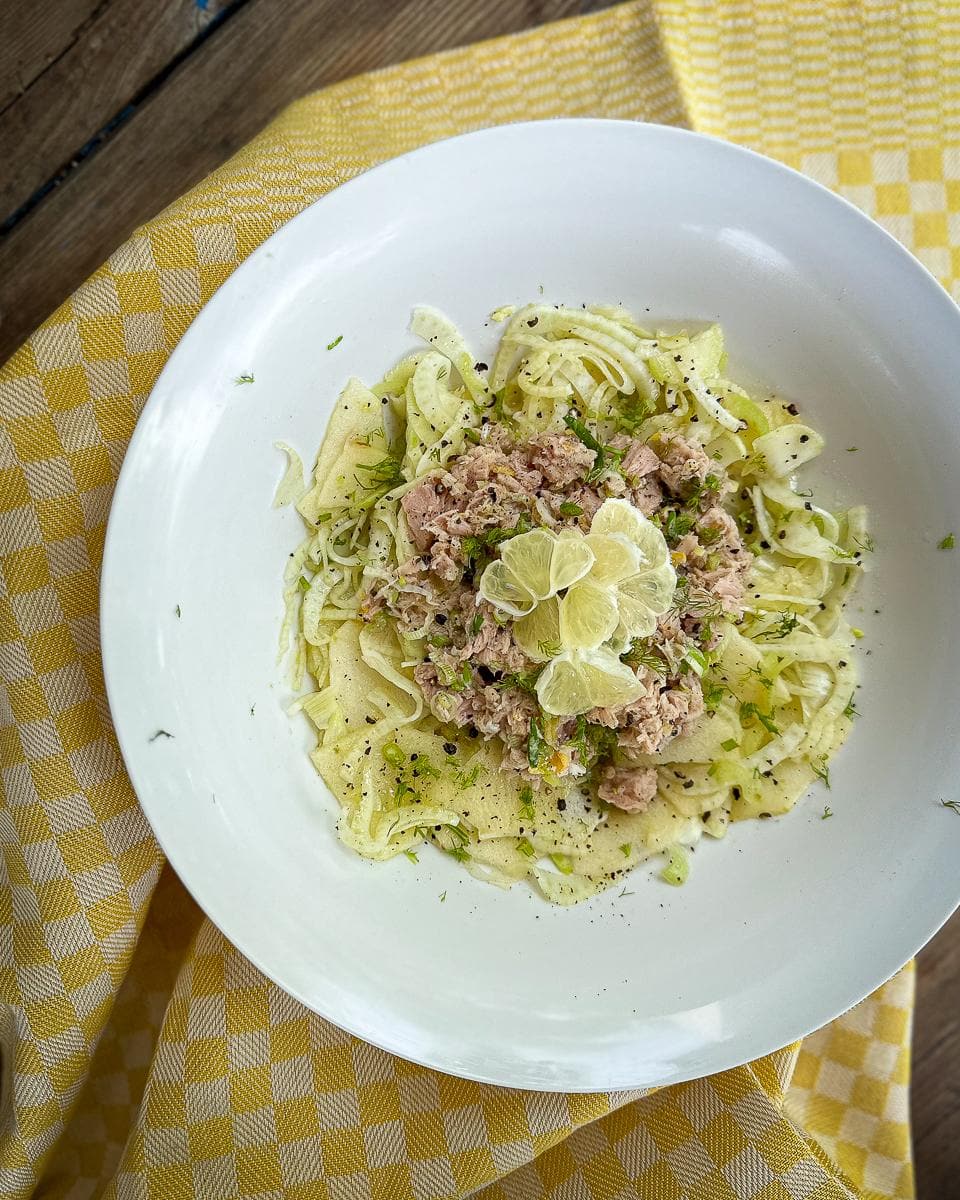 The Tinned Fish Trend
Tinned fish is quite a trend now. It's easy, has a long shelf life and is a rich source of lean protein and omega-3 fatty acids. The tinned fish I have mentioned here are only the tip of the iceberg. You can buy everything from smoked oysters and mussels to cod liver, flavoured with every type of spice and chilli or tomato and garlic. I have used a simple local product, Alonissos tuna, with clear traceability and ethical fishing policies. It's also close to home.😀
We always have a small tinned fish collection in the cupboard. The boxes and tins are always beautiful and irresistible. It is our go-to emergency mezze if guests arrive unexpectedly. 😉 A small plate of tinned fish, a few olives – maybe tomato or two, a few sliced cucumbers and an icy tsipouro! What is now, for us, often seen as delicacy is the same menu for guys working on the land. An affordable, protein-rich snack packed into an easily transportable tin. It was first invented during the Napoleonic Wars as a cheap, easy and long-lasting way of feeding the soldiers. The canning method was perfected later and then massively expanded by the Portuguese during both World Wars for the same reasons.
Let's hear it for tinned fish.🐟
Lots more salad ideas here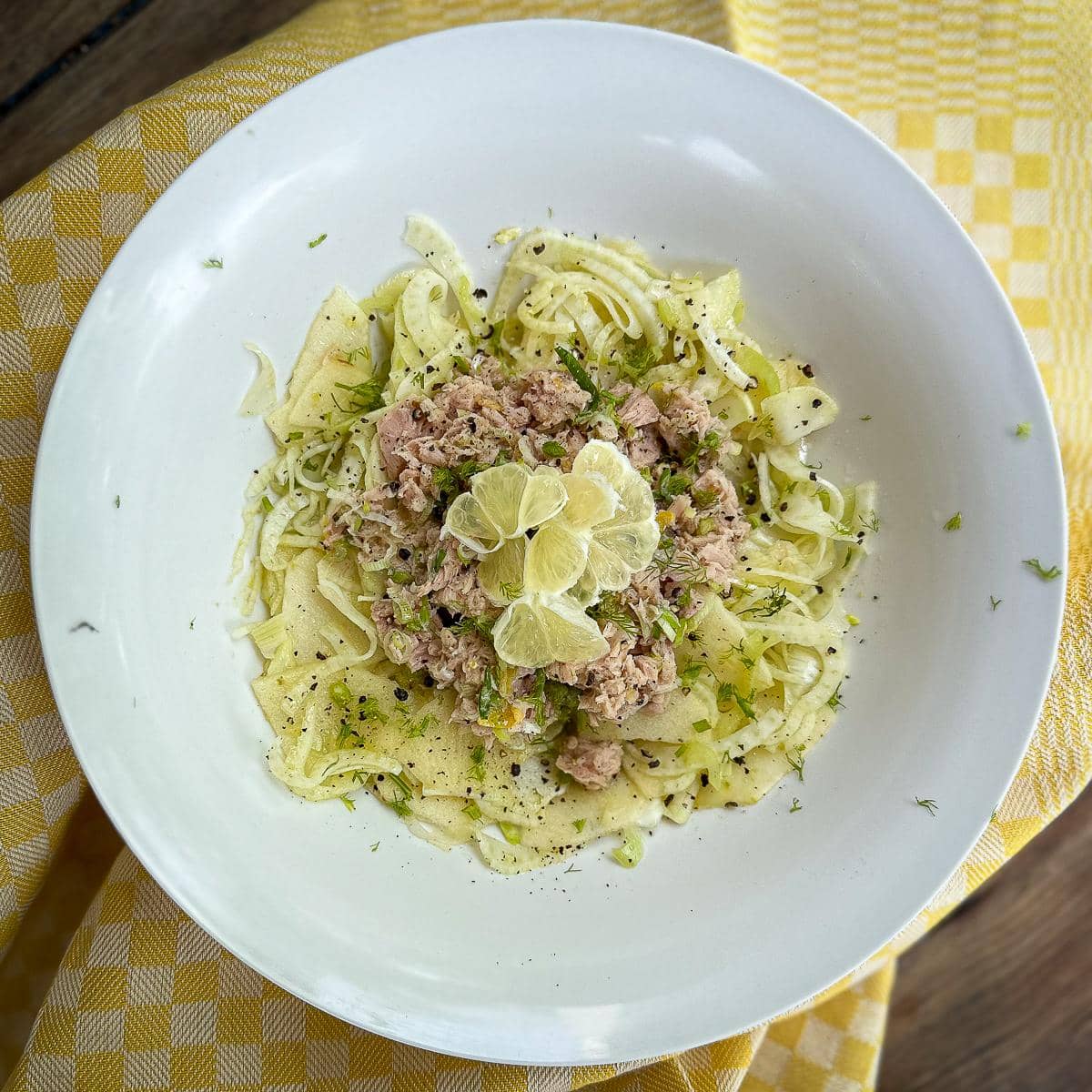 Tuna and Fennel Salad
Wafer-thin slices of fennel and apple topped with spring onions, tuna and lemon, olive oil and mirin dressing.
Print
Pin
Rate
Equipment
1 Mandolin slicer or food processor with fine cutting blade.
Ingredients
1

very large – or 2/3 small

fennel bulb(s). Ideally choose one that has plenty of fronds on the top of the bulb!

save two generous pinches of fennel frond for the tuna and to decorate

1

large or 2 small

apple(s) – Braeburn is ideal

3

spring onions

1

pale green salad pepper – 'katsika' or goat pepper*

optional

½

banana chilli pepper

1

tsp

dried fennel powder

1½

lemons – with a thin slice of lemon set aside

1

generous tsp

mirin seasoning

or sweet rice wine or rice vinegar

1

180-200g

jar of tuna in oil or water

olive oil

salt and freshly ground white pepper

black pepper is also fine
Instructions
Zest the lemon. Chop a generous pinch of the fennel fronds. Mix and set aside.

Squeeze the juice from the zested lemon and add to the food processor or salad bowl in which you will slice the fennel, apple etc. Add an equal amount of olive oil.

Finely slice the apple. If it's organic – there is no need to peel it. Toss the apple in the bowl to cover it in the sauce to prevent it from browning. Continue slicing the fennel, including the rest of the fronds, the peppers and two of the spring onions. Empty the contents of the food processor (not necessary if using the mandolin!) into the salad bowl and toss well with a tsp of dried fennel and mirin seasoning: cover and refrigerate to marinade.

Strain the tuna (if in water) and mix it with freshly ground white pepper, very finely chopped spring onion and the zest mixture. Add olive oil and juice from the remaining lemon to taste.

When you are ready to serve – remove the salad from the fridge. Check for seasoning. I don't add salt, but add, if it needs it, together with more ground pepper/oil and lemon juice again if it needs it. Decorate with remaining fennel fronds and your reserved slice of lemon – delicately remove the peel and the pith, leaving you with small triangles of lemon to decorate the tuna. Serve with crusty bread or rice salad.
Notes
*

'katsika' or goat peppers

are readily available from May onwards—a sweet pepper with a slight bite that is perfect for salads. If unavailable locally, maybe replace it with finely sliced celeriac juliennes (matchsticks) but don't use green bell peppers. I think they would spoil the flavour. If you choose celeriac, it will need at least 30 minutes of marinating.