Cold soups – such as gazpacho- embody summer—inexpensive fresh ingredients to conjure up a quick, easy, light, but filling dish.
Buoyed by a wonderful trip to Madrid – I am having a Spanish moment. Where better place to start than the gazpacho recipe, a traditional Andalusian dish popular throughout Spain. In Madrid, we were treated to cold glasses of this gorgeous soup with nearly every meal.
Preparing Gazpacho
It only takes a few minutes to prepare, a big bonus during peak summer, but you must leave it in the fridge for a few hours to thoroughly chill. Use fresh, preferably vine-ripened heirloom tomatoes; the more ripe, the better. Peak summer varieties shouldn't have the white core – but if they do, remove it.
Chop everything in advance – you don't have to peel the tomatoes, but you must peel the cucumber, or the soup will be muddy, brown and bitter! I would advise against green bell peppers – they are also sometimes bitter – opt for something like the pale green Italian/Greek long salad peppers or a yellow/ red pepper if you can only find bell varieties. For a little spice, add a mild fresh chill pepper.
Traditional Andalusian Gazpacho with Stale Bread
This gazpacho recipe doesn't add stale bread (even though the original Andalusian Gazpacho was only stale bread without the vegetables) because all the gazpacho soups I tasted in Madrid were pure vegetables. Having said that, if you want to make something more substantial for lunch, add a couple of slices of simple day-old bread (soaked in little water). Add a pinch or two of cumin for a slightly earthier taste.
Once you've perfected your recipe – swap some of the tomatoes for a little watermelon or a handful of strawberries—a good idea if your tomatoes are not as ripe as you would like.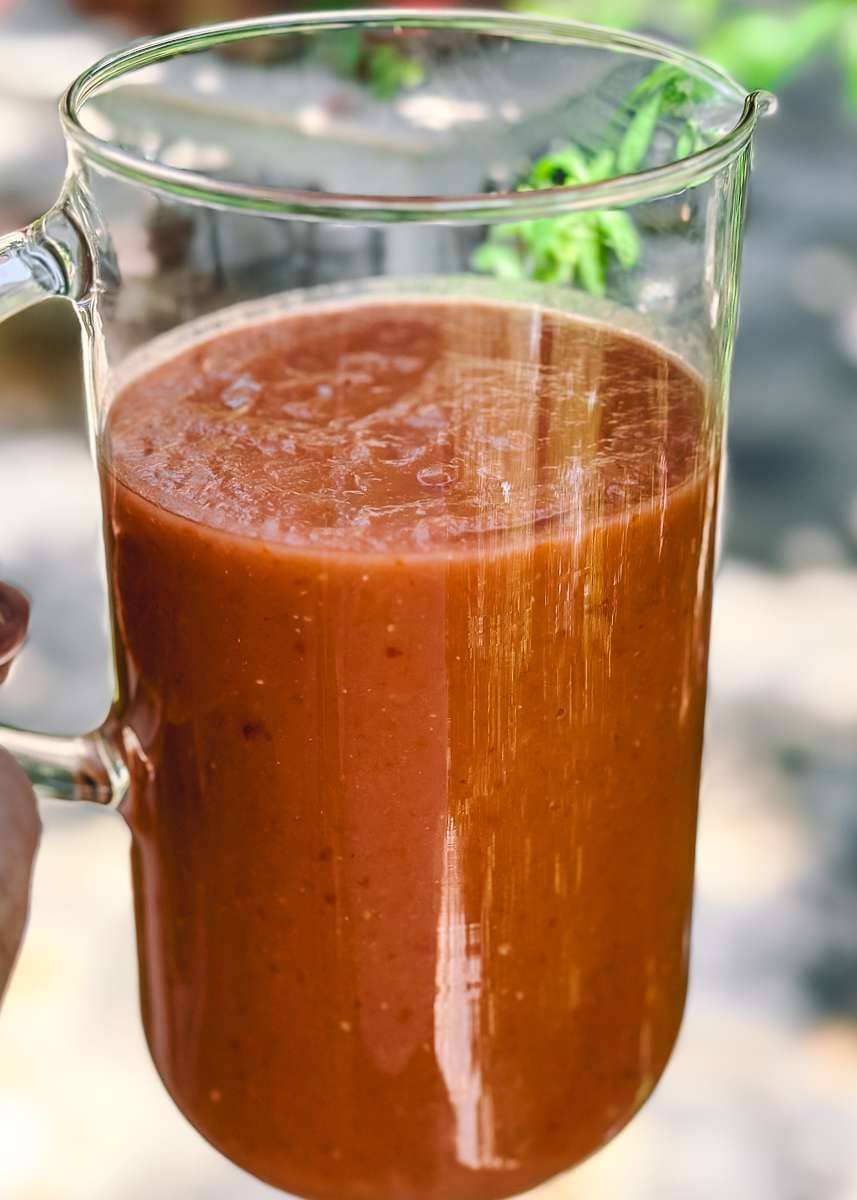 Serve Chilled over Ice
Once you've pureed all the ingredients – with the motor turning, drizzle in the olive oil until the gazpacho is emulsified. I tend not to add water at this stage but chill the soup and then pour over ice cubes. Again, this is a matter of taste as to how thick you want your soup to be. Certainly, if you serve in a glass with a straw, you may need to blend in a little water. The soup can be pushed through a fine sieve or passatutto (food mill) if you want it smoother 😁. Traditional gazpacho is not iced but chilled – refreshing and thirst-quenching. Though not traditional, the ice trick is a clever way of keeping it chilled 😉.
Finally – the garlic. One large garlic clove is enough for a subtle garlic hint – remove the green stem to avoid bitterness. Add more if this is not garlicky enough for you!
Garnish the soup with chopped peppers/tomatoes and onion or boiled egg or a little chopped ham, or simply a little fresh mint or basil. Don't be tempted to add fresh herbs when you puree the soup, or you will lose the magnificent reddish-pink colour. Finish with a little drizzle of olive oil – grinding of black pepper, and a pinch of salt.
For more summer inspiration – click here .😁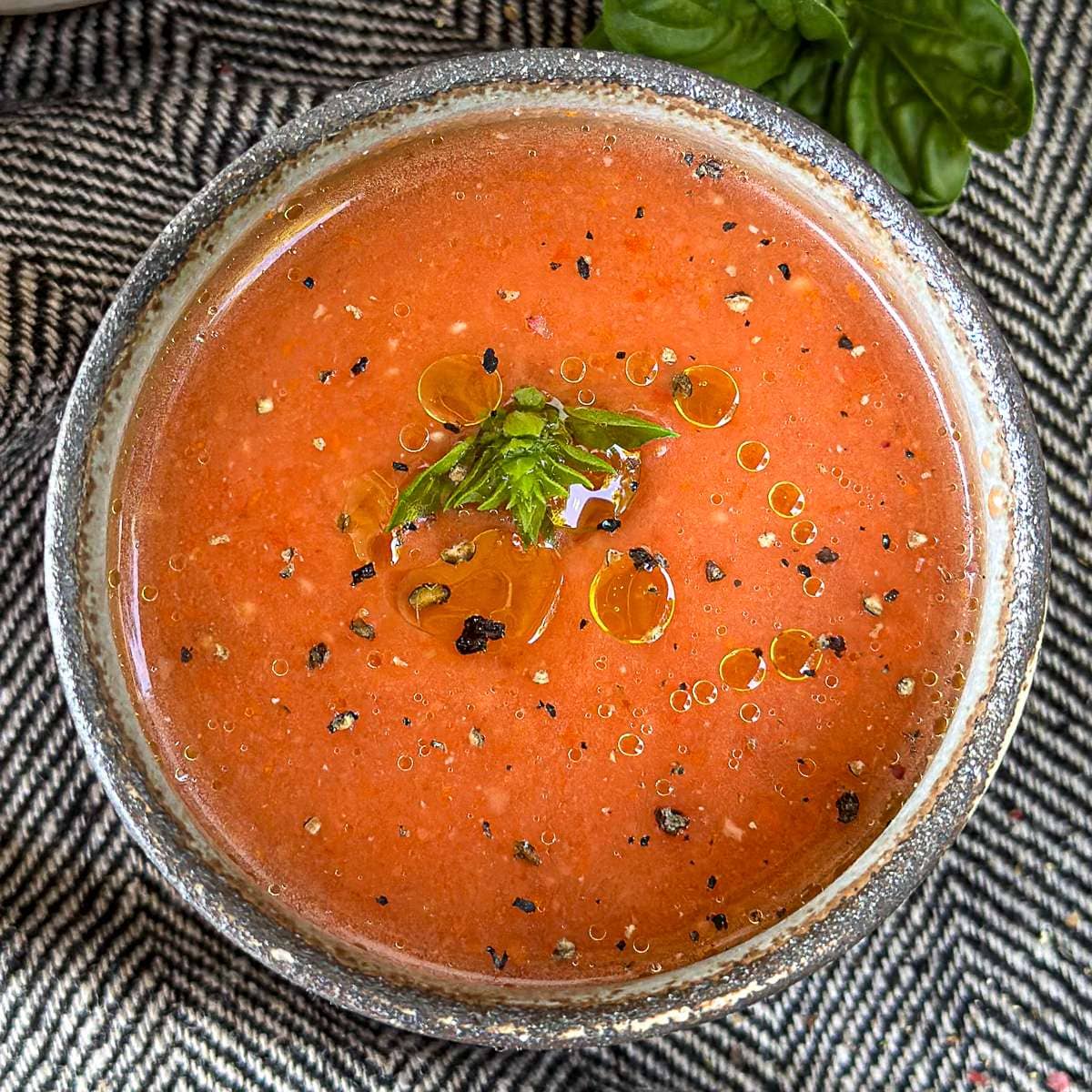 Gazpacho
A thirst-quenching burst of summer. Tomatoes, garlic, peppers, cucumber and onion blended into a silky smooth chilled soup. Easy and quick to make.
Print
Pin
Rate
Ingredients
1

k

tomatoes – preferably heirloom and vine ripened

1

green

long green salad pepper

1

large

cucumber – peeled

1

medium

sweet onion

1

clove

garlic

1

tbsp

sherry vinigar

75-100

ml

extra virgin olive oil

½

tsp

salt

2

slices

simple day-old bread soaked in a little water – don't use sourdough or wholemeal bread as it will overpower the soup.

optional

Garnish; boiled eggs, chopped ham, chopped peppers/cherry tomatoes/cucumber/ham, croutons or fresh herbs.

optional
Instructions
Roughly chop all the vegetables, removing any tomato cores if necessary. Reserve a tablespoon of cucumber, onion and pepper for the garnish – if desired.

Blend the onions, garlic, cucumber and pepper.

Add the tomatoes (bread if using), vinegar and salt and blend until smooth.

With the motor turning, drizzle in the olive oil until you achieve a silky and smooth emulsion. Usually, you need about 75-100 ml of olive oil.

You can balance with a little more salt now, but you may want to wait until the soup is chilled and then add, if necessary, a little cold water and salt before you serve.

*Serve chilled either in a bowl. Decorate with the diced vegetables, a boiled egg, a little chopped ham, croutons or fresh herbs.

If serving in a glass, perhaps only a drizzle of olive oil and fresh herbs.
Notes
*Garnishes vary depending on the region in Spain, but it is really up to you. You may want to add chopped ham,  a sliced boiled egg, or croutons if it is a lunch dish.   
I prefer diced vegetables or, if it is in a glass, just a little mint or basil. Especially if you add bread – gazpacho is surprisingly filling – lots of fibre.
Once chilled, the cold soup tastes quite different – so it is best to wait and adjust the seasoning.