Rabbit stew has long been a mainstay across Europe, and for a good reason, rabbit is lean, nutritious, sustainable, and so easy to cook. I recommend getting the butcher to prepare it for you, cutting it into 6-8 pieces. It would be best to have an excellent heavy-based pan with a tight-fitting lid that easily takes all the meat without overlapping.
Ingredients for Rabbit Stew
Previously, I have always used Antonio Carluccio's recipe with artichokes and green olives, from (I think) his book Antonio Carluccio's Italian Feast. I can't find the original recipe, so I've improvised with a few additions to give it a festive winter feel. The green olives are in the original recipe (olives and rabbit are a fabulous combination). I've added brandy-soaked prunes for richness, then gremolada sprinkled over the top. When the artichoke season comes around, you can always switch the prunes for a more spring-like flavour.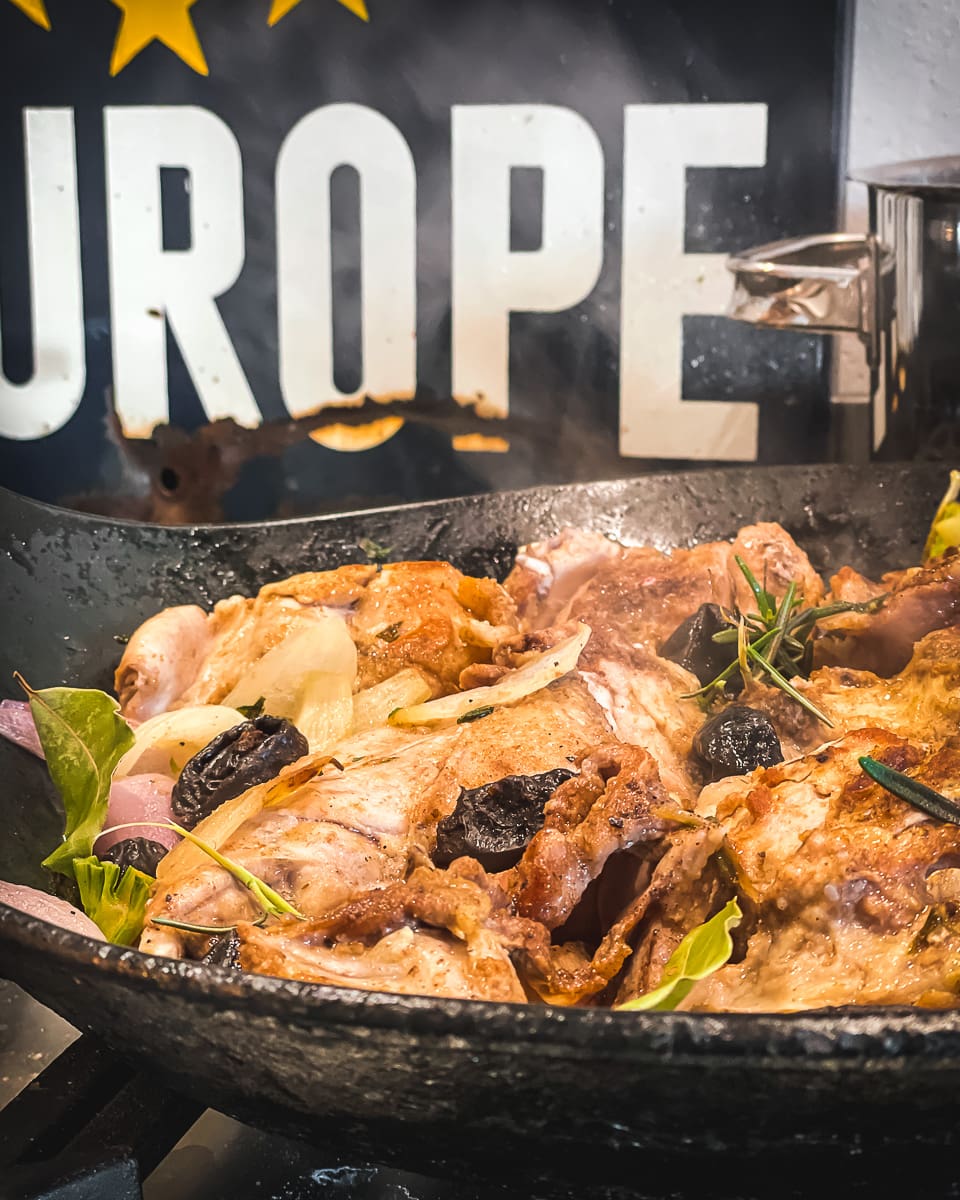 Rabbit Stew with Rosemary, Prunes, and Green Olives: There is nothing complicated about this recipe apart from a bit of time and patience. You start by cooking the rabbit in its juices, only adding the wine when the meat softens. It would be best to keep an eye on it early to ensure it doesn't stick. It must cook slowly.
Make a Ragu with the Leftovers
The best part is using the leftover stew, which you can use to make a ragu and serve with large pappardelle pasta. De-bone and chop the meat, and heat it in the remaining sauce. You may need to add a little more wine or passata to extend it. A perfect go-to supper; freeze the de-boned meat and sauce and have a ready-made mid-week meal.
Enjoyed this? Check out some of our other delicious soup and stew recipes here.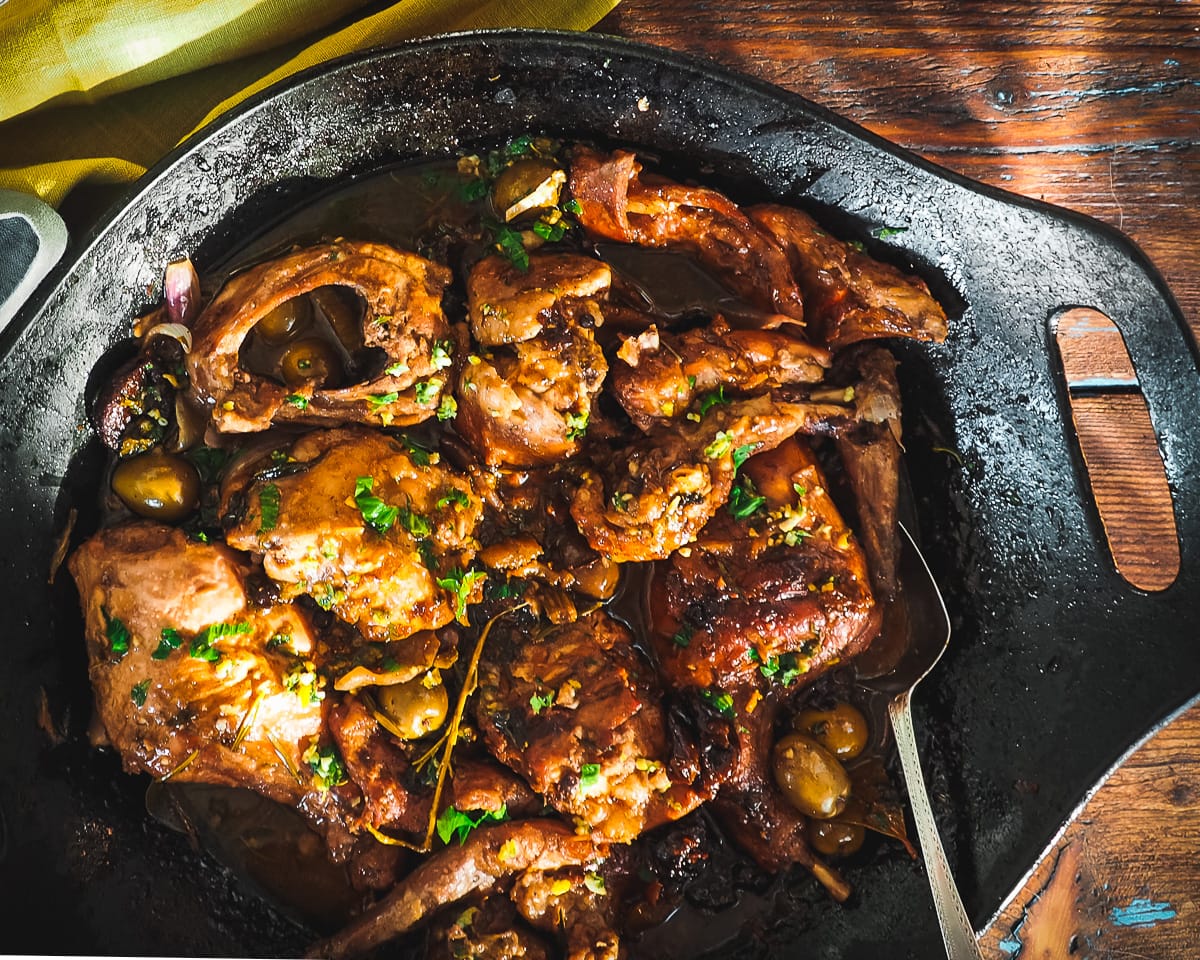 Rabbit Stew with Rosemary, Prunes and Olives
White wine, prunes, rosemary and all-spice make for a tasty slow cooked rabbit stew topped with a zesty gremolada. Rabbit is one of the leanest, most nutritious and sustainable meats.
Print
Pin
Rate
Equipment
Heavy-based casserole dish
Ingredients
For the Rabbit Stew
1-1.5

kilo

rabbit cut into about 8 pieces, if you are using the head split in half.

Ideally get the butcher to do this for you, keeping the liver to chop up and add to the sauce.

3

tbsp

flour to dust the meat

2

large

yellow onions each cut into 4-6 wedges

3

branches

celery, finely sliced, including the leaves of 2 branches

1

carrot, finely grated

3

cloves

grated garlic

1

tbsp

allspice, lightly crushed

80-100

ml

hot vegetable stock or water

1

chopped fresh tomato

150ml if using tinned chopped tomatoes

1

tbsp

tomato paste

2

bay leaves

2

small branches

rosemary

200

ml

white wine or light red

150

g

prunes soaked in 50ml brandy, wine or tea

olive oil

salt and freshly ground black pepper

handful green olives
For the Gremolada
1

tsp

grated lemon peel (no white pith!)

½

tsp

finely grated garlic

1

tbsp

finely chopped parsley or young celery leaves
Instructions
Soak the prunes in brandy or wine the night before or a couple of hours before you intend to cook.

Toss the rabbit pieces in the flour with a generous grinding of black pepper and a little salt

Gently cook the onions in a little oil until they are soft, add the celery, grated carrot and allspice. Cook for another 5 minutes and add the garlic. Push the vegetables to the side, add a little more oil and brown the rabbit meat on both sides. Mix the rabbit back with the vegetables and arrange it over the base of the casserole so the pieces are not overlapping.

Tuck in the rosemary, bay leaves and prunes, pour over the hot stock or water, mixing in the chopped tomatoes and puree. Cover tightly. Bring to the boil and then cook gently for about 30 minutes or until all the water has evapourated. Turn a couple of times to prevent burning.

While the rabbit is cooking, prepare and then combine the gremolada ingredients evenly. You can pulse in a mini-mill but if you have chopped them finely, its perfect.

Add the wine (or more stock if you prefer to omit the wine). Bring back to boil briefly and then simmer for a further 30 minutes. Again with the lid tightly closed. You want the meat to gently simmer in the sauce until just coming off the bone. Add the olives 10 minutes and the gremolada 2 minutes before you intend to serve.

By all means cook in advance and then gently re-heat, (adding 1 or 2 tablespoons of water if needed); if reheating, add gremolada at this stage.

Serve with polenta, tagliatelle or creamed celeriac and potato and a big green salad with a mustard dressing or big portion of leafy steamed greens such as kale or swiss chard.

Any leftover sauce makes a fabulous ragu to toss into tagliatelle. Take all the remaining meat off the bone, roughly chopped and reheat in the sauce. Loosen with a little more wine or stock. Serve with plenty of grated parmesan.
Notes
Many articles are extolling the virtues of rabbit meat, its sustainability and nutrition value; an interesting article here.
If you can buy rabbit locally, it certainly ticks the sustainable box; it also is incredibly lean and tasty and often, not expensive.