Easter is not Easter without a Lemon Meringue Pie.
This recipe is the genius of my youngest daughter Frankie. She has been making her famous lemon pie for family and friends since I can remember. Until now, the recipe has remained her secret. I feel very privileged that she has permitted me to publish her infamous Lemon Meringue. Mainly because she will be away, she is leaving the enormous responsibility of serving her amazing Tarte au Citron Meringuée on Easter Sunday to me. I have a week to practice before the Greek Orthodox Easter. Trust me, if you need a go-to dessert for Easter Sunday – this will not disappoint.
It has many disguises, sweeter – more lemony sometimes with a stronger hint of orange and with or without meringue.
The Lemon Curd Filling
Lemon Meringue Pie (Tarte au citron meringuée) is a classic, but it is often too sweet. The point is lemon. I found a delicious-looking recipe in Larousse Gastronomique (Hamlyn 1988 edition). Here the filling is egg, sugar, lemon, and ground almonds. Traditional lemon meringue is often made with flour and cornstarch-based lemon custard filling. This can be sickly sweet and doesn't do justice to its star attraction, le citron. 🍋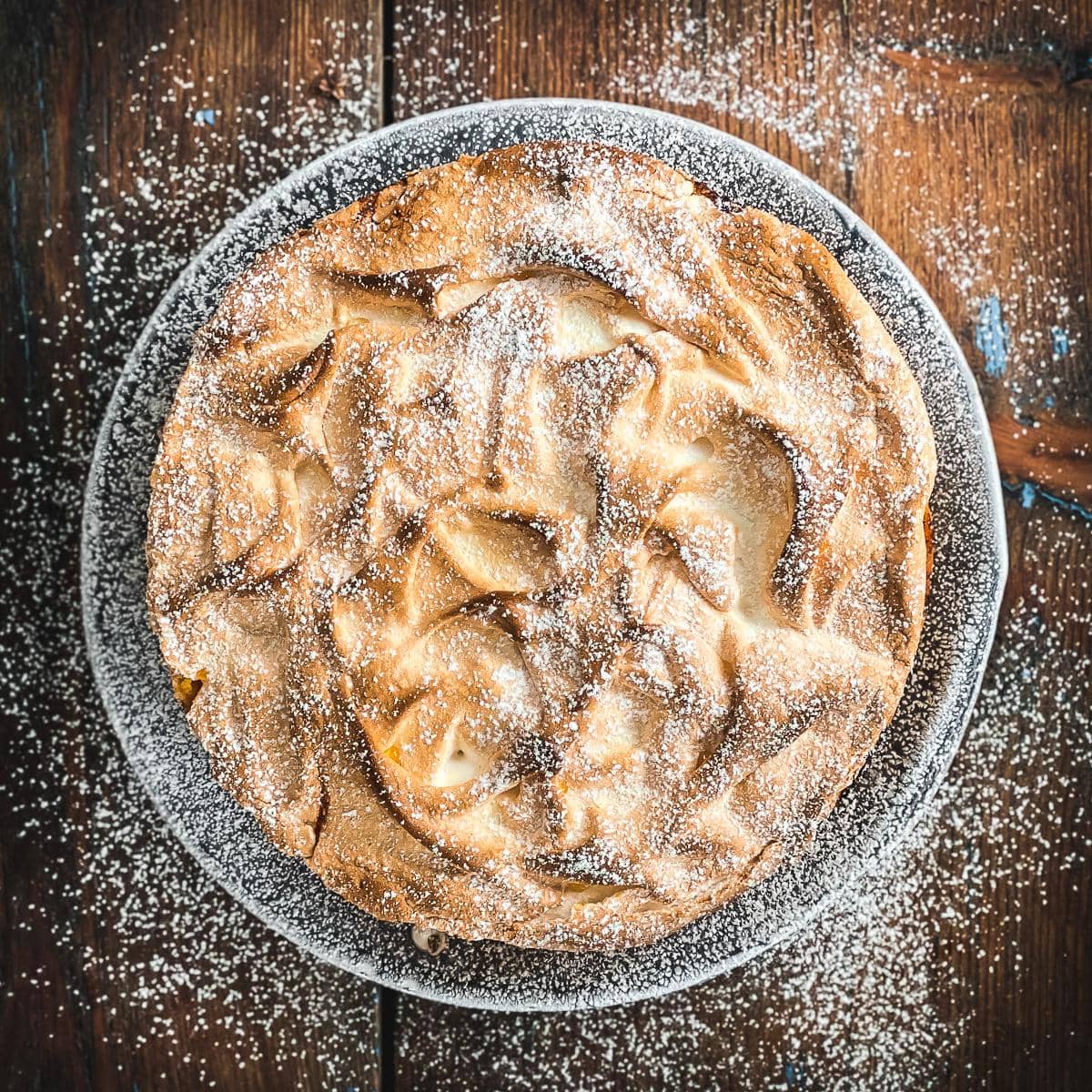 Frankie's version combines the classic French pâte sablée with a very English Lemon curd. Her version is sweetened with a bit of sugar and orange zest preserving the natural lemon flavour. You can then top it with a dusting of icing sugar, or meringue or revert to the Larousse and decorate with thin lemon slices cooked in sugar syrup. It could be straight from a French Pâtisserie.
The 'Pâte Sablée' Pastry
It is relatively simple to make; pâte sablée is easy in a mixer or by hand, and lemon curd only requires a little patience and a watchful eye. Bake the pastry in advance, but be sure to use the lemon curd while still warm or gently reheat it.
As a gentle nod to the Larousse recipe, I have added an option to add my touch; I have replaced a couple of tablespoons of flour with finely ground almonds (almond flour) but feel free to stick to the original recipe! Adjust the sugar to your taste; the pasty has an almost shortbread quality and can be sweet if the filling is kept tart. Also, if you have a favoured pastry, use your recipe, pâte sucrée or sweetened shortcrust, but keep it thin, fine and crisp.
I will make this again for the Greek Easter next weekend, and so I hope to post some photos of the Lemon Meringue Pie with its Easter decoration. It doesn't need much – maybe just a few fresh flowers.
For more baking recipes, click here.🍋🍋
Lemon Meringue Pie (Tarte au Citron Meringuée)
Classic French lemon tart with sublime lemon curd, almond pastry and meringue.
Print
Pin
Rate
Equipment
23 cm loose based (ideally) fluted flan/tart tin, greased and dusted with flour
Ingredients
Lemon Curd
4

unwaxed organic lemons (juice and zest)

180

g

fine sugar

1

orange – zest only

100

g

butter cut into small cubes

3

eggs plus one yolk (save the egg white for the meringue😁)

pinch

salt
Pâte Sablée
175

g

all-purpose flour (sieved with a pinch of salt)

2

tbsp

almond flour optional – reduce the all-purpose flour by 2 tablespoons if you are using almond flour

100

g

butter (cold), cut into cubes

1

tbsp

icing sugar

1

large

egg yolk (save the egg white for the meringue)

1

tbsp

cold water

½

tsp

pure vanilla paste/vanilla powder

pinch

salt
Meringue
4

egg whites (at room temperature)

make sure there is no trace of egg yolk in the whites

200

fine golden caster sugar
Instructions
Pâte Sablée
Either by hand or with a food processor. Rub the flour and butter until you have fine breadcrumbs, and incorporate the sugar.

Whisk together the egg yolk and vanilla and work into the flour mixture until it just comes together. You may well need a little cold water to help it come together. Handle as little as possible.

Gather the pastry into a ball. Leave to cool for at least an hour. Make the lemon curd.

Line your tart tin with the pastry, prick the base and blind-bake in a pre-heated oven at 160° c for 20 minutes or until lightly golden. Ideally, lift out the baking beans after 10 minutes to allow the base to cook.
Lemon Curd
In a heatproof bowl, put the orange zest, lemon zest and juice, butter, salt and sugar and set over a pan of hot water.

In a separate bowl, whisk together the eggs and egg yolks.

Once all the butter has melted, slowly add the egg mixture, whisking gently to thoroughly incorporate it into the butter. Cook, over a gentle heat, for 12 minutes or until the curd has thickened. Stirring occasionally.

Don't forget to blind-bake your pastry shell 😁

Remove the lemon curd from the heat, set it aside, and keep warm.
Meringue (optional)
Once the pastry case has cooled, you can make the meringue.

Whisk the egg whites and sugar, in a sqeaky clean glass bowl, until holding their peaks. Stiff and fluffy – about 10 minutes.
Assembling the Tart
For Lemon Tart only, fill the cooled tart base with the warm lemon curd and bake, on the middle shelf, in a preheated oven at 180°C for 20 minutes.

If adding meringue, fill the tart base as above, then immediately spoon the meringue around the edge of the tart working from the outside in. The meringue should just touch the pastry shell. Bake straight away in a pre-heated oven, on the middle shelf, at 180°c for about 18-20 minutes or until the meringue is slightly hard and golden.
Notes
Don't be put off by what seem to be complicated instructions.
Each element is straightforward, but you need to give each stage time and be patient. Let the pastry rest for an hour before blind-baking and cool before adding the curd. Don't rush the butter melting for the curd. Set it over a bowl of hot water and leave it to melt. Don't heat it, or the eggs will curdle. Only start over a very gently heat once the eggs and butter are thoroughly incorporated. Stir occasionally!
Add the meringue from the outside in so you don't collapse the pie. The meringue must touch the pastry.  It holds it together and will give you a prettier result!
Recipe by @fpnwork.