My version of the infamous 'Chicken Chettinad'. Sometimes referred to as Pepper Chicken Chettinad, a chicken curry dish originating from its namesake, the Chettinad region in Tamil Nadu. If you are not already familiar, it is a beautiful 'curry' balancing spicy and aromatics perfectly. There are a thousand recipes for this dish. However, none can be truly authentic without the magic ingredient, Kalpasi (Black Stone Flower). A significant element in Tamil cooking. It's highly sought after and relatively difficult to source, but no stress, it's still delicious without😉.

The list of spices is long, but please don't be put off. It is well worth it, and if you don't feel like roasting and grinding your spices go for my cheaty Chicken Chettinad version with ready-ground spices😁. In other words, the same method but use ground spices instead of roasting and grinding your own. I've used chicken breast here, but I usually chop up a whole chicken. Wherever possible, I always use the whole chicken – the bones add to the flavour. Once you've made the masala, it's quick to put together.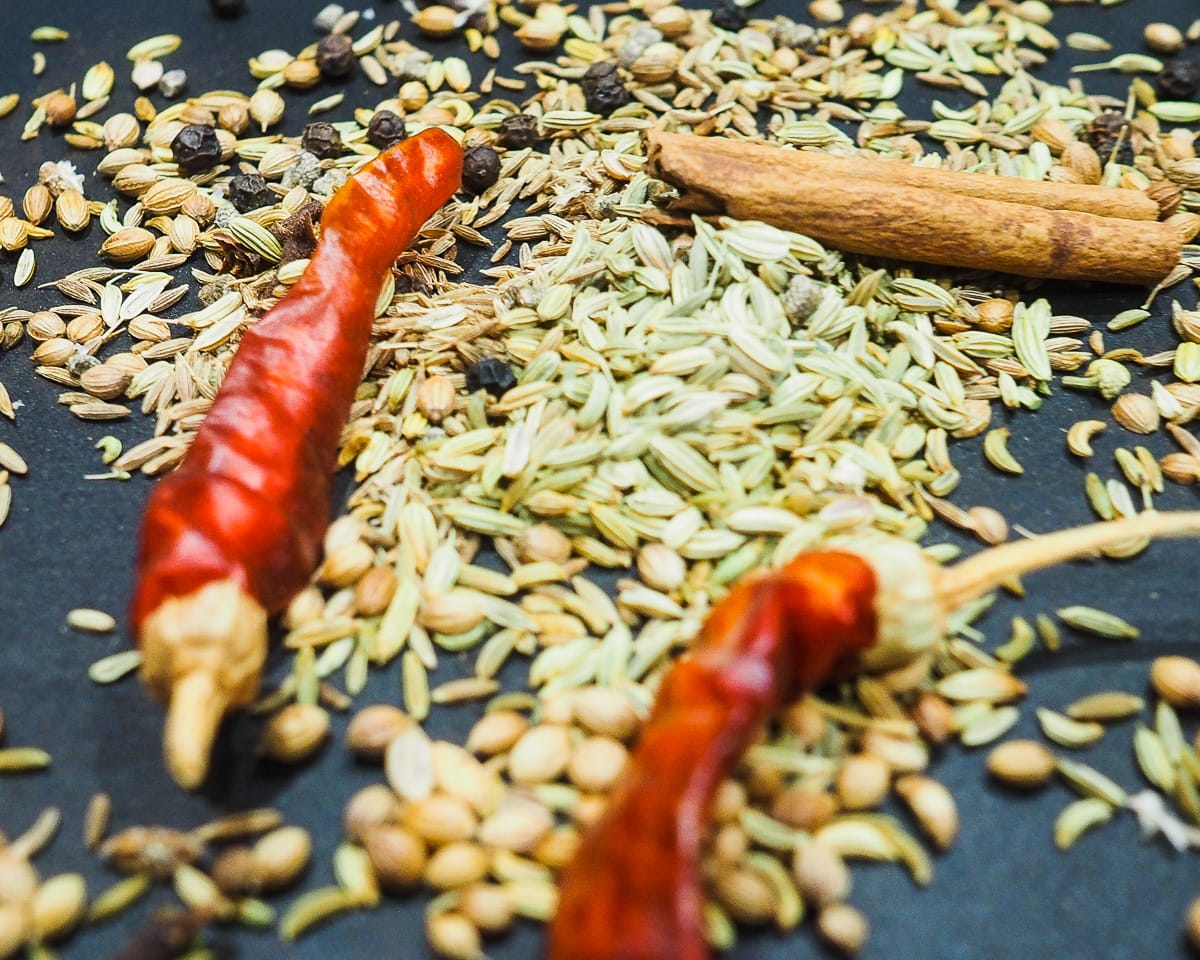 I have eaten a fair few Chettinads; some are very spicy, and some are not. In my experience, the food in this area has a zing but don't let the 'chilli hot' flavour overwhelm the dish. Like many of the 'curries' in this region, it has a distinctive and complex flavour. Here in lies the art of perfecting the perfect Chettinad, balancing the flavours with no one spice dominating.
Don't skip the initial marinade. The yoghurt may make the 'final' gravy split. The trick is to whisk in a bit of flour. A teaspoon is all you need, and your sauce will be perfect. Turmeric is widely used in India. I love the flavour, but it can be overpowering so go sparingly! It is also a cornerstone of Ayurvedic medicine. One thing I learned is its use in marinades may help decrease the number of bacteria in the meat. This article seems to bear that out.
This Chicken Chettinad recipe is my version. A process of experimentation with tips from my visit to the region and referencing published recipes. So a big thank you to Keralaslive, closely resembling my notes.
For more Soups and Stews, click here.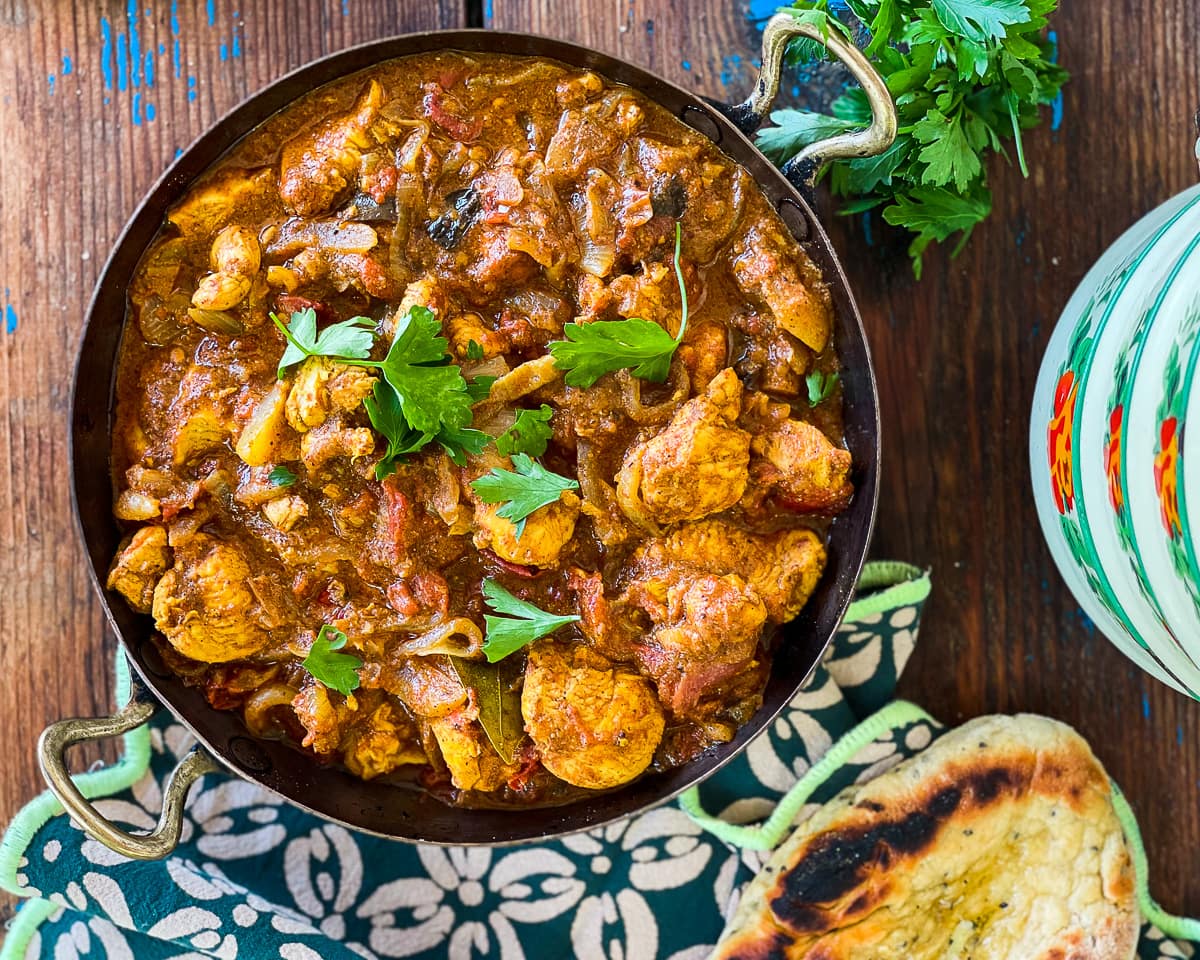 Chicken Chettinad
Originating from the Tamil Nadu region, Chicken Chettinad is a beautiful 'curry' balancing spicy and aromatics perfectly.
Print
Pin
Rate
Ingredients
Main Ingredients
500

g

chicken breast or ½ a chicken cut into pieces

3

onions

3

large

tomatoes, roughly chopped. Peel the tomatoes if you prefer the sauce without tomato skins.

Use ripe tomatoes or canned tomatoes out of season

1

green chilli finely chopped

bunch

fresh coriander (save a few stems to garnish)

7-10

leaves

curry

1

leaf

bay

5

cloves

garlic – roughly chopped. About two teaspoons

4

cm

piece of fresh ginger – roughly chopped. About two teaspoons

2

petals

star anise

½

tsp

salt

oil of your choice – traditional would be coconut or gingely
Chicken Marinade
½

tsp

turmeric powder

½

tsp

chilli powder

1

tsp

ginger-garlic paste

1

lime juiced (1 tsp for the ginger-garlic paste)

2

tbsp

yoghurt (whisk in ¾ tsp flour to stop it splitting when heated)
Chicken Chettinad Masala
3

tsp

poppy seeds

5

tsp

coconut flakes

5

dried red chillis

3cm

cinnamon

3

tsp

coriander seeds

2

tsp

fennel seeds

1

tsp

cumin seeds

2

tsp

black peppercorns

3

cardamom pods

2

cloves

2

mace blades

optional

pinch

nutmeg
Instructions
Step One: Ginger-Garlic Paste
Put a tsp lime juice or water into a mini food mill, add the two teaspoons of garlic and two teaspoons of ginger and mince into a thick paste. Add one tsp paste to the chicken marinade.
Step Two: Chicken Marinade
Coat the chicken in turmeric. Mix the remaining ingredients and coat the chicken with the marinade. Cover and put in the fridge. It needs to marinade for about ½ hour.
Step Three: Chicken Chettinad Masala
Put all your spice ingredients onto a large plate in small groups so you can check everything is there. Dry roast all the spices except the coconut. Add the larger seeds and cinnamon first, then the poppy seeds, cardamom, mace and nutmeg. Roast on low heat in a heavy-based pan. Be careful not to burn. Simply draw out their aromas.

Dry roast the coconut separately until golden. Don't burn!

Leave to cool, and then grind all the spices, including the coconut, to make the Chettinad Masala powder.
Step Four: Cooking the Chicken Chettinad
Saute, in the oil of your choice, the onions, curry leaves and bay leaf until the onions are translucent and soft. Add three teaspoons of ginger-garlic paste and green chilli. Cook gently until soft.

Add half to three-quarters of the masala mix, star anise petals, plus a splash of water. As soon as the water has evaporated, add the chicken. Seal the chicken on all sides.

Again let the liquid evaporate; add the chopped tomatoes and ¼ tsp salt. Cover and simmer for about 15 minutes when you should start to have a thick, darker 'gravy'. Check the seasoning and add more Chettinad masala and salt to taste. Add a splash of water if it starts to stick.

Total cooking time should be no more than 25-30 minutes. The chicken breast will cook quicker than chicken on the bone.

Garnish with fresh coriander and serve with Naan bread and or rice.