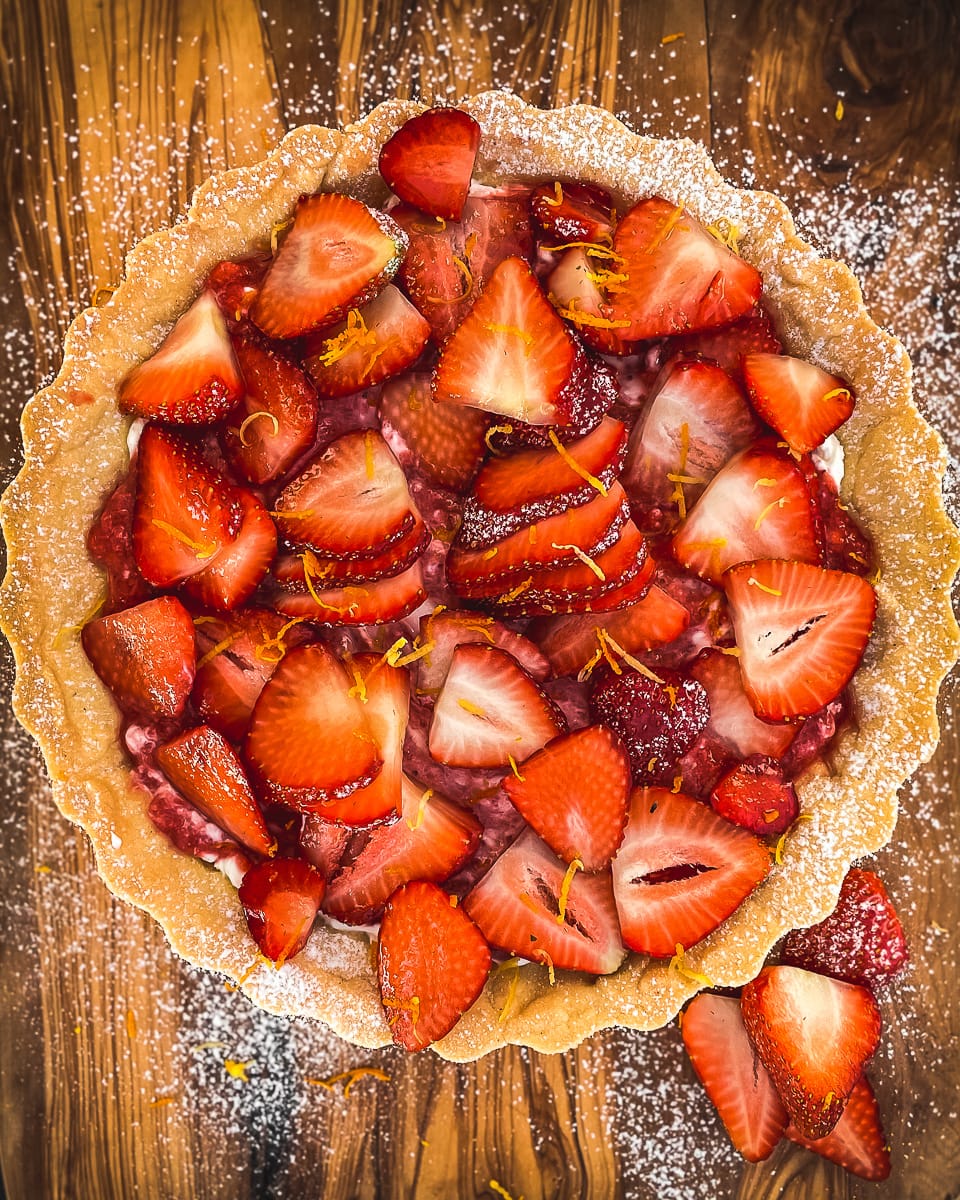 Strawberries and shortbread are always a winning combination. The strawberry shortbread tart is simple and quick to make; the perfect dessert! It has a light buttery but stable shortbread base, which is easy to transport on a picnic or to a friend's house. The recipe works on the classic shortbread formula from Nigella Lawsons's Forever Summer cookbook, of two-thirds butter to flour but with soft butter and a little extra vanilla to enhance the flavour.
Making the Vanilla Shortbread
Ideally, whizz all the ingredients in a food processor until it just forms a ball. Press the shortbread mixture into a fluted loose-based tart tin. Try to handle as little as possible, pushing the mixture into place. Darina Allen has a very clever method of smoothing out the shortbread by covering it with cling film a rolling it into place. Easy with a classic square tin, but you need a mini rolling pin for the tart🙃. The back of a spoon or a plastic spatula works well too. Prick the shortbread and bake for 20-25 minutes or until pale but crips, maybe a little golden around the edge of the crust. Shortbread often has ground rice or even ground almonds added. So if you want a little more bite – by all means, substitute different flours. In this case, you would need 250g of plain flour (no cornflour) and 50g of your chosen alternative flour. It will be a little more crumbly in texture.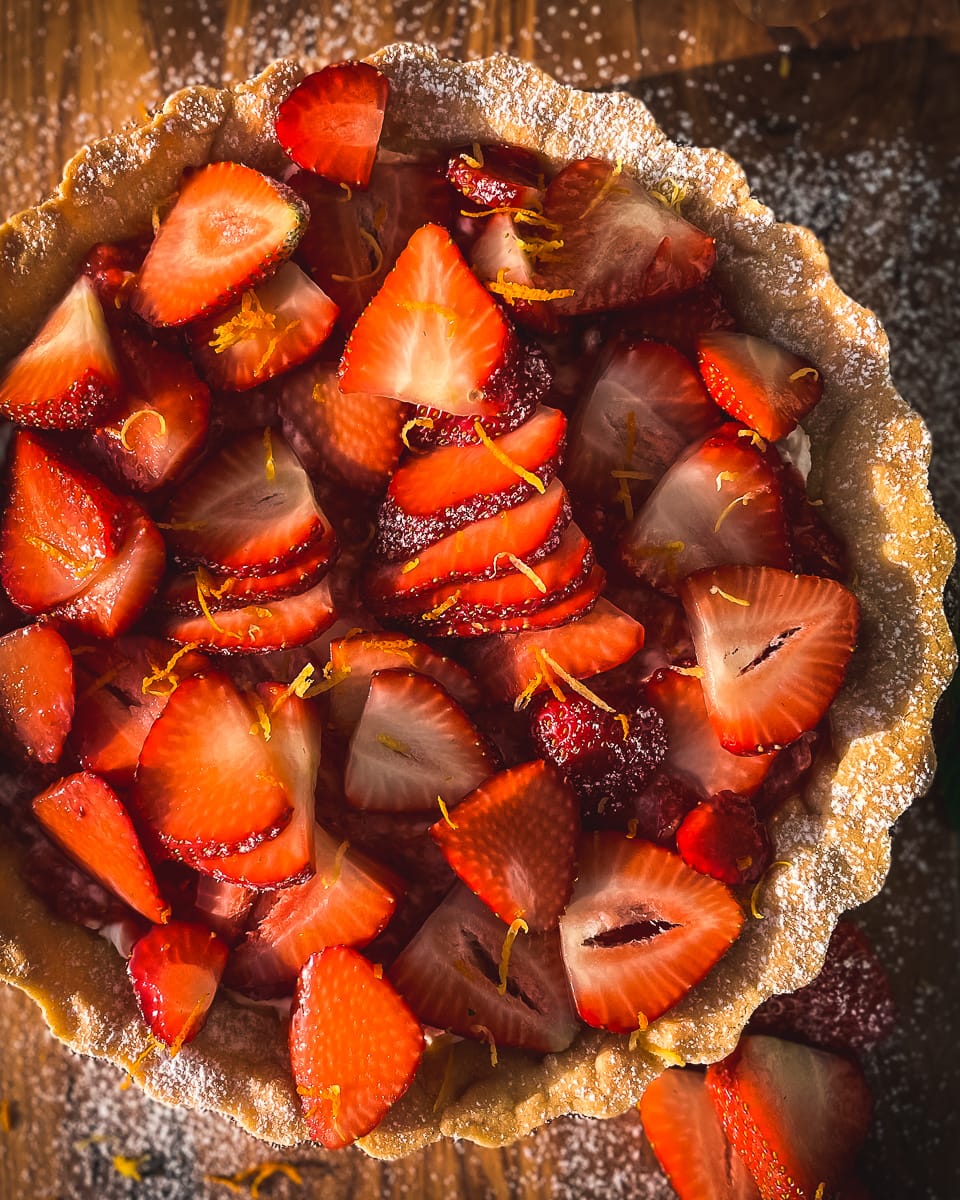 To assemble the shortbread tart, whip equal quantities of mascarpone and cream with half a teaspoon of powdered cardamom and a teaspoon of sugar and top or swirl in the strawberry puree flavoured with orange zest. Finish with a pile of freshly sliced strawberries. Decorate with more orange zest and some fresh mint or basil. My tart is quite 'rustic', but if you want it to look perfect, slice the strawberries first, saving the ends for the puree and reserving the middle sections for the tart. 😉
If you want to take it on a picnic or to a friend's house, make the shortbread base the day before and store it in an airtight container. You can then assemble it when you are ready.
For more baking inspiration, go to the baking section here🍰😁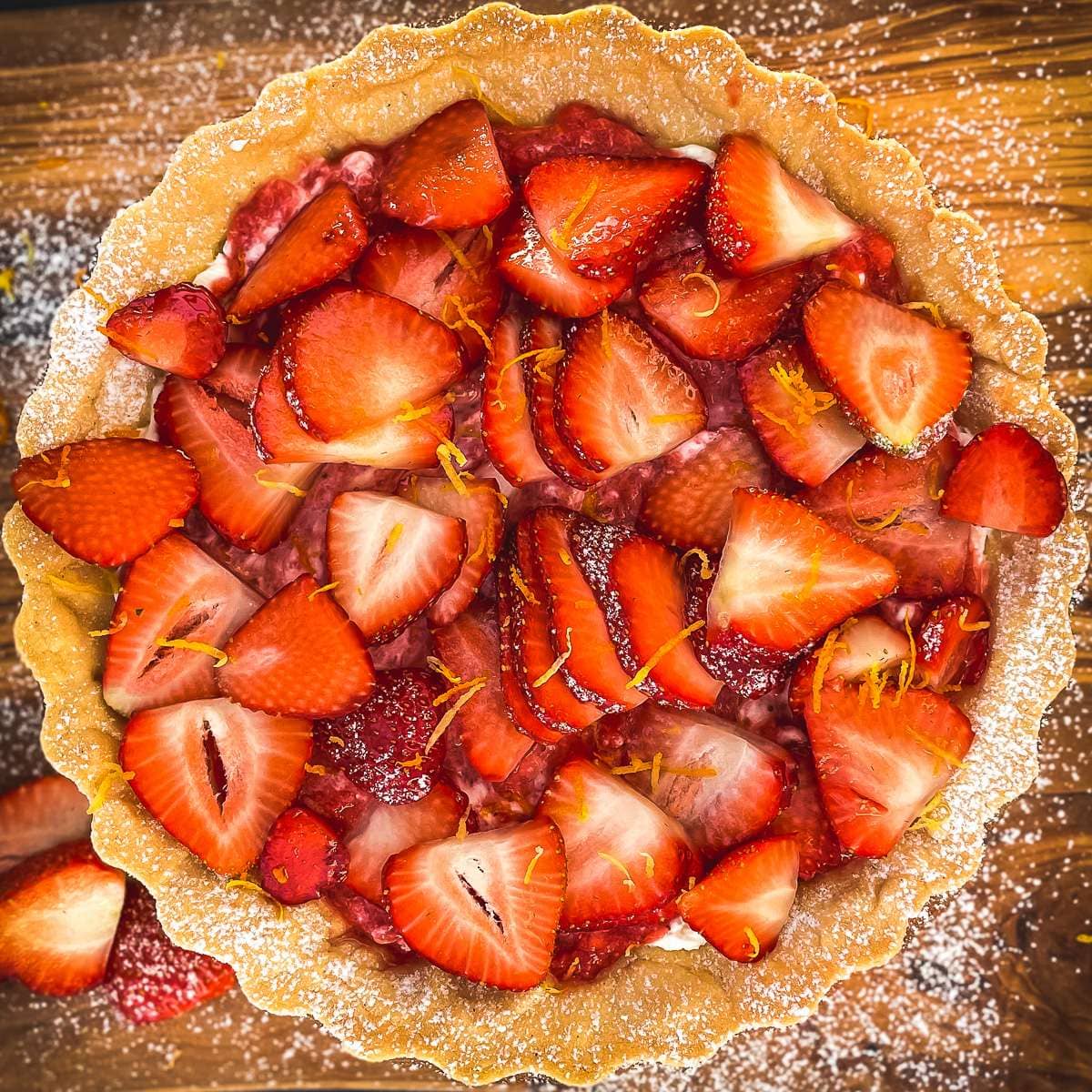 Strawberry Shortbread Tart
A light, buttery shortbread filled with vanilla cream, spiced strawberry puree, piled high with fresh strawberries.
Print
Pin
Rate
Equipment
1 fluted 23cm loose base tart tin
Ingredients
Vanilla Shortbread
200

g

plain flour

100

g

cornflour

100

g

icing sugar (plus a tablespoon for decoration)

200

g

soft butter

1

tsp

vanilla bean paste

pinch

salt
For the Strawberry Filling
500

g

fresh strawberries

200

g

mascapone

200

g

double or whipping cream

1

tsp

powdered sugar

pinch

ground cardamom

optional

zest of one orange
Instructions
Vanilla Shortbread
Pre-heat the oven to 160°C.

Whizz the soft butter and vanilla bean paste in a food processor. Add the sifted cornflour, flour and salt. Process until it just forms a ball.

Gently push the shortbread mixture into the fluted tart tin, prick the base and bake until pale and slightly golden around the crust. Check on the tart after 10 minutes, you may need to turn it to ensure an even golden crust. It should take around 20 – 25 minutes.

Leave to cool and store in an airtight container to assemble later or put it onto your chosen serving dish ready to assemble.
Tart Assembly
Puree half the strawberries with half the orange zest.

Whip the mascapone and double cream with the cardamom and teaspoon of sugar. Cover the base of the tart with the cream and swirl in the strawberry puree. Top with remaining sliced strawberries. If you want your dessert to look perfect. Slice the strawberries saving the ends for the puree and reserving the middle sections for the tart.

Decorate with basil or mint, the remaining orange zest and some powdered sugar.