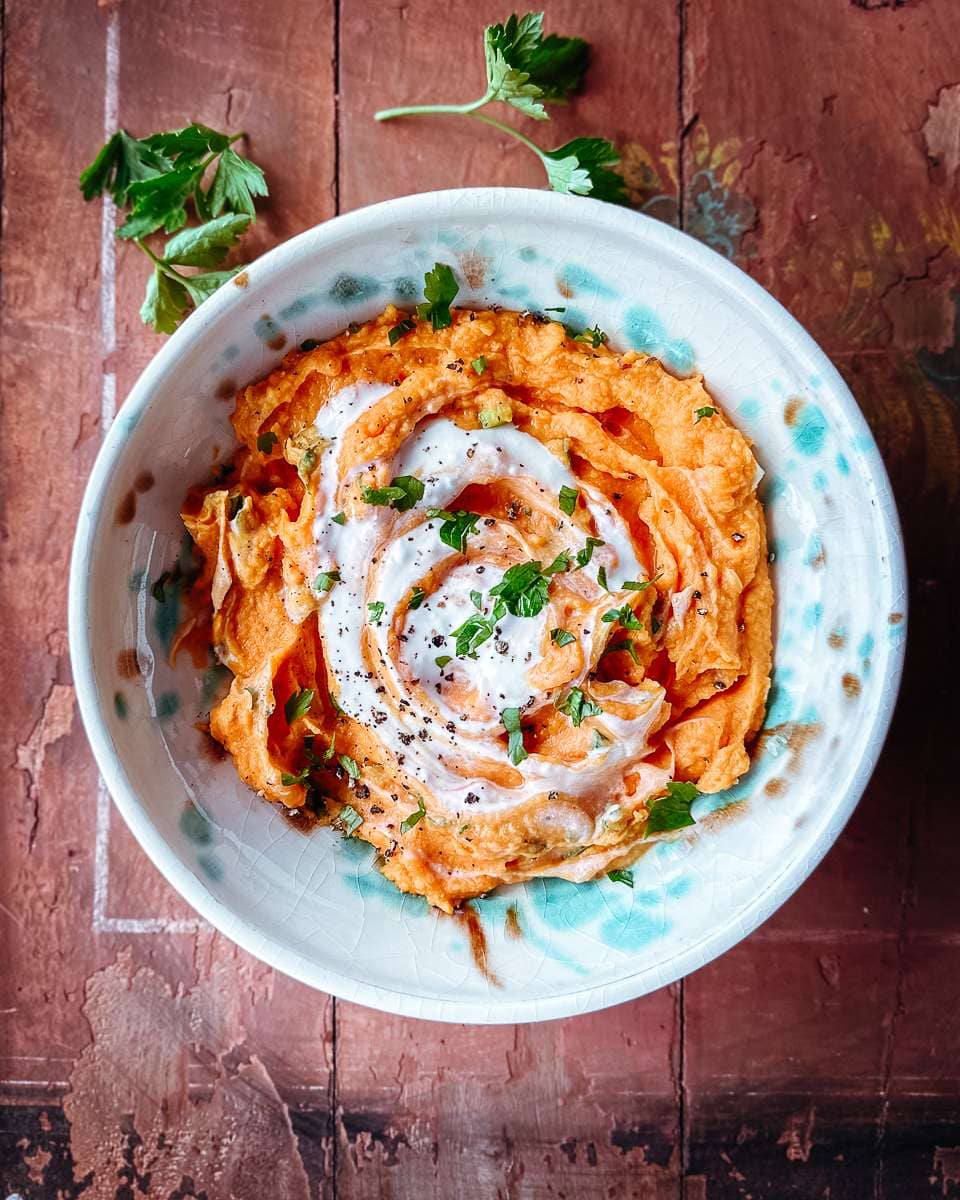 A brightly coloured simple dish to enjoy the latest sweet potato harvest. Special enough to add a pop of colour to your holiday table, perfect as a mid-week side dish. This sweet potato mash recipe is garlicky with a hint of saffron, cinnamon and ginger, complemented by a tangy swirl of yoghurt and spring onions.
Boil the Sweet Potatoes with the Lid Tightly Closed
Sweet Potatoes are reportedly rich in beta-carotene and vitamin C, which is better preserved if boiled rather than baked – especially if you cook them with their skins on and keep the pan lid tightly closed. Boiling also prevents a spike in the glycemic index. They don't need much cooking – 15-20 minutes, and they are fork-soft, perfect for mashing. Add onions and garlic to the boiling water to boost the final mash flavour. Puree with a stick blender or with a classic Italian mouli/passatutto. Failing that, the humble fork is perfect!
However, for the more dedicated non-electric methods, you may have to skip the onion or remove it before your mash. The garlic will mash easily.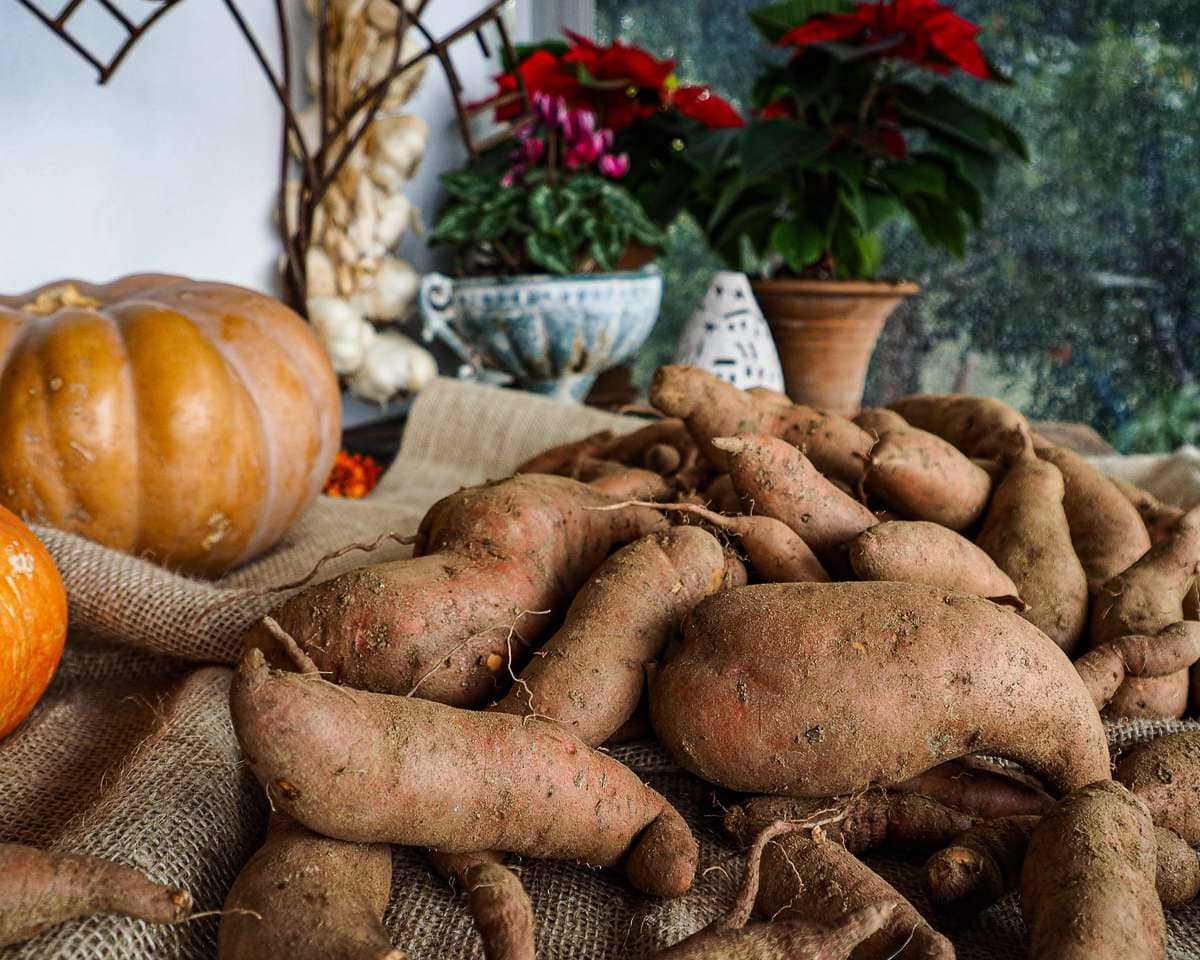 Saffron Butter
The saffron is from Kozanis in northern Greece; the crocus (Krokos) blooms for only two weeks, from around mid-October to about now (early November), with an actual harvesting window of a mere three days.
To celebrate this precious spice, I have created a simple saffron butter. It's one of the few occasions where olive oil must take a back seat. Grind the saffron stems or steep them in a tablespoon of boiling water. Gently toast the rest of the spices, add the butter and strained saffron. Mix it well so it dissolves completely into the melted butter. Once you have perfected your blend, saffron butter is equally delicious, stirred into rice or drizzled over your favourite veg.
You can use Greek yoghurt, crème fraîche or sour cream to swirl on top of the sweet potato mash. Make sure you chop the spring onion and parsley really finely so it complements and does not overwhelm the overall dish.
This is a savoury recipe and pairs perfectly with sausages, grilled chicken or something like BBQ spare ribs. Cover a warmed plate with the sweet potato puree and arrange the meat on top. Add a big green salad, and you have a perfect mid-week supper.
It's also a great recipe for a batch cook – especially as it can be made in advance and frozen. Make the puree and add the saffron butter. Cool and freeze for up to 3 months in a sealed container. See recipe notes for full freezing instructions.
It's a perfect make-ahead side dish for Thanksgiving or Christmas.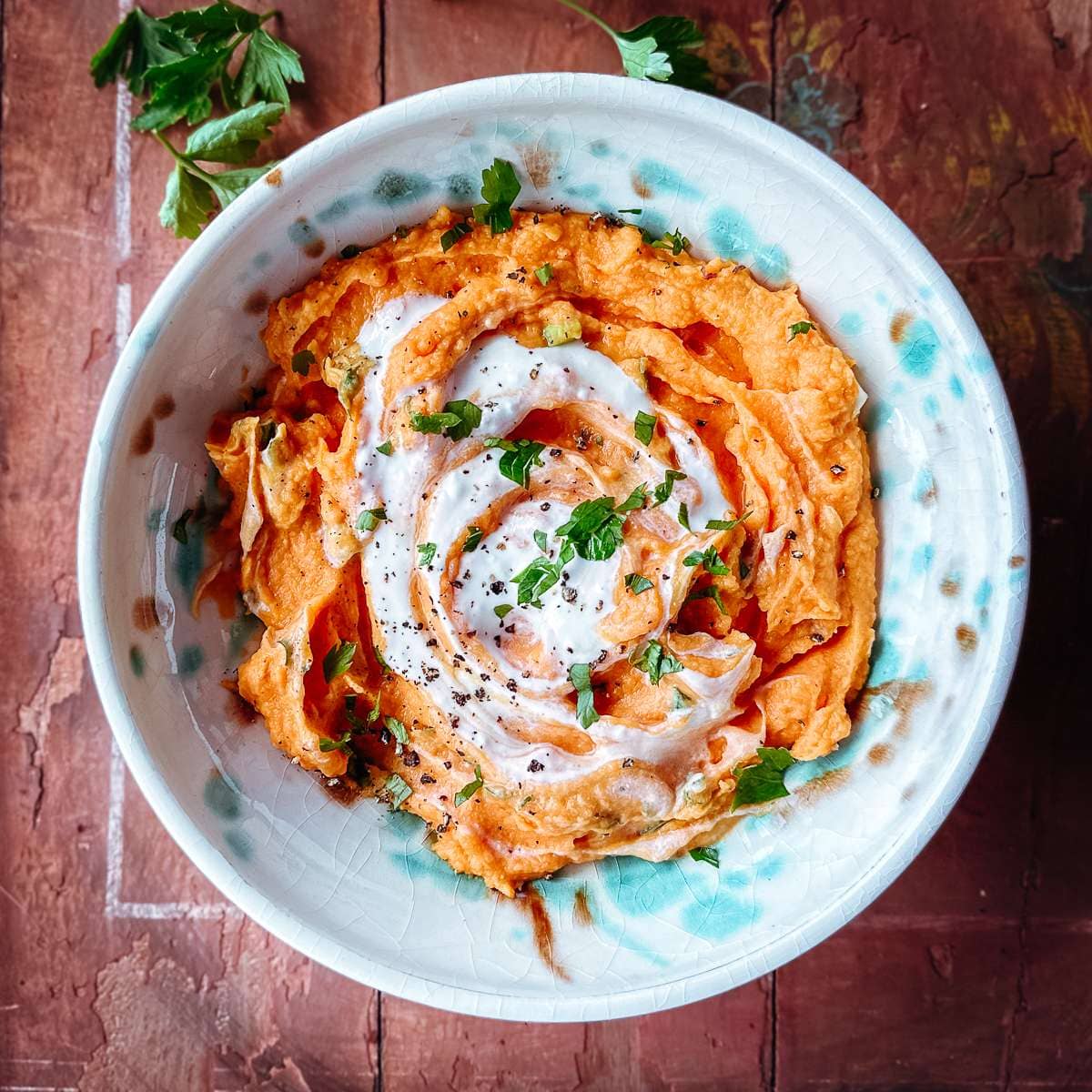 Sweet Potato Mash with Saffron Butter
A great alternative to traditional mash with a hint of saffron and spice. Quick and easy to make with a rich, creamy texture, adding a wonderful pop of colour and flavour to any table.
Print
Pin
Rate
Ingredients
600

g

sweet potatoes – scrubbed and cleaned or peeled

1

small

onion

2

cloves

garlic

50

g

butter

3

strands

saffron – ground in a pestle and mortar

*alternatively steep in a little hot water

generous

pinch

each of cinnamon, ginger and turmeric

½

tsp

salt

1

large

spring onions very finely sliced using as much of the green leaves as possible

1

tbsp

fresh parsley – finely chopped

⅓

cup

yoghurt, crème fraîche or sour cream

optional
Instructions
Boil the sweet potatoes with the garlic and onion in enough water to 'just' cover the vegetables. If you want an extra creamy mash, boil the vegetables in milk or 50/50 milk and water. Cook until tender but not squishy – about 20 minutes.

Put the ground spices (except saffron) in a small pan and gently – very gently toast them. Dont burn. As soon as they give off an aroma – add the butter and remove from the heat – stir in the saffron and set aside.

Remove the sweet potato skins and puree the vegetables with a stem mixer or an Italian mouli/ passatutto*. Return the mash to the saucepan and heat to steam dry (remove extra moisture). Add the saffron butter and mix well. Check for seasoning, adding more salt or a little ground pepper.

Transfer to a warmed serving dish. Add the yoghurt and spring onions to the centre of the bowl and swirl from the centre out with the handle of a wooden spoon to create an attractive pattern.

Serve as a side dish or as a base for grilled sausages, pork or chicken.
Notes
*Saffron – either bloom in hot water so it dissolves in the melted butter or grind with a pestle and mortar. The ground saffron should not be toasted.
*If you don't have a stick mixer or mouli, sweet potatoes will mash well with a fork; if using the fork, either remove or don't add the onion as you will struggle to get it to mash.
To Freeze. Great for batch cooking as it is easy to freeze and makes for a speedy side dish. Cook as above to the puree and saffron butter stage without adding the yoghurt and herbs; allow to cool. Transfer to a freezer-safe container and freeze for up to 3 months. To serve, defrost thoroughly  – preferably in the fridge overnight. Reheat on a slow heat with a sprinkle of water,  stirring occasionally until thoroughly heated through. Serve with the yoghurt and herb swirl.