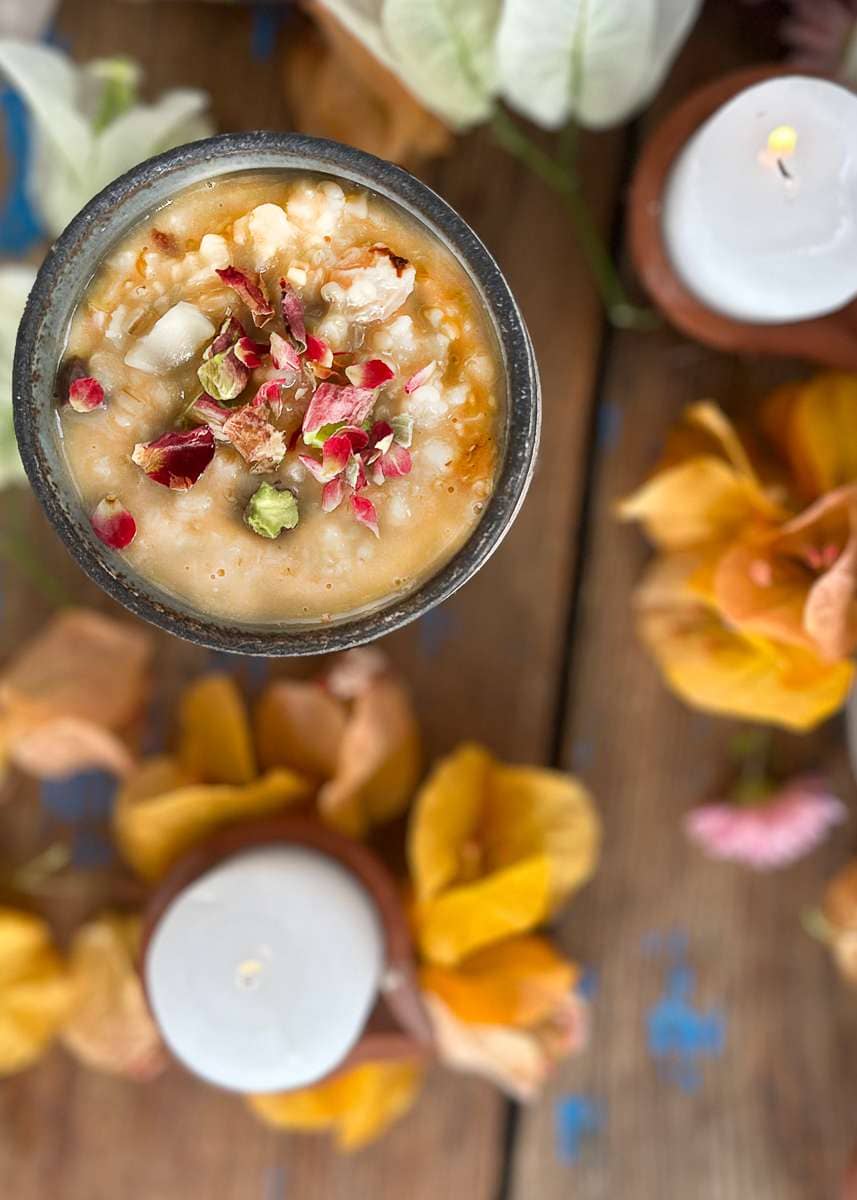 Kheer breakfast oats is an adaptation of the classic Indian dessert Rice Kheer. The earthy, fruity and slightly spicy blend of saffron and cardamom, offset by the sweetness of the raisins, makes for a delicious morning porridge recipe.
Diwali Festival
Rice or Vermicili Kheer is a popular dessert during Diawli – hence, today's post is ahead of the Diawli 🪔 2023 (festival of lights) celebration. Many Kheer recipes include rice and vermicelli, cracked wheat, tapioca or ground almonds. However, the common theme is a milk-based dish flavoured with saffron, cardamom, dried fruits and nuts.
Ingredients
As delicious as the dessert recipes sound and perfect for a Diawli feast, swapping the rice for oats creates a fabulous winter breakfast. Given the many Kheer recipes, I don't think recipe rules apply. Traditionally, it is sweetened with jaggery, but you can use honey or soft brown sugar. I have made it with oat milk, but use cow's milk, almond or soya. Likewise, I have combined steel-cut (pinmeal) with rolled oats and unblanched almonds, giving it a slightly nutty taste and darker colour. It's traditionally lighter in colour, which classic quick oats would achieve. Ditto blanched almonds. Other additions are golden raisins, cashews and pistachios. The milk is flavoured with saffron and a little cardamom. If you are a fan of golden milk – I think you will love this, even though no turmeric is involved!🙃
For me, it doesn't need sweetening. The raisins do that job. Many traditional Kheer recipes use a lot of sugar. I would wait until the oats are cooked and then sweeten. And because it's Diwali, 🪔 I have decorated it with rose petals and chopped pistachios with a sprinkling of jaggery sugar.
As much as I would like to lay claim as an original idea – many great chefs have had the same thought; there are many recipes for oats kheer. Of course, there are!
As always, inspiration and verification for all things Indian from Swasthi's and Dassana's websites.
Enjoy, and please, you can eat it outside of Diwali. Perfect for any cold winter morning. 😍
Breakfast Oats Kheer
The earthy, fruity and slightly spicy blend of saffron and cardamom, offset by the sweetness of the raisins, makes for a delicious morning porridge recipe.
Print
Pin
Rate
Ingredients
1

cup

steel-cut oats ( pin meal). Soaked overnight and drained

20

g

butter (generous tablespoon)

optional – butter enhances the flavour of the oats

¼

cup

rolled (quick cook) oats

optional – see notes

3½

cups

plant or dairy milk

4

strands

saffron

1

tsp

powdered cardamom

6

almonds, roughly chopped

8

pistachio, roughly chopped, plus 5-6 for serving

6

cashews, roughly chopped

1

tbsp

golden raisins

pinch

salt

honey, jaggery or soft brown sugar to taste

1

tsp

rose petals for decoration

optional
Instructions
Soak the steel cut oats overnight. If they are not soaked you will need to extend the cooking time by about 10-15 minutes. Drain any excess water.

If using, melt the butter in a saucepan and add the oats; mix well, coating the oats in the butter. (If you omit the butter, add the oats directly to the milk.)

Add cold milk, stir to make sure the oats are well distributed and bring to a boil. Reduce the heat and simmer for about 20 minutes. Stirring occasionally.

Add the cardamom, pinch of salt, saffron nuts and raisins.

After 10 minutes, add the rolled oats (if using). Continue cooking until you reach the desired consistency. Add more milk if the oats are becoming too thick and not entirely cooked. A couple of minutes towards the end of cooking, taste for sweetness and add the sugar/honey.

Serve topped with chopped pistachios and dried rose petals with either a drizzle of honey or a sprinkle of jaggery (soft brown sugar).
Notes
Jaggery (rapadura) may be difficult to source – and indeed not necessary – simply for this recipe. But if you have some lurking in your cupboard, it adds such a great flavour. Very distinctive. A good alternative is turbinado sugar.
I recommend deep, rich, dark honey. My go-to is either chestnut or thyme.
The rolled oats add a slightly creamy texture but are not essential.