Creamy, lemony and delicious. Lemony Greek Cauliflower is lighter with a more subtle flavour than the classic cheesy recipe. Greek Avgolemono sauce (egg and lemon) brings some winter sunshine to the humble cauliflower, also turning something like stuffed cabbage into a real treat. Easy to make, and if you follow a few simple tricks, contrary to popular belief, the sauce won't split.
Cauliflowers are abundant and inexpensive at the moment; lemons are also just about to come into season. Perfect! I've adapted the classic recipe to add a little spice (cumin, red chilli flakes and coriander), plenty of garlic and a generous handful of parmesan cheese. The sauce is rich and creamy without the heaviness of flour-based sauce. It's good enough to eat with a big green salad but makes an excellent addition to any festive table. You can happily serve it with beef, pork or chicken or simply as part of a vegetarian spread. It's packed with flavour, so you don't need much – a medium-sized cauliflower would be enough as a side dish for 4-6 people.
Instructions
Braise the cauliflower on a bed of golden onions very slowly so it takes on their flavour. Add water gradually, allowing the cauliflower to absorb the liquid after each addition until the cauliflower is soft. If you add all the water at once, it will simply boil with the onions and be flavourless. You don't want it mushy! However, with the last addition of water, you want enough sauce in the bottom of the pan to add to the egg mixture and enough liquid to make the whole dish saucy.
Use everything
Waste nothing; use all the cauliflower, break the florets into bite-sized mouthfuls, and grate or finely slice the rest of the stalks. Discard any woody or tough stems. Add these when you start cooking, as they take a little longer.
Avgolemono
I have used avgolemono before in the classic Greek chicken soup recipe. To stop it from splitting, you need to temper the eggs. Whisk some sauce from the bottom of the cauliflower pan into a separate bowl with the lemon and egg mixture. Return it slowly to the cauliflower, shaking or stirring after each addition. Heat gently for a minute or so. Stirring or swirling the pan until it cooks and thickens. Stir in the parmesan at the end and serve with Aleppo pepper or chilli flakes. There are roux-based avgolemono versions, but it's not the same. If your sauce refuses to thicken or you prefer a little thicker – add a sprinkle of cornflour to help it along.
Lemony Greek cauliflower is a simple dish that you can make in advance. Prepare the onions and cauliflower until soft, then set aside, cover and refrigerate. Re-heat slowly and make the avgolemono just before you want to serve.
For more vegetarian inspiration, click here.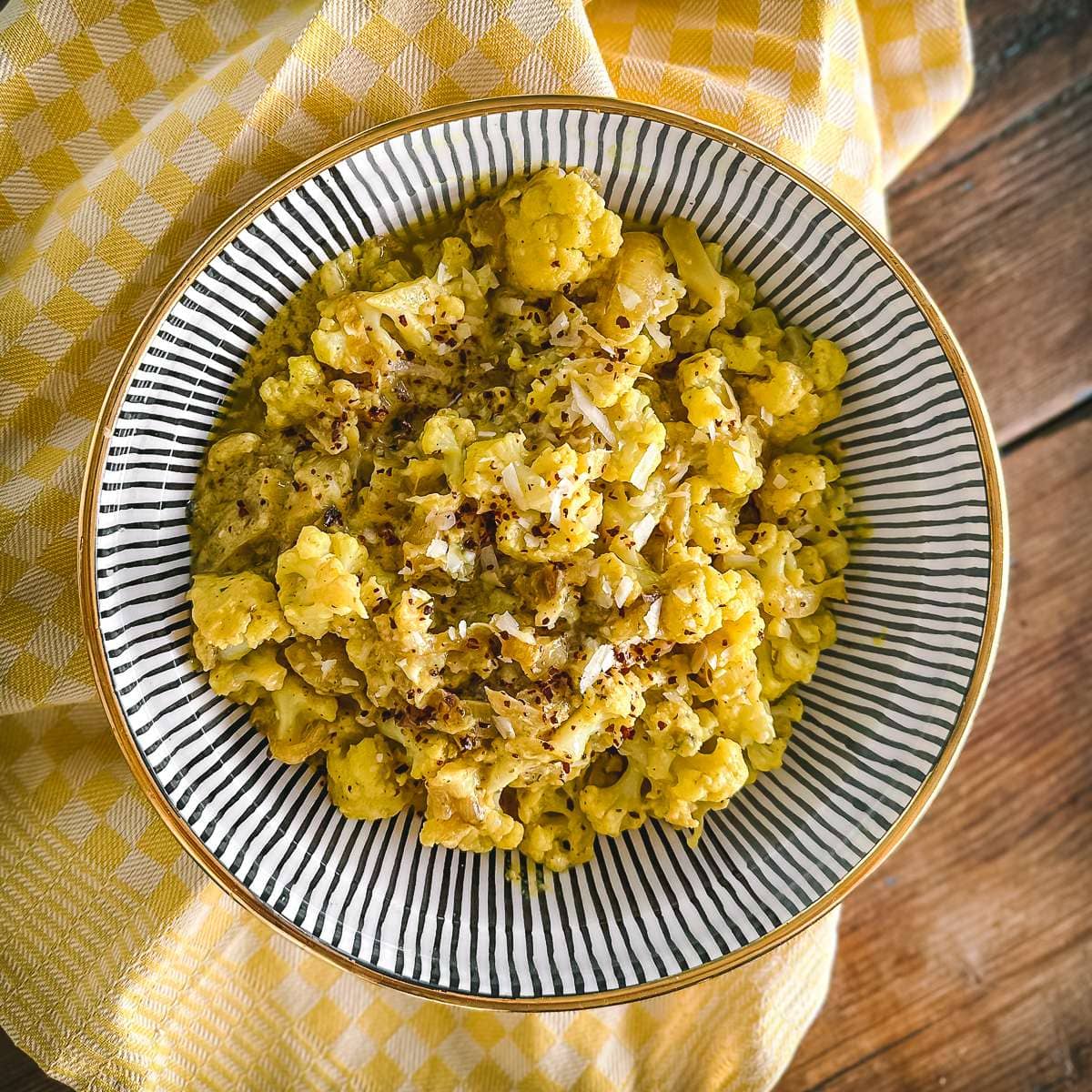 Lemony Greek Cauliflower
Avgolemono sauce brings a ray of winter sunshine to the humble cauliflower. Cumin, coriander, lemon and a little spice. Perfect winter food.
Print
Pin
Rate
Ingredients
1

medium to large

cauliflower – make sure its white and firm – ie very fresh

1

large

yellow onion – finely sliced

2

cloves

garlic – finely sliced

¾

tsp

salt

1

tsp

ground cumin

1

tsp

ground coriander

½

tsp

powdered fennel

¾

tsp

red chilli flakes

I like to use Aleppo pepper

handful

finely grated parmesan

optional – a tasty addition but you can make the dish without cheese

olive oil

freshly ground black pepper
Avgolemono Sauce
2

medium

eggs

2

medium

lemons juiced and 1 tsp zest
To Serve
1

tbsp

finely chopped parsely

optional

1

tbsp

flaked almonds – lightly toasted

optional
Instructions
Heat a little olive oil in a pan and add the onions, saute gently until golden.

Break up the cauliflower into small florets, keep any good leaves, and finely slice any stalks. Waste nothing. Add the cauliflower with the garlic, salt, cumin, fennel, Aleppo pepper, and coriander to the pan of onions. Cover, shake the pan and braise over low heat until the cauliflower is coated in the olive oil and spices and starts to soften. Add a sprinkle of water and more olive oil if it starts to stick.

Remove the lid. Add 150ml of water. Continue cooking with the lid off until all the water has been absorbed. Repeat the process by adding another 100 ml of water and letting it evaporate. Repeat until the cauliflower is cooked. It should be soft but has yet to lose shape – with a slight bite. It must not be mushy!

Once you are happy, the cauliflower is cooked. Turn off the heat. You need a generous 100ml of juices left in the pan – top up with water if necessary.

In a separate bowl. Whisk the eggs, zest and lemon juice until light and frothy.

Set the cauliflower over low heat and add a tablespoon of the liquid from the bottom of the pan to the egg mixture. It should be warm (not too hot). Whisk and then add a third back to the cauliflower pan. Shake the pan and stir. Repeat adding the final two-thirds of the lemony egg mixture to the pan. Stir gently until it thickens to the consistency of a pourable sauce*. When you are happy, add the finely grated parmesan – stir once and remove from the heat.

Check for seasoning and decorate with flaked almonds or finely chopped parsley and parmesan. Serve with crusty bread and a green salad. Delicious as part of a vegetarian spread or to accompany beef, chicken or pork.
Notes
*if you want a thicker sauce, sprinkle half a teaspoon of cornflour into the pan. You will need to let the sauce bubble for a second to cook the cornflour.