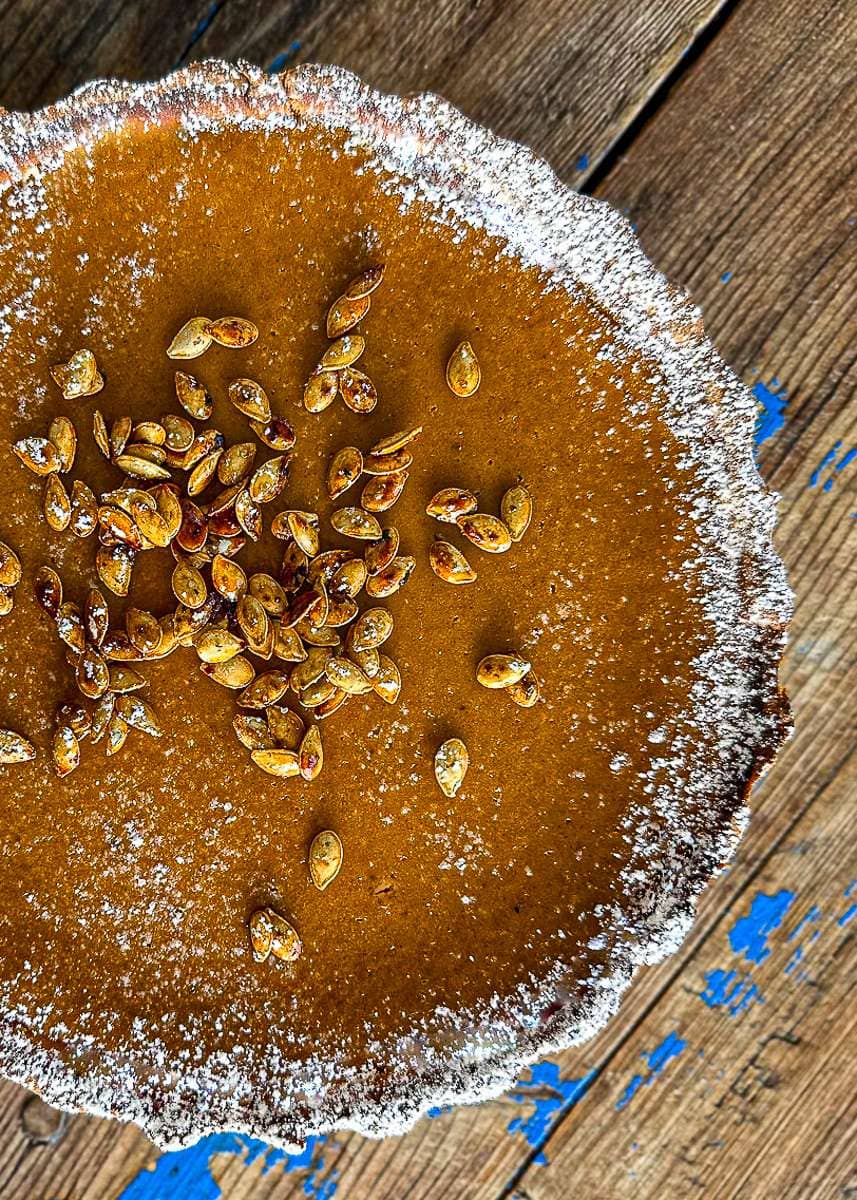 The all-American favourite, a rich and creamy but not too sweet pumpkin pie recipe full of festive autumnal flavours and a hint of orange. I used butternut squash, but you can use pumpkin or tinned pumpkin. There is a lot of debate about whether tinned is better than fresh pumpkin, but for me, it's a no-brainer. Why on earth would you buy tinned pumpkin at this time of year? Especially if you can buy locally grown fruit.
Bake, Boil or Open a Tin!
I recommend peeling (reserving the pumpkin seeds) and boiling with enough water to 'just' cover the cubed pumpkin. It only takes about 15 minutes until it is fork-soft. Drain well, returning the pumpkin to the saucepan to steam dry if necessary. Alternatively, preheat the oven a little earlier and bake in two halves with the seeds removed. In both cases, push through a sieve, add the spices and honey and leave to cool.
Pumpkin Seeds
Rinse and dry the seeds and then toast for a few minutes in a dry pan; remove from the heat, drizzle with honey, and sprinkle with salt. Set aside to cool. They make a great snack and decoration for the pie.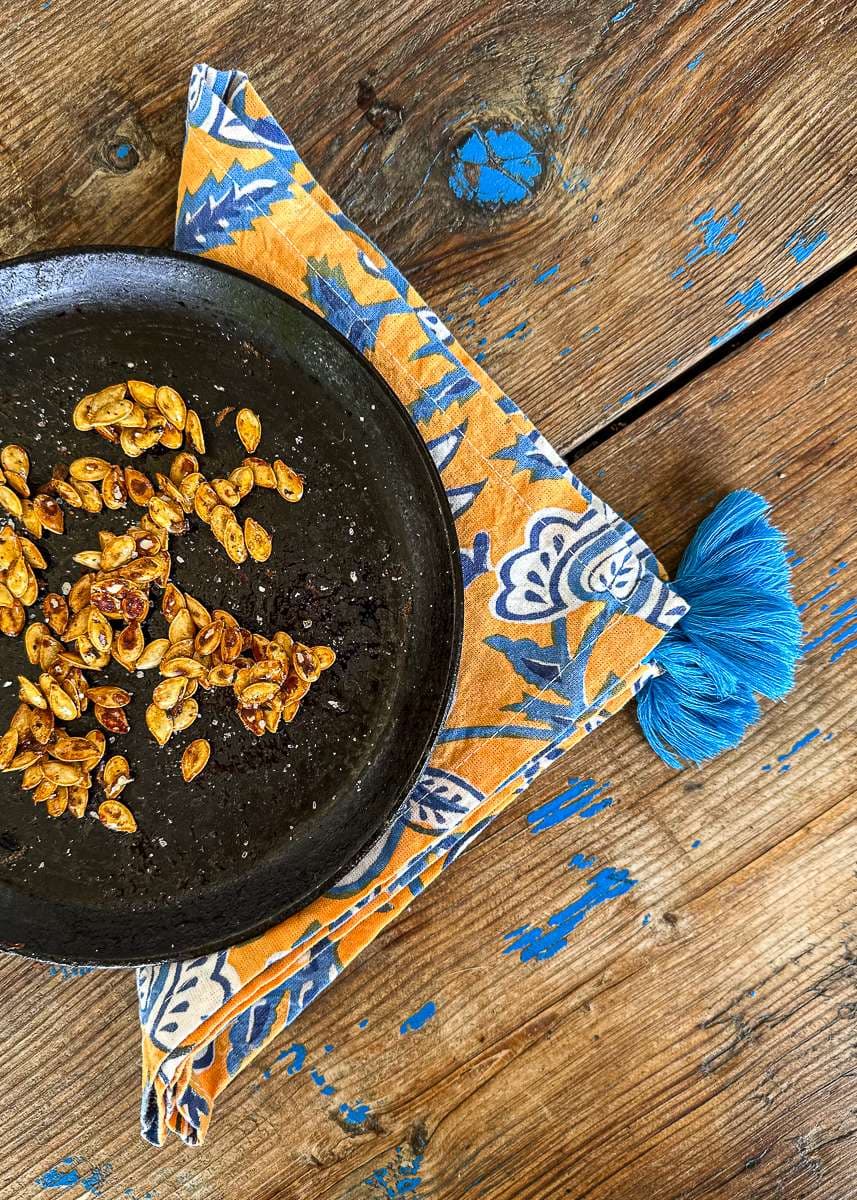 Shortcrust Pastry
This pumpkin pie has a light buttery shortcrust base, with a tablespoon of soft brown or golden caster sugar to give it a slight bite. Half a teaspoon of pure vanilla powder is added to the pastry dough.
Remember the golden rule: work with cold ingredients and handle as little as possible. Leave to rest for 30 minutes before lining the tart tin and baking blind for 7-10 minutes, then remove the baking beans, prick the base and bake for another 5 minutes. The filled pie should take around 40-45 minutes to cook. Cover the pastry edges with a ring of tin foil if it starts to brown too quickly. It should be a little wobbly – it will jiggle slightly in the centre when you remove it from the oven. Don't worry it will set as it cools.
The filling does tend to crack; to minimise this, cool slowly and don't remove it from the tin until it is completely cool. Ideally, slide it onto a very flat plate to serve, again, to prevent it from cracking. Even a slightly curved plate will allow the base to drop and the pie to crack, nothing a little powdered sugar can't fix.😉
Serve with ice cream, vanilla cream, mascarpone, or a brandy-flavoured cream😍.
As an interesting aside, as much as we associate pumpkin pie with America and Thanksgiving, the famous pie's origins are supposedly traced back to Europe, and indeed France during the Middle Ages; the renowned French Chef François Pierre La Varenne is thought to have created the first pumpkin pie recipe. It didn't appear as a recipe in America until 1796 in Amelia Simmons' American cookbook, American Cookery.
The humble pumpkin became a symbol of the abolition movement. Easy to grow, it was the antithesis of the wealthy crops grown by the immoral plantations in the South. There's a great article by Amadea Tanner with a more comprehensive explanation.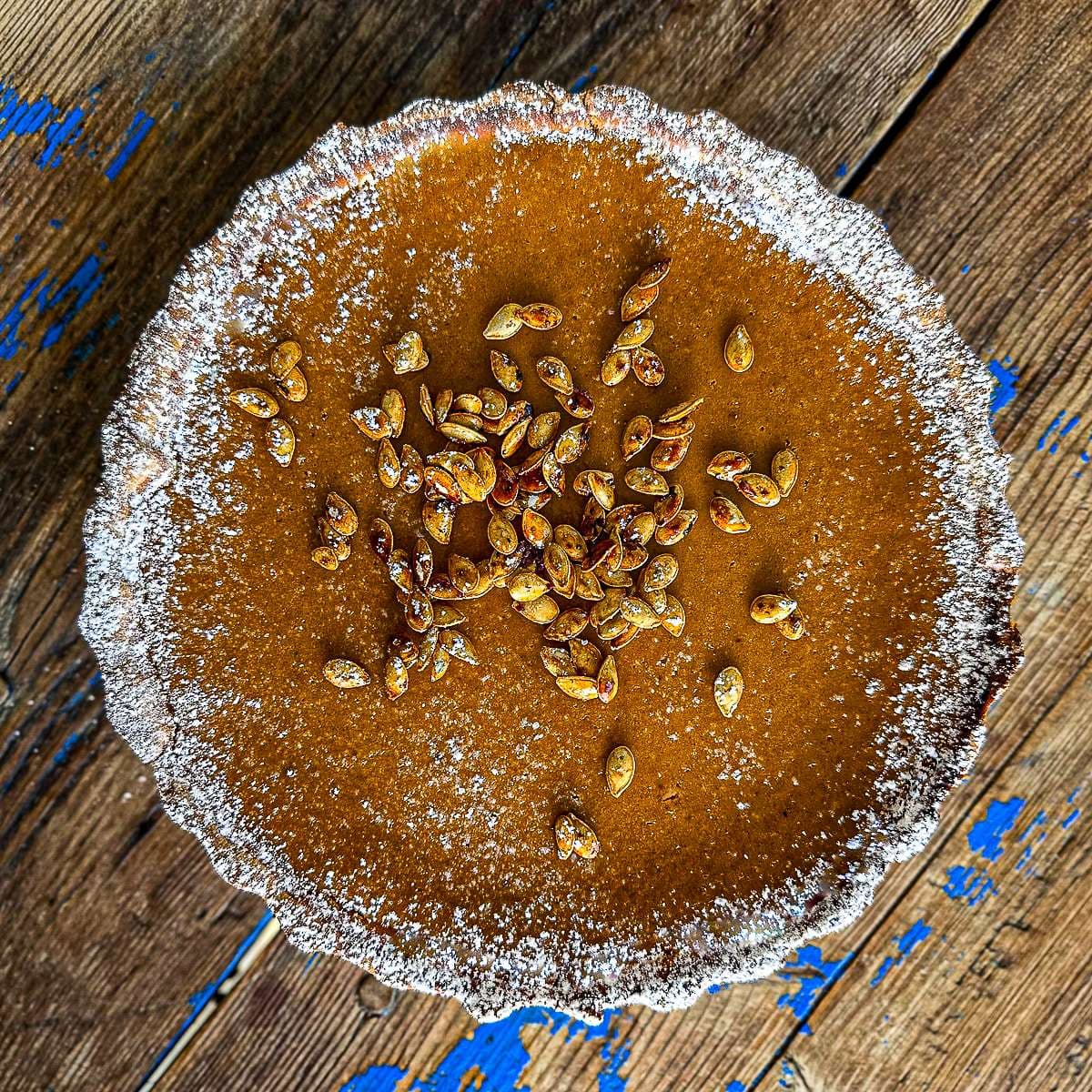 Good Pumpkin Pie
A light, butter shortcrust pastry with a smooth, rich pumpkin pie filling for the Classic all-American autumn Pumpkin Pie treat.
Print
Pin
Rate
Equipment
23 cm loose bottom tart tin, greased and dusted with flour
Ingredients
Pie Filling
400

g

pumpkin/butternut squash puree

tinned is also fine – I used half a medium-sized butternut squash

2

large

eggs

100

g

soft brown sugar

100

ml

double cream

4

tbsp

Greek chestnut honey

or a good rich dark honey

½

tsp

salt

2

tsp

cinnamon

1

tsp

ginger

¼

tsp

ground cloves

½

tsp

nutmeg

¼

tsp

cardamom

pinch

freshly ground black pepper

1

tsp

pure vanilla extract
Pastry
200

g

plain flour

100

g

cold butter (cubed)

2

tsp

soft light brown sugar

this gives a slight bite to the pastry – use the more traditional powdered sugar if you prefer

1

large

egg yolk (or 2 small yolks) whisked with a drop of iced water

¼

tsp

salt

½

tsp

pure vanilla powder

optional

1-2

tbsp

iced water
Pumking Seed Topping
large handful of seeds from your pumpkin/squash – washed and dried

1

tbsp

honey or maple syrup

1

tsp

sea salt
Makes:
23
cm
23
x
23
cm
round
Instructions
Pastry
In a food processor, whizz the butter with the flour, salt, vanilla and sugar until you have 'breadcrumbs'. Alternatively, by hand, sift the flour and salt into a bowl, add the sugar and vanilla, and rub the butter into the flour until you have ……. breadcrumbs.

Add the egg and mix quickly to form a soft dough, adding extra iced water if needed. You'll need less water in the mixer – gather any crumbs and form the pastry into a ball, wrap it in clingfilm and leave it to rest in the fridge for a minimum of 30 minutes. Keep your ingredients cold, and work quickly – don't overwork the pastry.

Pre-heat the oven to

180

°C

Roll it out to fill your tart tin – using as little flour as possible. Bake blind at

180

°C

for about 10 minutes, remove the baking beans, prick the tart base and bake for another 5 minutes to dry the tart base. Do not brown!
Pumpkin Pie Filling
While the pastry is resting, make the filling. Peel and cut the butternut squash – remove and wash the seeds and leave to dry.

Cut the pumpkin into large cubes; cover with a minimum of water in a saucepan with the lid closed.*see note 1 below.

Simmer for 15 minutes (or less) so it is mashable, strain very well, and put it back into the saucepan over a gentle heat to remove any moisture; whizz or push through a sieve to make the puree. Stir in the honey and spices. Mix well and leave to cool.

Omit this step if you are using canned!!

Whizz the eggs with all the orange zest and sugar until light and frothy. Add the pumpkin puree and cream and mix well. Don't forget to add the honey if you are using tinned pumpkin.*see notes 2 below.

Pour the filling into the warm pastry crust – don't overfill – about ¾ of the tin is perfect as it will rise.

Bake at

180

°C

for 40-45 minutes – check after 25 minutes if the pastry is starting to brown – cover with a circle of tin foil. When ready, the edges should be firm, but the centre will be slightly wobbly – it will set when cool.
Pie Decoration
The filling does tend to crack; to minimise this, cool slowly and don't remove it from the tin until it is completely cool. Ideally, slide it onto a very flat serving plate. Even a slightly curved plate will allow the base to drop and the pie to crack.

When cool, either dust with cinnamon and icing sugar or with salted honey pumpkin seeds. Simply dry roast the seeds saved from earlier, on low heat, in a non-stick or heavy-based frying pan. Once golden and toasted, turn off the heat, drizzle with a tablespoon of honey or maple syrup and sprinkle with salt. Leave to cool and use to decorate your pie.

Serve with whipped cream, brandy cream or crème fraîche.
Notes
Shortcrust Pastry
The pastry in this recipe is a light shortcrust – if you want a firmer pasty – use the whole egg instead of just the yolk.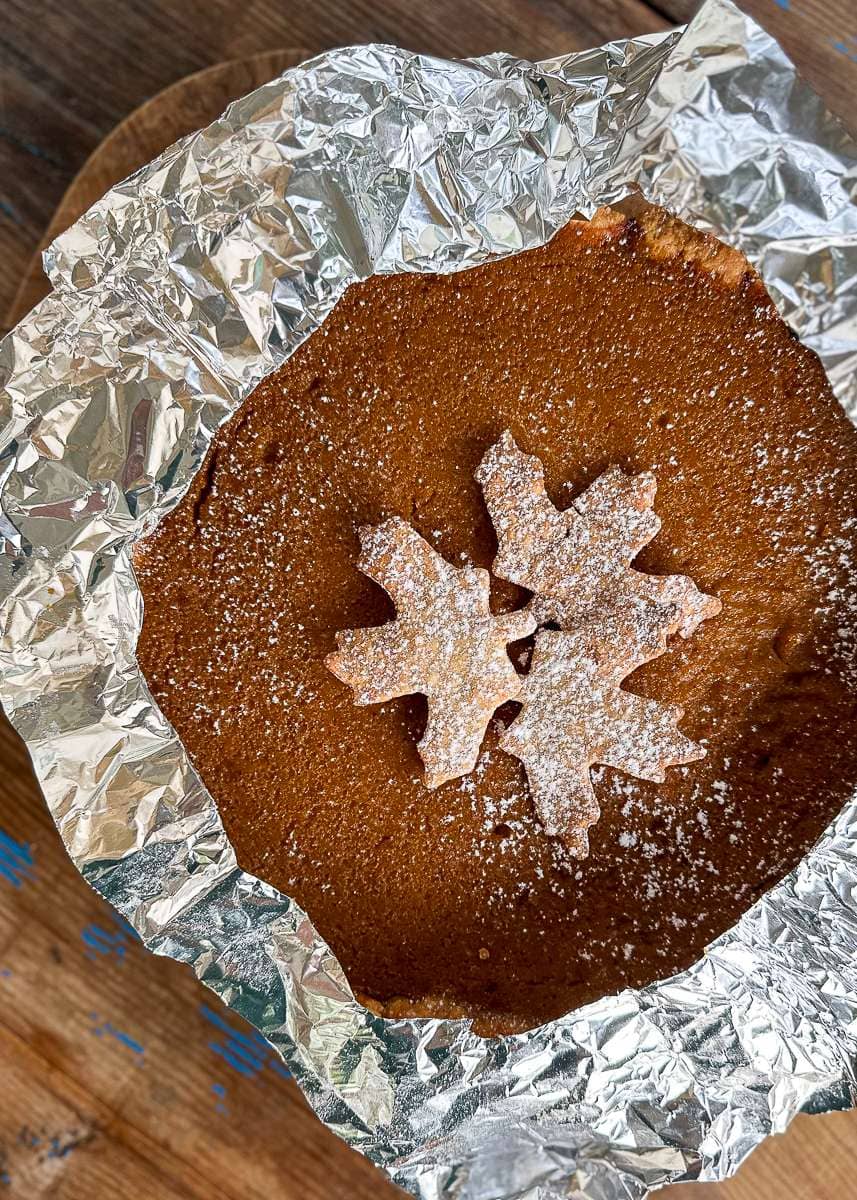 To prevent the pastry edges from burning – you may need to protect them with a foil ring. Fold a square of silver foil twice to make a smaller square, then cut a semi-circle from one folded side to the other. Leaving you with a foil ring. You can rest it on the pie – it doesn't matter if it covers the filling slightly.
Pumpkin Puree
Notes 1) As an alternative to boiling the pumpkin.  Preheat the oven a little earlier and bake in two halves with the seeds removed. Scoop out the flesh and push through a sieve as for boiled pumpkin.
Notes 2) If using canned pumpkin, warm the honey so it easily dissolves into the puree.