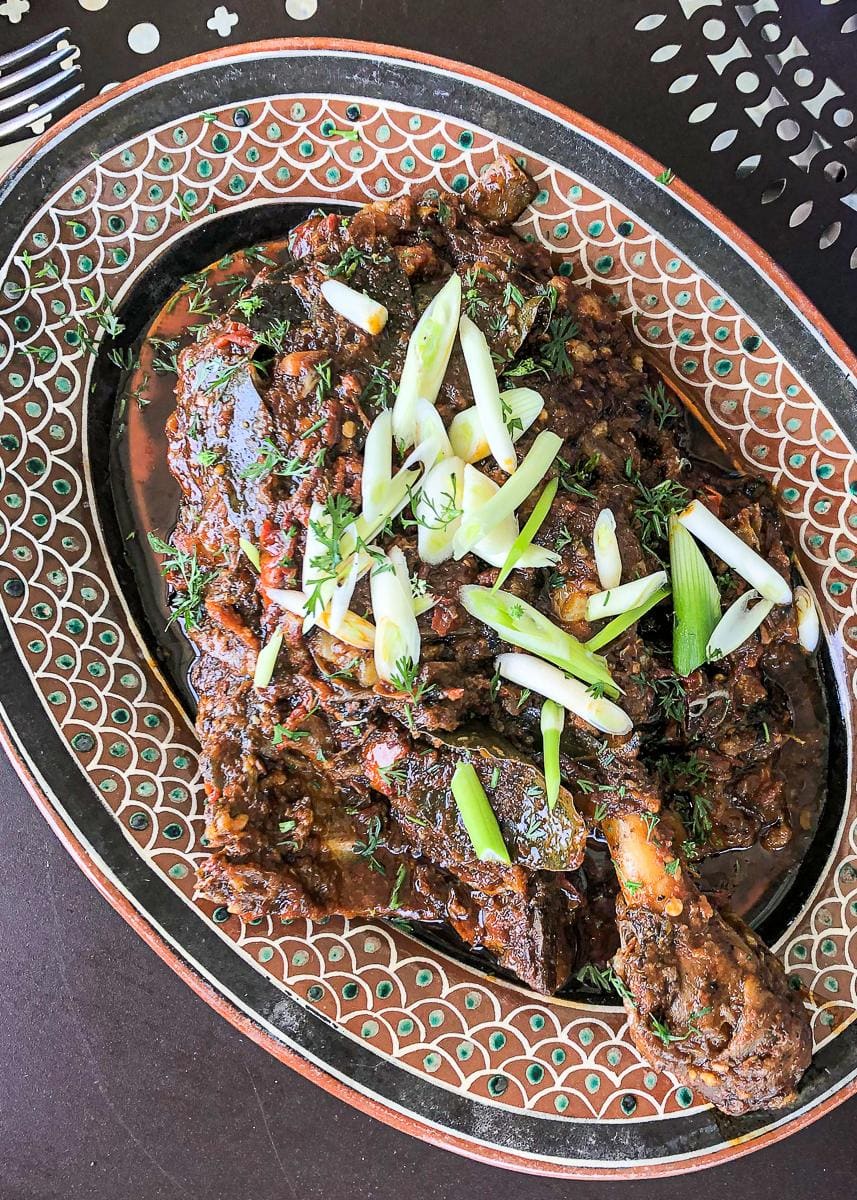 Greek Easter is still a week away; it's such a special time of the year; everyone 'al fresco' cooking in outside ovens, roasting the lamb on a spit or over the grill and serving all the traditional side dishes, tzatziki, Greek salad, cabbage salad, perhaps locally foraged wild greens and endless mezze for our local tsipouro.
However, for most of you, Easter is now this weekend!
So here are some very last-minute thoughts on Easter menus and some inspiration for your lamb both on the grill or in the oven.
Lamb Recipes
Grilling lamb chops is quick and easy – particularly delicious with a homemade spice rub. A great recipe is equal amounts of cumin, coriander and fennel. If you can, grind the spices together in a food mill or coffee grinder for the best results. Serve the lamb chops with a cardamon-infused yoghurt sauce.
Another favourite is a leg of lamb with rosemary, cumin, and lemon crust, baked slowly in the oven with plums, potatoes and plenty of garlic. Use big juicy prunes if plums are not readily available.
Make the crust in a food processor; whizz together the zest of a lemon, a couple of tablespoons of rosemary, half a teaspoon salt, freshly ground black pepper, a teaspoon of cumin and a couple of slices of dry bread. Add a drizzle of olive oil to make it sticky. Throw the plums, garlic and potatoes around the leg of lamb, drizzle with oil and roast in the oven. The plums create a deliciously rich sauce.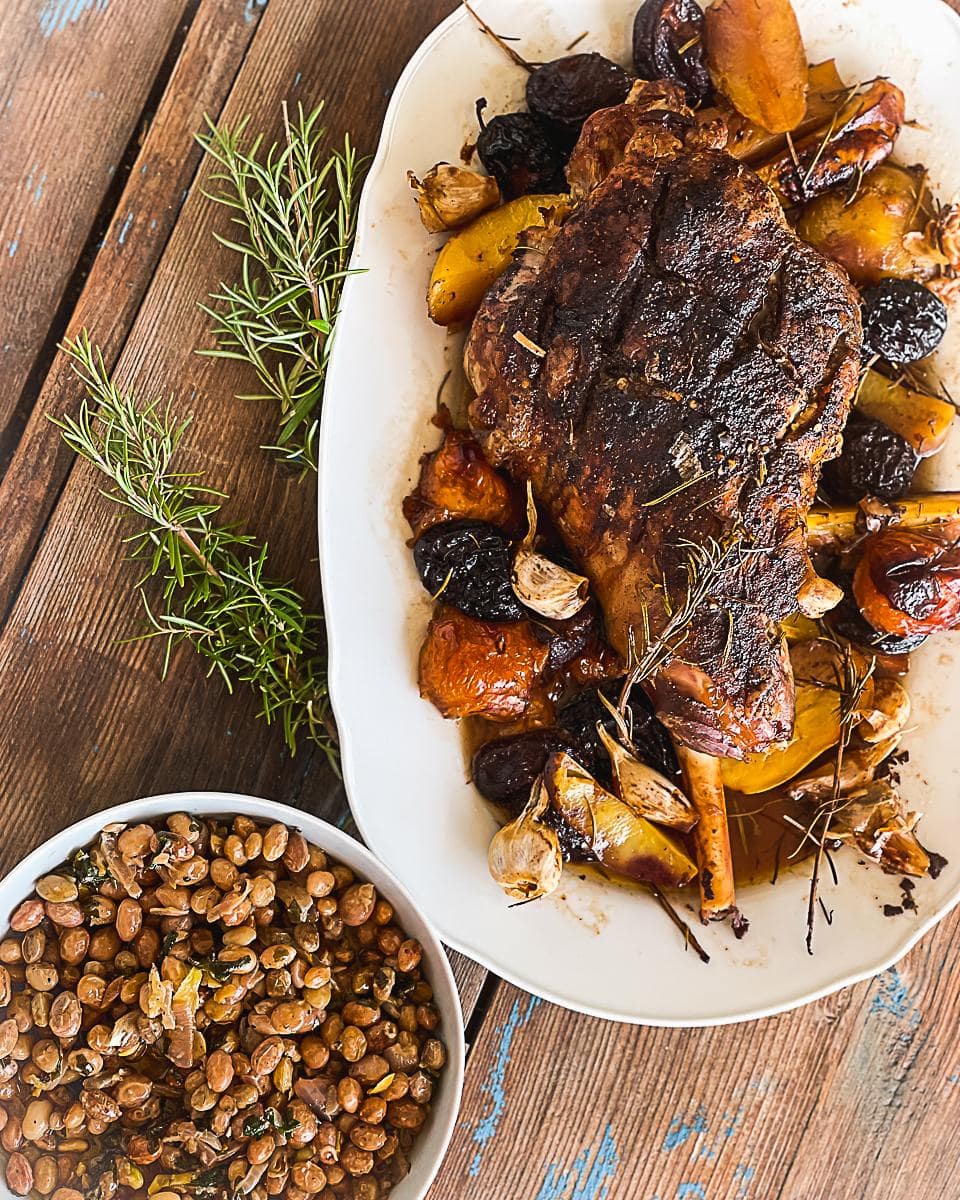 Lamb in Adobo Sauce
My favourite is an adaptation of Yotam Ottolenghi's pulled lamb recipe, which has a Mexican adobo sauce feel to it. Lamb in Adobo sauce is an easy recipe and is perfect for big family gatherings. Prepare it early in the morning and then leave it to cook slowly in the oven. It's ready when the meat readily comes away from the bone. You only need to check on it occasionally, keep the meat basted with the sauce, and turn the oven down towards the end. Delicious with potatoes in the oven and plenty of salads.
And if all these sound like too much work – lamb rubbed with Baharat seasoning is perfect for the bbq. However, so too is Reem Kassis's nine-spice mix or our Apricot Lamb Tagine.
Dessert!
Dessert will most definitely include Lemon Meringue Pie, Elizabeth David's Gâteau au Chocolate (just out of the oven and writing that up next…..), plus our favourite special occasion Turmeric Cake.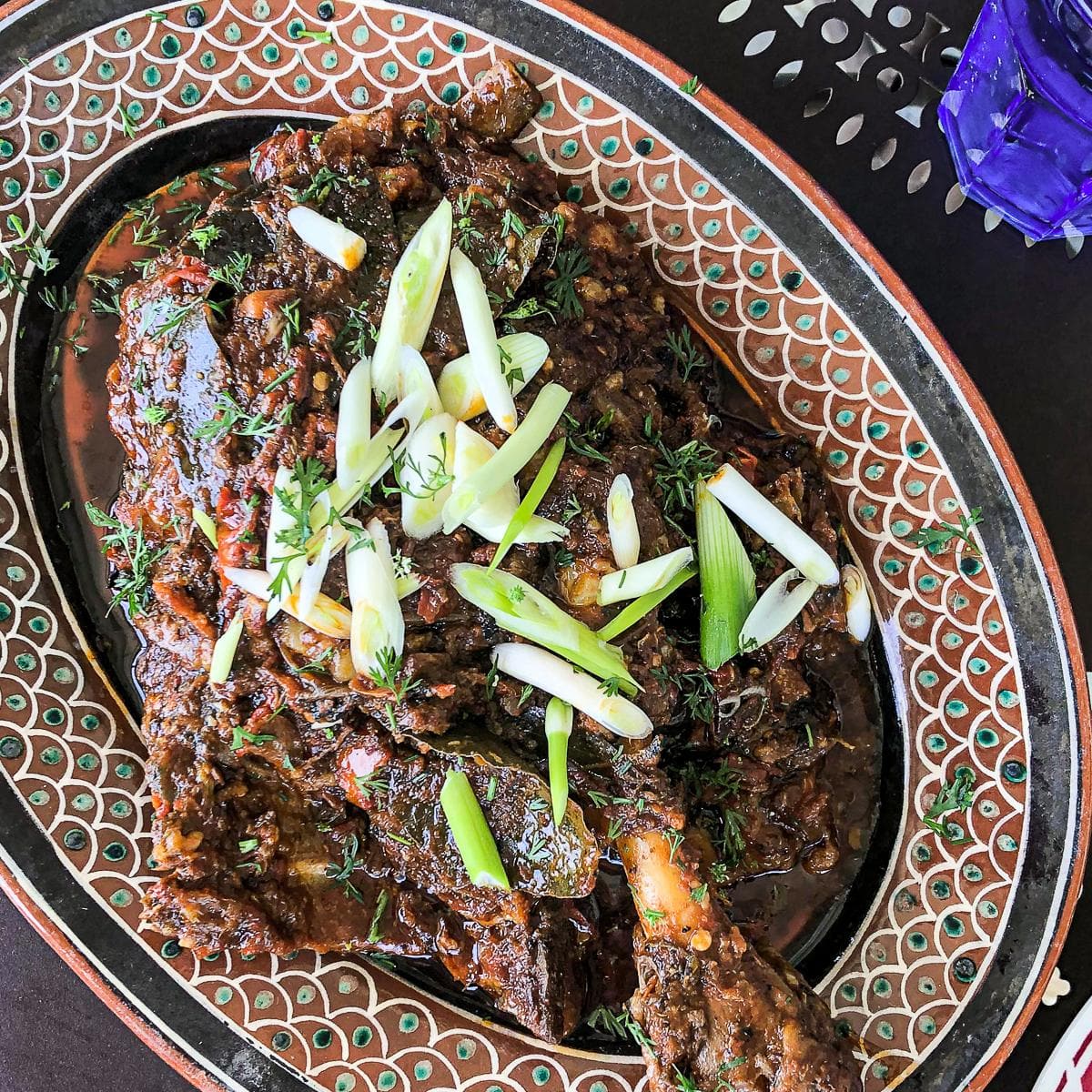 Slow Cooked Lamb in Adobo Sauce
Spicy deliciousness. An irresistible Mexican-inspired dish cooked slowly in the oven until the meat falls off the bone. Perfect for big family gatherings
Print
Pin
Rate
Ingredients
1.5

k

Lamb shoulder or leg

2

large

red onions sliced

1

orange cut in half and pierced with 2 cloves each

2

large

Florina red peppers

1

bulb (6 cloves)

garlic

3

bay leaves

500

ml

stock

1

tsp

salt
Adobo Sauce
2

dried ancho chilles

or 5 dried cayenne chilli peppers and add a ½ tsp smoked chilli powder

2

dried serrano pepper

3

tbsp

tomato paste

2

tbsp

whole cumin

powdered is also fine

2

tbsp

whole coriander

powdered is also fine

1

tsp

cinnamon

2

tbsp

lemon juice

2

tbsp

dried oregano

1

tbsp

apple cider vinegar

2

tbsp

olive oil
Instructions
Gently dry roast the cumin a coriander seeds in a heavy-based frying pan. Set aside.

Dry roast the red peppers and fresh chilli peppers (if using) in the same pan until slightly charred. Set aside.

Grind the dried chillis, coriander and cumin seeds in a pestle and mortar or spice grinder, then blend with all the remaining adobe ingredients adding a little water for a thick paste.

Score the lamb in several places and rub it with the salt. Brown, the lamb in the heavy-based casserole, making sure it is well sealed on all sides. About 8 – 10 minutes.

Remove the lamb cover the bottom of the pan with the onions, and replace the lamb. Tuck the 2 orange halves down the sides. Pour over the adobo sauce, making sure the lamb is well covered. Add a glass of red wine.

Close the lid, using silver foil for a snug fit (if necessary).

Cook at 160℃ for an hour and add the stock. Cook for further two-three hours or until the lamb is tender and pulls off the bone. Check on the lamb regularly and baste with stock.

Remove the cloves from the oranges and scoop out any remaning flesh into the sauce. Taste and add salt (if necessary), also you may want to reduce the sauce by bubbling it up over a high heat for a few minutes. This will concentrate the sauce and make it a little thicker.

Serve with fresh coriander and finely chopped spring onions.